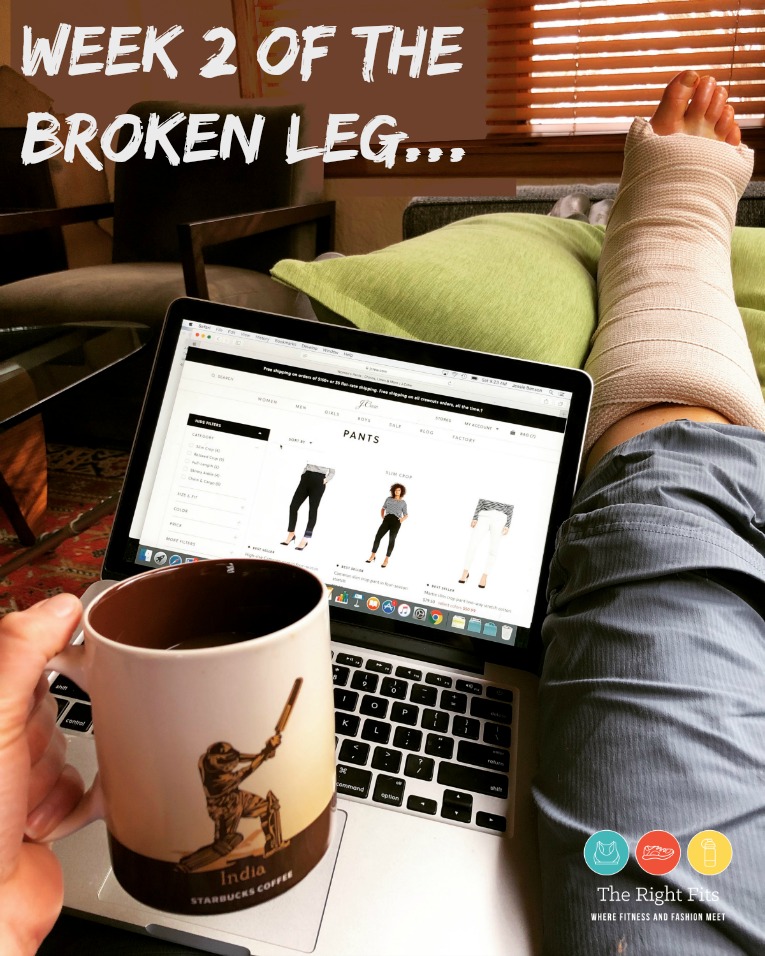 I'm still here. Crutching along.
Living the dream.
I had surgery on Friday.
Pictured below: On our way to checking in to surgery…I was hungry and THIRSTY- I couldn't drink after 7 am, I guess because they weren't using a catheter?  TMI.
Dr. Marc Swiontkowski was my surgeon at TRIA.
He has a great reputation; he's known as one of the best trauma surgeons in the area, which was definitely reassuring. I felt confident that I was in good hands.
Everything went smoothly..I think? Honestly, I don't remember anything from when they first starting giving me some mild sedation until waking up in the recovery room several hours later. They hadn't even started with the 'real' anesthesia but I was already out.
Step 1 of surgery? A pregnancy test. I guess the whole thing would have been called off it were positive.
Then the 'nerve block'; they brought in the ultrasound which was used to place the two (very big) shots that would cut off all feeling in my leg
This nerve block was supposed to last 8-12 hours so when I still had no feeling whatsoever in my leg the next morning after surgery, I was concerned something was wrong. I called the doctor's nurse, who said I should consider it a 'bonus' that it hadn't worn off, as once it did, I would start to feel a lot of pain.
(FYI, eventually it did wear off and they were right…there was the pain.)
Anyways, back to surgery day: the anesthesiologist said since I'm 'young' and healthy, I had a choice of a spinal or general anesthesia. Since I've had general anesthesia before with no issues, I decided to just go with that; I didn't get nauseous afterwards and it seems to have been a fine choice.
Though the surgery itself only took about an hour, I was at TRIA from 10:30 am until 5 pm. A full day. Dustin hung out there all day and updated my family on my progress throughout.
Here's an x-ray of my ankle post-surgery. I'm like the bionic woman!
The surgeon decided against one additional plate on my tibia, instead using a couple "lag screws" to hold that part together. This is apparently good because tibia plates can be a source of annoyance for a lot of people, especially runners. He put a plate on the fibula (as you can see in the picture) but was able to position it to minimize impact on my running.
The lack of the tibia plate, however, means one additional week of non-weight bearing, meaning three more weeks of crutches. I just ordered "crutch bags" though to help carry things to meetings, etc when I go back to work tomorrow.
Fitness?
Well, does crutching count? I actually have been using a few 5 pound dumbbells to do some upper body strength. There are tons of videos on youtube for "chair workouts", "injured" workouts, etc. At least it's something! None of them are very intense. I look forward to being able to bike or swim in three weeks.
Fashion?
All this time on the couch gives a lot of time for online shopping. I ordered a few dresses that will pair well with the boot 🙂 (Madewell, Boden, JCrew are my favs.)
I also decided to purchase this pair of cropped pants from JCrew.  They won't look quite as cute paired with a boot as they do on the model, but at least they'll be wide enough to fit over the cast!
The rest of the weekend post-surgery was spent reading, watching TV/movies, and sleeping.
I did feel very special as I received lots of care packages, flowers, cards, and visitors over the weekend. Here are just a few!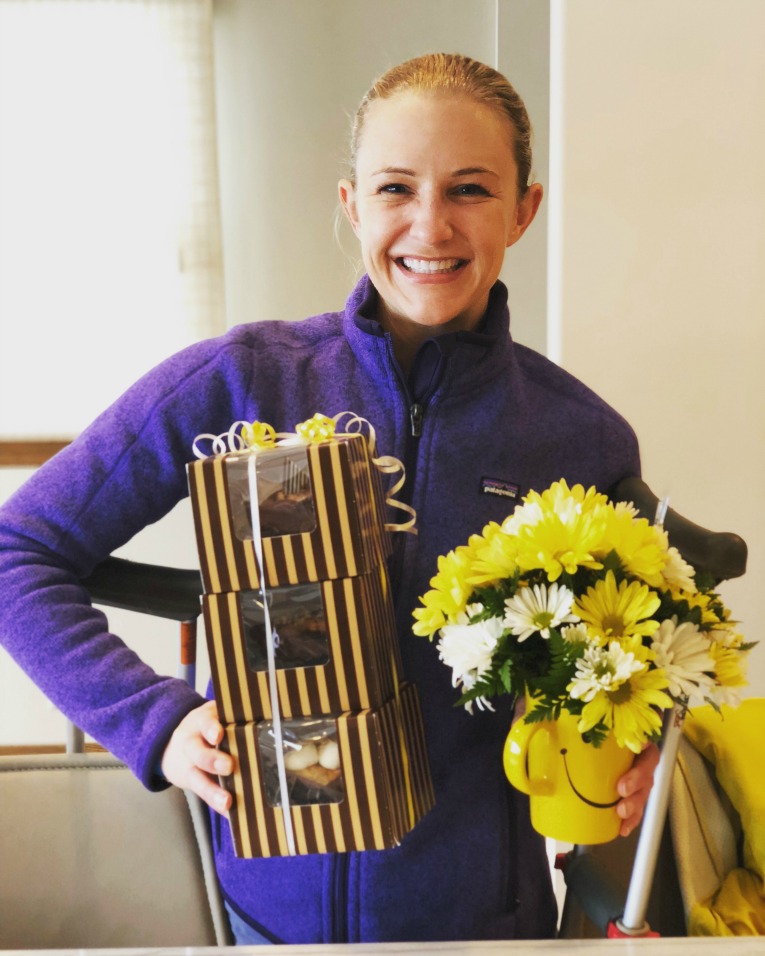 I also had lots of cuddle time with this lady…she spends a lot of her time in her cozy cove, but when she decides its time to cuddle, I must make room for her on the couch.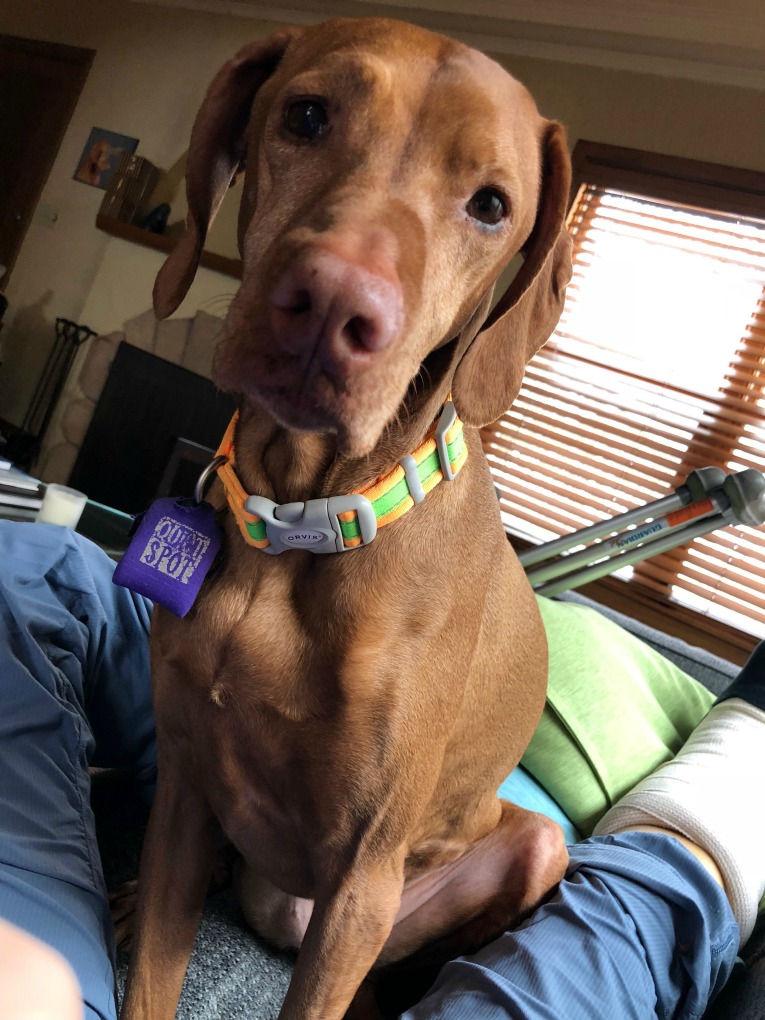 I have received a ton of books from friends to keep my mind occupied and I'm trying my best to stay positive.
It still sucks; if I hadn't broke my ankle, I would be starting to pack for my big Antarctica trip right now. Instead…well, instead I am doing 20 minute chair workouts on Youtube. 🙁
It still sucks.
When I finally do get back to running, I plan to treat myself by purchasing a Garmin Fenix 5S! Isn't it gorgeous?
Even though I can't run right now, I'm still coaching and I have room for more athletes. It's a rewarding side job that I really enjoy; one of my athletes set a FOURTEEN minute PR on Saturday at the Phoenix Marathon; it' so awesome to see her hard work pay off in a big way. Congrats Rachel!
Reach out to me directly at therightfits@gmail.com if you want to chat about coaching.
We're still working through our trip insurance paperwork to get money back on Antarctica. It's a bit complicated. We don't know yet if we will be able to defer to next year's race or  end up back on the waiting list.
In brighter news, a blog reader sent me these two pictures from the Tokyo Marathon expo. He found Dustin and my name's on the Abbott "A" for completing the 6 World Majors.
I will find joy in my previous accomplishments since I'm not accomplishing much these days…except mastering the chair workout. Done and done.
(Visited 860 time, 1 visit today)