Who's ready for another broken leg self-pity post?
You are? Good! You came to the right place.
I'll write this as a weekly recap, just as I used to….you know, back when I was training for a marathon in Antarctica. 🙁
Monday: I worked from home on Monday because I needed to keep my leg elevated above my heart for at least 4 days after surgery. (Did you miss my post about my surgery? Catch up here!)
One of the nurses at TRIA had told me that I would be able to use a knee scooter after surgery. You can rent one from TRIA for $10/day or just buy your own on Amazon for around $150. Of course, I ordered my own, complete with a little basket. I spent Monday getting super pumped to be done with crutches and get my SCOOTER! There were texts with my family about putting streamers on the handlebars, baseball cards in the spokes, maybe a fun bell…endless possibilities!
The scooter was delivered during the day as I was working from home, but the box was too big for me to bring inside while on crutches. So I waited until Dustin got home from work and then it was time! Time for the scooter! YAY!!!!
The excitement was palpable.
Dustin put together the scooter and then it was time to test it out..and lo and behold, it was too painful. My splint was still too big; there wasn't enough space on the scooter for me to (safely) ride it without placing pressure directly on my splint which thus put too much pressure on the broken bone.
So, no scooter.
Who knew that this was where my life would be? 36 and crying about a scooter.
Tuesday: Scooter-less, I returned to the office on Tuesday. There is actually another person in my office who has a broken foot and is on a scooter. It seems that the scooter works great for the small boot/cast that you get for a broken foot, but not for a broken leg.
Everyone was super helpful trying to help me figure out a way to keep my leg somewhat elevated, but there really isn't a comfortable way to do so at the office. By the end of the day my leg was tingly and painful.
Wednesday: Wednesday was more of the same.
The cherry on top was that at the end of the workday on both Tuesday and Wednesday, I got up from my desk to get ready to leave and when putting on my backpack (which is a little heavy with my laptop etc.) I lost my balance and fell over. Twice. Twice!
Twice, the crutches came clattering down and everyone turned to look and a few came rushing over to see if I was okay. Both times I was fine. I didn't fall on the bad foot, fortunately, just to the other side. Both times I laughed it off at the time, but then cried in the car on the way home, out of frustration and embarrasment.
This is hard.  There's a halo of sadness surrounding me. At any given time, I am three seconds away from crying. I'm one frustrating crutch away from a public meltdown.
I know that this is temporary, but it doesn't change how it feels now. This injury was a sharp turn in my plans and a major upheaval of my life.
Not being able to run (or workout in general) has been really tough on my general wellbeing and mental health. My means for coping with emotional stress is gone.
Thursday: Thursday got a little better as I had my one-week post surgery appointment. The sutures were removed, both where the plate and the screws were inserted.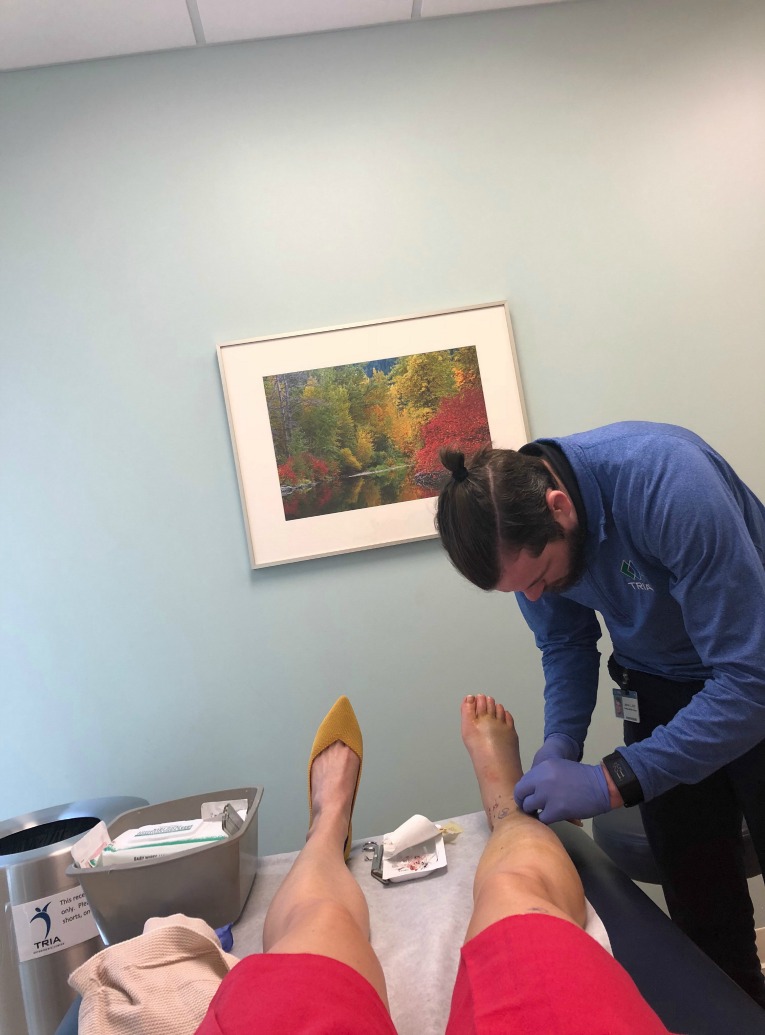 Pretty gnarly looking isn't it? The other side is all the screws- not much prettier.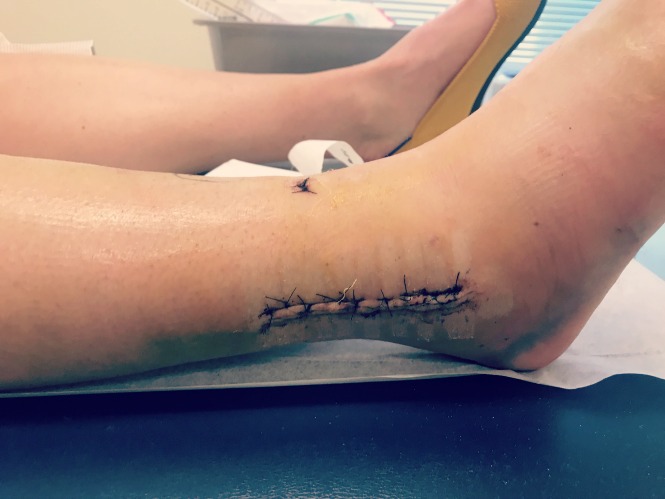 Removing the sutures hurt a bit – okay, maybe more than a bit. A lot.
I was given what will be my 'walking boot' but I won't be walking on it for three more weeks. I can't swim laps yet, as I can't submerge the incisions. There isn't much I can do.
The nurse did say that even though the scooter isn't comfortable, I can still use it. It shouldn't be doing any serious damage. I hope he's right, as the boot digs into my shin pretty badly and is leaving a bit of a bruise there that is really tender. It is still easier than the crutches though, because at least my hands are free, it has the basket (awesome) and its much faster than the crutches. And I'm much less likely to slip on the ice like I could with the crutches!
…the basket comes in handy for snacks!

Friday: Friday was my first day at the office with the scooter and I felt pretty silly. It's difficult to make turns, i.e. if I scoot INTO the elevator and its crowded, then somehow I have turn around or scoot backwards out of the elevator.
…just scooting through the Minneapolis skyways on casual Friday.
The boot is really uncomfortable at night, though the nurse did say I could take it off to sleep if I was really careful. That worries me though since I have still been letting Tilda sleep with me and she is a bit unpredictable. So I have been leaving the boot on but haven't been sleeping all that great…which doesn't help with my "cheery" outlook!
I am supposed to take the boot off 3 times a day and try to work on some ankle mobility. The nurse suggested making the alphabet with my foot, but if I were really writing the alphabet with my foot, it would be the worst chicken-scratch alphabet you've ever seen; there isn't a lot of movement at this point. I don't know how hard I'm supposed to push it to get it to move. Anyone?
Saturday: Dustin went to run club to do his long run, so I was stuck at home for a few hours; there isn't much I can do without the ability to drive. After he got back, he dropped me off at the YMCA, where I was told there was a hand cycle (or, what is often called a crank cycle.)
After some trouble finding the elevator, I made my way to the workout room where there was a crank cycle, but I thought it was broken. Now that I have taken a crank cycle class, I realize that I might have just been using it incorrectly, but I thought it was broken so I asked one of the employees to help me, but she said she would check it shortly and never came back.
Instead, I used this "Nu Step" machine, which does include leg movement, so I just kept one leg off the machine completely. I worked on that machine for 45 minutes; it was better than nothing…
I have found some great barre workouts for the upper body on YouTube, so I have been doing those every day with my 3 or 5 lb. weights.  These Quinetic Fix upper body workouts with Ariel are my favorites. I've actually been a little sore afterwards. Maybe I'll come out of this with a totally toned upper body!
Saturday night, we ventured out of the house for dinner. I decided to use the crutches because the scooter is so big and we were going to Kado No Mise and I wasn't sure what the seating would be like or where I'd store the scooter during dinner.
(Locals, this is in the old Origami space and the omakase that we both had -i.e. the sushi chef's choice- was awesome!)
I did have two glasses of wine with dinner though and I haven't had any drinks since the accident (as I was on painkillers for awhile). I was nervous about crutching and drinking, but Dustin took good care of me. It felt great to go out to dinner and resume a bit of normalcy.
Sunday: I had googled around and found a fitness studio that actually offers Krank Cycle classes! Northeast Fitness near Psycho Suzi's has five hand cycles and they offer "open krank" during any of their normal spin classes. Dustin came along with me (since I can't drive). The teacher was super nice and helpful in explaining how the crank cycles work and how the workout would go (since she would be cueing both the RealRyder cyclists and the crankers).
The class was 45 minutes long and I did break a sweat- it was definitely a great upper body workout and my arms/shoulders were burning by the end, but it didn't really feel like cardio, at least not like running.
But it was SOMETHING and I was happy to be working out. The first class was free to try, but I plan to go back next weekend (anyone want to give me a ride? Your first class is free and you don't have to crank, you can just spin!)
The one downside of the studio was that it was not handicap accessible. There were about 5 stairs to get in and no ramp. It was freezing rain when we arrived, which added to the challenge. Dustin (he's the best, seriously) carried my scooter up the stairs and then came back to help me hop/carry me up the stairs.
After the class, I did about 30 minutes of online barre classes for more upper body.
Summary:  I'm hanging in there. I know it will get better, but that doesn't mean it hasn't been tough. I recognize that I am not the easiest person to be around right now. I apologize to any friends who reached out to me and I was short with them. I'm just grumpy at the world.
I wish it was as easy as telling myself to snap out of it.  There are times that I am able to "fake it 'til I make it" and I don't feel so bummed. But there also days when everything feels so hard. I just don't feel like myself.
I know that next weekend will be tough because Friday is when we were scheduled to leave for Antarctica. It will be hard to be scooting around the YMCA trying to break a sweat when I would otherwise be on a flight to Argentina to begin a two week trip of a lifetime. I already know that it's going to hurt.
But I'll get through it…'fake it till I make it!' At least I can shower without Dustin's help now; I take the boot off to shower and it's still a little treacherous, but the (lightly scented) kitchen garbage bag plus duct tape is no longer necessary. Progress.
In brighter news, it's Matilda's 9th birthday tomorrow. She's such a joy- love that little lady so much! She has definitely been the best cuddle bug during this interesting period of time.
I'm linking up with HoHo Runs and Taking the Long Way Home for their weekly wrap. Check it out!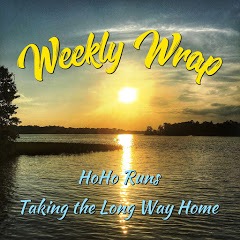 (Visited 845 time, 1 visit today)