I made it through another week of recovery.
If you're just catching up, I broke my leg three weeks ago running; I slipped on the ice while doing my long run on February 17th. Two weeks ago I had surgery to put it all back together (like Humpty Dumpty).
It's only been 3 weeks but it feels like an eternity.

This upheaval in my plans happened three weeks ago and three weeks before I was supposed to leave on a two week trip to Antarctica, where I would run my 30th marathon, the Antarctica Marathon.
So, yes, this was the weekend we were supposed to embark on our trip. Friday and Saturday were both tough days as I tortured myself by checking Instagram, where I had previously started following several other people who were on the same Antarctica trip with us; of course, they were posting all these awesome pictures of their arrival in Argentina, bursting with excitement of what was to come, and I was stuck in my immobile condition feeling sorry for myself.
I'm getting better, but definitely still feeling a bit down. I can generally laugh at myself and joke about the scooter life….like with streamers on the handlebars:
(Thanks Emily- she also bought me a "damnit doll"!)
But then occasionally, I'll have a really frustrating day where I just can't handle how hard every-day activities are.
Not to mention there's so much clutter and disorganization taking over my house; I am generally a pretty organized person and not being able to put things in their proper places and keep things in order is really stressful. I don't like having visitors because I feel like our house is in such a dire state. I know people who care about me don't care about my disorganized house, but I do. The clutter is building up and getting worse and I can't do anything about it, though I tried; I thought it was a good idea last weekend to try to clean out my closet but nope- terrible idea! It's definitely an activity that requires an active-bodied person.
Speaking of visitors, my sister and her kids came over on Sunday for dinner and we played a board game version of an escape room.
One of my nieces made me this sweet artwork:
She's right- it's only going to get better.
My friend Peri recommended that I watch the documentary Gleason. Have you seen it? It's on Amazon and I highly recommend it. It's about Steve Gleason, a retired NFL player,  who in 2011 was diagnosed with ALS and two weeks later, his wife found out she was pregnant. He started making video journals to share with a child he didn't know if he'd ever be able to meet. It's beautiful and inspiring but also a tear-jerker. Be prepared. But it did help me put things in perspective as every day I am getting better and every day he was only getting worse.
On that note, I think I'll try and recap what little "exercise" I did this week…
Monday: I worked from home because Minneapolis had one last blizzard; Dustin was worried about how safe it would be for me on crutches or the scooter outside in weather like that, so fortunately my job is flexible enough to allow me to work from home occasionally. I did my regular upper body strength routine for about 45 minutes. It's just a combination of different workouts I have found on youtube. I'm considering making my own video combining the best of what I've found- "The Perfect Workout with a Broken Leg." <– stay tuned!
Tuesday: Since I can't drive and can't take the bus, I'm going into work with Dustin (he works in the same building as me downtown) which means I have to work his hours, which are generally 6:30 to 4.
After work, he dropped me off at the YMCA where I crank cycled for 45 minutes and then did upper body strength.
Wednesday: More of the same- 45 minutes on the crank cycle, upper body strength.
Thursday: Guess what? More of the same. Pretty boring. 45 minutes of crank cycle, upper body strength. At least I have interesting podcasts to keep my mind off of the monotony. This one was interesting!
Friday: And yet one more day of the same. It's all I can do.
60 minutes of crank, upper body strength.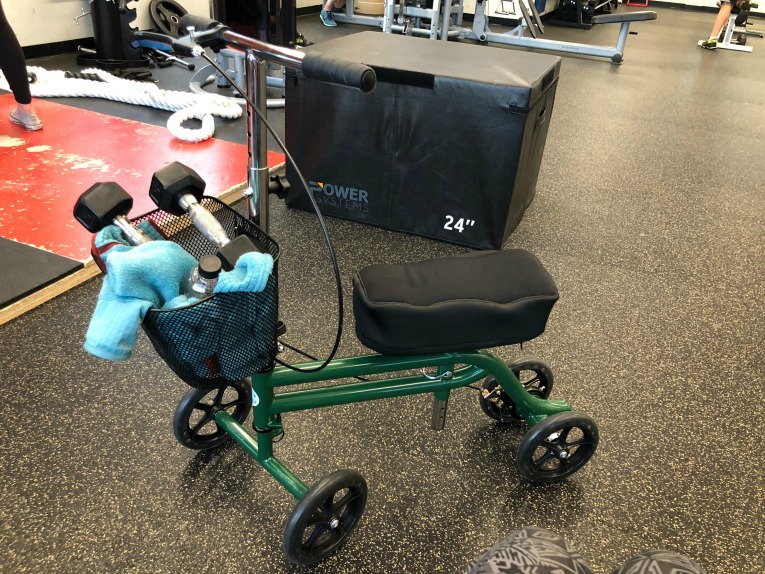 A man next to me on a regular stationary bike commented that he's never seen anyone use the crank cycle for more than 5-10 minutes and I was on there for an hour.
Saturday: Nothing. Dustin was running the O'Gara's 8k race in St. Paul, so I didn't have a way to get to the Y. My friend Peri was so sweet, she stopped over with breakfast from French Meadow to catch up, and then later my sister and my nieces stopped by again.
Later in the day, we stopped by 44th/France Wine Shop for our "Discovery Box" which is a membership program where every two months, you get a case of 2 bottles each of 6 different varietals. When the box comes out, they have a tasting at the store of each wine to give you the option if you decide you don't want to purchase that month's box (we always do!) It's a great way to try different wines, selected by the friendly experts at 44th/France! In the summer months, they offer an optional/additional white box, which is also really great.
We scooted on over for a tasting and to pick up this box. I'm excited to try the wines!
Sunday: My friend Christie is so great- she picked me up and drove me to Northeast Fitness for their crank cycle class. She even tried out the crank cycle class with me!
She also had to take care of my scooter and getting me and up down several stairs. What a friend!
What is crank cycle? It's similar to the type of hand cycles used in the wheelchair division of marathons. It's all upper body, just spinning the flywheel with your hands. You can rotate the machine so you can switch directions that you're cycling, which I usually do about halfway through a workout.
You can alternate how you're cycling or you can spin both arms together (which gives you more power, i.e. if you increase the resistance to similar a hill or something.) You can also push with one arm at a time, as though you're turning/changing directions.
Here's a video:
It takes focus for me to get my heart rate up; it's more of a strength/toning exercise. I can still push enough to break a sweat but its definitely not the same as running.
I have a 4 week follow-up doctor's appointment at the end of this week; I really hope they tell me that the incisions are healed and that I can start to swim laps and/or pool run.
One day at a time…please let this recovery fly by.
I'm linking up with HoHo Runs and Taking the Long Way Home for their weekly wrap. Check it out!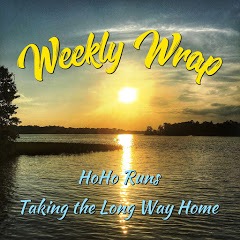 (Visited 854 time, 1 visit today)