I'm four weeks post-leg break and three weeks post-surgery.
(If you're catching up, read this post and this post.)
This week definitely showed signs of progress. I still had my moments when I felt sorry for myself, especially when seeing pictures on social media of all the fun the Marathon Tours group was having in Antarctica. 🙁 Social media can be harmful that way, can't it? Seeing how great the weather was for the marathon, seeing all the amazing pictures…I was bummed.
I know that I shouldn't dwell on that. I can't change what happened. I can't change my situation.
I can continue to try to focus on recovering and make the most of what I can do.
And overall, this was a good week.
Monday: 45 minutes of crank cycle, upper body weights (this workout and this workout are my favorites for upper body weights. Low weights, high reps.)
Tuesday: 60 minutes of crank cycle, upper body weights. Yes, I would rather be running. (Shirt from Sarah Marie Design Studio!)
Wednesday: 60 minutes of crank cycle, upper body weights
Thursday: This was a big day…I had a 4 week follow-up appointment with my surgeon at TRIA.
I had packed a gym bag before work with my swimsuit/gear with the hopes that I would be cleared to swim. Dustin was worried that I was setting myself up for disappointment; neither of us really knew whether the incisions were healed; they were still covered with surgical tape. And we're not doctors 🙂
The appointment started with an x-ray and then a consult with the surgeon. He said that everything was healing really well. He told me that I could ease into putting a little bit of weight on it (ideally in the safety of my house to start). Additionally, I was cleared to swim! Yippee!!!
After the appointment, I had Dustin drive me straight to the gym to swim. I wasn't comfortable walking yet down to the pool (it felt so odd to walk) so I scooted on down and swam for about 45 minutes. It felt really weird to move my leg in the water; it isn't very mobile yet, so I really wasn't kicking with it much and I couldn't push off the wall/turn at all, but it still was SO nice to do something other than crank cycle!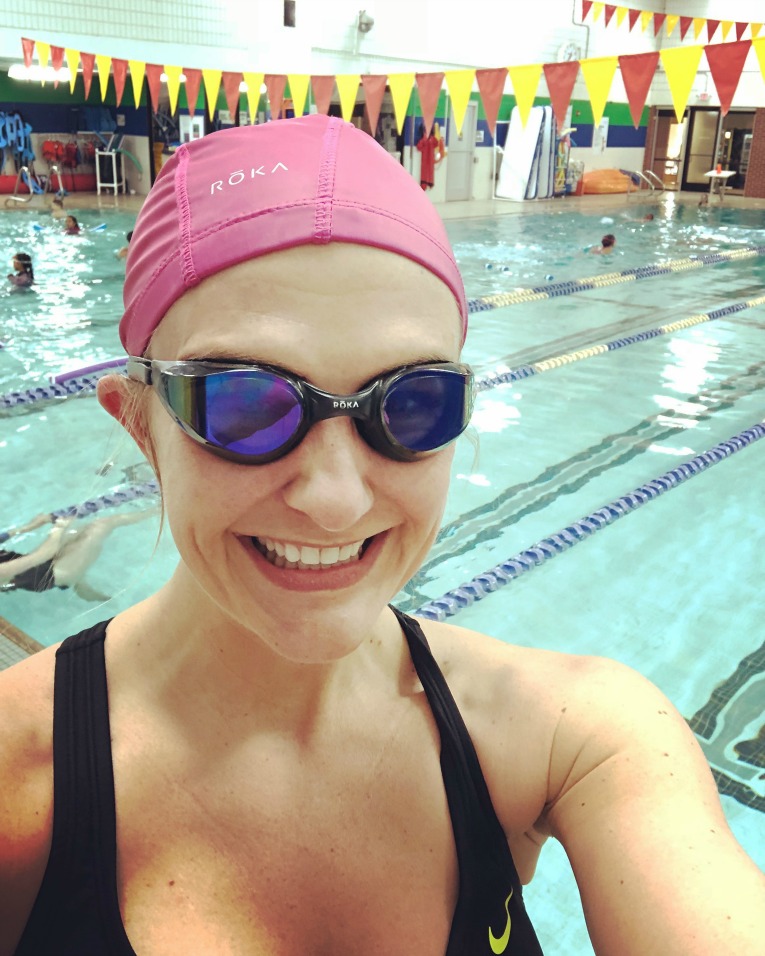 After I got home, I tried walking around the house the rest of the evening; I even starting cleaning out my closet (which had been stressing me out). I probably overdid it a little bit with the amount of walking, as it was pretty sore by the end of the night.
The surgeon said I'll be able to feel if I overdo it; the amount that I walk is up to me and my pain tolerance. I start PT next week at Mayo Sports Clinic downtown so I'll see what their plan is for me as well; I'm sure we'll be working on getting mobility back and then eventually strength.
Friday: I decided to still use the scooter on Friday at the office as I could only walk a little bit and very slowly. And to be honest, it still hurts quite a bit.
After work, I swam again for another 45 minutes. Afterwards, my friend Ericka, who is a personal trainer, offered to train me for an hour at her studio in Uptown. She was sure she could come up with a solid workout that I could do even without being weight-bearing..and guess what? She did!
The workout was great! She came up with so many great moves that I didn't even think about.
I plan to train with her at least once a week, maybe twice if she can fit me in. She's even willing to come to my house to train me too (we do have a little 'gym' space where my treadmill is.) If you are looking for a great trainer, checking out EDK Training! She also hosts fun Bells & Beers events, which are hour-long kettlebell/circuit classes at local breweries (followed by a pint of course!)
Saturday: My sister Cresta was kind enough to drive all the way from Eden Prairie to pick me up and take me to Northeast Fitness for a 30 minute crank cycle class. 30 minutes wasn't a very long workout, so the instructor suggested that we stick around for the barre-ilates class. She was sure that the instructor would be able to offer me modifications that I could do with a bum leg.
I'm glad she suggested it- the class was great! It was a mix of pilates on the reformer mixed with some barre moves in a circuit style hour long class. I was able to do a lot more than I expected and got in a solid workout. Thanks Northeast Fitness!
That evening, we celebrated my new walking status with dinner at i.e.(Italian Eatery) by Lake Nokomis. (YUM!)
Sunday: 45 minute of lap swimming. There were kids taking swim lessons at my gym and they all pointed at me and said (quite loudly), "What's wrong with her? What's wrong with her leg?"
Kids…they have no filter!
I explained to those within ear distance that I had a broken leg, that's why I use a scooter and have the boot. (I didn't swim in the boot, just wore it down to the pool and then left it on the edge.)
Then we had brunch with our friends Craig and Richard at Eat Street Social. We decided to plan a little getaway to Palm Springs in April, when I'm a bit more mobile. It won't take the place of Antarctica, but I think it will be good mentally to go somewhere warm for a long weekend. Our friends spend a lot of time in Palm Springs and offered us a lot of great tips for our trip!
That evening, we went to my sister's in Eden Prairie for dinner. We are dog-sitting my friend Monica's dog Darla and she's the most chill dog ever (total opposite of Matilda!)

I thought she'd be a great example to my sister's husband, who the girls are all trying to convince to get a dog. My sister's three daughters are DYING for their own dog and will probably go for a smaller breed than a vizsla if/when they do get one, so Darla was a great visitor for them.
Fingers crossed my nieces get their wish soon!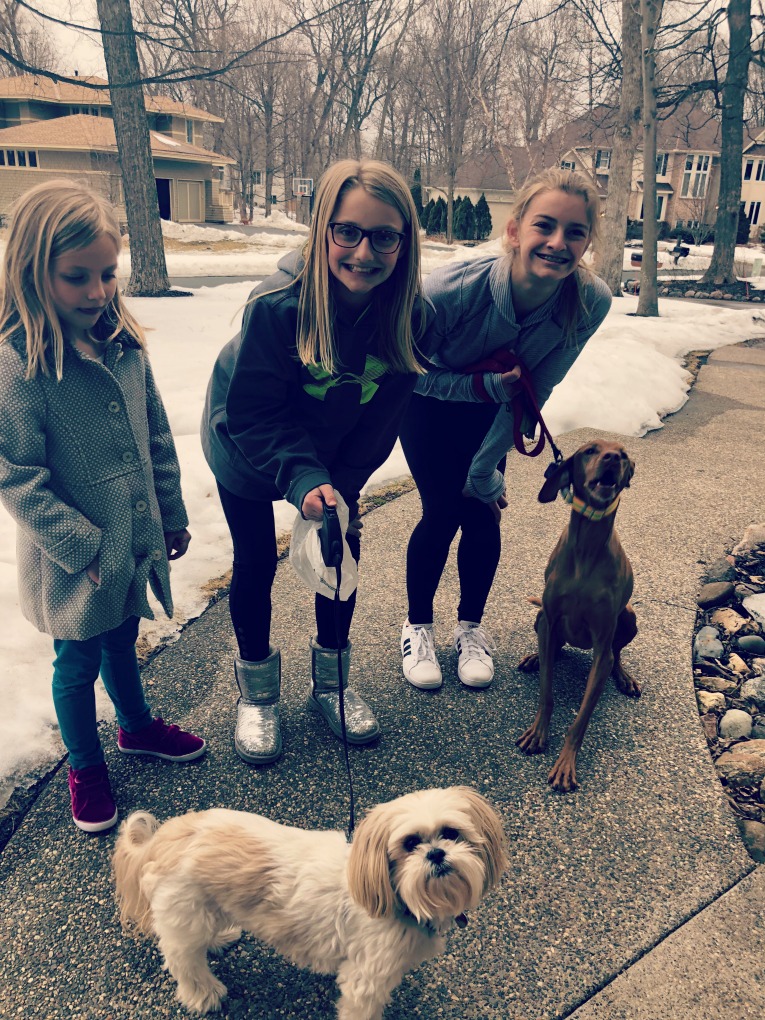 Summary: Being cleared to swim was a huge morale booster. I know that I have such a long way to go, but seeing real progress really lifted my spirits. I know that there will be tough days where I get really down, but at least this week was a good one.
I'm linking up with HoHo Runs and Taking the Long Way Home for their weekly wrap. Check it out!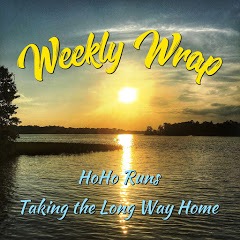 (Visited 626 time, 1 visit today)