I left off with last week's recap with day 1 of snowboarding in Whitefish, Montana. That Sunday was a gorgeous bluebird day, warm enough to comfortably enjoy an après-ski on a patio! That sun felt amazing.
We had a lot of fun on the mountain! Whitefish was a lovely ski resort- a bit more low-key than some (no lift lines! No crowds!!) with plenty of blues and accessible black diamonds for an intermediate like me, and some more challenging terrain for Dustin and Nate (my husband and my friend Vicki's husband, who are both quite good.)
I've heard that Whitefish can be pretty cold, since its pretty far north by the Canadian border, but we had warmer days all three days that we snowboarded.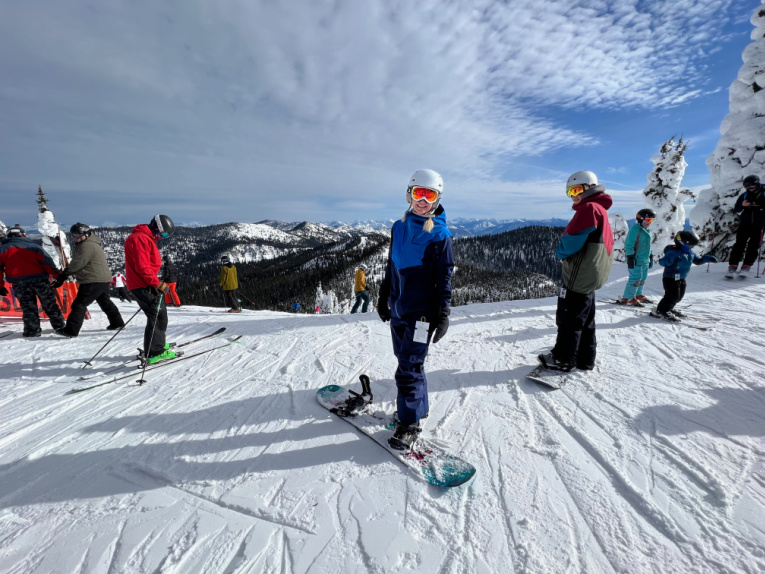 Monday: Monday morning, Dustin and I drove our rental car down the road from our VRBO a bit on the mountain to the Whitefish Trail, a groomed nordic (cross-country) ski trail.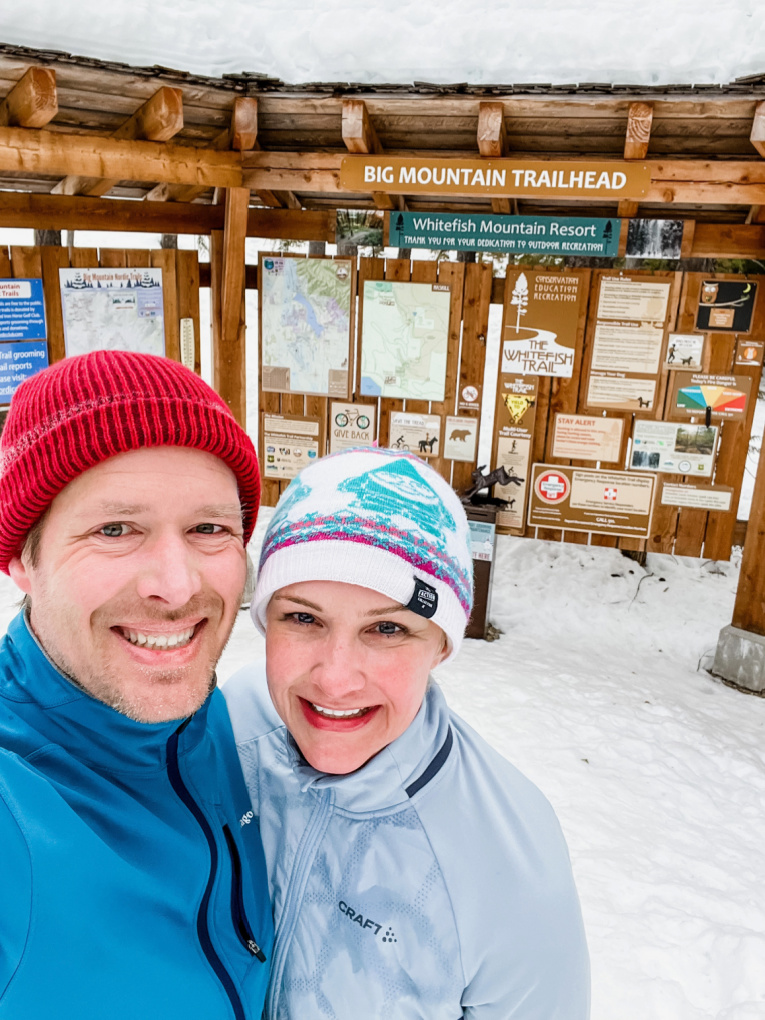 I'm a part of the Oiselle voleè, and I reached out to the Montana team for tips on where to run in Whitefish ahead of this trip; a few women recommended bringing traction (i.e. my kahtoola nanospikes) and running on this ski trail. It's open to hikers, so why not runners? We tried to stay off the main ski path. We never saw any cross country skiers, though we were there relatively early (7:30 am.)
We did a 5-mile run on this trail, though the 'out' portion of the run was downhill and felt easy, and then the 'back' portion was uphill and quite tough- quads were burning! I had to walk a bit, as I'm not that fit to zip up a snow-covered hill, even with traction. 10 min of core on Peloton after the run.
The rest of the day was spent snowboarding, with run after run down the mountain!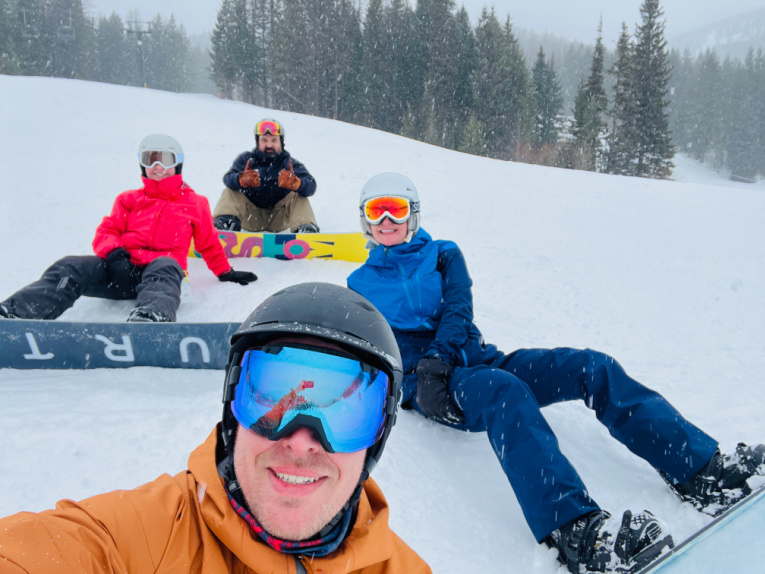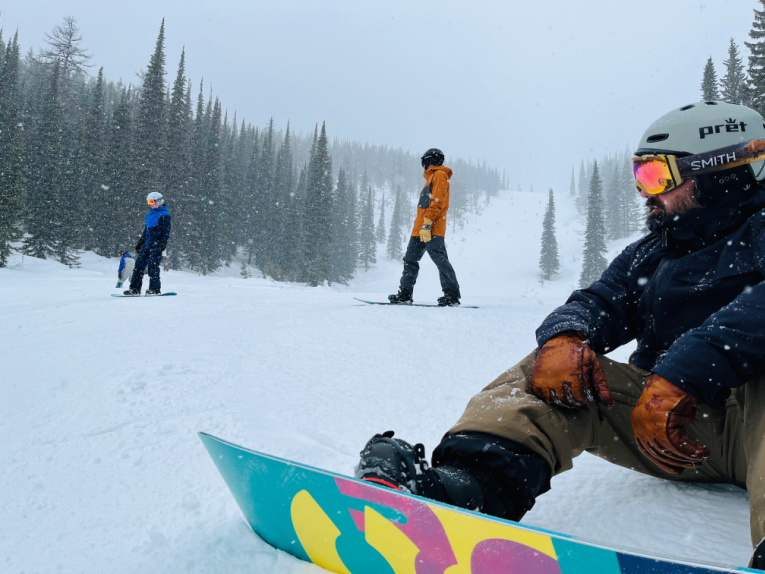 That evening, we had a wonderful "Valentine's" dinner at a restaurant called Last Chair, which was probably my favorite place that we ate in Whitefish.
Tuesday: We were in Montana with my friend Vicki and her husband; you may recognize Vicki's name as she is a friend I often run with. We decided to run around the VRBO within the main resort area, but it was tough- slippery and not well plowed. I made it 4 miles at a slower-for-me pace (11 min/mile) before deciding that was enough for the morning. I followed up the run with 10 minutes of core on Peloton- I'm keeping up with that goal of 10 min a day of core, no matter what!
The rest of the day was our last day of snowboarding. There was 3-4 inches of new powder, which was fun at first, but if you're a skiier/snowboarder, you know that powder starts to bump up and get a bit more challenging. However, this was our longest day on the mountain and we definitely made the most of it even with challenging visibility.
I had mentioned that it had been 4 years since we went on a trip out west and I was a little nervous about my skill level, but I gained a lot of confidence back and had a blast. And no serious falls/injuries! Even though the three others on the trip were more advanced than me, I was able to keep up and make my way down whatever route we chose, just a bit slower than they did!
That evening, we had another tasty dinner at an Italian restaurant, Abruzzo's.
Downtown Whitefish is charming! It's right near Glacier National Park; if you ever decide to check out that park, you could stay in Whitefish.
Wednesday: Our return flight home from Kalispell (the town we flew into) was not until 2 pm, so we had some extra time in the morning. Vicki and I ran on a bike trail in the town of Whitefish (not on the mountain.) The trail was snow-covered, so we were happy to have our nanospikes.
6 miles done with some lovely scenery of the lake!
After the run, we packed up our things and had brunch in town at Loula's and wandered around downtown Whitefish again to kill some time before heading to the airport.
You can actually take the train into Whitefish; we stopped by the depot to check out the museum there, which was charming.
Thursday: Back to reality. I was up very early to meet my friend Christie for a cold, cold run: temperature -3, "feels like" -18 with some very brutal wind. This honestly felt like one of my coldest runs yet; my fingers were achy afterwards- like really achy in the shower afterwards. My legs were also pretty sore and tired from 3 full days of snowboarding. Not my best run by far!
I covered 10.5 miles and was showered and online for an 8 am meeting and a full day of work after missing three days…ugh.
After work, I did 15 min of core + 30 min of upper body on the Peloton app.
Thursday was actually the FOUR year anniversary of when I broke my tibia/fibula on a 20 mile long run, 3 weeks before we were supposed to run the Antarctica marathon (which we did get to run in 2019, read about that race/trip HERE, HERE, HERE, and HERE– some of my all-time 'most-read' blog posts were about Antarctica!)
Did you know I've actually broken my leg twice on an icy run? The first time was pre-blog in 2008, the year of our wedding. It wasn't as serious of break as the one in 2018, as I did not need surgery and hardware installed like I did for the 2018 break.
That 2018 break was a doozy.
Anyways, I'm healthy now, thank goodness.
Friday: 8 miles with my friend Vicki before work- just in case we didn't get enough of each other during the snowboarding trip, ha! Another cold morning, but it was above zero (though "feels like" was still below zero.)
Saturday: Yet another cold morning for a long run. -3 actual, "feels like" -15. Fun times.
I ran 7.5 miles solo, came back to pick up Dustin for 7 miles together, so 14.5 outside. I had planned to do the final 3.5 outside, but just didn't have it in me, so I stripped down and did the remaining 3.5 on the treadmill to get to my scheduled 18 miles. Followed up the run with 10 minutes of core and a nap. 🙂
Sunday: 7.2 mile run with Ruth and Dustin, 8:35 min/mile average. It was sunny and 31 degrees! Downright tropical. Felt so nice, but it will be short-lived again, as we have a blizzard on the forecast for tomorrow. Argh!
Followed up the run with some core and upper body on Peloton.
Summary: 59 miles of running, lots of snowboarding, daily core, & upper body mix on Peloton.
And that's a wrap on life and training for the Boston Marathon, with lots of details about our trip to Montana too!
I'm linking up as always with Running on the Fly and Confessions of a Mother Runner as part of their Weekly Rundown. Check it out!
(Visited 294 time, 1 visit today)