Happy February! That means this Tuesday is Groundhog's Day, right? But hasn't it been Groundhog's Day for the past year?? It often feels that way, right?
Overall, it was a good week in fitness. Here's how things went down this past week:
Monday: 5 miles on the treadmill, Discover Strength virtual 1:1 after work
Tuesday: 7.7 miles outside before work, 9:20 min/mile average. Very cold; single digit temps.
Wednesday: 5.2 miles over lunch. I started out with Ruth, but with a temp of 10, feels like -2 with the wind, she wasn't having any fun, so I did about 1.2 with her and then 4 alone, 8:45 min/mile average. Discover Strength virtual 1:1 after work
Thursday: 7 miles, 9:15 min/mile average before work, outside. Another cold one in single digits!
Friday: 4 miles on the treadmill before work, Discover Strength virtual 1:1 after work
Saturday: 11.25 miles outside; I covered 10 with my small running bubble and then 1.25 with both dogs. 9:10 min/mile average.
We took the route through the Sculpture Garden, which was lovely: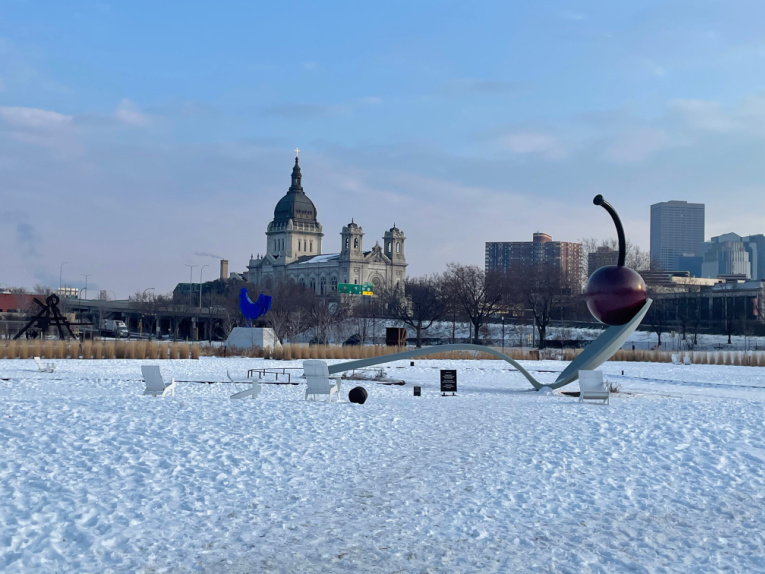 It was so much warmer than it had been earlier in the week- almost 30 degrees! It felt amazing.
After a quick shower, Dustin and I met up with my friend Julie to check out the ice bath on Lake Harriet. I'm not entirely sure who set it up, but it's being maintained with a ladder and a yoga mat (the ice is slippery!) There are some rules posted, like only 4 people at a time, never dip alone, wear a mask, etc.
When you first get in, it's hard to regulate your breathing. My legs hurt and were very cold, but they started to feel a little better as time passed.
Julie's and my goal was to make it a minute in there and we definitely passed a full minute.
My legs felt amazing afterwards! It did take a little while for my toes to feel normal, but I think there must be some validity to this whole ice thermogenesis thing. 10/10 would recommend! I'll definitely do it again. Plus, it felt very "Minnesotan" to do it, ha! It's cool to have it right in our backyard, essentially, on Lake Harriet.
Sunday: 5.5 miles with Dustin.
And guess what? My sister Cresta saw my pictures from the ice dip and wanted to come try it too! So she and two of my nieces (tough girls!) joined Dustin and me again.
I made it just over a minute again; Dustin went for 90 seconds!
Cresta made it a minute; I think my nieces were around 30 seconds. It's tough!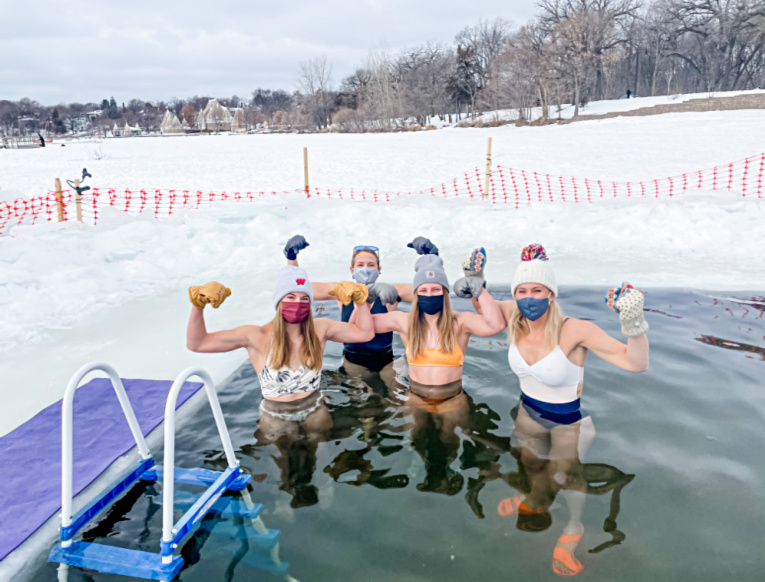 Summary: 45 miles, 3 strength training sessions, 2 ice baths!
I'm linking up with Running on the Fly and Confessions of a Mother Runner Check it out!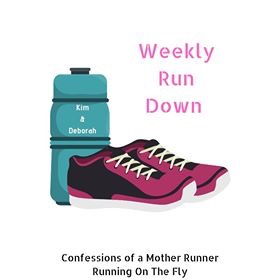 (Visited 274 time, 1 visit today)