By Jess in Minneapolis
Hi everyone! I'm back in Minneapolis, and super pumped to be in town to cheer for all my friends this weekend at the
Twin Cities Marathon
(and remotely for my sister Cresta at the Milwaukee Marathon!) In fact, I've put together all my signs for Sunday, and I'm pretty excited about them!
What do you think of this one? Ha! I figured it will make someone smile.
Actually, for the past four years that we've been with the
Calhoun Beach Running Club
, we have always been out of town running a marathon in another city on the same day as Twin Cities, so we have never been able to cheer for our friends. But we planned our Berlin trip perfectly, and we're back in Minneapolis, and ready to cheer our hearts out!
Anyways, on that note, I'd like to share some advice that comes from Todd in another local running club, the Orono running group. My friend Abby used to run with this crew, and she's still on their email distribution. She shared this email with me, and the author, Todd, was nice enough to allow me to post.
This is Todd's advice as to what to wear- and what NOT to wear to the TCM expo this weekend. It's all tongue-in-cheek, but I hope you find it as entertaining as I did!
You've probably had your race outfit figured out for awhile now, but have you given any thought to what to wear to the expo? Here's some sage advice.
For newbies especially, here's a list of what to wear and what not to wear at the Twin Cities Marathon Race Expo this Friday or Saturday. The trick is, you want to look like you belong there (because you do), but you also don't want to look like you are trying too hard to belong. The look you are going for is "confident athlete who doesn't look like you ran here, but easily could have".
Also, you might as well pick up your goodie bag and race number right away, because you look cooler walking around with it (BUT DON'T PUT THE NUMBER ON JUST YET).
If you are going to wear a race t-shirt, here are some rankings of shirts on a scale from Really Cool down to Dork:
"Really Cool":
Super Cool Finisher's Shirts:
Anything from the Boston Marathon, a Western States 100 shirt (or any 100 mile race shirt), or an Ironman shirt.
"Pretty Cool":
Last year's TCM finisher, any other year's finisher shirt (the older, the cooler – old Grandma's shirts work well for this too if they aren't too yellow and faded), a NY, Chicago, London, Paris or Berlin finisher's shirt;
Finisher's shirts from Berlin- okay to wear at the TCM expo next year.
Also "pretty cool": Any obscure ultra shirt, (if it has blood stains – you are up in the super cool category as long as it was from the race and not from chopping broccoli), Border to Border Triathlon, Big Sur, Marine Corp, California International, etc.
"Cool":
Last year's 10 miler finisher shirt, any other year's 10 miler, any TCM volunteer shirt (but be prepared to give directions to the bathrooms), any 1/2 marathon shirt (except the Monster Dash), TC10k.
A
5k race shirt, sprint triathlons, inline skate races, any Monster Dash shirt.
"Dork":
An ALARC Shirt, a racing singlet, generic under armor shirt, AND especially any shirts from the
Warrior Dash, Color Runs or other "pretend" races, these are especially uncool (I'm not counting the Tough Mudder – that's cool because it's more like 10 miles and really hard, not just pretend hard). Not making a judgement here, whatever gets the masses off their asses I say – and I'm sure they are plenty of fun, just don't go to the Expo and expect any respect…because while the marathon is many things to many people, it is a race after all.
Running shorts. This applies to guys especially – trying to look like a runner at an expo full of runners means you are just plain trying too hard. We get it. You are here to pick up your number because you are a runner. So is everyone else.
Please note – this was written very much tongue in cheek – so please don't take offense if the Monster Dash is your favorite event.
Thanks Todd for letting me post your advice!
As for me, this is what I wore to the Berlin Marathon expo last Saturday. Please note the guy in his running spandex on the right of the picture- he clearly didn't receive Todd's advice!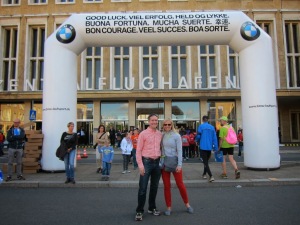 (Visited 312 time, 1 visit today)