Last Sunday, I ran the IDBI Mumbai Half Marathon.
Saturday Expo:
The expo was held on Thursday/Friday/Saturday, but since I had to work far away from the packet pick up, Saturday was my only option. I had my driver take me to the University of Mumbai Kalina campus, where the expo was being held at the sports complex there.
It was interesting to see the University campus…very different than the University of Minnesota where I went, that's for sure, but pretty in its own way. I only drove through the campus, it would have been fun to get a walking tour.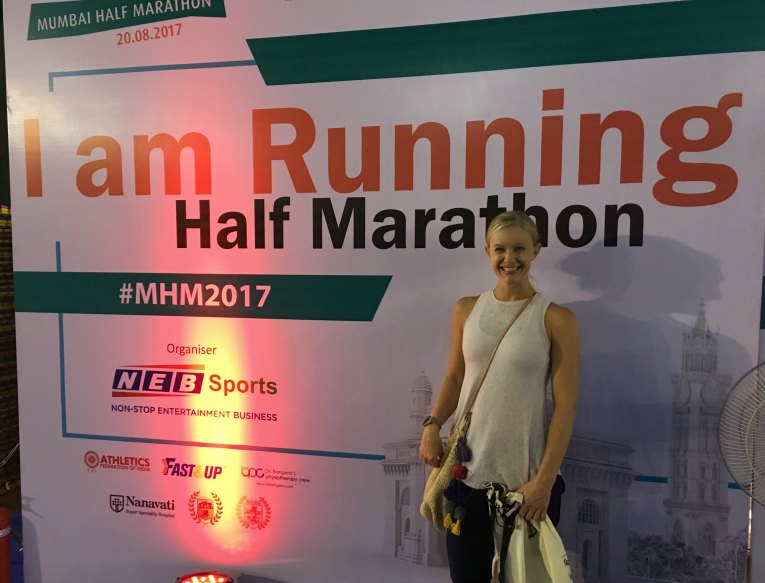 The race expo was small but had similar things as what you would find at a US expo- a check-in area with big signs with bib number ranges, a place to check to ensure your chip reader worked correctly, a few merchants selling gear, a few photo opp spots.
I had been assigned a bib, even though I hadn't actually paid to register, as the online registration didn't work with an international credit card. I had emailed the organization to see if I could pay at the expo and they had said that was fine. But no one asked me to pay when I picked up my packet- I had to ask them if they wanted me to pay!
Registration was like 1,300 INR, which is less than $20! Incredible.
Race Morning:
The race event included a 21k, 10k, and 5k. The 21k started at 5:45 am. My alarm went off at 4:30 am and I ate a Luna bar (it's all I had) took a Huma gel, and drank a lot of water.
The race start was merely a 1/2 mile from my hotel. How convenient, right? The race was in Bandra Kurla; it was supposed to be held in "old Bombay", but unfortunately due to the construction on the new subway, the organization hosting the event was unable to get the police permits they needed to have the race there. Instead, it was held at Bandra Kurla, which was fine with me, though Bombay would have been a prettier more touristy route.
I guess a lot of registrants were quite annoyed with the change in location, as I read a lot of complaints on Facebook. The organization did arrange for shuttle buses to take people from Bombay to Bandra Kurla, which seemed nice.
I got to the race start around 5:15 and used the 'port-a-loo' while panicking as I realized that it was about to start raining really hard. It was only drizzling when I left the hotel, but I should have known better as I had my phone with me. I just happened to see this man who was taking his race bib out of a plastic bag, so I asked if if I could please have the bag and he gave it to me. Thank goodness!
(Though spoiler alert, my phone still died a few hours after the race due to water damage. I have survived nearly a week in India with NO phone! It's more challenging than you'd think. It's fine to take a break from social media at your fingertips, but directions, google, the ability to make ACTUAL phone calls to my driver…..have to get creative!)
Proof of the rain? How about this picture (from Facebook, free to download, which was nice):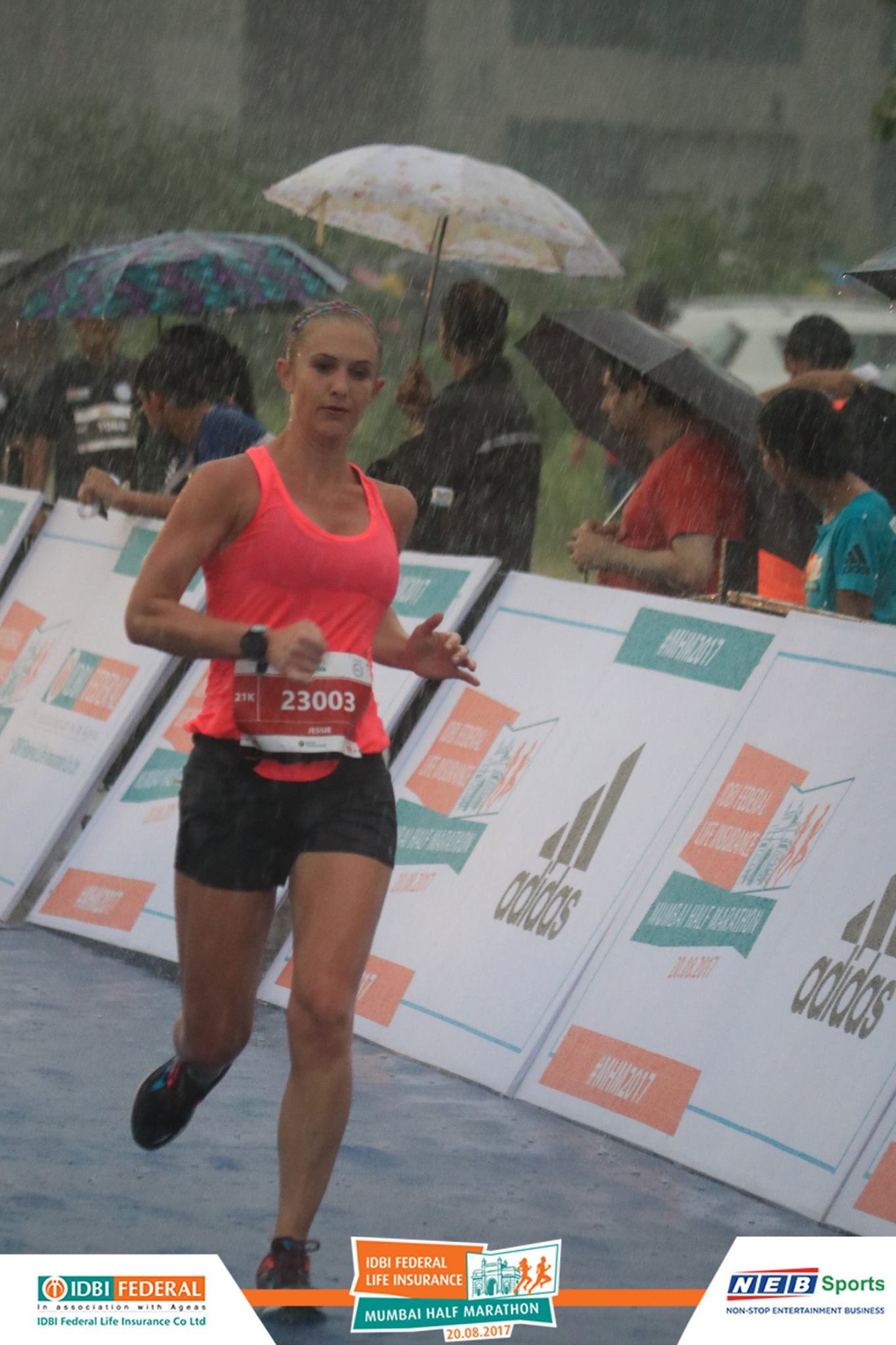 Warm-up:
Normally, I would do a few miles of running to warm-up at a half marathon, but it was hard to figure out where I could have done this as it was quite crowded..instead I just hung out among the crowd, watching the official warm-up exercises. It was very similar to the Berlin marathon warm-up. Apparently in other countries, runners don't warm-up on their own with jogging and dynamic stretching/drills!
As I waited in the chute to start, I overheard a woman complaining about how there should be corrals at this race because it was too crowded. She said there were 6,000 runners, but I don't know if that number was the total for the half marathon or all three events combined. But I did agree with her- it was quite crowded and as we approached the 5:45 am start, it really did get quite push-and-shove in there.
I started behind the 2:00 pacer; my loose goal was to keep my time under 2 hours, which seemed like it should be pretty easy for me. But the start area was so crowded I couldn't really get much closer.
It was so humid and drizzling at this time. To be honest, I started to doubt whether I would be able to keep things under 2 hours!
But just as the race took off,  a torrential downpour started. Monsoon season is no joke! At some points during the race, it was raining so hard I couldn't even open my eyes. I really should have at least worn a hat with a brim. Sure, the rain keeps you cool, but when its raining that heavily, it is definitely a challenge. My shoes were filled with water.
My Race:
Mile 1: 8:23
Mile 2: 8:11
Mile 3: 8:17
Mile 4: 8:51- included a bathroom stop
Mile 5: 8:16
Mile 6: 8:25 The course was two loops for the 21k, so at this point we basically crossed the finish line (almost) and then headed back out for a second loop.
Mile 7: 8:32
Mile 8: 8:59 Around this point, I had totally given up  on any sort of hard effort. I was just running easy trying to avoid the deepest puddles, but I already was so completely soaked it didn't really matter.
Mile 9: 8:52
Mile 10: 8:54
Mile 11: 8:45
Mile 12: 8:48
Mile 13: 8:29
Total : 1:53:10 <- I met my goal!
Fuel:
Backing up to the night before the race, as I mentioned in my weekly recap, I ventured away from Indian food and had pasta the night before the race, with Enzo the goldfish giving me a pep talk.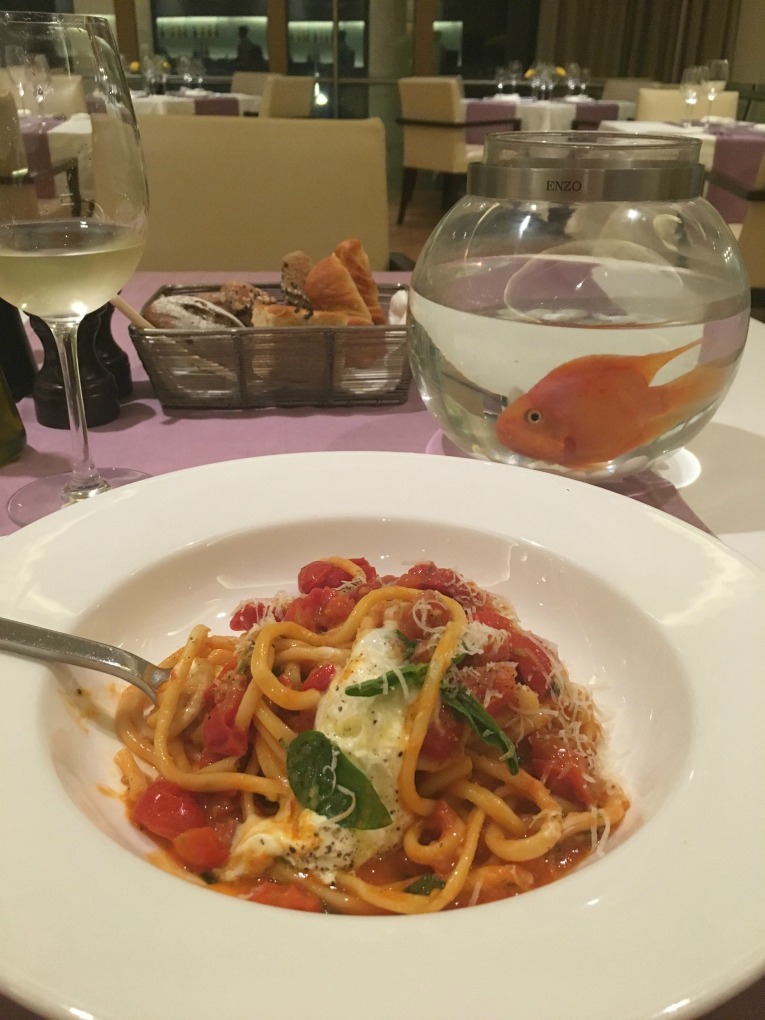 Race morning, I had a Luna bar, water, and a Huma gel.
I was worried ahead of time as to whether or not the water at the aid stations was going to be bottled water. Even after four weeks here, my stomach would not be strong enough to handle the Mumbai tap water…I was so relieved to see that it was small water bottles, (though I do recognize how wasteful that ends up being, as people toss so much of it.)  I did see volunteers handing out bananas and oranges, and at some stations the same water bottles were filled with a red liquid- I don't know what it was, so I just stuck with plain water. I took one GU along the way that I had brought from home.
Route:
With the race starting at 5:45 am, it was still dark. There were sections that weren't all that well lit. It was mostly pavement with some cobblestone. There were some holes and places that one could have tripped. The sun never did come out, what with the torrential rains and all. 🙂 I can't imagine how hot it would have been if it wasn't raining!
There was a moment when I was running in the dark and the rain, surrounded by other runners (all Indian, of course, I didn't see any other foreigners). At that point, I could hear the Muslims' call to prayer (if you've heard it before, you know what I'm talking about it, it's sort of a chanting/song)
At that moment, it all felt very surreal and very…India.
This was my Mumbai running experience.
So even though my phone died and I was completely drenched, I'm glad I did the race. I'm glad I had my India race experience. If I come back for work again, I will definitely try to do more races here.
Overall:
At the finish, I hung out for a little bit, just to see what else was going on. I was worried to take my phone from its plastic bag as it was still raining, so I only took one picture. However,  as I was waiting, I did get asked to take pictures with a bunch of other people, similar to my experience at the Gateway of India. It's definitely a unique experience that makes you feel like a celebrity, to have all these people asking for your picture.
It wasn't a "race" for me, but I'm still happy with how I did given the circumstances. There were times when the rain was really coming down that I thought about dropping out just because it was pretty miserable, but then I told myself if my phone was already dead, a few more miles isn't going to change that. I might as well finish to get the full experience.
At the finish line, there was more bottled water. I saw some posts afterwards on Facebook about a free breakfast, but I didn't see where that was going on.
Instead, I asked someone for directions to the my hotel and jogged in that direction until I found my way back.
Everyone who ran the 21k received a medal and it was actually quite a nice one too!

I was anxious to see the official results as there weren't that many women during the 21k, so I was curious how I placed. Every time I ran past the race officials, they would call out my race bib and write it down.
I ended up in 12th for women and 6th in my age group. If only I was in PR shape, I would have come in 3rd place (3rd place woman ran a 1:43). I'm sure the top women are much more accustomed to Mumbai weather though, so I didn't truthfully stand a chance. 🙂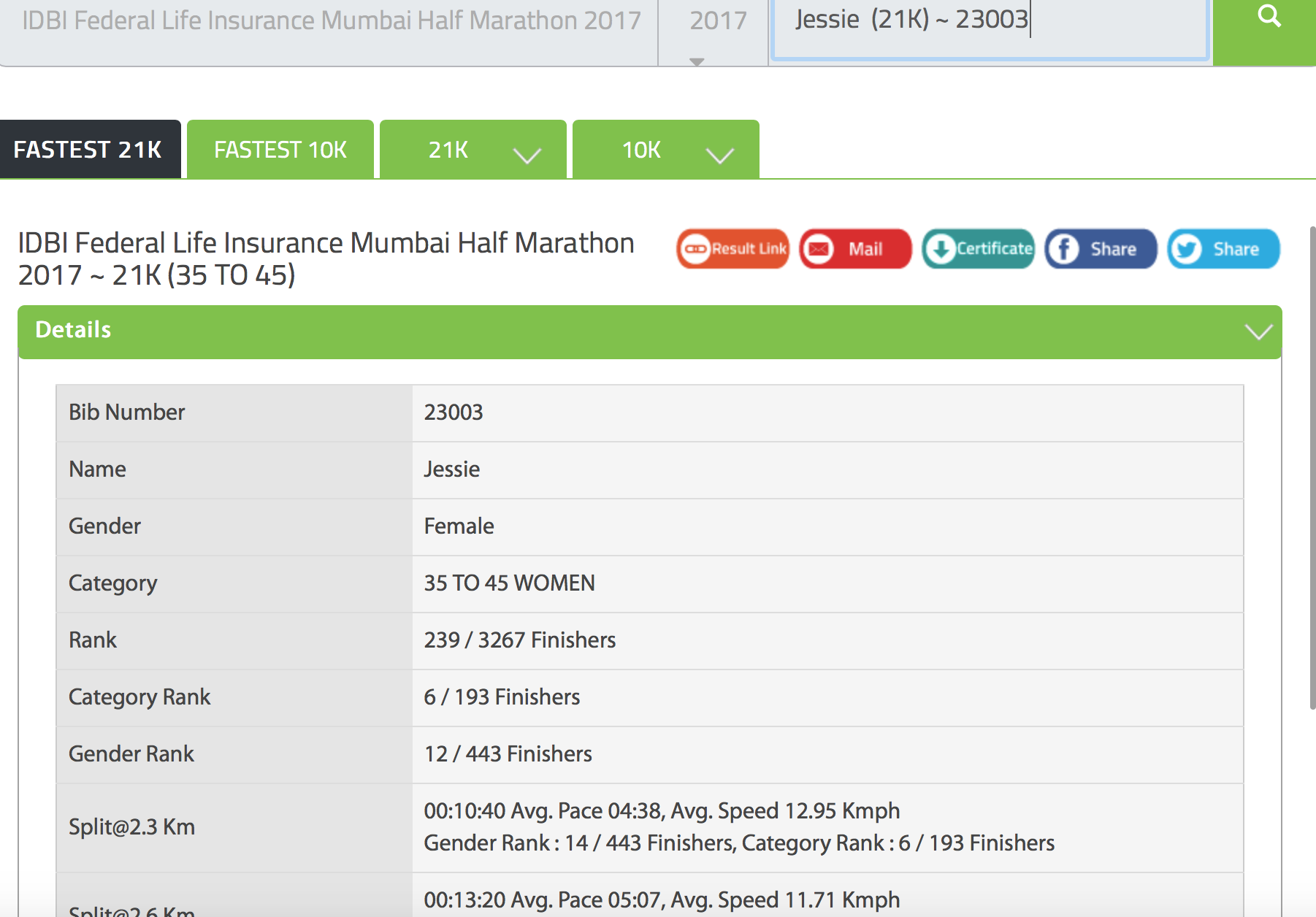 Here is a quick list of some of the differences and similarities between a race in India and a race in the US, based on my experience at this race.
Differences:
The route/location of the race wasn't posted on the website until just a day or two before the race, which made it challenging for me as a foreigner as I needed to plan ahead as to where I was going and how to get there! Even when Team Ortho has had route issues in the Twin Cities, they usually had an answer more than a day or two in advance. That was a bit stressful.
When registering online, even though I wasn't able to pay, I had to scan/send my passport and provide my blood type!
The coordinated dancing warm-up <- I have only seen this in Berlin
Price to register- much less expensive than a US half
More barefoot runners
Less women (US races are over 50% women these days)
Huge free breakfast at the finish (though I missed it)
Women runners in general were much more conservatively dressed than US (er, maybe just me). Just an observation.
Water served in water bottles not cups (was just fine with me!)
Loud fun drums/bands along the way <- there's music at US races, but this was more…Indian, I guess!
Kilometer markers only, no mile markers (of course).
The Muslim call to prayer- just not something I experienced in a race before
The results weren't posted online for several days.
Similarities:
Running is running 🙂 Same, same. That's what's awesome about running.
Lots of complaints on Facebook about the lack of signage and flow at this race, but personally I give them the benefit of the doubt since they had to change the venue. However, it does sound quite similar to issues that Team Ortho encounters! So in that respect a similarity for sure.
Chip timing on the back of your bib
Finisher's medals
Uncontrollable weather 🙂
After the race, I took a shower, ate the hotel breakfast, and took a nice nap 🙂 Eventually I made my way to the hotel gym for another 5k on the treadmill to get my mileage up to around 16 for the day as I was supposed to do.
I am quite happy to have had this unique India race experience and I hope to have more in the future to compare this one to!
(Visited 731 time, 1 visit today)