I made it through another week of marathon training while working in Mumbai!
As usual, I'm sharing my weekly recap and linking up with Jess from Jess Runs ATL. Join us! Details below.
Monday: After a weekend visiting the Taj Mahal, Dustin and I were back in Mumbai. He joined me for a run on the Worli Sea Face path; we tried to make our way past the primary 2.2km part of the path to a place where we could take a walkway out to the Haji Ali Dargah mosque, which is located on the water. Unfortunately, the way to get there was a little…questionable. So we turned back and just took a picture from the shore.The mosque was kind of pretty lit up in green in the morning light.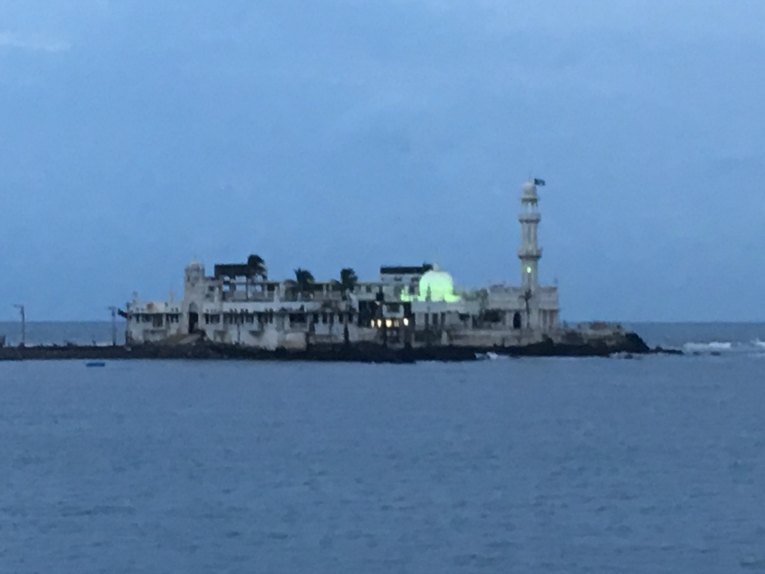 Along the way, we had to run past this shoreline that was just covered in trash…Not so pretty.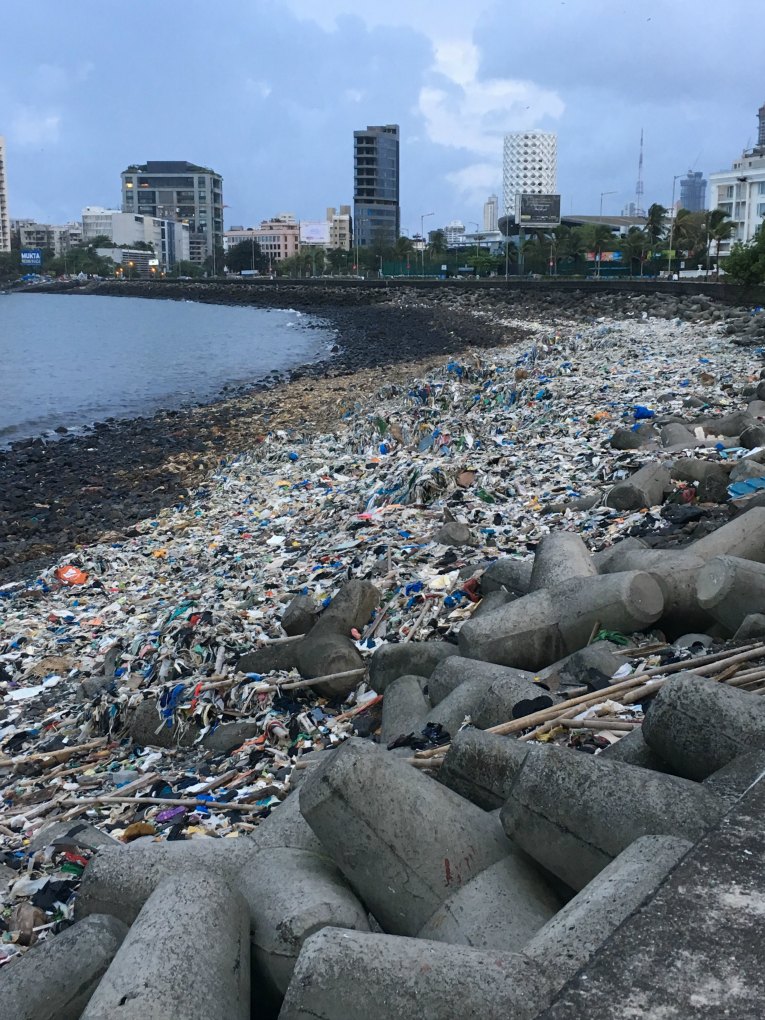 *I hope by sharing pictures like these, it doesn't seem that I am pointing out the negative things in India! I am just trying to give an honest view of my experience running here.  It's my honest experience, I run past some places/things that are pretty dirty.
We completed 6 miles at an 8:40 pace.
After the run, I went to work and Dustin took a city tour with Hemali. He got to see artists busy making Ganesh statues for the big festival coming up on the 25th!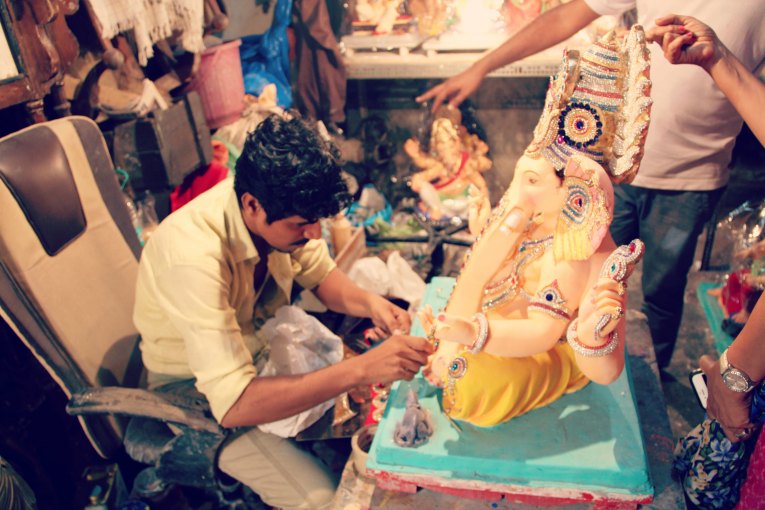 Mumbai has a bit of everything…sure, some trash covered shoreline, but then there's all this awesome culture to experience! My coworkers have shared a lot about Ganesh; the festival occurs on the day of my flight, but I'm trying to figure out if there is any way for me to see some of it.
That evening, my commute back to the hotel took nearly TWO hours because of some heavy rain…that was a lot of episodes of "How I Built This" podcast!
Fortunately, our dinner reservation wasn't until 10 pm at Masala Library, which is right in the Bandra Kurla complex.
It was a tasting menu, either veg or non-veg. Dustin had the non-veg and I had the veg. It was delicious and quite fun!
It was also A LOT of food….We weren't done eating until after midnight either.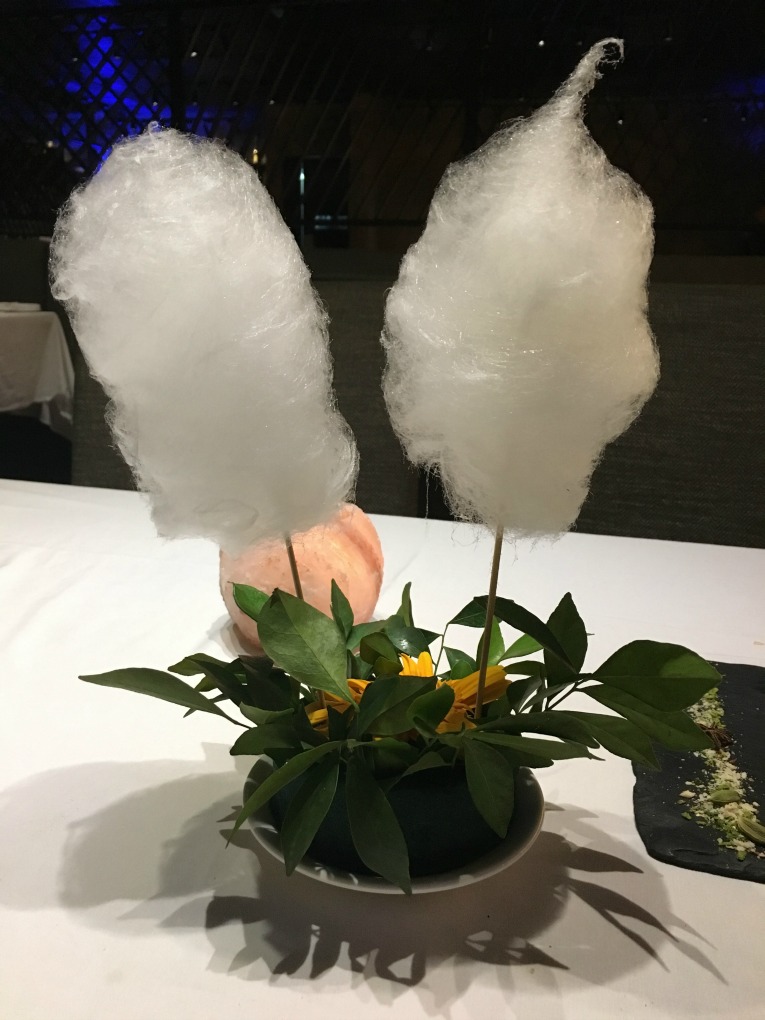 Tuesday: Both Dustin and I had tempo miles, so we took it to the treadmill (mostly so he could run his own pace.) I had 2 miles to warmup, 3 miles at a 7:20 pace, 2 miles to cool-down. I don't know how accurate the treadmills are at the hotel as this felt too easy. 7 miles total at an 8:07 min/mile pace.
Dustin ventured out to the Elephanta Caves for the day while I worked.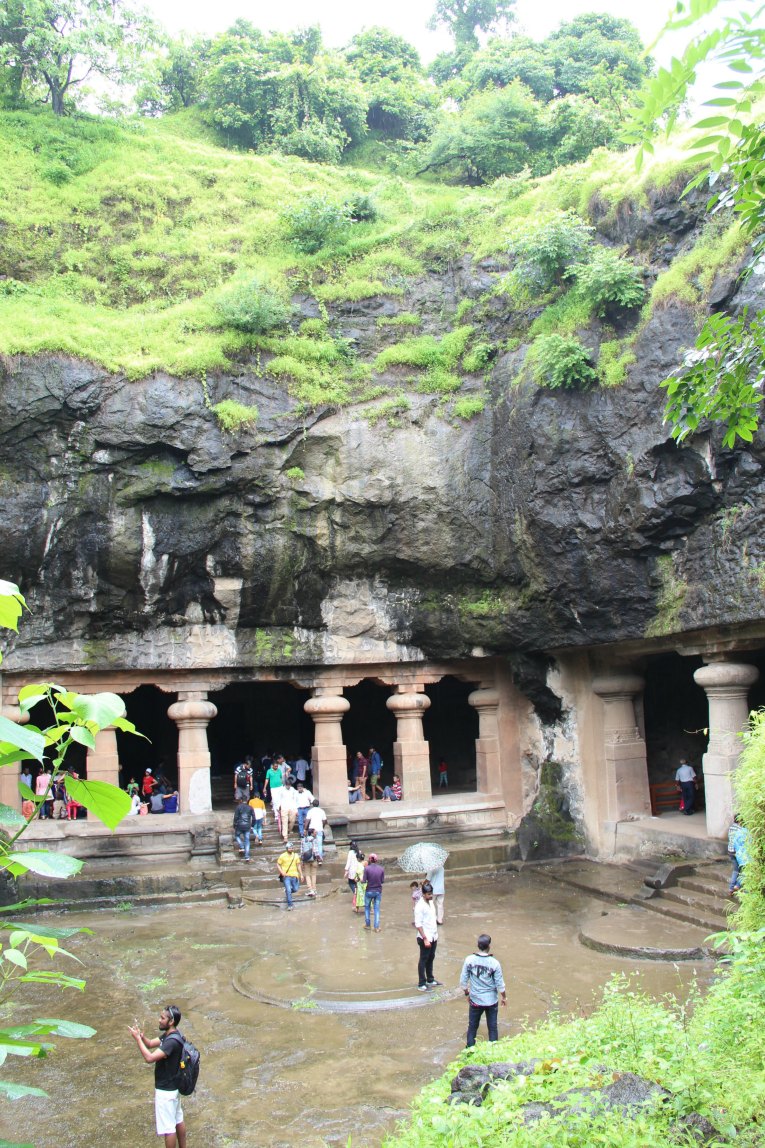 I was able to squeeze in another 3 junk miles on the treadmill after work. 10 miles on the day.
That evening, we tried Parsi food at a restaurant called "Soda BottleOpener Wala." The food was good, though the restaurant was dry because it was India's Independance Day. (Can you imagine if all the restaurants/bars were dry on the 4th of July in the US? That would not go over well!)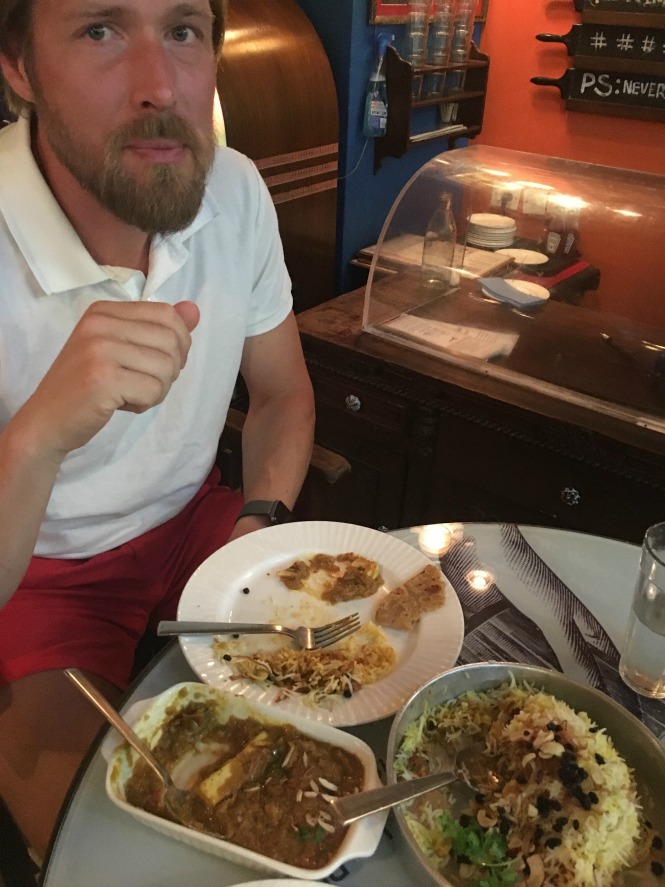 Wednesday: Dustin's last day in Mumbai 🙁 His flight left at 2 am Thursday morning, so he headed to the airport around 11 pm Wednesday night.
We did one last run on the Worli Sea Path in the morning. Dustin was actually not feeling too great- dehydration, etc. The humidity is no joke here.
We were representing Gear Running in Mumbai!
Thursday: 5.6 miles on the treadmill with some 100m sprints in the middle. 3 more treadmill miles after work. I generally can convince myself to at least do a 5k on the treadmill after work, even when I get home at 9 pm.  8.7 miles on the day.
Friday: Easy 10k on the treadmill. (6.2 miles). That evening after work, I joined my team for a night out. It was so much fun!
I'm so impressed by how much Indian men love to dance (must be all those Bollywood films!) And they're really good at it. It was great to hang out outside of the office. They have all been very kind and welcoming to me. I'm going to miss them!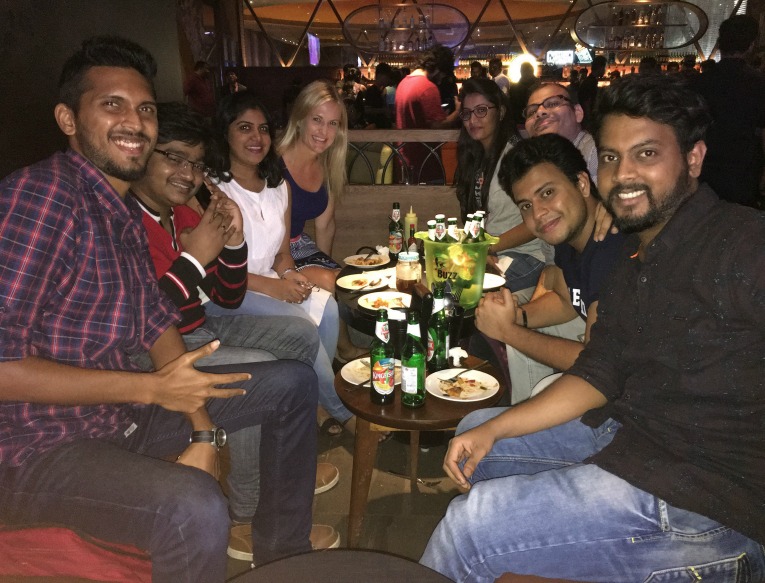 Saturday: Another easy 10k on the treadmill. (6.2 miles).
Then I went to the expo at the University of Mumbai campus to pick up my race packet for the half marathon on Sunday.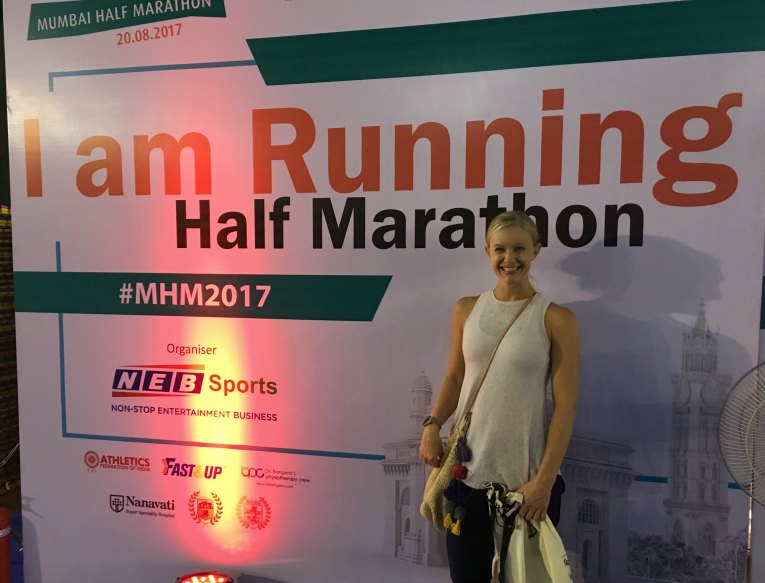 I was supposed to do a bazaar/shopping tour in the afternoon, but it was raining so heavily that the guide cancelled it. It ended up being a very low-key day at the hotel, which I haven't had so far this trip. It was kind of nice. I even caught up on Game of Thrones!
I decided to eat at the Italian restaurant in the hotel for some pre-race carbs..this time Enzo the goldfish was my companion!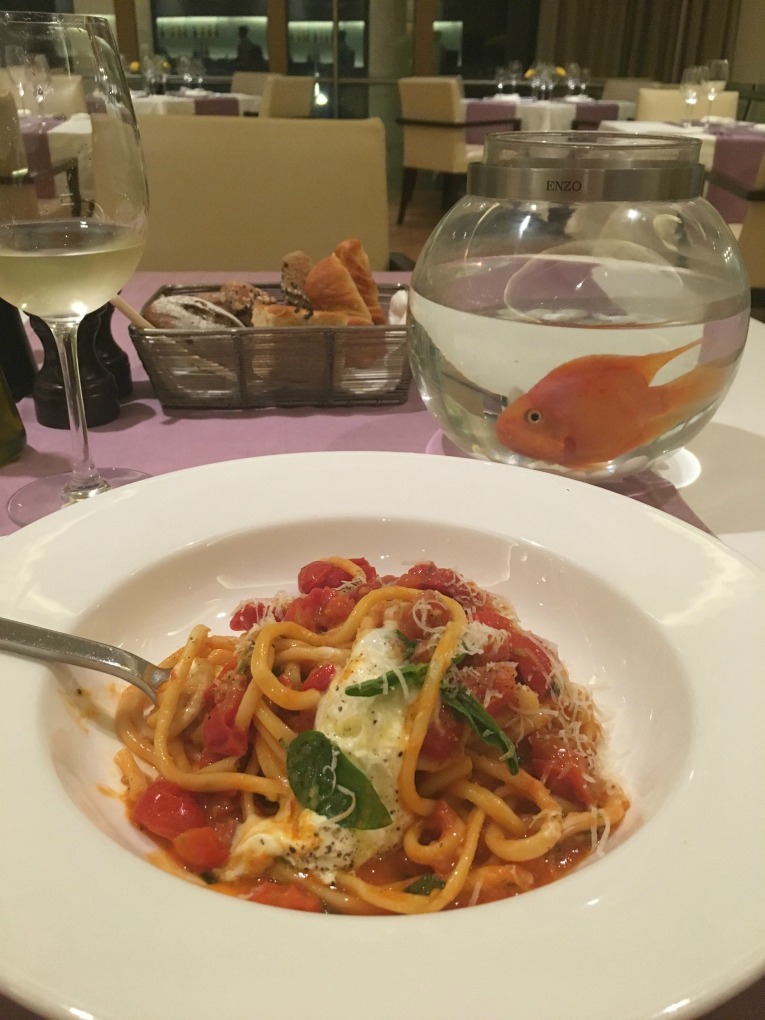 Sunday: The Mumbai Half Marathon! My first race experience in India. I will write a full race report this week but it was a unique experience, despite the fact that it was monsoon pouring rain the whole time and my phone isn't working quite right now…I'm hoping it just needs a little R&R post-race. I'm going to be in trouble if it doesn't come back to fully functional for my last week here.
13.1 miles +0.4 miles jog back to the hotel, and of course 3 more on the treadmill later in the day = 16.5 miles total.
Summary: 60 miles of running. Better than last week! Those junk miles on the treadmill helped get my weekly mileage back where it normally would be.
Only one more week before I head back to the US!
Speaking of heading home…
Having Dustin here was so great. But if I come back again for work, we will plan it so that he arrives at the end of my work trip and I take a few days of PTO afterwards to explore with him instead. It was really hard to have him here yet be stuck at work late each day.
He was fine exploring on his own, but I would have really liked to explore with him! What can I say, he's my favorite travel companion and I wanted to spend time with him, not spend time in the office.
We did have the lovely weekend at the Taj Mahal, but it just went too fast…I feel like he arrived and one breath later he was gone. It actually made me homesick to have him here; I'd like to think that I'm rather independent and can manage on my own; in fact, I kind of relish alone time, especially as an introvert. Most of the time here, I was just fine, thank you very much! 
Yet once he was here, all of a sudden I was really homesick; I was so sad when he was leaving 🙁
I guess I do really miss home/friends/family!
And Matilda…I miss Matilda. So much.
(Visited 380 time, 1 visit today)