Last Sunday, I took a full day city tour of Mumbai India with "Bravo Bombay." Bravo Bombay is a one-woman shop; that one-woman being a guide named Hemali Talsania. And that one woman is amazing!
I decided to book my tour with her after reading rave reviews on Trip Advisor from other solo female business travelers. I'm so glad I did- I will definitely be recommending her to all my colleagues who come to Mumbai after me for work. In fact, my manager has a tour booked with her already (as well as Dustin when he arrives- she doesn't only give tours to women.)
She was so sweet and easy going, a joy to spend the day with. But on top of that, she is very smart and knowledgeable about Mumbai history, architecture, politics, religions, anything and everything Mumbai!
**With top quality comes higher than average cost; my private tour was over 300 USD and that was during the off-season; that's very expensive for Mumbai. The tour did include a driver to pick me up at my hotel and take me home afterward.
(Her tour cost a lot of INR!)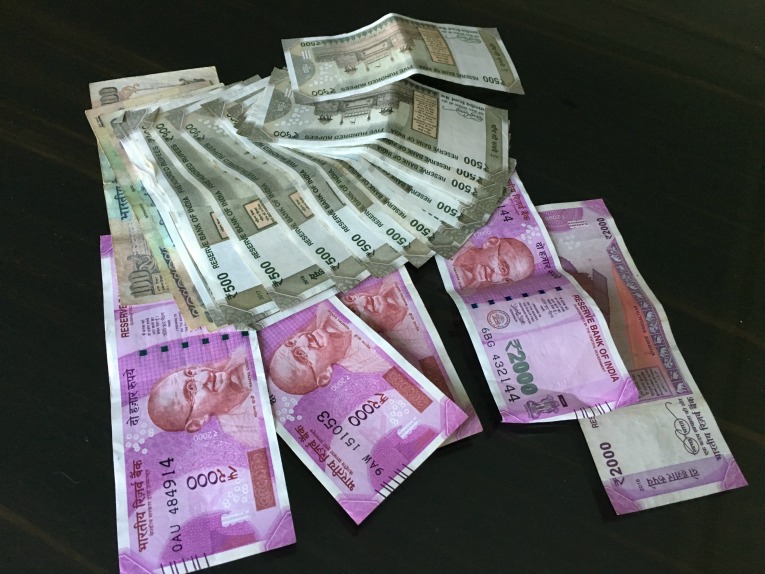 The driver picked me up at 8 am at my hotel and it took about 45 minutes for us to get to the Dadar Flower market, our first stop on the tour, where Hemali met me.
The Dadar Flower Market:
My favorite stop of the day; I guess I'm a sucker for pretty flowers.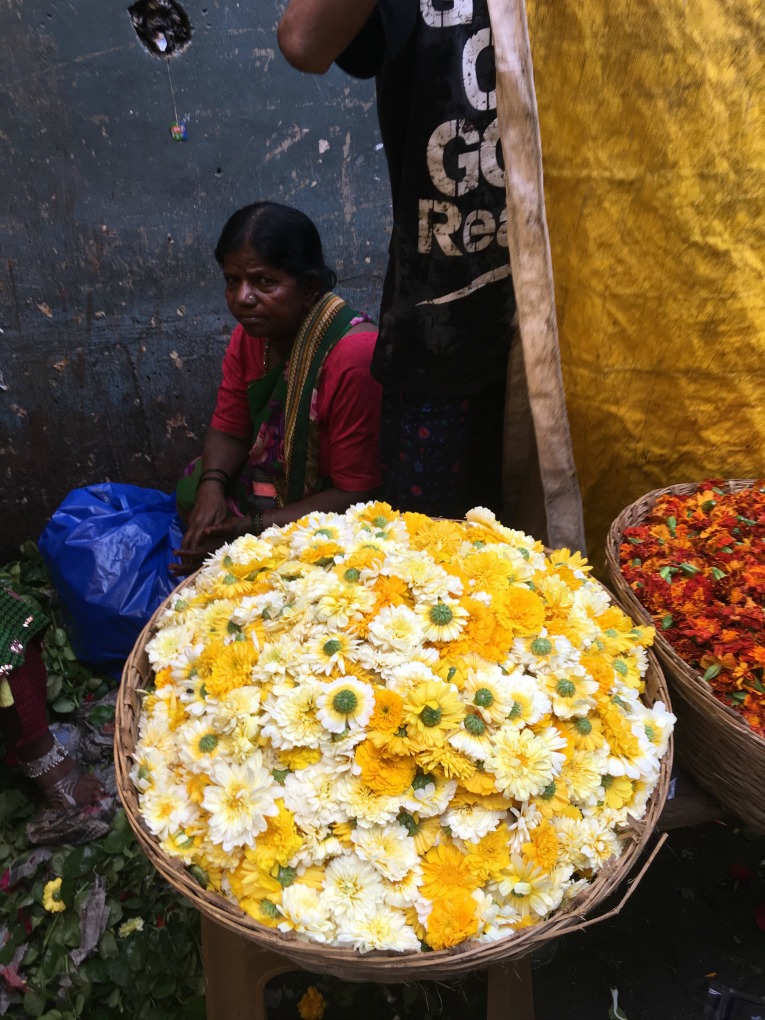 Dadar Fresh Flower Wholesale Market: The morning operation time is short but apparently long enough for the entire city's retailer and decorators to stock up their stores. This is where the city's best florists shop. Endless flower vendors selling fresh, colorful, fragrant flowers and flower garlands for unique photo opportunities to travelers- colors, people, and genuine Mumbai life."
Hemali negotiated for me and purchased me some roses (equivalent of like 3 USD) and a fragrant bracelet.
We were at the market after the rush was over as she said she'll never take tourists there during the actual rush. It's just way too pushy and crowded; these people are there to do business and make a living! They don't have time for tourists 🙂
And here are a bunch more pictures…

By the time we arrived around 9 am, it was still bustling in my opinion but not quite as crowded as before, and Hemali said the flowers are cheaper then since the vendors do have to get rid of them.
We leisurely walked through the market as she explained what the different flowers are used for- what types of Hindu celebrations or events, etc.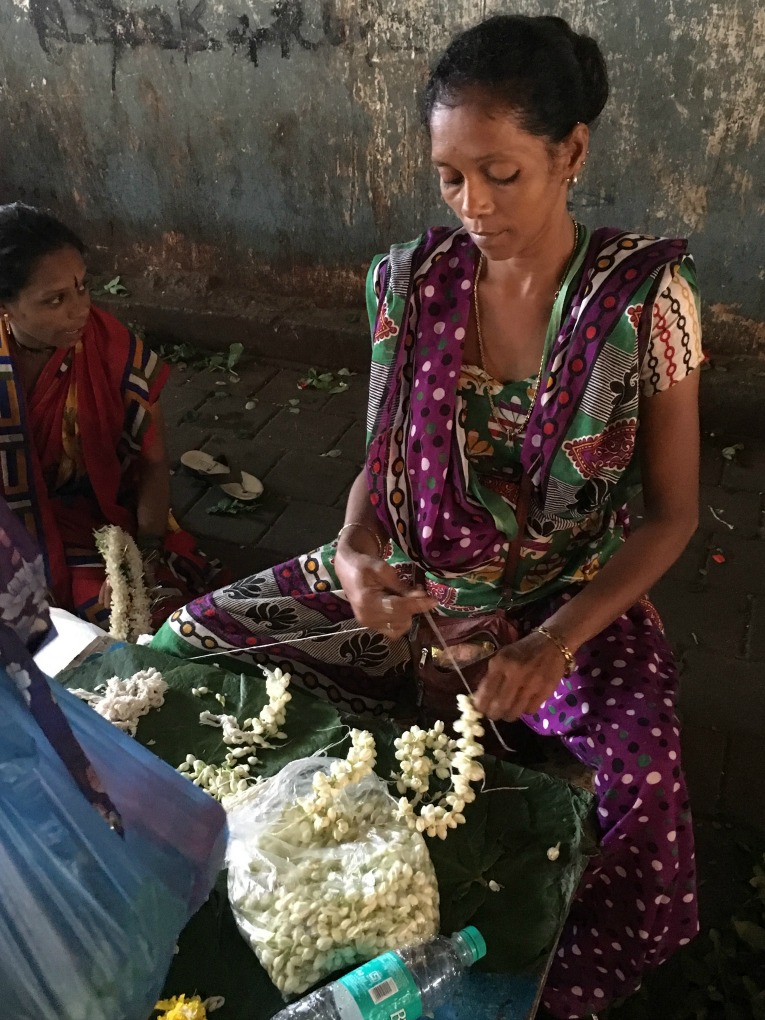 Mumbai Train Ride:
After the flower market, she led me to the train station where she purchased us two tickets. (She did say that 80% of passengers don't pay!) Since we were there on a Sunday, it was not rush hour, so it was not as packed as it normally would be. On a normal rush hour, she said people are hanging out the open air doors. You can't even bring a work bag into the train, there's no room, you have to hook your bag on the outside! She joked that it's so crowded on the train that they called it a "free massage", you just don't know who is massaging you 🙂
For me on the middle of a Sunday, it wasn't so bad. I probably wouldn't feel comfortable riding it alone during rush hour, but it was nice to at least get the general idea.
Dhobi Ghat:
We hopped off the train right by our next stop, Dhobi Ghat.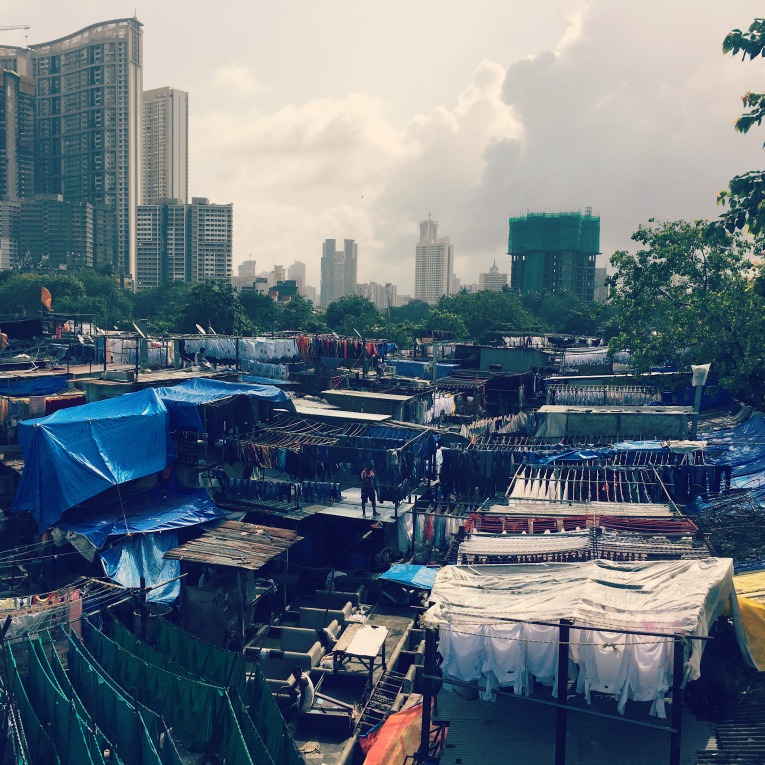 Dhobi Ghat is the well-known open air laundromat, where the washers, known as Dhobis work in the open to wash the clothes from Mumbai's hotels and hospitals, as well as hundreds of Mumbai families!
There is no tagging system; each family has a different colored sack and the Dhobis just know what goes where- amazing!
Other sites along the tour...Malabar Hills – the "Beverly Hills" of Bombay and a drive past Antila, the world's most expensive house worth 2 billion USD (Mukesh Ambani is the owner- read about him,)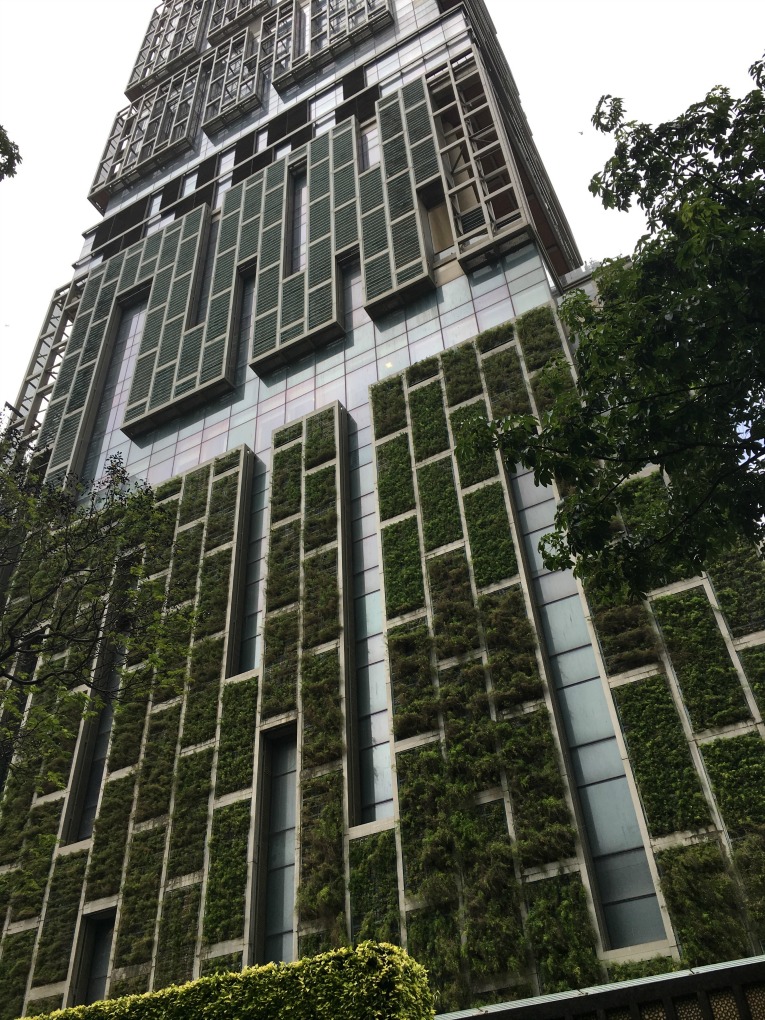 Bangana Sacred Water Tank:
Next we stopped at the Bangana Sacred Water Tank
"According to local legend, it sprang forth when the Lord Rama, the exiled hero of the epic Ramayana, stopped at the spot in search of his kidnapped wife Sita. As the legend goes, overcome with fatigue and thirst, Rama asked his brother Lakshmana to bring him some water. Laxman instantly shot an arrow into the ground, and water gushed forth from the ground, creating a tributary of the Ganges, which flows over a thousand miles away, hence its name, Banganga, the Ganga created by a baan (arrow)."
(There was a ceremony occurring while we were there).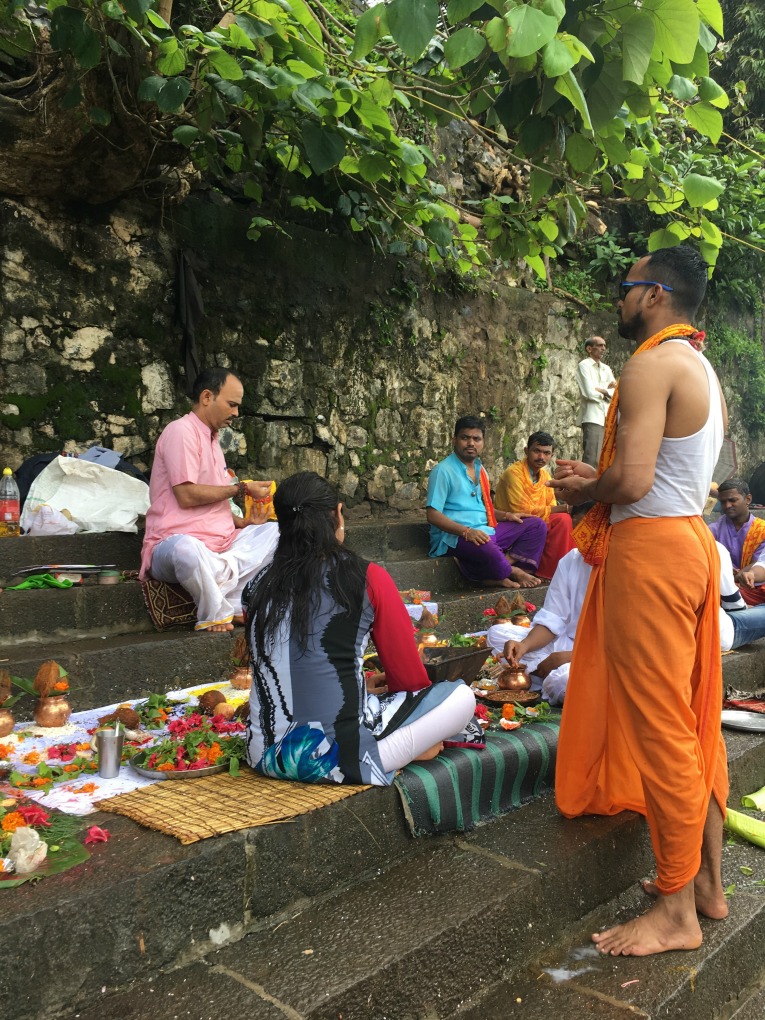 The water has a reputation for medicinal abilities and purification, so Hemali showed me how to properly drip some water on my forehead and head to reap its benefits.
Hanging Gardens and Kamal Nehru Park:
We took a stroll through the Hanging Gardens and Kamal Nehru Park, while Hemali talked to me about the history of the Parsi people in India, particularly as it relates to the Tower of Silence, and the challenges the Parsi rituals have had on the city of Mumbai. This article and this article both explain it better than I can, but basically the Parsi traditions is to leave their bodies out to be taken by vultures; the idea is that the people are giving back to the earth even after death. However, the population of vultures in Mumbai has decreased drastically over the past ten years, which means the bodies aren't disposed of quickly enough not to threaten the water supply for the city. It has created a bit of a challenge, and groups are working on ways to increase the vulture population again
Mani Bhavan:
Our next stop was Mani Bhavan, a Gandhi museum/memorial.
It was a small museum, but I did learn quite a bit about Gandhi's life, stuff that either I just didn't know or perhaps forgot from school. It inspired me to read up on his life!
ISKCON Temple:
The last stop before lunch was another favorite of mine from the day. Hemali took me to the ISKCON temple for the noon ceremony.
Without Hemali, I never would have thought that it would be appropriate for me to attend this ceremony, but once inside, (after bagging my shoes of course) everyone was very accepting and welcoming! Several elderly ladies grabbed my hand to try to get me to dance with them; it was a really awesome and memorable experience to be a part of something so foreign to me. Here's a quick video of the dancing:
'Veg' Indian Lunch:
Lunch was included in the tour and was at a restaurant next to the ISKCON temple. I told Hemali that I was't too picky and just let her order for me. She ordered me a lassi of course, and then some 'fancy' versions of popular street food treats.
Then we had couple different paneer dishes with roti. I previously didn't know that much about Indian cuisines in terms of naan vs. roti vs. rice, but each region of the country 'eats' differently. Hemali mentioned that a lot of Indians have arranged marriages and one of the first questions that is often asked is, "what do you eat??" Priorities!
Food is a very important part of the culture here it seems!
Marine Drive
We checked out Chowpatty beach and Nariman Point, which was already quite busy with locals around 3 pm. The beaches of Mumbai are packed at night. And apparently it is quite a site to see along Marine Drive – all lit up, it is referred to as the Queen's Necklace as that's what it looks like from above. I haven't been there at night, but really want to check it out!
Victoria Terminus Train Station/Mumbai Municipality Building/British Heritage Districts/Ghoda Art District/Cricket Ground/Mumbai University & Rajabai Clock Tower (Big Ben Of India)/Bombay High Court
We saw all of the above in "old Bombay" though I didn't take pictures of them all. It was interesting how different the British part of Mumbai was from where I was staying and working. So much open space and greenery, right in the city, like cricket fields and horse racing grounds. A very stark difference from the Dharavi slum tour the day before or even from where I'm working every day.
We drove past NGMA- National Gallery of Modern Art, Prince of Wales Museum & Jehangir Art Gallery, which would all be cool to visit if I have enough time.
Gateway of India and the Taj Mahal Palace hotel
Not to be confused with the actual Taj Mahal, which I am going to next weekend, but the Taj Mahal is a historic hotel right on the waterfront. It was also the site of the 2006 terrorist attach on Mumbai. It's a beautiful building; I am tempted to stay there just for a night on my last weekend in Mumbai. Close to Marine Drive for running!
While at the Gateway of India, I was actually bombarded with locals who wanted to take selfies with me; I'm not exaggerating, there were lines! Hemali explained that on a Sunday at that time of day it was all locals who may have never seen a blonde person before. I joked that I should start charging rupees. Maybe I should quit my day job and move to Mumbai…
Dabbawallas
Throughout the tour, Hemali was a great story teller, sharing so much information about life in Mumbai. Her tour often includes a stop to see the Dabbawallas but they are not operational on the weekends, so I didn't see them. The Dabbawallas are lunch delivery boys that have been the subject of Harvard Business School case studies due to their very small margin of error. Read more here. They pick up homemade lunches and deliver them to offices.
Hemali recommended a romantic Bollywood movie called "The Lunchbox" about a couple who meets through the rare mistake of a wrong delivery of a lunch.
It was a full day of sight-seeing in Mumbai, but a very fun one! I got to see so much in one day- I know that there's joy in exploring on your own, but I really appreciated the amount that Hemali showed me and the insider knowledge that she provided as my guide.
Bravo Bombay- two enthusiastic thumbs up!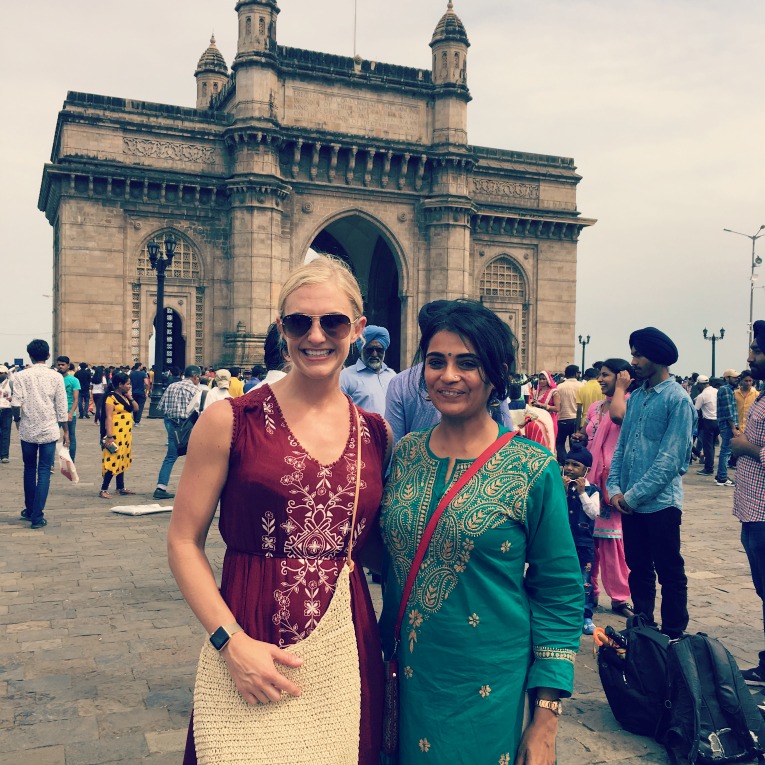 (Visited 608 time, 1 visit today)