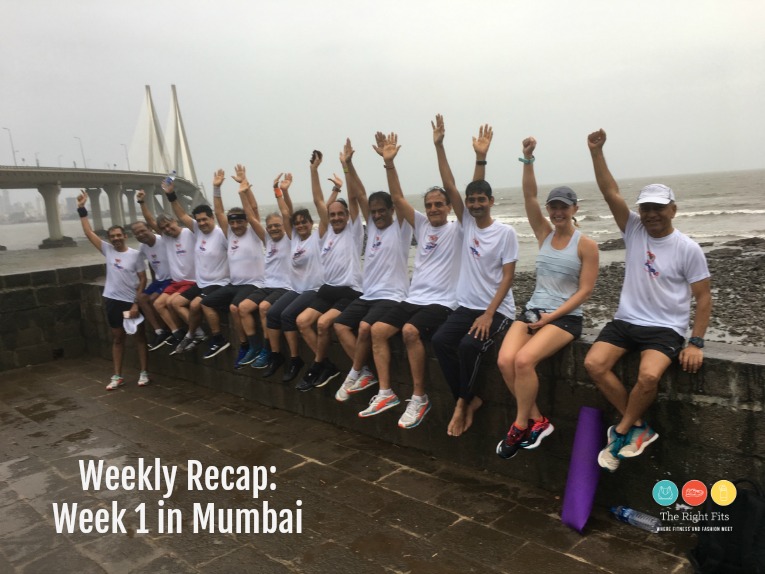 Hello from the tail-end of my  first week in Mumbai!
I feel like I have so much to share, but I don't want this post to be a novel. I'm going to try to focus on just my marathon training, and save more travel/India information for separate posts.
(Actually I started writing this on Sunday night and literally fell asleep at my computer, so I'm  finishing it up now on Monday night, beginning of week 2 in Mumbai!)
The focus of my time here is work, and work was tough. I won't get into too much detail, but I worked every day from about 10 am until 10 or 11 pm, which was draining. It also made it impossible to do double runs. At least I have time in the morning for a solid workout.
The commute from my hotel to my office is also anywhere from 45 minutes to 1.5 hours, so getting done at 10 or so often meant I wasn't getting to bed until very late. Combined with jet lag, I feel like I was a bit of a zombie last week.
Yes, the commute…Traffic in Mumbai is insane and there aren't any hotels closer to where I am working. I have a driver arranged via work (not that I would ever want to drive here!) so I am able to check emails and work a bit on the commute, or just read my kindle (zipped through The Kind Worth Killing and am now on American Gods.) It wouldn't be feasible for me to take public transportation anyways- just check out this video of the Mumbai trains for an idea of what its like…
Traveler's Tip! I have an iPhone, which doesn't allow a SIM card, so I purchased this Skyroam device which is basically pocket WiFi where you purchase day passes. The service is a little spotty, but it's better than nothing!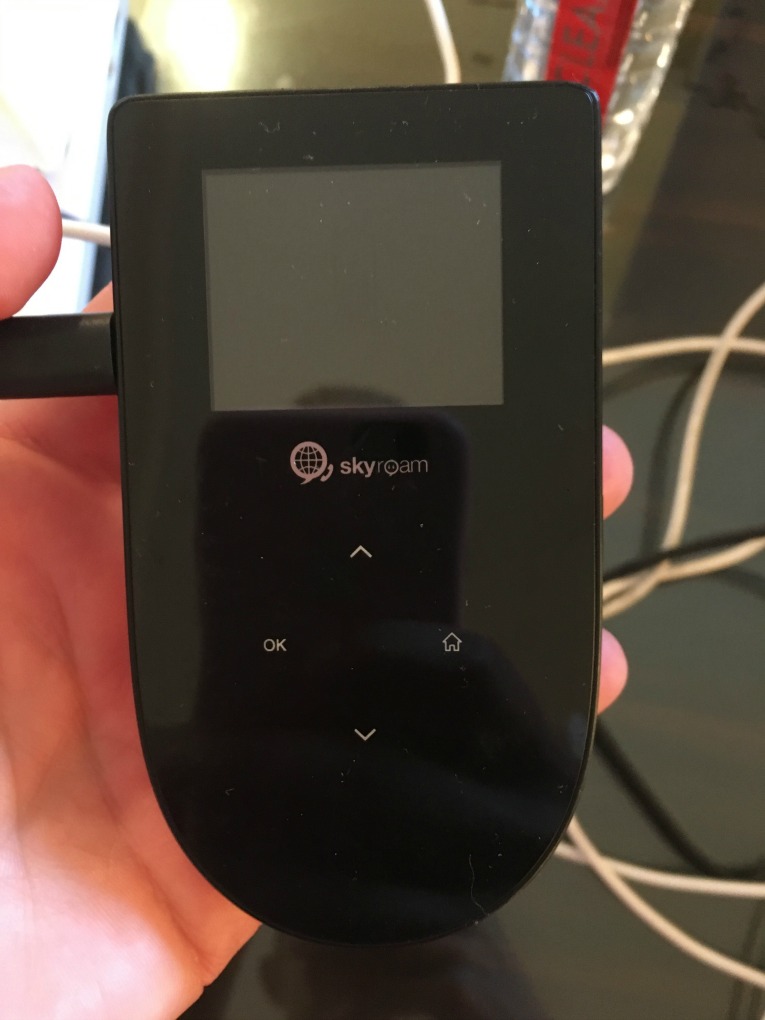 But long days for sure have made marathon training a bit more challenging.  Here's things went this past week:
Monday: Treadmill. The hotel gym isn't too bad; the treadmills overlook Powai Lake and there is endless bottled water and towels; I've been listening to podcasts mostly as the TV's aren't showing anything interesting to me, other than CNN. Any podcast suggestions? I'm on Limetown right now, which is SCARY!
2 mile warm-up, 3×1 mile at 7:40 min/mile with 3 minute recovery, 2 mile cool-down. This was meant to be an easier workout to loosen up my legs. 8 miles total.
(Post-treadmill run pic, checking out Powai Lake looking for crocodiles)
Tuesday: 6 miles on the treadmill, 9 min/mile pace (I mean 5:27 min/km?)
Wednesday: My first time venturing outside to run. I am staying in the Powai Lake area, which is quite far away from the more popular running places like Marine Drive, yet a colleague here said I should be okay to run around the lake, at least for a few miles in the morning before the traffic gets too crazy.
So I gave it a shot, heading out for an easy 4.5 miles. It was crazy hot and humid and I definitely got all kinds of stares, but it was otherwise uneventful.  Definitely patted myself on the back for being brave.
(Don't get me started on the number of stray dogs. There is a litter of puppies right outside my office that breaks my heart every single day…what can I do? My colleague who also loves dogs fed them leftover pizza 🙁 )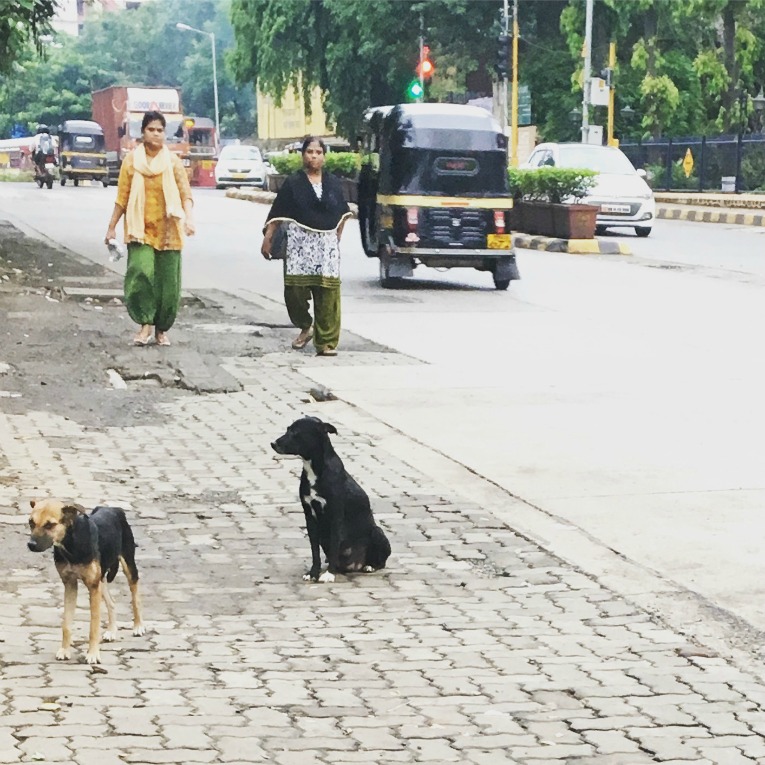 Thursday: My first time running with the "Zippers" run club. There's a lot to share about my new-found Indian running club, but I will save all that for a separate post. I joined the group at 5:30 am for their hill repeats at Bandra Fort. 6 miles total.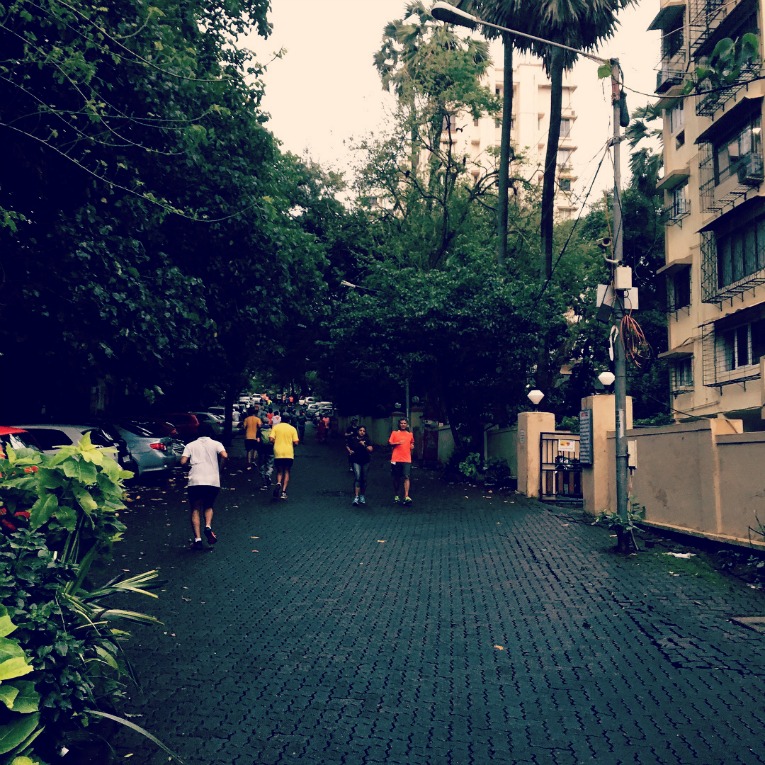 Friday: Another run outside, 5 miles this time.
This run didn't go so well; I was feeling confident since I knew where I was going this time; too confident I guess. It's monsoon season here and very rainy; I slipped on the pavement and fell- HARD. Not good.  I cut up my upper thigh pretty badly and had the wind knocked out of me. I was in a panic because I started thinking about bacteria in the open wound; I didn't really know what I had slipped in, but I don't think it was mud…
I ran back to the hotel as quickly as I could, looking like a disaster. If I got stares earlier just for running, those stares were tripled on my run back!
In fact, I set some Strava records (though this is probably is pretty easy since there aren't a lot of runners!)
I asked at the front desk at the hotel to send up the hotel doctor, who gave me first aid. (I wouldn't say he was an actual doctor…his methods were a bit different than in the US. He gave ME the gloves to wear while he treated the cuts…d'oh!)
Of all the stuff I remembered to bring for my stomach, for malaria, etc, I didn't bring any first aid stuff- dumb mistake! Fortunately this "doctor" left me with a bottle Dettol, which is a strong Indian antiseptic (made by Pfizer). I have been putting the Dettol on the cuts twice a day and so far, I'm still alive. No infection.
Yet even though I'm alive and well, I don't think I'm going to run outside without the Zipper club, as I realize it could have been bad if I had hit my head or something. My mom is probably reading this and having her own mini-panic attack, but I am fine Mom, I swear! And I promise to only run with other people now.
I see a lot of treadmill in my future (though Dustin arrives next week so he can run with me!)
Saturday: Second run with the Zippers. I joined them at Juhu Beach for their long run at 5:30 am. I thought we were meeting at Juhu to run a route on pavement, but we actually ran on the beach, back and forth, back and forth. Though some parts were hard-packed, there were definitely sections that were soft sand and challenging to run on.
There is one guy in the group who is my pace or a bit faster, so he stuck with me and was a pleasure to chat with. I'm so glad he did stick with me, because around mile 6, I desperately needed a bathroom (TMI, I know, but let's be honest here, I'm eating Indian food nearly every day, my stomach is not used to it.)
Rajan, my running buddy, showed me where the toilets were and gave me 5 rupee to pay to use them. The public toilet at the beach was just a porcelain hole. This is not my picture (I had my phone with me, but preferred to keep it in its zip-lock baggy in my fanny pack…bacteria and all.) But this is very close to what the toilet looked like:
No toilet paper or soap/hand-washing…Most bathrooms in India do not have toilet paper, you bring your own. It was an adventure…
By the end of the 12.5 miles, I was really struggling. The sun had actually come out and I was drained. I had already told Rajan to go ahead without me, as I knew the way back to where we were meeting for the cool-down.  This club does an organized warm-up and cool-down, ending with a 'prayer' to the gods stating what we are thankful for each day.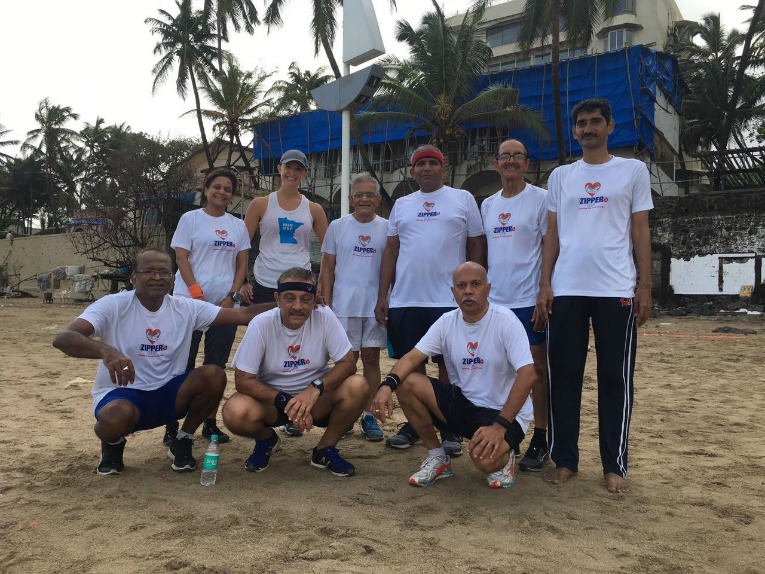 Saturday afternoon, I met up with a colleague who is here from our Singapore office and we went on a Dharavi tour. Dharavi is the slum that you may know from Slumdog Millionaire. Poverty Tourism is a controversial subject, I know, yet still 400 tourists a day tour Dharavi. Our guide was born and raised in Dharavi and gave the tour with full respect to the residents. He had lots of friends that he would stop to chat with along the way. It was an eye-opening tour; one million people live in 1 square mile in Dharavi; we saw the manufacturing areas, the recycling areas, and the residential areas. I will write more about this experience in a separate post; definitely not one I will forget.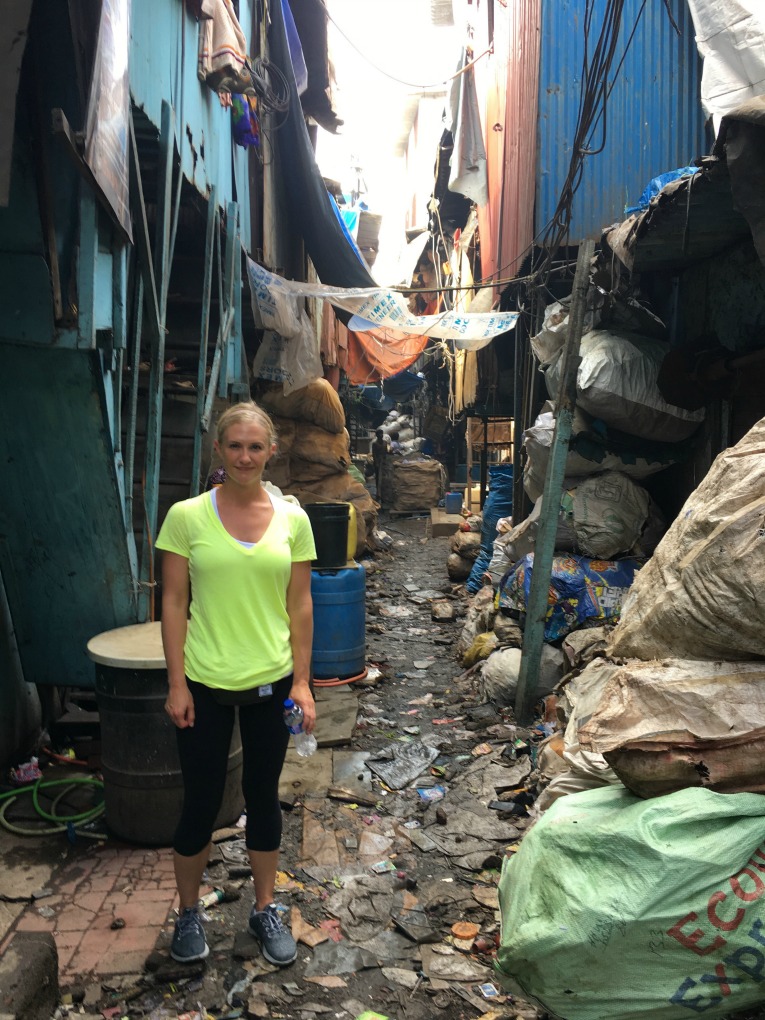 Sunday: I was up early for a full day city tour with the amazing Hemali with Bravo Bombay. This tour will be recapped in a picture-heavy post soon, but I can't say enough great things about Hemali.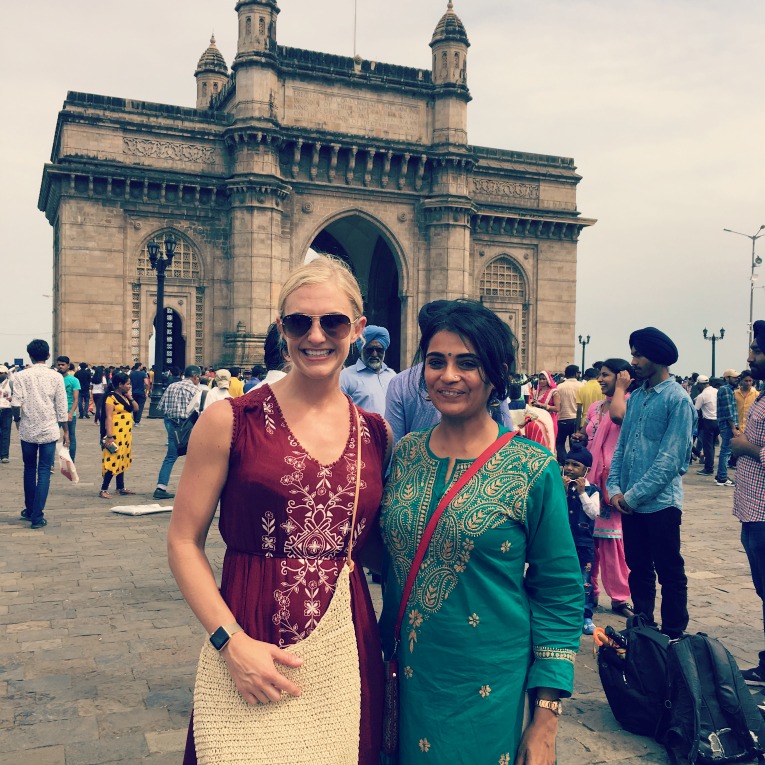 She made Mumbai completely accessible to me, even as a solo female traveler. I saw so much in just one day. I LOVED it. I highly recommend her to all my future colleagues who come to Mumbai for work. She has so much history and knowledge and was a pleasure to spend the day with.
I was back at my hotel post-tour around 5 pm so I ran 6 easy miles on the treadmill.
Summary: No cross training. All running- about 48 miles. Much lower mileage than I would normally be at this point in training, but this week was an adjustment- the jet lag, the treadmill, the heat/humidity when I did run outside, the long hours at work; it was a lot to handle. I'm happy with how much I was able to accomplish, though I'm hoping that next week is a bit back in line with where I should be for New York City. I'm doing the best I can to balance my work requirements and marathon training, while still getting some exposure to Mumbai while I am here.
Fueling?
Well, dehydration could be a problem. The water in India is not potable for an American. Our stomachs can't handle the bacteria, similar to Mexico. Lots and lots of bottled water and I brought Nuun tablets to drink post run with my bottled water.
Breakfast is included at my hotel. It's a nice buffet, but it's difficult because I have to avoid fruit that I don't peel myself or vegetables that aren't cooked. Keeping things pretty carb-heavy, that's for sure.
At the office, I have what they call a "butler" who brings me a book of "safe" menus to order from for lunch. It's mostly Indian and the first few days it was just way too much food, so I'm trying to order smaller so it's not so wasteful. The team had a group lunch on Friday, which allowed me to try a lot of different Indian food, which was awesome.
Dinner has generally been pretty late at the hotel, but over the weekend I was able to try more Indian food. The street food isn't safe; even my tour guide Hemali said she wouldn't eat street food during monsoon season as its not clean at all.  It's too bad because I really enjoyed the food in Singapore and loved trying out new things, but it's not going to happen here.
That's it for now- I am really hoping to have a lot more time this week after work to write here. I love sharing and recapping travel, so I don't want to miss out on the freshness of the experience when I do write it.
Stay tuned…and join Jess and me for our weekly link-up!

(Visited 367 time, 1 visit today)