Happy Sunday! I'm here with my weekly recap, as always. Join Jess and me for our link-up, details at the end of this post.
Here's how training went this week for the New York City Marathon!
Monday: Track time! I met my friends Lindsey and Ryan at a local track for some 200m repeats. I was surprised my coach had 200m on my schedule the day after the Raspberry Run 1 mile, but I suppose since I didn't all-out race the mile, he probably figured I'd be okay with some shorter speed intervals.
Shorter workouts like 200m repeats are way more fun on the track; I feel like I push myself much harder too.
2 mile warm-up, 15x200m with 45 second jog to recovery, 1 mile cool-down, 6 miles total at an 8:28 min/mile pace.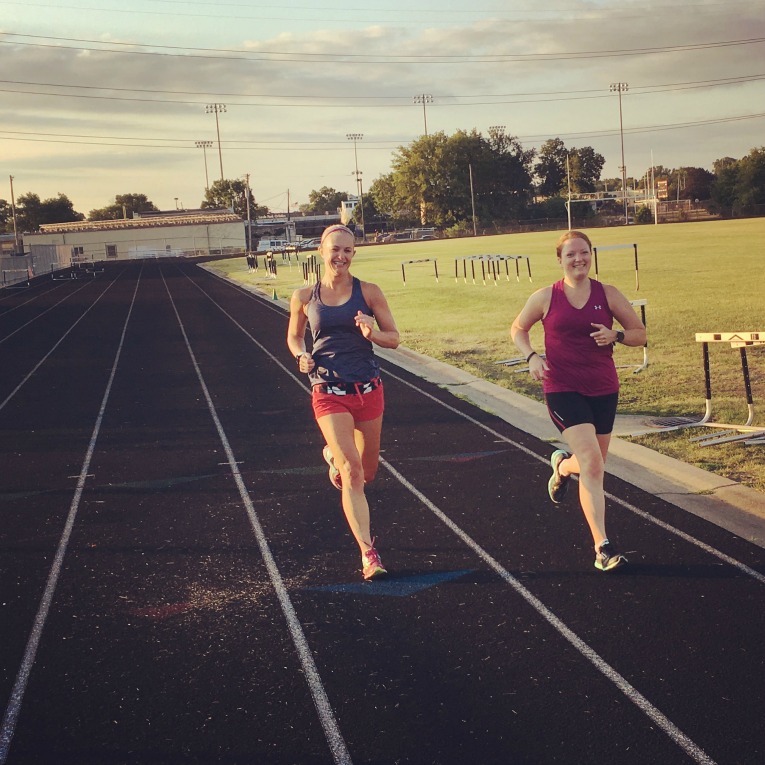 After work, I went to a Pure Barre class; I generally go to The Barre Edina, but I like Pure Barre as well and the timing of the classes that day just worked better for me. Unfortunately, drop-in classes are quite pricey at Pure Barre ($27!) so I need to buy a package so it makes a bit more sense to keep that as an option.
Tuesday: Easy 5 miler in the morning with some strides in the last mile to loosen up for the Torchlight 5k the next day.
Wednesday: Torchlight 5k!
Well, to be honest, I actually snuck in a solidcore class before work, which I know isn't the smartest thing to do before a 5k race in the evening, but I knew I wouldn't be doing a lot of classes for the next 5 weeks, so I wanted to fit in as much strength as I could. I wasn't planning to go for a PR at the Torchlight anyways, as it's always so dang hot for this race!
The Torchlight 5k is kind of a summer tradition for me; I've been doing that race for years (even back when it was a 4 mile race ending at Loring Park!) Now it starts at the Basilica at 7:30 pm on a Wednesday; it also coincided with my friend Christie's birthday, which was being celebrated later that evening at Lakes & Legends, so we parked by the brewery to join the party after the race and jogged to the start for our warmup.
2 mile warm-up with strides, 3.3 miles at a 7:08 min/mile average, 2 mile cool-down for 7 miles total.
3.3 miles? I thought that a 5k was 3.1 miles?
Unfortunately there was some sort of mistake with the course marking and the course was 3.3 or 3.4 miles. I knew it was going to be long when my Garmin beeped for 3 miles at the start of the Stone Arch bridge…I thought there was a chance that they had moved the finish line closer, but nope.
The organization owned up to their mistake and adjusted our times to reflect a "3.3 mile" race rather than a 3.1 mile race. Now you may think that an extra 1/4 mile isn't a big deal, but for a chip-timed race that costs $40, I think the expectation is that the course is accurate! I wouldn't have set a 5k PR anyways (but maybe close? My PR is 21:45, or a 7 min/mile flat), but some of my friends might have had PR's; it's still frustrating no matter what!
Dustin ran with me; with him pacing me, I definitely pushed harder than I normally would. (I think he wanted to maximize our time together before I head to India, even if it meant pushing me at a 5k, haha!)
Here we are crossing the finish line…as I try my best to keep up!
We jogged back the two miles to where we parked, and changed into dry clothes to join my friends at Lakes & Legends for my friend Christie's birthday.
I definitely was the most underdressed there, but I DID just run a hot and humid 5k…
Thursday: 5.5 miles after work with Dustin at an 8:45 min/mile average. HOT and humid. Wowsa.
Friday: 16 mile long run! So, so humid- this run was a huge struggle for me. I started at 5:30 am with my friend Christie for company for the first 8.5 miles, which helped a lot. But when I dropped her off at the Calhoun Beach Club, I really wanted to stop there.  I was so incredibly soaked with sweat and felt like I was moving in slow motion. Somehow I took it mile by mile and finished all 16 miles. Not easy….not easy at all. I know in the winter I said I would never again complain about hot weather running, but here I am complaining about just how tough it is in those conditions.
But I guess it was good practice for India! Yep, the reason I had to move my long run to Friday is because I had an afternoon flight to Mumbai, India. I'm here for five weeks for work.
I don't know how training for NYC is going to go while I'm here. I might end up doing quite a bit of training on the treadmill, but I did register for a half marathon on August 20 to get an "Indian" race experience. I don't expect a Mumbai half to be a PR, but I think it will be really neat to see what races here are like!
I also met a man at the RRCA coaching certification class in Detroit back in March that lives here and we connected over Facebook (isn't social media amazing sometimes?) He is sending me advice on where to run that is safe for a woman; in fact, he invited me to join his running club if I can- I definitely plan to try to make it work at least a few times!
Saturday: No running. Traveling!  My flight went from Minneapolis to Paris (7.5 hours) to Mumbai (8.5 hours). It was a long day of travel. I arrived in Mumbai around midnight Saturday night and finally made it back to my hotel with my luggage around 2 am, but I was not tired…I ended up staying awake until about 4 am. Bad idea; I'm a big proponent of "fake-it-til-you-make-it" with jet lag; I think you should force yourself to be on the correct time zone rather than take a lot of naps, etc (even though I am a big fan of naps! Here are my tips on jet lag.)
Sunday:  When I awoke, I ran a 10k on the treadmill to try to get my body back into gear. I had to google a conversion table for min/mile to min/km to figure out what pace I should go. Running always helps me with jet lag.
(My garmin doesn't seem to work that well on the treadmill, even though it's supposed to, but maybe it will become more accurate as I continue running on the treadmill at the gym here.)
Here's my view from the treadmill. It's monsoon season in Mumbai, so I have a feeling that I won't see a lot of sun!
It's a little crazy to think this hotel will be my home for the next five weeks. I am grateful for this opportunity to see a part of the world I might never otherwise have visited, but I am also a little sad to miss so much of my Minnesota summer, especially right after my sister and her family moved there. BUT- I will make the most of it. A large chunk of my time will be spent working of course, but I do hope to do some sight-seeing on the weekends.
And Dustin is coming to visit for a week! While he is here, we plan to go to the Taj Mahal, which is actually in northern India, so a 2 hour flight to Delhi, and then 3-hour car ride to Agra. But it's one of the 7 wonders of the world- we have to go, right?
There are other people here from my office, but unfortunately none of them are runners. I would feel a bit braver running with someone else. Mumbai isn't quite as safe for a solo female runner as it was for me in Singapore (when I was there for 6 weeks for work back in 2015.)
I do hope that I can figure out ways to run outside, even though it is incredibly hot and humid!
Summary: 1 barre class, 1 solidcore class, 48 miles of running.
I'm linking up as usual with Jess from Jess Runs ATL. Join us!
My posting might be a bit sporadic due to the time difference (Mumbai is 10.5 hours ahead of Minneapolis) but Jess and I will always be doing our link-ups on Sundays. Join us and spread the word to other bloggers!
Here's another two pictures; these are the view from my hotel room.
The lake is Lake Powai, which some people say you can run around…and apparently there are crocodiles in it!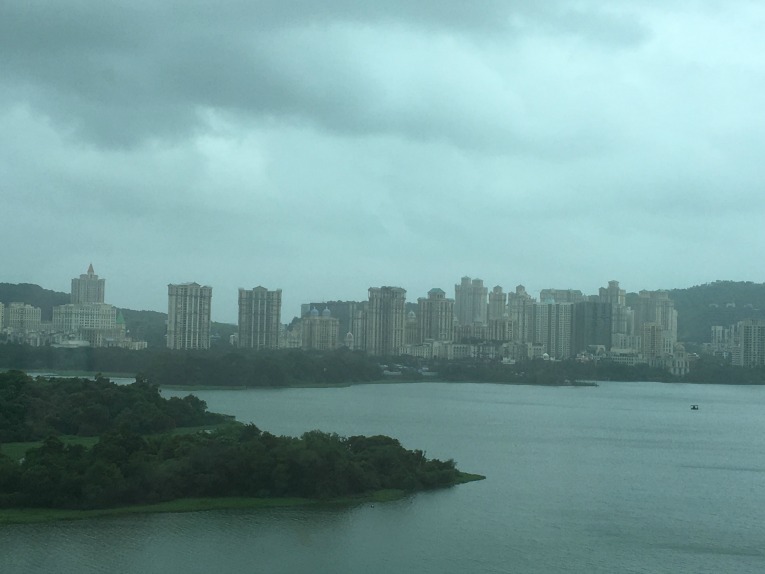 My hotel is actually in a suburb of Mumbai (though 'suburb' is not like a Minneapolis suburb; it's still very crowded.) I have a driver who will take me to/from work and apparently will also give me more of a tour of the city too, which I plan to do next weekend. If you have any advice about Mumbai, please share!
(Visited 410 time, 1 visit today)