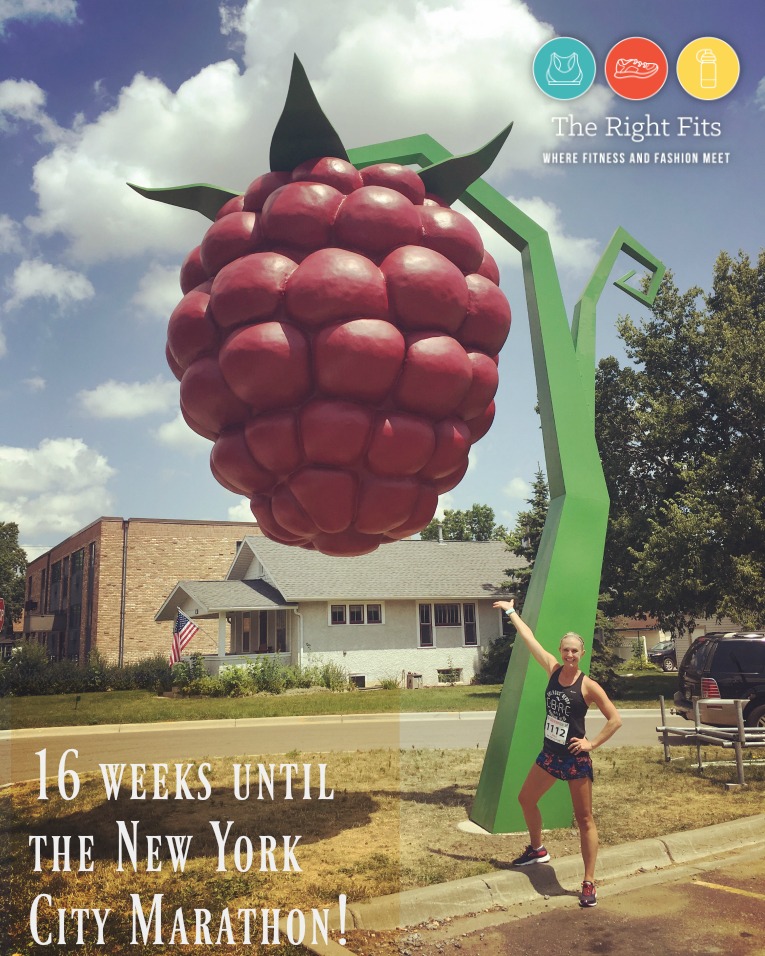 Happy Sunday everyone!
Thanks for stopping by. I'm here today with my weekly recap of training for the New York City Marathon on November 5th.
If you're new to this blog, welcome! If you're a fellow blogger, join Jess from Jess Runs ATL and me for our weekly link-up of training recaps, a link-up for us to keep each other motivated! Details at the bottom of this post:
Monday: I did my run after work: 2 miles to warm-up, 4 miles at tempo, 2 miles to cool-down. My goal tempo pace was around 7:30; the first mile was right on, but the second was slow and felt really hard- I wanted so badly to just call the workout off due to the heat. I took a quick water break, and gave myself a pep talk to push through. The second two tempo miles were much closer to goal pace. 8 miles total at an 8:18 min/mile pace.
Tuesday: 7 recovery miles before work, about 9 min/mile.
Wednesday: [solidcore] class before work. Then the 7 mile trail race at Lebanon Park in Eagan that is part of Endless Summer Trail Run Series.
I met my sister Cresta there- it was her first race since moving to Minnesota, and she LOVED it! She's a big fan of the trails.
The Endless Summer Trail Run Series is a really awesome series of trail races.
There's just one more left; it will be on August 2nd at Hyland- I highly recommend it! It's just a cool laid-back vibe followed by beer and pizza.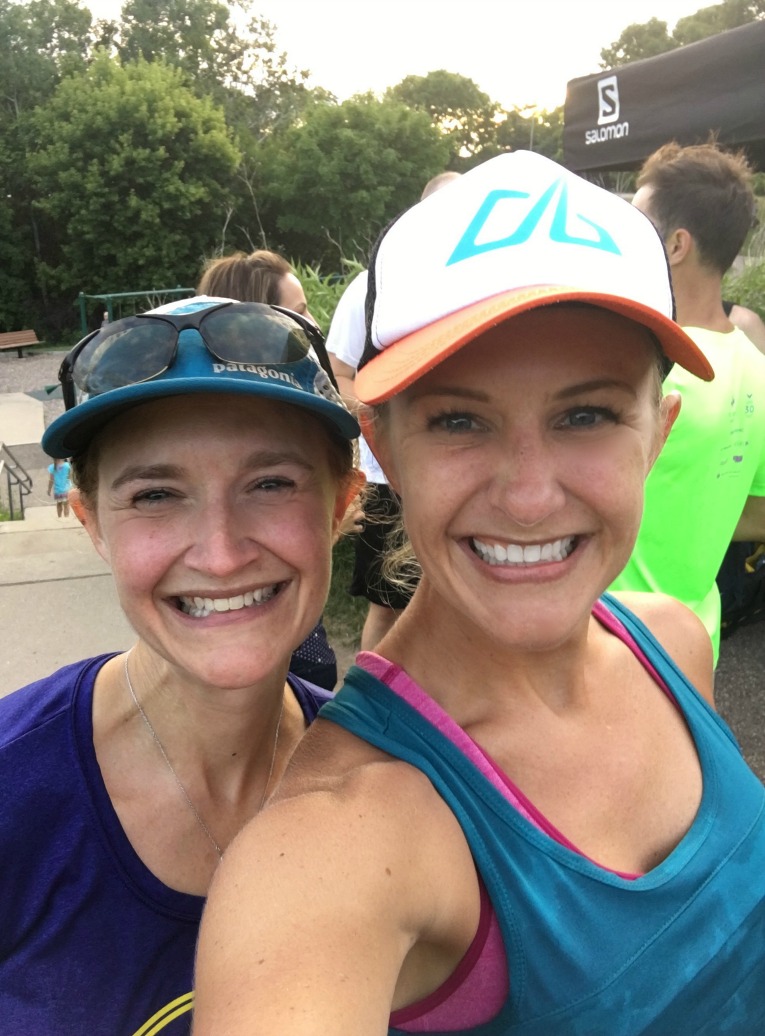 FYI, for the race, I tested out a new Smart Wool sports bra that the good folks at Gear Running gave to me; stay tuned for a full review, but I loved it! I mean, who knew that a wool sports bra would be so great on a hot day?
Thursday: I had hoped to get up before work to run, but was tired from the later run the night before and slept in. I squeezed in a short 4 miler with Matilda after work before heading to a focus group at a friend's house; we each got paid $50 to talk about dog treats – how we pick them, what's important to us in buying them, etc. It was actually quite interesting! We weren't told what brand the researchers worked for; hopefully they got some useful info from us.
Friday: Another [solidcore] class before work- two in one week! After work, Dustin and I headed to my sister's new house to help her some house projects following by some Punch Pizza (best long run fuel!)
I also gave her a gift for my nieces- one of these "Fun Blobz" that are apparently all on the rage and sold out everywhere. A friend of mine had an extra one so I bought it off of her.
Seems like it will be a good time!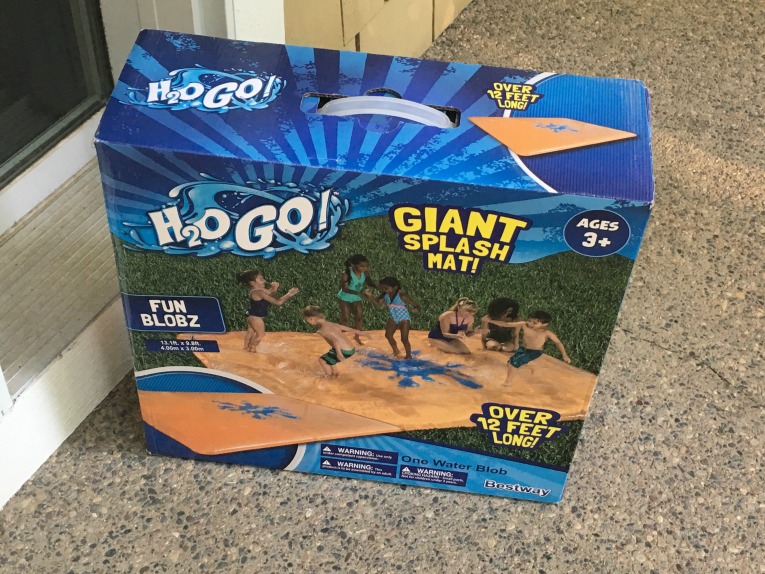 Saturday: Long run with the Calhoun Beach Running Club. SO HOT AND HUMID. Man, it was tough, but I managed 16 miles around a 9:20 pace. We had some super slow (for us) miles in there, but it was a rough day out there so I wasn't too concerned. Just glad to get it done!
Saturday night, my sister Cresta joined us for the St. Paul Saints game (her husband and daughters were in Wisconsin for a gymnastics camp).
The St. Paul Saints are our local minor league team and their games are a blast. It was a fun night. (Of course, we have the Twins if you're into major league baseball, but the minor league games are fun too!)
Tickets are pretty cheap and the games have a lot of crowd entertainment. A Minnesota summer must-do!
(FYI, my tank is from Athleta and its my favorite- light and airy!)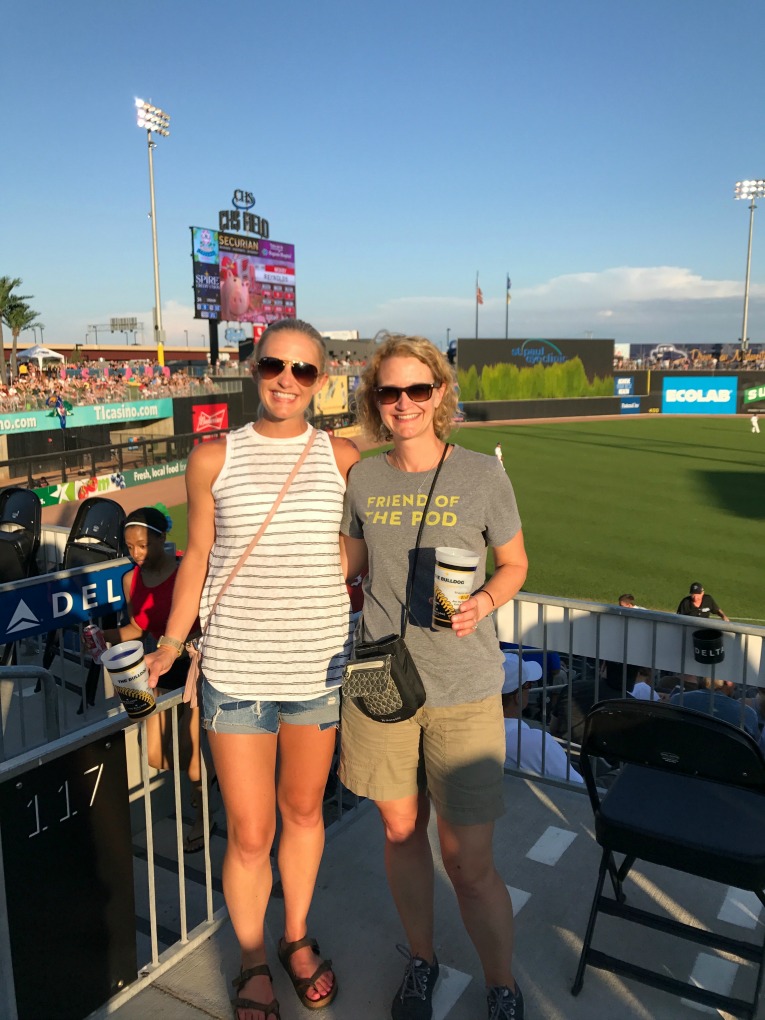 The game was fun, but I did eat a 'mac-n-cheese' hot dog and drink a few local beers…probably not the best way to fuel for a 1 mile race the next day!
Sunday: The Raspberry 1 Mile Race in Hopkins! This race is part of the USATF racing circuit this year, which my run club is a part of. It started at high noon…in the middle of July. HOT HOT HOT. Whew!
My coach had wanted me to do my long run on Friday, recover Saturday, and race hard today, but I told him I really want to do my long run on Saturday with my friends (I'm going to be traveling for work here for a few weeks, and wanted one last long run to enjoy summer the way that I know best- long runs with friends!)
By not following his recommendation,  I kind of set myself up for a bad race, as I was running on very tired legs…not to mention that I was fueled by hot dogs and beers from the night before.
Definitely do not recommend this to the people I coach 🙂 Do as I say, definitely not as I do!
2 miles to warm-up, some strides, and then the race!
The clock read something like 6:35, but I'm still waiting for the official results.
My coach thinks I should be closer to a 6:15 (my PR from a few years ago is 6:27), so clearly not my best effort.  2 miles to cool-down for 5 miles total. Fortunately the hot dog didn't come back up, but it felt like it might have….
(Dustin actually did have a PR today- 5:08! He was happy. Guess that beard doesn't slow him down!)
Summary: 47 miles of running, 2 [solidcore] classes
Overall, this seemed like a good week of training. The tempo run and the trail run went well. The one mile wasn't awesome but overall I'm feeling good and excited to put in the work towards a potential PR at New York in 16 weeks!
What's the WORST thing you've ever eaten before a race?
Have you ever raced a 1 mile? It's TOUGH, right?
(Visited 461 time, 1 visit today)