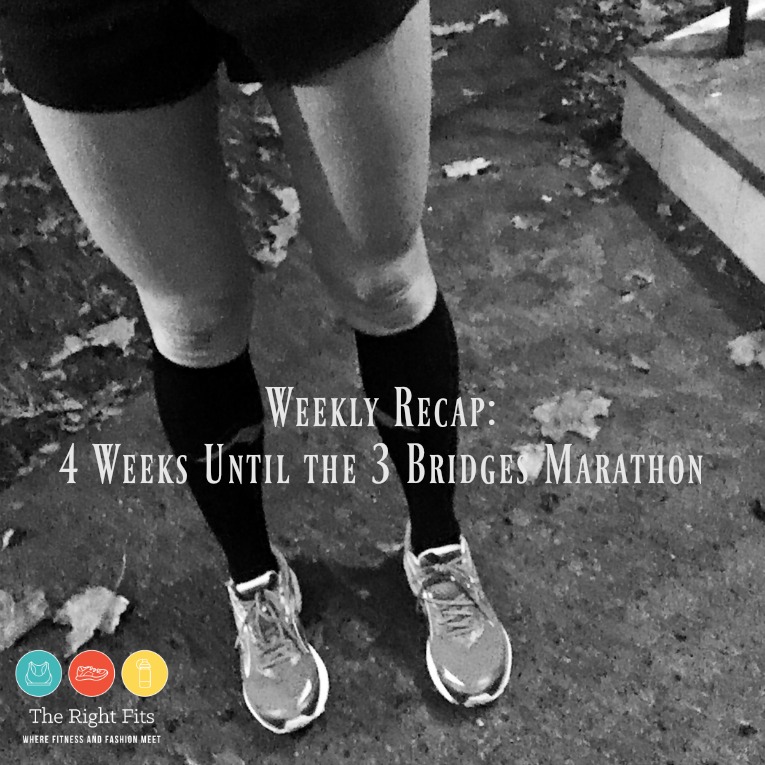 Happy Sunday! I hope you are having a wonderful weekend.
I'm here with my weekly recap as usual, linking up with Jess from Jess Runs ATL. Details below. Join us!
(I am also linking up with HoHo Runs/Mississippi Piddlin, who host similar link-ups to Jess and mine. Check them out!)
This week, I started ramping up a bit for the Three Bridges Marathon in Little Rock (December 15). Here's how training went:
Monday: Rest from running. [solidcore] class after work.

Tuesday: Tempo! 2 mile warm-up, 3 miles at 7:30, 2 mile cool-down. I did this in the morning with my friend Betsy, who is much faster than me, but she paced me for the tempo miles and it really helped! She pushed me enough that my 3rd mile was my fastest (7:25). Thanks Betsy!
I squeezed in a barre class at The Barre after work.


Wednesday: 8 easy miles (9:07 min/mile) in the morning. That evening, I had a goodbye dinner for work…more on that below.


Thursday: Total rest…unplanned. I was supposed to run 6 miles but I slept in, and then I had a goodbye happy hour after work…I rarely miss scheduled runs and it makes me feel so guilty…even though I know it's not that big of a deal.
Friday: 400m repeats! 2 mile warm-up, 8x400m with 2 minute recovery, 2 mile cool-down. 7.75 miles at an 8:07 min/mile pace. I felt really good on this run!
Friday was my official last day of work, so I ended up leaving around 2:30 pm so I was able to do this run with Tilda in daylight! She was a muddy mess afterward though and it was so cute- we got home and she followed me upstairs to the shower and went right in. She knew she needed to get rinsed off! I love that dog…

Later that evening, we went to 44th and France to pick up our "Discovery Box" of wine and brought her along. The store is dog-friendly and always has wine/beer/whiskey tastings going on on Fridays- and lots of dogs in attendance 🙂


Saturday: 16 mile long run with the Calhoun Beach Running Club. It was windy, but SUNNY so it felt better than expected. 16 miles at a 9 min/mile pace.
That evening, we went out with my friend Peri, first Black Sheep for dinner, then Dalton & Wade for a drink, followed by Gori Gori Peku above Kado no Mise. <– Highly recommend, very cool vibe!

Sunday: Matilda and I ran to my friend Lindsey's house (about a mile away); she had planned to only go 4-5, but we were already at almost 5 miles for me when we remembered to turn around.
I ended up with 9.5 miles! I was only scheduled to do 8, but I suppose it wasn't a big deal to have a little extra since I missed a run this week.
Summary: 49 miles of running, 1 barre class, 1 solidcore class
This was a weird week as it was my last week of work at my current job, at a company where I worked for thirteen years! Granted, that company went through several acquisitions and I had various different roles throughout my time there, but still, thirteen years is a long time.
I don't talk much about my 'real job' on here, (unless it's because it takes me to Singapore or India.) I wasn't looking to leave, but a great opportunity came along that I couldn't pass up.
I have next week off before I start, which is located downtown Minneapolis. I am planning to take the bus to work, which I am really looking forward to! I like the idea of reading on the way in, not having to drive (especially in the snow), no gas, no car maintenance- I think it will be great!
I am sure there will be super cold days where I regret taking the bus, but I'm going to at least give it a try. I hope to still be able to run in the morning- just have to get ready a bit faster.  I hope it works out. I'm nervous and excited for the change. Wish me luck!

(Visited 389 time, 1 visit today)