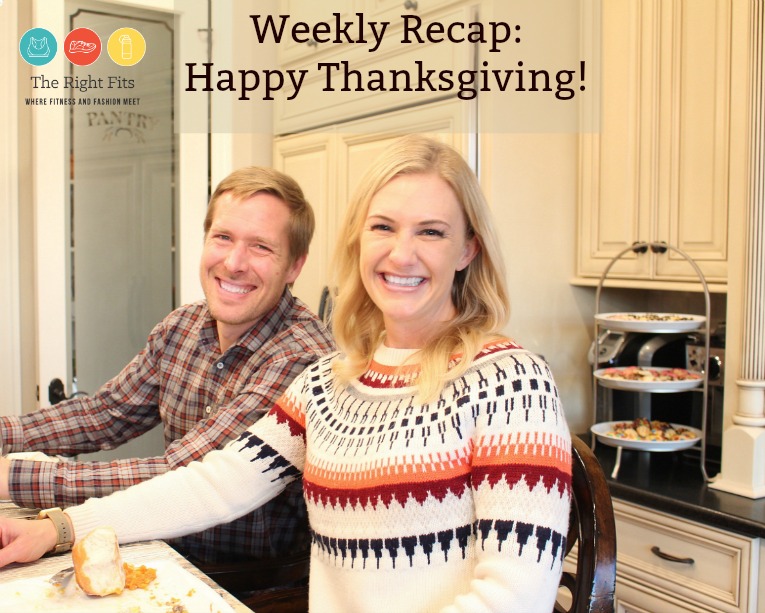 Happy Sunday everyone! I hope you had a great Thanksgiving weekend. I'm linking up as usual with Jess from Jess Runs ATL today with my weekly recap of training for the 3 Bridges Marathon in Little Rock, Arkansas, which is in a few short weeks.
(I am also linking up with HoHo Runs/Mississippi Piddlin, who host similar link-ups to Jess's and mine. Check them out!)
Settle in, this is a long recap…
Here's how training went this past week:
Monday: I mentioned in last week's recap that it was my last week of work at my old job. I took the week of Thanksgiving off between jobs.
On one of my days off, I wanted to do a trial run of running in the AM, getting ready, and taking the bus to my future office.
The bus does add time to the commute to downtown since there are so many stops along the way. But here's the deal- my husband works in the same building, so it just doesn't make sense to me for both of us to drive cars from the same house to the same building. We could carpool except he goes into work very early and is done much earlier than I will be, so that's not an option.
To minimize my carbon footprint, I'd really going to try to make the bus work for me, even if it means a longer commute. But, no gas cost! No stressful traffic! No car maintenance! Maybe we could even turn into a one car household? We shall see….
So, for my trial run, I ran 8.15 miles at a 9:05 min/mile pace, got ready as if going to work, and then took the bus downtown…and then turned around and took it back home again.
Lessons? I will definitely get in more 'daily steps' taking the bus, as I still have to work a few blocks to my office. I need a stockpile of really warm gloves (purchased these) and warm hats. I purchased a (hip? hopefully!) backpack (this one) to more comfortably carry my things. I purchased some new waterproof ankle booties (these!) but when it gets really snowy, I plan to wear my Sorel's and bring my work shoes in my bag (Tieks are perfect for this purpose, since they fold up super small!)

Tuesday: After getting up early on Monday for my 'trial run,' I took advantage of the ability to sleep in a bit this day. I ran in the daylight around 9 am, which was great, but it was SO so windy and very cold.
I had 400m repeats on my schedule- quite a few of them actually- and you could tell when I was going against the wind. I struggled to stay around 7:30 against the wind, where my goal pace was 6:45, but was much closer with the wind at my back. Duh :).
2 miles to warm-up, 3x(4x400m) with 2 minutes between intervals and 3 minutes between sets, 2 mile cool-down. 9.5 miles total. Yowsa! That was a long one.
You know its getting cold when I come back from a run and Tilda is staying close to the heater vents…
Since I had the whole day, I took a quick shower to warm up and then went to a noon solidcore arms & abs class.
Then I got a pedicure and a massage. I kind of like this "unemployed life," haha!  Plenty of time for double workouts, spa treatments, what a life!
Joking…It was nice for a few days, but I'm looking forward to getting back into a new routine, whatever that will be.

Wednesday: Back to an early run, even though I didn't need to. I met my friends Christie and Aaron for a 5 miler (9 min/mile) and then met my friend Monica at solidcore for another arms & abs class.
Arms & abs two days in a row was a bit rough- I was still sore from Tuesday's class, so I probably didn't get as much out of the second class, but still a fun time.
I killed some time in the afternoon at Athleta- purchased these tights (super sale!) and this cozy sweatshirt. LOVE!
I wore the whole ensemble later that day for a flight to Chicago for the holiday.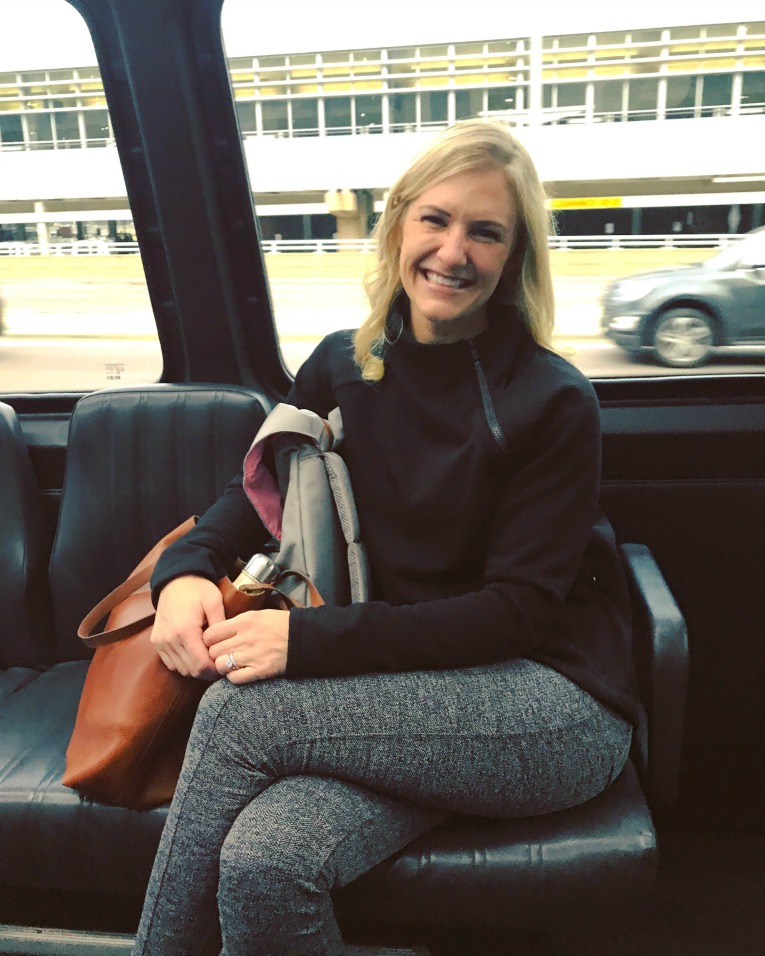 My sister Erin lives outside the city and she was hosting us all for the weekend. We could have driven there, but the 45 minute flight was much easier.
Thursday: The Fox & the Turkey 4 mile race!
My sister's run club organizes this fun Thanksgiving day race.
All four of my sisters and my dad ran the race (as well as Dustin and two of my brother-in-laws, not pictured)
There was also a one mile kid's run, which some of my nieces and nephews ran. Too cute!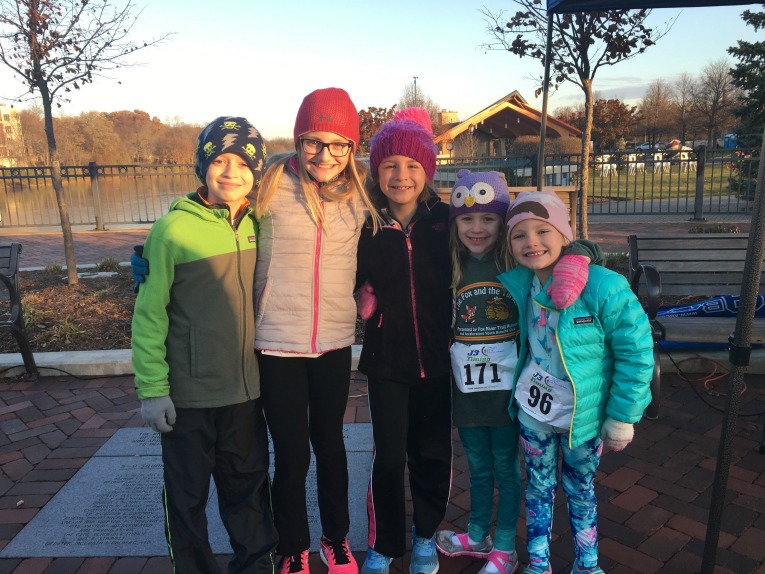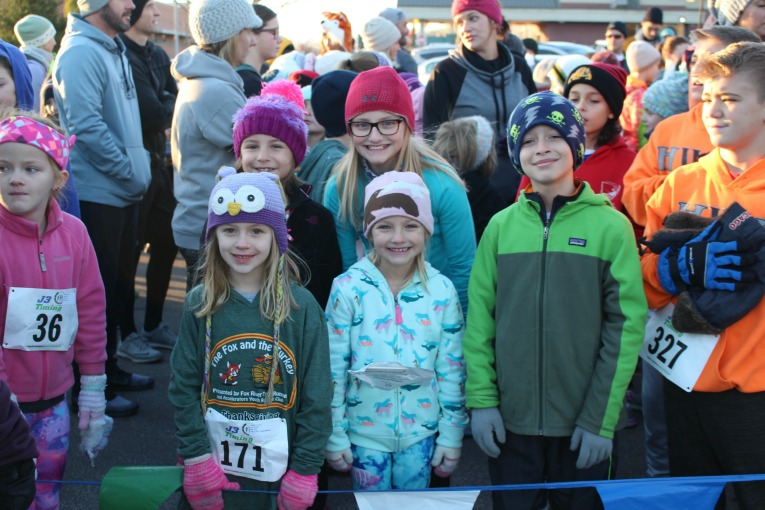 My coach instructed me to run the race at a 'hard' tempo effort, but not "all-out" race pace.
I was happy with my performance- splits: 7:21, 7:15, 7:22, and 7:04. Almost a progression run, if it wasn't for mile 3!
4 miles total at 7:15 min/mile average.
Dustin and I did two miles to warm-up and about 1.5 miles afterwards for about 7.5 miles total for the day.
Dustin also ran this as a tempo run (6:13 min/mile average) and came in 3rd in his age group.
The race was a really fun start to the holiday, with nearly all of my extended family taking part in a healthy endeavor outside!
Friday: I guess that tempo effort on Thursday was harder on my legs than I thought it would be…my 20 mile long run was a bust. I felt so tired the whole time and just couldn't get into a groove. I wanted to quit several times.
I ran 12 on my own and then came back to my sister's house and picked up Dustin for the last 8 miles. The plan was to pick it up when he joined me, getting to goal marathon pace for the last 4, but that didn't happen. In fact, I was slowing down to 9:30, 9:45 at the end and really struggling, so Dustin ran ahead on his own and just waited for me at the turn around point (I told him to do this- at some point, a pace that slow isn't really great for him. And I was just feeling so terrible, I wasn't great company.)
I should have known I was setting myself up for a tough 20 miler, with lots of food on Thursday, probably too much wine (even though I thought I was hydrated enough and I even went to bed early!) I think my legs were beat from the 4 mile race, but this definitely was not a confidence booster for Three Bridges. I could not have kept going for 6.2 miles, that's for sure…
It was too bad because it was a beautiful sunny day. The weather was perfect- sunny and low 50's. I even wore shorts and short sleeves!
After I showered and pulled myself together post-20 miler,  Dustin and I went into Geneva (a cute little town near my sister's house) for lunch and a stop at Penrose Brewing, and then a bit of shopping in the boutiques in the Geneva area.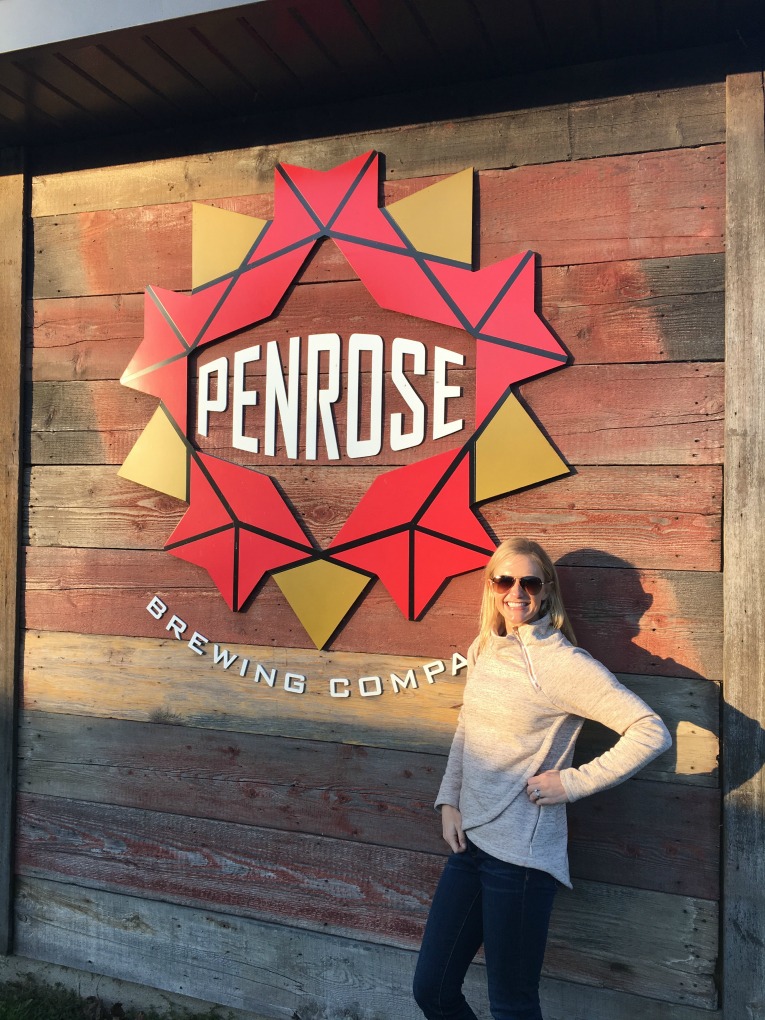 Saturday: We stayed with my sister Friday night as well, before catching a flight back to Minneapolis on Saturday morning. I was supposed to have a double run on Saturday (5 & 5) but I only fit in one of the 5's after we returned to Minneapolis.
5.5 miles at a 8:50 min/mile pace. Those miles were with Dustin at the beginning of HIS long run. He thought waiting another day after Thanksgiving and the 4 mile race was a better idea than running 20 after the race. He ended up starting his run at 4 pm and running well into the darkness and cold. Neither option was ideal, but you have to do what you have to do to fit it in around the holidays, right?

Sunday: My friend Christie came over to my neck of the woods for 10 easy recovery miles at a 9 min/mile pace. The sun was shining and the miles flew by- so different than my 20 on Friday. My legs were still tired but much better.
Summary: 2 arms & abs classes at solidcore and 66 miles of running; that total would have been 70 if I hadn't skipped a run!
I know that's a lot of miles and that's why I'm feeling a little beat up. I'm going to soak in an epsom salt bath tonight and do some foam rolling and hope I'm ready for a few more hard runs before the 'taper' for Three Bridges.
After Three Bridges, I'll be taking a break from hard training- well…until Antarctica picks up! But I don't plan to train too vigorously for that one; just enough that I feel strong and prepared for it.

Join Jess and me for our link-up, details below!
(Visited 447 time, 1 visit today)