Happy Sunday, and welcome to December!
December means just a few short weeks until the 3 Bridges Marathon in Little Rock, Arkansas. I'm linking up as usual with my friend Jess at Jess Runs ATL, details below.
(I am also linking up with HoHo Runs/Mississippi Piddlin, who host similar link-ups to Jess's and mine. Check them out!)
Last week's Thanksgiving recap was a long one, but today's recap will be short and sweet, without a lot of pictures. It was my first week of work at my new gig, and work was definitely the focus. I had to work hard to get in my runs, but I made it happen!
Monday: My coach's notorious 15-10-10-5 workout. 1 mile warm-up, 15 minutes at 10k pace, 5 minute recovery, 10 minutes at 5k pace, 5 minutes recovery, 10 minutes at 5k pace, 5 minutes recovery, 5 minutes as fast as you have left, 1 mile cool down. I cut the cool down a little short in the interest of time. 8.5 miles total.
Tuesday: Rest day from running! I went to a 5:30 am [solidcore] class. This was the only time I drove my car the whole week. (Solidcore is in St. Louis Park. I drove there and back, but still took the bus to work.)
Bus riding is going well! 🙂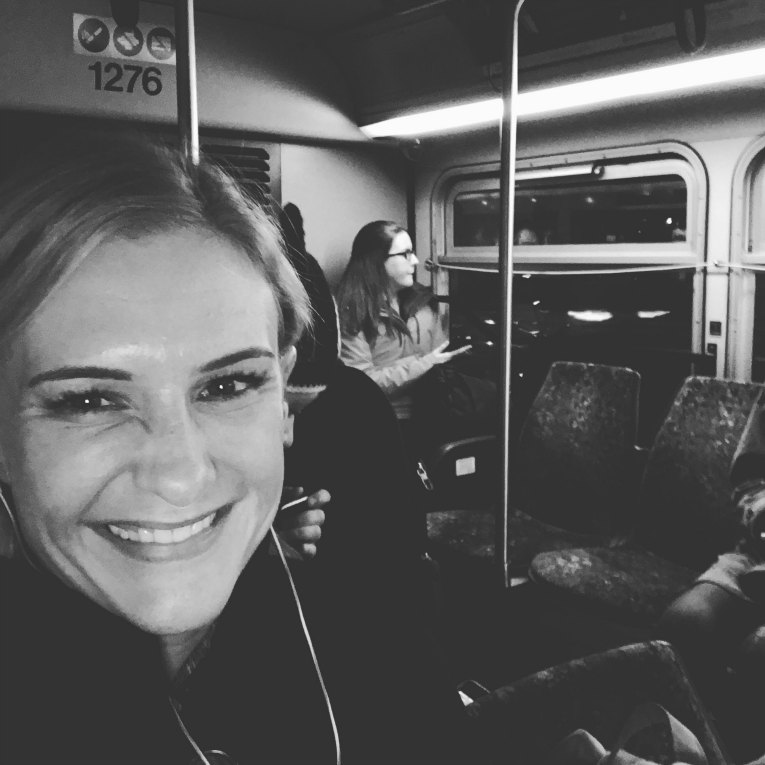 Wednesday: 8.3 miles easy with Matilda the vizsla and my friends Christie and Aaron. 4 more junk miles on the treadmill after work. 12.3 miles total on the day.
Thursday: 1 mile warm-up, 24x200m repeats with 45 second recovery, 1 mile cool down. 6.5 miles total. That was a LOT of 200m, especially super early in the morning! I wasn't feeling super speedy, but I gutted them out.
Friday: 8 easy miles with Christie before work.
Saturday: 16 mile long run.
I decided to sleep in a bit more than normal and not run with the Calhoun Beach Running Club as I normally would on a Saturday. I was tired after my first full week of work. Dustin slept in too; he had 20 on his schedule, so he joined me for 8 miles of my 16.
3 miles to warm-up, 10 at goal marathon pace (around 8:15), 3 miles to cool down. I felt strong during the 5 GMP miles with Dustin, but after he ditched me, it felt a lot harder. I was thankful for a few red lights that gave me breathers along the way! I planned my route so that I would be back at our house at mile 13 and I picked up Matilda for company for my 3 mile cool down.
16 miles total at an 8:30 average.
My brother-in-law and my niece stopped shortly after I got out of the shower, so we decided to check out Reindeer Day in downtown Linden Hills. Santa, reindeer, roasting marshmallows, cookie decorating, and of course the nearby holiday market at Sunnyside.
Dustin and I hadn't eaten after our long runs though, so we had to split ways early and stop at Harriet Brasserie for some food. (So good! I often forget about this neighborhood gem.)
We did a little holiday shopping at the Galleria in the afternoon and then met some friends at Young Joni in NE for dinner and drinks…with a stop at Dangerous Man afterwards too.
Sunday: 10 recovery miles with Christie and Lindsey. Then we had some 'family photos' scheduled at the Hansen Tree Farm way out in Ramsey, MN with the amazing Ami (check her out HERE– she's the best, and she also has a vizsla!)
Summary: About 62 miles of running, 1 solidcore class.
I expect a big decrease this week as I move into the 'taper' for 3 Bridges and I can't lie, I'm looking forward to a little break after Arkansas from hard training, just in time for Christmas!
Join Jess and me to share your workout details! Details as follows:

(Visited 343 time, 1 visit today)