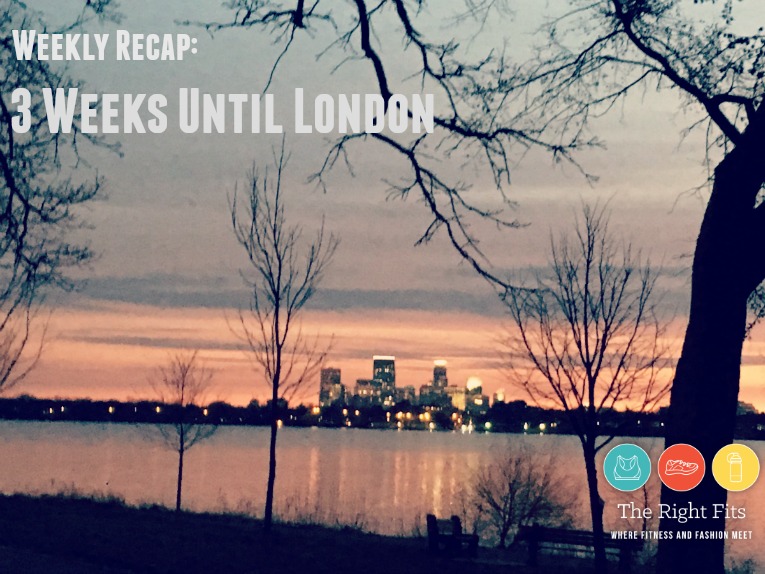 Three weeks until the London Marathon! This will be my 3rd international marathon (Berlin, Tokyo, now London), my 4th World Major (Berlin, Tokyo, Chicago, London) and my 22nd marathon overall!
I'm even more excited as my running is starting to feel back to normal. It definitely has not been as intense as it was for the Phoenix Marathon, but at least I'm training again. My new goal for the London Marathon is to enjoy the experience and finish with a smile on my face!
Here's how my training went this past week:
Monday: I had hoped to run with the Calhoun Beach Running Club, but I was stuck at work too late (which was the name of the game this week due to month-end.) I had 6 x 800m repeats (i.e. Yasso 800's). 2 miles to warmup, 2 minute recovery between each 800m, 2 mile cool-down. 8.5 miles total. My shin was a little sore, but not too bad. I struggled to hit the paces my coach gave me though, which was a bit discouraging, but it had been awhile since I asked my body to run those speeds. Some days are good, some days are bad- this one wasn't so good.
Tuesday:  5 recovery miles in the morning. 45 minutes of swimming in the evening.
Wednesday: 2.5 miles on the treadmill at Orthology. They analyzed my gait and gave me a lot of useful tips-
I need to work on my turnover/cadence, shortening my stride
I need try to at least strike on the midsole. Such a heel-striker…
I externally rotate my right hip, pulling on my inner shin (hence causing the medial tibial stress syndrome, aka shin splints!)
I have weak glutes (such a common runner issue, right? I think its because I haven't been doing as much barre!)
My right leg is shorter than my left, which explains why I'm getting shin splits on the right and have had IT band syndrome on the left.
They gave me several exercises to do to try to work on my weaknesses. They didn't work my shin as much as last week (no bruises this time!) but instead worked on my glute instead.
No running after work as I had planned, but swam laps for 60 minutes instead.
Thursday: 7 easy miles in the morning, 45 minutes of swimming after work. I'm still doing "doubles" but no double runs.
Friday: PT appointment with Dr. Folske in the morning. My coach recommended that I see another doctor just to make sure we're covering all our bases to get me healthy again. He did some ART and gave me even MORE exercises and stretches to do. After work, I ran 4 miles on the treadmill while trying to really focus on the tips Orthology gave me followed by this whole routine of exercises from both Orthology and Folske. All these PT exercises are like another whole workout!
Saturday: 16 miles long run with the last 4 miles at goal marathon pace. We had gale force winds this day and I was really tempted to "Netflix & Treadmill" but I'm glad I didn't. (Like the shirt? I bought it here!) Outside (with friends) is always better!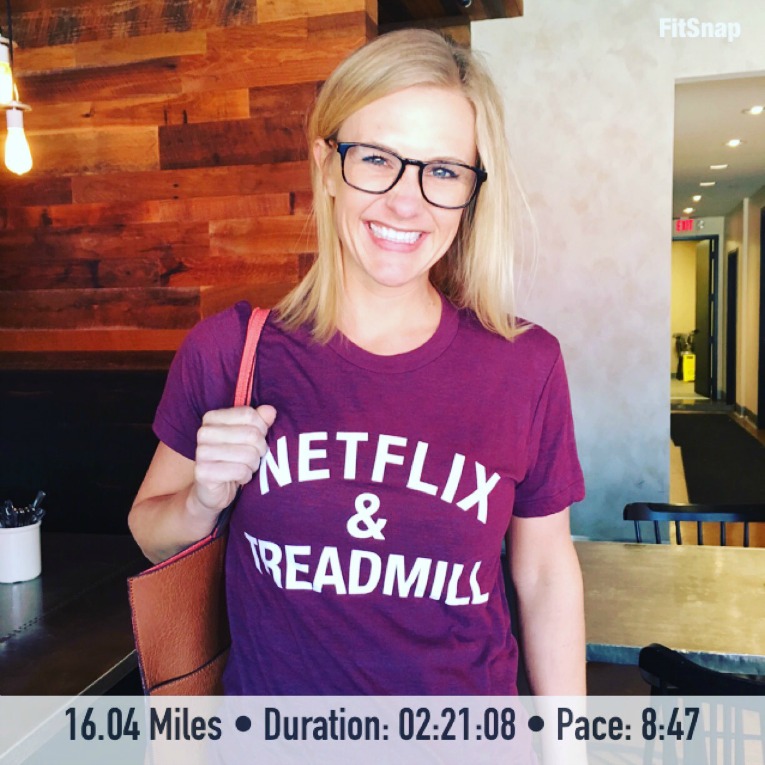 Instead, I tagged along with my friend Christie's "fast finish" long run, with our last 4 miles at a much faster clip than the rest of our easy long run pace (8:12, 7:57, 7:58, 7:58). Having a friend to push you really helps!
Sunday: 7.75 miles with a few (non-run club) friends, followed by brunch at Tilia (my favorite neighborhood spot!)
Total:  About 51 miles of running and lots of swimming (about 2.5 hours)
Considering I hit 75 miles/week a few times when training for Phoenix, this training has definitely been much less intense, but that's okay. I'm happy to be running. Even with a few bad runs, I'm still feeling a bit more confident that the London Marathon will be a positive experience.
*If you follow The Right Fits on either Facebook or Instagram, you might have already seen this, but Matilda and Dustin were in this month's Runner's World magazine! Matilda was disappointed she didn't make the cover (though it was another vizsla!)

(Visited 307 time, 1 visit today)