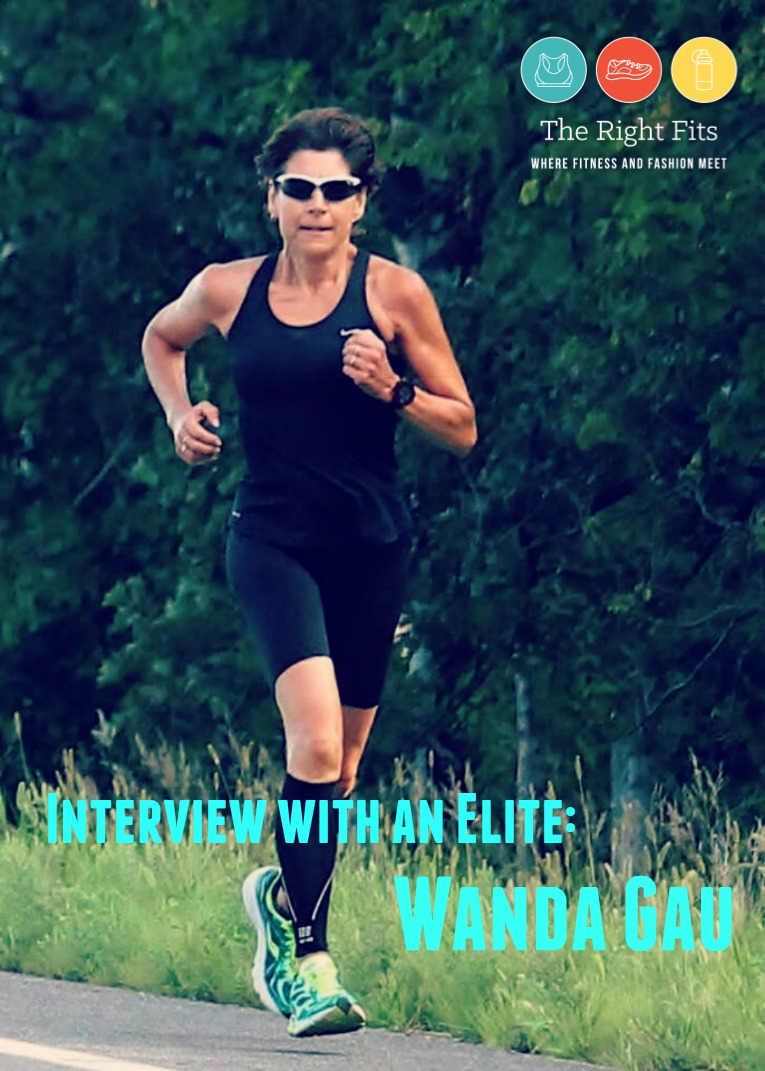 A few Saturdays ago, I cheered at the O'Gara's Irish Run 8k in St. Paul, where I happened to start chatting with a very nice gentleman who was also cheering. Come to find out, his wife is 53 year old Wanda Gau!
Wanda is a very accomplished athlete who has a fascinating story. She didn't even start running until she was 40. Now she is winning her age group, running 6:24 min/miles at an 8k. Impressive!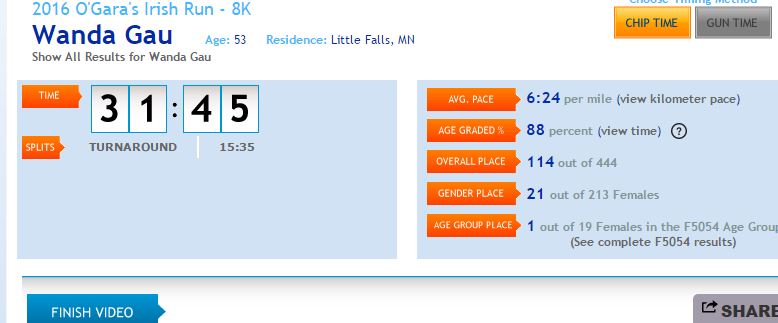 I thought it would be fun to share more about Wanda here, and she was kind enough to oblige. Enjoy!
Interview with an Elite: Wanda Gau
Marathon PR: 3:04:20
Hometown: Little Falls, MN
Occupation:  I teach first grade in Little Falls, MN
Education: Graduated from Moorhead State with a teaching degree
When did you get into running? Have you been running your whole life? What motivated you to start?
I never participated in sports in high school due to lack of talent.  I was interested in sports and was the athletic trainer for our girl's volleyball and gymnastics programs.
I didn't get into running until after reaching 40.  At that point I knew I had to start a consistent exercise program as my weight was going up and my metabolism was going down. I joined our local gym and eased into an exercise program that was not too taxing.  Some of the gym members were runners and encouraged me to join them.  After a lot of "peer pressure" (yes even at age 40) I decided to try a mile or two.  The group was doing 5 mile Saturday runs but I didn't join them because, in my mind, I wasn't an athlete.  Our town was having a 5k fundraiser race and I was encouraged to try.  My husband finally said, "You're just afraid that I am going to beat you!"  Well I discovered I had a bit of competitiveness in me and accepted his challenge.  I beat him badly and the adrenalin rush from the victory and the hard running had me hooked.
I then did more 5k races. The next year I attempted the 10k distance and the year after a half-marathon.  The local running group decided that we should all train and run our first marathon together.  I asked, "Why would anyone want to run 26.2 miles?"  Again peer pressure forced me to try this challenge.  We picked Grandma's marathon in 2005 and also planned to help our training buddy propose to his girlfriend at the finish.  That first marathon didn't go well.  I wouldn't have finished if it weren't for the group counting on my help with the marriage proposal.  My time was 4:51.  Six years later I ran my best Grandma's marathon time of 3:05.
What are you training for now?
I am currently training for the Boston marathon.  I ran this in 2008 and 2012.  My goal is to place top 10 in my age group.
What is your training like?
I follow the FIRST training plan from the Fuhrman Institute.  I run only three days a week.  One speed day, one mid-distance tempo, and one long run. I rest on Fridays.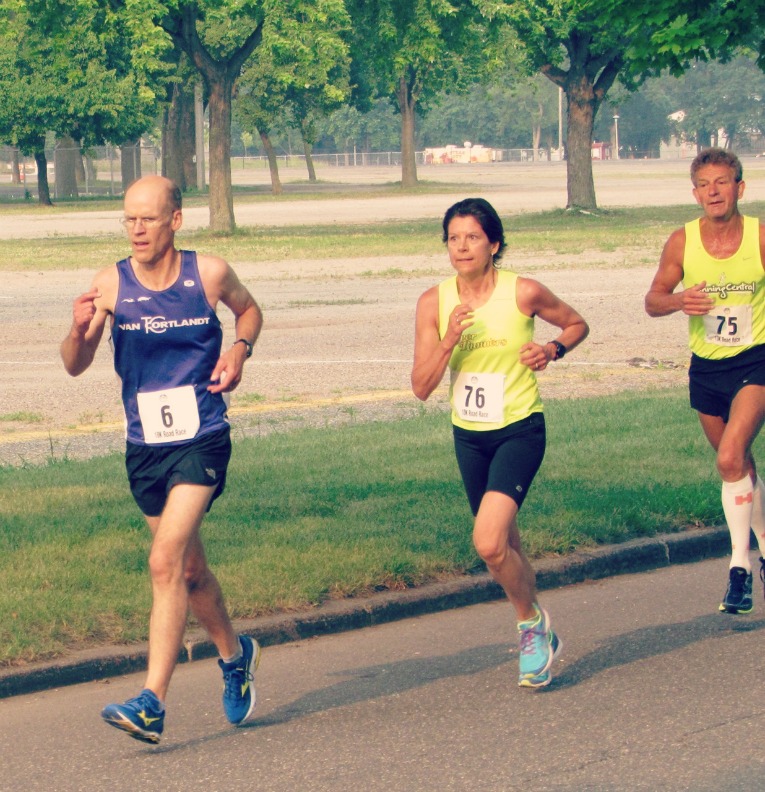 Do you have a coach? What role does he/she have in your training? Do you run with a group/team?
I am a member of the St. Cloud River Runners and this group has given me valuable advice as well as the opportunity to train with many talented runners.  This group was recommended to me by my mentor, Jacki DeVine.  We both run the USATF circuit races for this club team. This circuit of races varies from 1 mile to the marathon.  I like all the distances.
Tell me about one or two of your favorite marathons:
I would say that the Twin Cities marathon is a favorite for the crowd support.  I also enjoyed the Light At the End of the tunnel marathon as it was my pr to date. 3:04:20
Let's talk nutrition. How do you fuel yourself? What are your nutrition challenges?
I try to eat clean as much as possible.  I do not eat sugar of any kind other than what is natural in fruits.  I use Gu gel during races for fuel.  I really like no sugar added peanut butter!  After a race I love a cup of coffee.  Long run days I treat myself to a few french fries.
How do you cross-train? What other exercises/ strength training do you do to supplement your running?
I work part time at a fitness place and do personal training with gym members.  I lift 60-70 sets of weights a week as part of my cross training.  I use the elliptical, bike, and rower as well for cross training cardio.  I have been doing more strength training for my lower body as well as a lot more core work.  I believe this is why I have been able to stay injury free for two years.  This new year I am trying to incorporate more plyometric drills.

Are there different challenges for a "masters" runner vs. someone in their 20s/30's? Can you explain?
The biggest challenge for me is to not "overdo" it as far as increasing my mileage and making sure I am building in recovery time.  At my age rest and recovery is essential.  I am not a big fan of stretching but will force myself to do after long runs.  I am getting better at listening to my body.
What is your favorite running book or blog?
I am a big Dick Beardsley fan and love "Duel in the Sun."  I have run races with both Dick and Alberto Salazar.  Dick has autographed one of my Boston jackets.
Thank you Wanda for sharing your story with the Right Fits and good luck at Boston!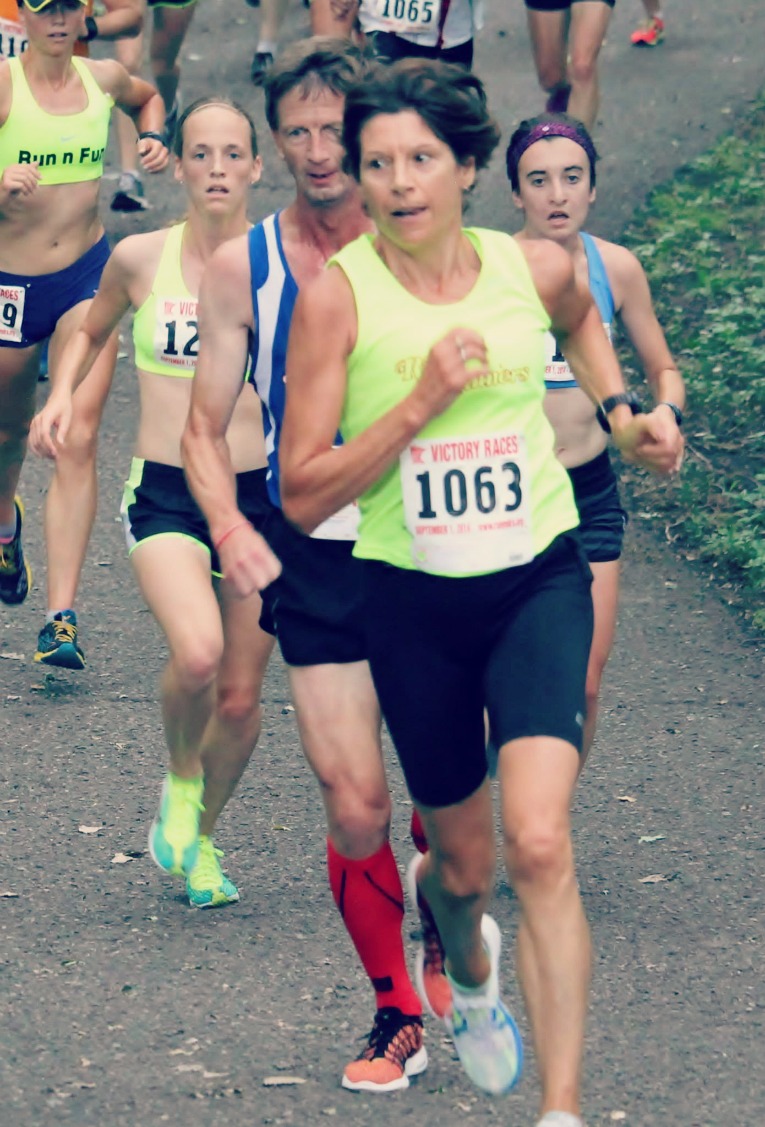 (Visited 1,424 time, 1 visit today)