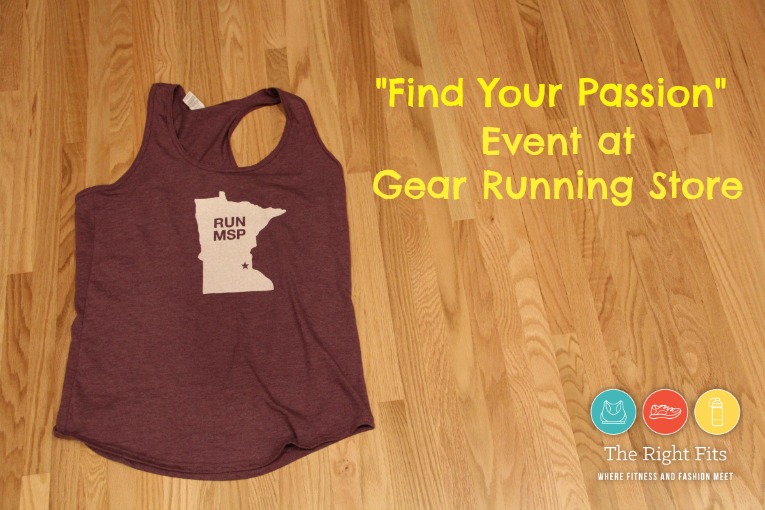 Last Sunday,  I attended a "Find Your Passion" Women's Event at Gear Running Store.
Gear Running Store is probably my favorite local running store (though we are lucky in Minneapolis/St. Paul with so many good ones!) I was excited when my friend Lindsey told me about this event she found on Facebook. It was called "Find Your Passion!" and was being hosted at Gear from 10 am until 11:30 pm last Sunday.
Details of Event:
"Passion Collective is an organization committed to encouraging women in making positive change. Join us for a ladies only event including; a fashion show by Oiselle, a brief talk on fitness and nutrition, and a running stride clinic. This event is free and open to women of all ages and experience."
The event started with a wonderful chat by Olivia (I don't know her last name- only that she is Gear's owner's sister in law!)
I didn't take notes during the talk, so I really wouldn't do it justice by trying to recap it…here are just a few points:
Girls establish their self-image by the age of 9. We are potentially held back by our fears and insecurities established at such a young age. Even if we grow up to be strong and healthy, we look in the mirror and see the same "weak" or "fat" girl from when we were 9.
Olivia reminded us that we have to be motivated by the process, not by the end goal. It's not about losing 10 pounds or fitting into a certain size, but the life and process of being as strong and as capable as we can be. We are capable of so much more than we think we are! We just have to TRY.
Be willing to try new activities. You might not like them…but then again, you might love them. Just try.
Try to eat "healthier." You don't have to eat the healthiest. It's too overwhelming to always try to do exactly the right thing, but making an effort to try to be healthier 80% of the time will make a difference.
Listen to your body. Your body knows what you need. If you have a craving for a certain thing, your body is trying to tell you something. LISTEN.
The value is in the process. You are working out to become strong and capable, so that when someone asks you, "Do you want to join me at paddle boarding?" or whatever the activity, you are strong and capable and can do so without any hesitation.
There was so much more to the chat, I wish I had taken notes…At the end, she gave us all tiny flower pots with seeds to plan to represent the beauty within.
After her talk, there was a Oiselle fashion show. I love Oiselle; the apparel is designed specifically for women and its one of my favorite brands.

My friend Christie and I both loved these new Distance shorts!

Isn't that the cutest pattern/color combo? Okay, okay, we both bought a pair. Couldn't resist!
There were a lot of other new items I liked…like these pants, this tank, or this short sleeved tee.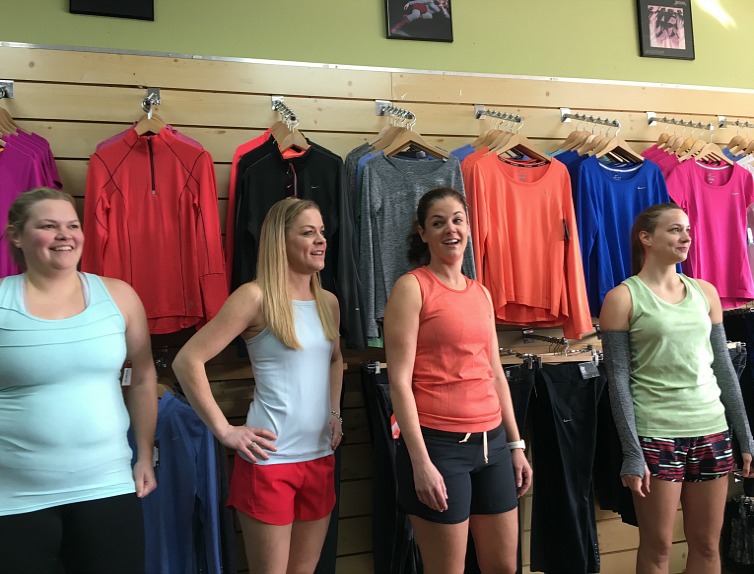 After the fashion show, the owner of Gear, Paul, gave a quick chat about running form. Then he took us outside to put those tips to practice. One his biggest points was about turnover/cadence, emphasizing the goal of 180 steps/minute. He played a metronome at 180 to have us try to mimic that speed. He also said the focus should be on running as lightly as possible, like you're "sneaking up on someone!"

It was easy for my friend Christie as she has very quick cadence; she averages 180 per minute all the time! But quick cadence is not quite as easy for me. I'm usually around 168.  Just like Orthology told me, I definitely plan to work on increasing this.
After the form discussion, we talked about dynamic stretching. Sub-3 hour marathoner Lindsey from my run club demonstrated some moves!

They hosted a giveaway with lots of fun Oiselle items and some Run MSP gear.
At the end of the event, Paul gave me this tank to try out on a run and share my thoughts with you. It's one of Gear's newest items in the Run MSP line.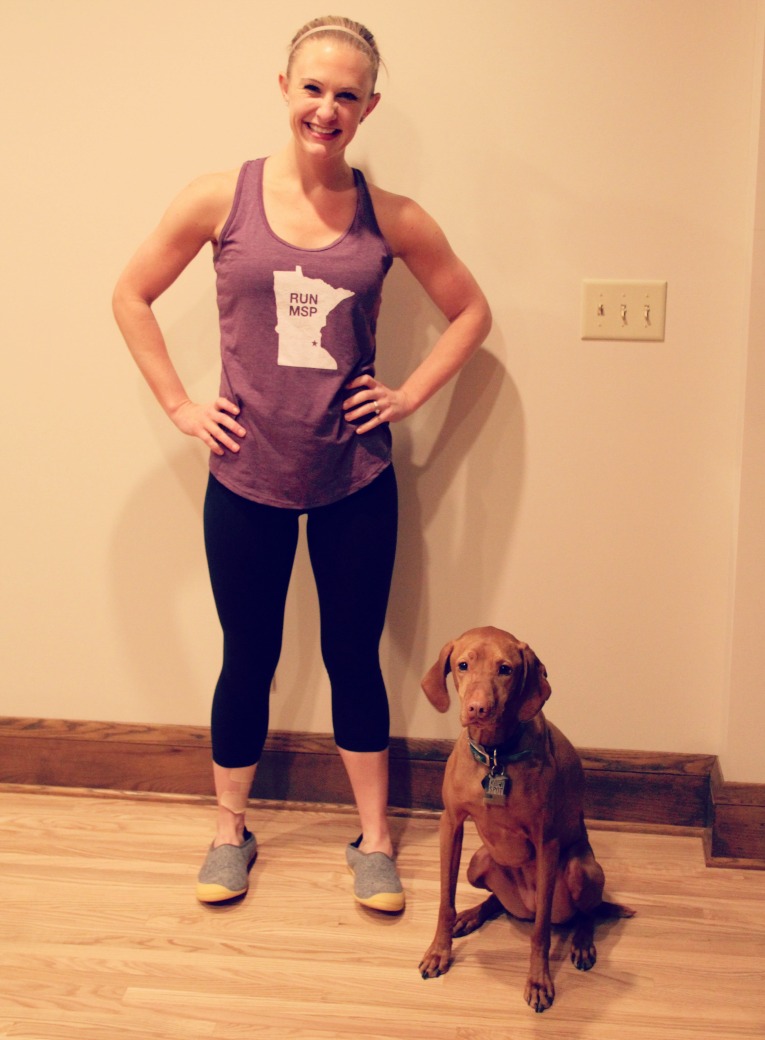 It's a tri-blend material, so it has sweat-wicking properties, though its probably best for shorter runs (and not crazy hot runs either) I am sure I will be wearing it on the weekends this summer for more than just running/working out! It's so cozy and SO cute. They carry plenty of other great colors- blue, green, pink, and my favorite, this purple.
For reference I'm wearing a size medium and I love the fit.
Every time I stop by Gear, they have new Run MSP gear- pint glasses, sweatshirts, tees, tanks, shorts, and more.  I'm such a sucker for it! I mean, if you recall, I even bought some for Matilda. She has this hoodie for cooler days…Adorbs, right?

In addition to the Run MSP line, Gear has a ton of other apparel, including lots of Oiselle and a WALL full of shoes. It's a locally run, family owned business. The people there know a ton about running and they can help you find the RIGHT FIT for everything running related. Be sure to stop by and tell them I sent you!
And thanks to Gear for hosting a fun Sunday event!
Also, watch this awesome video from my running club friend Ellen's news channel in Boston. You will LOVE it!
https://www.facebook.com/wgbhnews/videos/10154099725234609/?fref=nf
(Visited 761 time, 1 visit today)