This past Sunday was the Twin Cities Marathon.
Lead men and lead women at mile five
The past several years, Dustin and I have been out of town running marathons in other cities on TCM  weekend (Milwaukee, WI; St. George, UT; Scranton, PA) We were excited to be in town this year and able to cheer for our friends who were participating.
Well, maybe I was more excited than this guy:
If you were reading the blog this time last year, you might have read all about when our coach won the Mankato marathon, Kelly, Theresa, Dustin, and I were part of the cheer squad at that marathon too!
This year, we had new signs (well, some of them were new), but the same high energy! The day actually started out sunny and gorgeous; however, it did eventually start to rain. However, a good spectator sticks it out, even in the rain!
Now that we're so experienced, I'd like to share our tips as to How to Be a Great Marathon Spectator!
1. Know the course! 
Just like the actual runners do, you need to be familiar with the course and the good spectator spots. It is also important to plan ahead for how to get from one spot to the next. Remember, several roads will be closed and traffic will be worse than normal. We were definitely familiar with the course, having all run it in the past, trained on most of it day after day, and living near certain points of it.
This Sunday, we started out our cheering off of Lake Calhoun at mile 5, then heading to West River Road at the 30k mark, and then around mile 24 on Summit Avenue.
Susie at mile five

2. Bring the tunes!

Kelly provided us with the "JAM XT Extreme Wireless Speaker" (You can find one 

HERE

) This little device allowed us to share some energizing tunes with the runners (and the other spectators ) I put together a mix on my iPad mini, and we were able to play it via the Bluetooth connection on the JAM XT.
However, one thing we learned on Sunday was that we really should have saved the tunes for later in the day. We played music from the beginning of our cheering (around 8 am) until the end (nearly 1 pm). The battery life of the JAM XT was good, but not THAT good. Unfortunately, it did die on us towards the end of our cheering endeavors, at just the time that we needed it the most. Next time we will save the tunes for the later miles when it matters most.
3.  Dress for the weather.
Again, just like the runners, the spectators should review the forecast to ensure they are prepared! We knew it was going to rain and we all brought warmer, water resistant jackets to put on.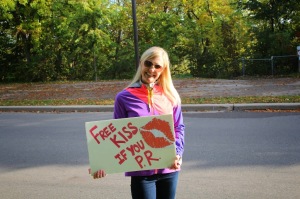 4.  Bring snacks!
Kelly was smart and she brought us honey crisp apples and pumpkin muffins. It's hard work cheering all morning, so we all appreciated the tasty snacks.
5. Bring the noise!
We brought cowbells and hand-clappers (or whatever those plastic things are called). These items helped us bring the noise and intensify our cheers!
6. Know Your Runners!
It can be difficult to spot your runner in the crowds. I know that we missed quite a few CBRC runners that were out there on Sunday. It helps to know what your runner is wearing. The brighter the better! Most marathons have sophisticated online tracking systems these days as well, which helps you know if your runner is on pace, so you can plan your next cheering spot.
7. Use Your Signs Carefully:
When I'm running a marathon, I love reading all the signs, even the snarky ones. We had one that read, "10 to 1 Odds That You'll Hurt Before This is Over, " or, "If the marathon were easy, it would be called your Mom."
I understand that these signs are not humorous to all audiences, so we were careful not to use these all the time.
We found that the signs that were really appreciated in those final tough miles were the positive signs, like "You're so smart and pretty" or "Damn, you look good!"
8. Stick around to the end!
I think this one is important. Once we were at our final cheering spot on Summit Avenue, we stuck around there as long as we could, up until at least the 5:30 pacer came by. These runners were definitely struggling, but they were all so grateful and happy to have us out there. It made us feel really appreciated. As cool as it is to see the fast groups come through, it's the slower groups that take the time to read our signs and smile.
We had such a fabulous time cheering for all the runners! Nice work out there!
Did you spectate at a race this weekend? Any additional tips for the cheering squads?
One tip I have for runners is leave the headphones at home. 300,000 spectators came out to cheer for Twin Cities, and they want you to hear them cheer for you! Put your name on you top with electrical tape too, so we can personalize our cheers!
(Just make sure you don't lose any letters like I did!)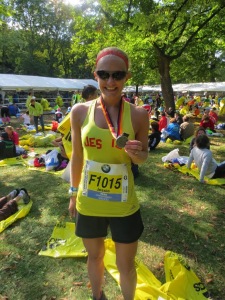 (Visited 302 time, 1 visit today)