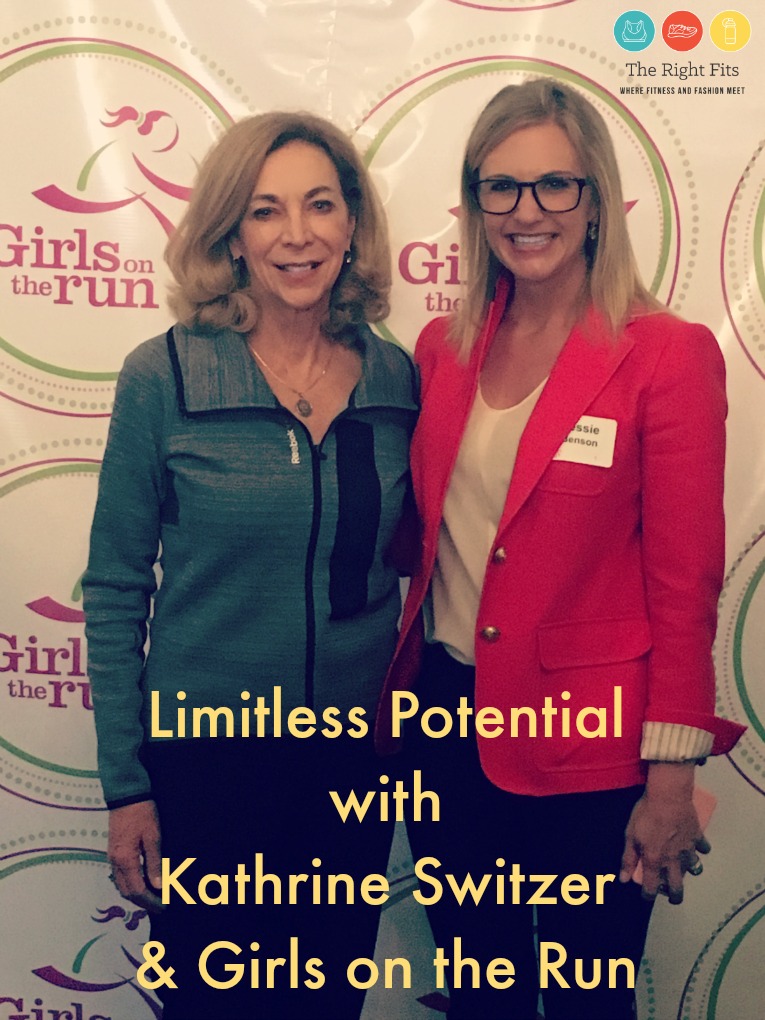 Last Tuesday, I was fortunate to be able to attend a luncheon fundraiser for Girls on the Run.
If you haven't heard of Girls on the Run, here's a quick summary of who they are from their website:
"Girls on the Run is a life-changing, non-profit program for girls in the 3rd through 8th grade. Our mission is to inspire girls to be joyful, healthy and confident using a fun, experience-based curriculum which creatively integrates running.
The 20-lesson Girls on the Run curriculum combines training for a 5K (3.1 miles) running event with lessons that inspire girls to become independent thinkers, enhance their problem solving skills and make healthy decisions. All of this is accomplished through an active collaboration with girls and their parents, schools, volunteers, staff, and the community.
Meeting twice a week in small teams of 8-15 girls, we teach life skills through dynamic, conversation-based lessons and running games. The 20-lesson curriculum is taught by certified Girls on the Run coaches and includes three parts: understanding ourselves, valuing relationships and teamwork and understanding how we connect with and shape the world at large.
Running is used to inspire and motivate girls, encourage lifelong health and fitness, and build confidence through accomplishment. At each season's conclusion, the girls and their running buddies complete a 5k running event. Completing a 5k gives the girls a tangible sense of achievement as well as a framework for setting and achieving life goals. The result—making the seemingly impossible, possible and teaching girls that they can."
The keynote speaker at the fundraiser was Kathrine Switzer, i.e. the first woman to run the Boston Marathon (with a bib- Bobbi Gibbs ran it as a bandit the year before). Kathrine registered  for Boston under "K. Switzer" and was given bib #261. You probably already know the rest of the story, but in case you don't, she infuriated the race director when he discovered a GIRL was running the marathon. The director attempted to basically tackle her during the marathon to eject her from the race. She escaped and went on to finish the marathon. It was a watershed moment for the sport and a significant event in women's history. After that incident, Kathrine went on to run thirty-five more marathons and won the NYC marathon in 1974.

The luncheon was held at Aria event center downtown.
It started with coffee, a raffle, and pictures with Kathrine at 10:45. My friend Lindsey attended with me; we arrived around 11, grabbed some coffee and then got in line for a picture with Kathrine!
We bought raffle tickets to win four tickets to Beyonce. I also bid on this private class at Alchemy for 30 friends and a new outfit at Athleta…but spoiler alert, neither of us won. But all for a good cause!
Carrie Tollefsen was the emcee of the event. She seems like the sweetest, most down-to-earth person. I recently listened to her podcast with Tina Muir on Runner's Connect and loved it.

Then, there was Kathrine Switzer.
You guys, she was amazing. What a great speaker. Runner or not, you could not help but feel inspired and motivated.
Here are some of the highlights, paraphrased of course from what I remember:
"The secret to success is to show up."
Nothing will happen if you don't show up. Sure, you might fail at that race or that interview, but if you don't show up NOTHING will happen. So show up. You have to put yourself out there. You have to try in order for success to be an option. You may fail- in fact, you WILL fail sometimes, but if you don't show up, you will never succeed.
She shared her story about joining the men's cross country team in college because there was no women's team. She was afraid the the men would think she was just there trying to meet a new boyfriend, but she was pleasantly surprised that she was welcomed onto the team with hugs and open arms.
"Running is gender free. The road is big enough for all of us. Men, women, fast, slow, big, small. Running is there for all of us."
She trained with a mentor/coach in college named Arnie; "Arnie the mailman" she lovingly called him. Arnie would share stories of the Boston Marathon during run after run. Eventually Kathrine said, "let's stop TALKING about the Boston Marathon and just run it!"
But Arnie didn't think she should run it, not only because it wasn't permitted, but because HELLO! she was a woman, and that's dangerous for a woman, amirite? Arnie said there is a law of diminishing returns for women in distance running The longer it gets, the harder it gets. (Um, wait…Isn't that true for men too?). But as the story goes, Kathrine proved him wrong in a very big way.
Women Have Stamina:
Women have only had sports for about 50 years whereas men have had sports for hundreds. Look at how far women have come in those 50 years. Women are winning endurance races OUTRIGHT, not just "first female". They are winning at 100 mile races, at 6 day races, and ultras of all kinds. Women have STAMINA. Just imagine what the sport will look like in another 50 years!
You have to create your own destiny.
Kathrine said that people often tell her "Kathrine, you were destined to run." She doesn't believe in destiny. "Destiny is baloney." Unless destiny is about being prepared, taking the responsibility to finish what you've started, and doing the work.
Her first marathon finish was 4 hours and 20 minutes. Destiny didn't bring that time down to 2 hours and 51 minutes. Not destiny, but 110 mile weeks, 35 marathons, and a hell of a lot of hard work did!
Running is about Empowerment:
Running is not about losing weight, its not even about getting faster. Running is about empowerment. It's about being brave and taking action. (And that's what Girls on the Run is about as well!) Running gives fearful women the power to feel fearless.
The fundraiser itself was superb. Lunch was provided by Chowgirls Killer Catering and cakes by Farina (I think!) All donations were matched by the Pohlad Family Foundation.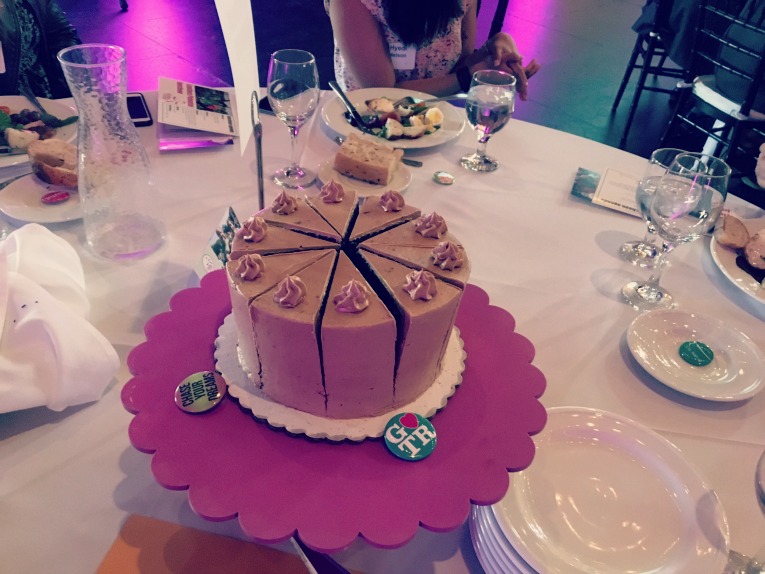 There was a Q & A session afterwards with Kathrine, but unfortunately I had to get back to work. But I heard it was awesome.
During the Q & A, someone asked her, "Do you ever regret not having children?" to which she answered, "No. Every time I see a woman running out there, I think, 'she's one of mine.' I've got a couple million women who are my children."
Wow. LOVE that.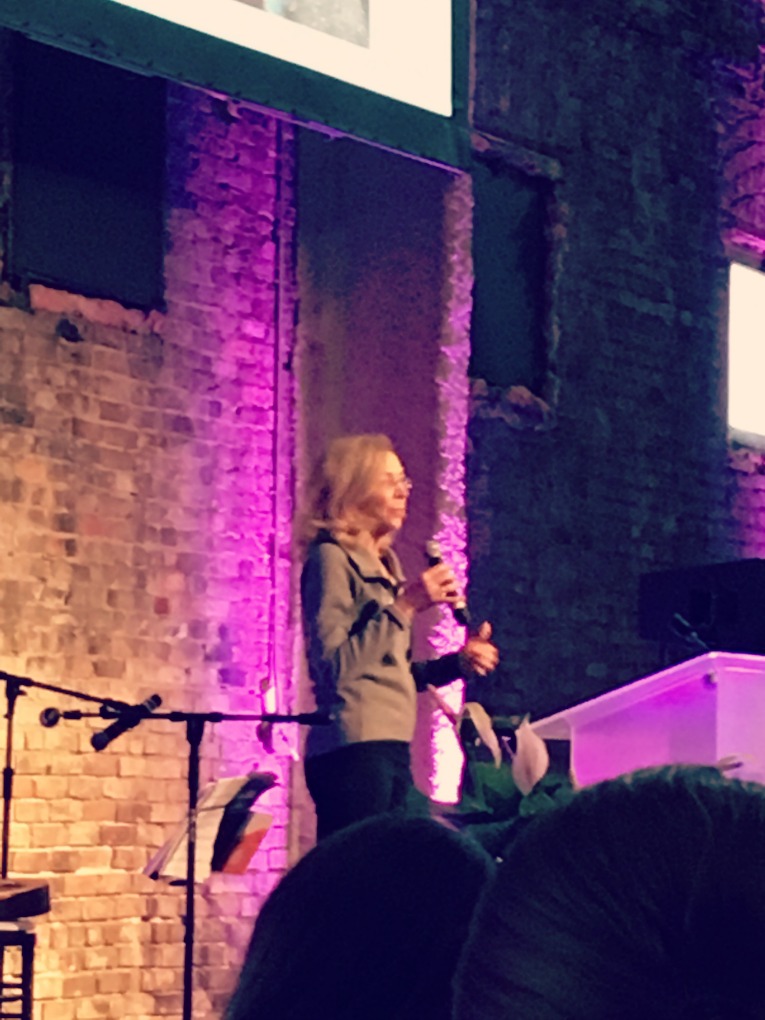 At the end of the lunch, I was inspired to make a donation and sign up to learn more about volunteering with Girls on the Run. Fellow blogger Andrea from On a Fun Run had volunteered with them before and she said it was a wonderful experience (<– go check out Andrea's blog! She's super nice.)

Are you interested in volunteering?
You can learn more at the Girls on the Run website, especially about volunteering at their upcoming 5k on June 4th.
We received goodie bags at the event, complete with Kathrine's book Marathon Woman. Looking forward to reading it.
There was also a flier advertising the arrival of Athleta Girl! I know my niece Maggie, who wrote this guest post about lululemon's sister brand IVVIVA will be excited about this new store!

(Visited 418 time, 1 visit today)