On Saturday, January 30th, I ran the Securian Winter Run half-marathon. There is also a 5k and 10k race, and all of the races are part of the St. Paul Winter Carnival. Participating in one of the races is often touted as a way to "earn your bragging rights" for running in the dead of winter in Minnesota!
"Embrace the frozen tundra that we call home, while enjoying the charm of St. Paul and the magnificent Mississippi. All proceeds benefit Saint Paul Festival and Heritage Foundation, producer of the Saint Paul Winter Carnival."
I have reviewed this race in the past- three years ago I ran it on a VERY cold day. Read that post here. Two years ago I ran it as part of a bachelorette party. Read that post here.
This year I ran it as a supported long run where I practiced my "goal marathon pace" for my upcoming marathon in Phoenix. My coach had 16 miles on my training schedule, with 12 at goal marathon pace of 8:15 min/mile. When I found out a few friends were running this half, I figured it would be a fun change of scenery to head to St. Paul for my long run. My coach agreed that this was a great idea, as he thought that the goal marathon pace would feel a lot easier in a race environment.
Back to the details of the event- I love this race because it's a small, low-key race. You can wait inside the heated Securian building in downtown St. Paul, rather than outside in the cold!
The half-marathon starts at 9 am. I arrived around 7:30 and was one of the first people to pick up my bib. I also received a long sleeve technical shirt, which was new for this year; in the past, runners only received a mug.

We still received a lovely mug at the end of the race. I love the mug more than the shirt! I have acquired a handful of these mugs over the years (I have run the Securian other times before I started the Right Fits) so it's fun to add another to the collection. Personally, I think the organizers could skip the shirts and just stick with the mugs to save some money!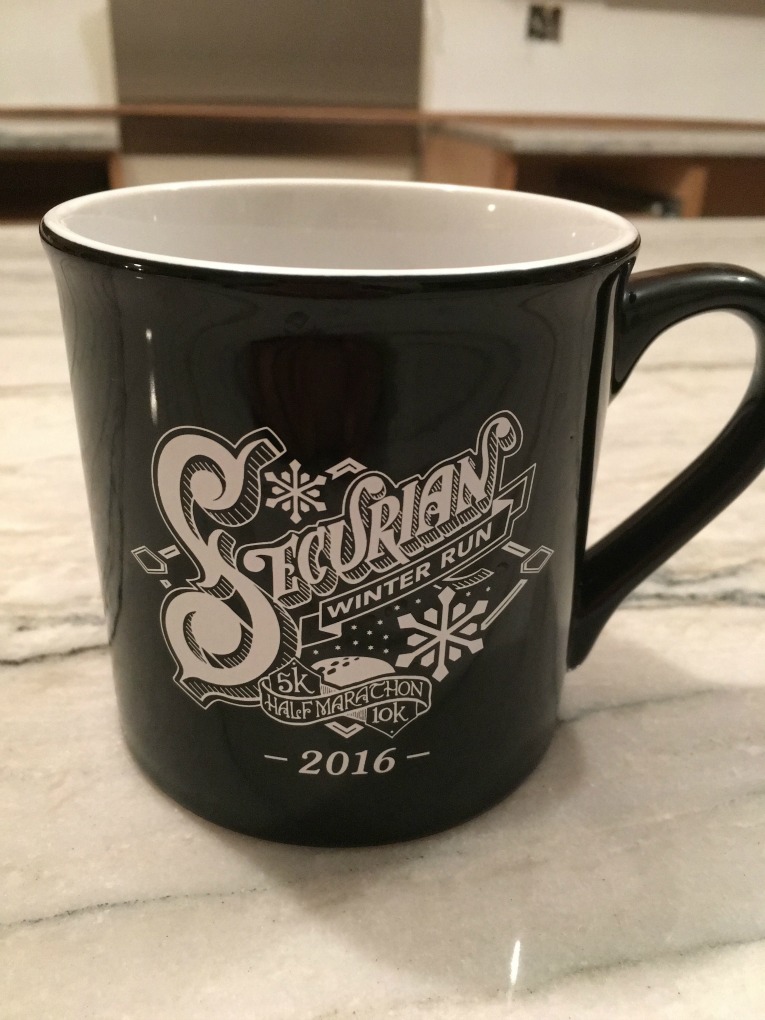 Anyways, I arrived early to do 3 miles to warm-up. Even though I wasn't racing, my coach still builds in a "warm-up" into the long run (unless it was just an easy long run.)
The Start Line:
As I mentioned, it's great to be able to wait inside. Of course, all of the porta-potties are outside, but that's understandable. I met up with my friends Christie and Aaron around 8:30 and we waited until about 10 minutes to 9 to head into the "cold."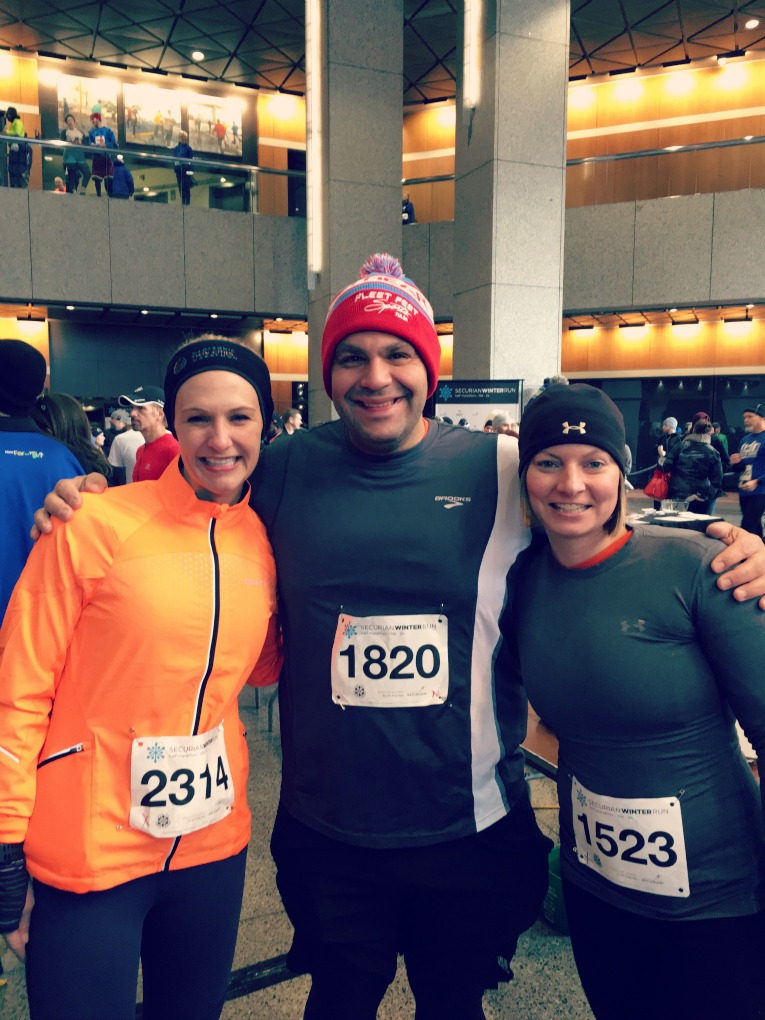 I put "cold" in quotations because this was the warmest this race has ever been.  At the start, it was 30 degrees and by the time we finished it was around 35 and sunny. Gorgeous day for a run.
With less than 300 half-marathoners, the start line is also pretty laid back. No waves or corrals, just a starting gun and then we were off!
The Course:
The course winds around through downtown St. Paul for the first few miles, taking you past the ice sculptures that are part of the Winter Carnival. There was a noticeable climb in the first mile but then we headed down to Shepard Road along the river with a welcome downhill. The majority of the race is run out-and-back on Shepard road, which has some rolling hills. The "out" has a lot more uphill than the "back." There was a turn-around point around mile 8. I did notice that there wasn't a timing mat at the turn-around. If someone really wanted to, I suppose they could possibly cheat- fortunately, I don't think we had any Kip Litton's at this race. (Have you read about Kip Litton? FASCINATING story.)
There was a painful hill at mile 12. Trust me, if you run this race, you will know what hill I am talking about. You will be cursing this terrible hill and its terrible placement right before the finish. My paced slowed way down in the last mile (see splits below). Tough stuff!
Support:
I think there were two different water stops that we hit multiple times. The volunteers gave out small plastic water bottles vs. cups. I overheard some complaints about how wasteful that was, but I believe they do that for the protection of the volunteers. This race is usually incredibly cold. If you have ever volunteered at a race (or even just as a runner) you see how much water gets splashed on the volunteers. There is also a lot of water spilled on the ground, which would freeze on a colder day. Using plastic water bottles isn't very "green", but I'm pretty sure its because of the weather.
I didn't mind the bottles. I was able to run with mine for a little bit as I took my two GU's along the way, and then could easily drop it in one of the many garbage cans along the course.
As I would expect, there weren't a ton of fans cheering, but there were still a handful of people out there on a cold day with signs and cheers.
There were also pacers for this half marathon, which is a nice touch. If I had been racing it, I might have hopped in with one of them.
Fitness Fashion:
The weather is normally way colder than it was this year, so we were really lucky. I started with a thin pair of fleece Brooks mittens and an ear warmer, but I took both of those off and pocketed them within the first few miles! I had on lululemon capris (that I bought way back at their warehouse sale, but these are similar), this Sweaty Betty long-sleeve, and my new Craft jacket. Oh, and of course my trusty Brooks Ravennas.
Finish Line/Post-Race:
Post-race, runners received a goodie bag with lots of snacks and of course the ever-popular coffee mug. A handful of vendors were handing out samples as well, including one of my favorites, Seven Sundays!

My Performance:
As I mentioned, my coach had me run this race at goal marathon pace. I wasn't tapered for it at all, as I had 70 miles last week and over 60 this week. I was running on tired legs, but was happy that I was able to do my goal marathon pace. However, its hard to think about doing that pace for another 13.1 in four weeks- it was not a walk in the park!
Here are my splits:
Mile 1: 8:14
Mile 2: 8:05
Mile 3: 7:58
Mile 4: 8:09
Mile 5: 8:03
Mile 6: 8:21
Mile 7: 8: 23
Mile 8: 8:08
Mile 9: 8:09
Mile 10: 8:16
Mile 11: 8:09
Mile 12: 8:11
Mile 13: 8:35 (that hill though!)
Mile 0.13: 7:46 min/mile pace
Total: 1:47:56 or exactly an 8:15 min/mile average.

214th place out of 393 runners. Definitely a fast (and small) race. I saw lots of incredibly quick (and young) racers in the front of the pack from Mill City Running. I do like an out-and-back course for that reason- it's fun to see the winners coming through!
My friends did well. One wasn't racing, but was giving it a solid effort to see where she's at for Grandma's in a few months. She will definitely be ready for her June marathon!

And the other is coming back from an injury and had the goal of staying under 2 hours, which he did with 3-4 minutes to spare.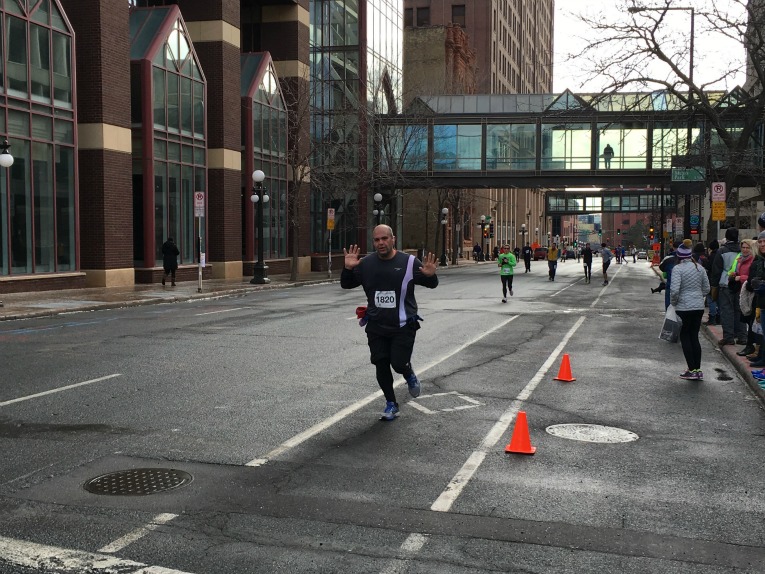 It was a successful Saturday for running.
One more thing- thanks to the nice girl on the out-and-back who said "Go Jessie- I read your blog!" That comment seriously pumped me up so much. Thank you- and I hope you had a great race!
(Visited 631 time, 1 visit today)