As I mentioned in my weekly recap, I ran the Hot Cider Hustle Half Marathon last Saturday, October 22nd with my friend Vicki. I wasn't racing it for me, but rather paced/ran with her. Her previous PR was a 2:04 and her goal was to run under 2 hours.
13.1 miles would be the longest I had run since the Twin Cities Marathon when I paced my sister, but I had such a great experience with that, that I was excited to pace again. Prior to pacing Vicki, I was back to running pretty consistently 5-6 days a week around 30-35 miles a week, so I hoped sub-2 hours (around a 9 min/mile pace) would feel pretty good.
The Hot Cider Half Marathon is a new race to the Twin Cities and a great option for a fall half marathon, (especially if all the bad press about Team Ortho turned you off of their Monster Dash.)
Packet Pickup:
Packet pickup was held on Friday at Dick's Sporting Goods in Richfield, which is really close to my office. I ran there over lunch to pick up Vicki's and my packets. You could pick up for a friend if you brought a signed waiver. At the pickup, we received our fleece hoodies and bibs with chips for chip timing. We probably could have picked up our packets on race morning as there turned out to not be much of a line, but the race organizers discouraged us from doing so.

Weather:
It was a brisk 43 degrees at the start, but the sun was shining and there was no wind. I actually warmed up quickly and was comfortable in shorts, compression socks, and a tank (Oiselle distance shorts, Pro compression, Oiselle Flyte tank, no longer made, Lole hat, and Brooks Ravennas). A few other runners made comments about how 'bold' I was running in so little, but I run really "hot." I was totally fine.

Race Morning:
The race started at 8:30 am at Normandale Lake bandshell in Bloomington. We were there a bit too early (around 7:30 am) but the time passed quickly. There were plenty of porta potties. Free parking was available in a ramp across the street.
The start line was a little odd actually- no one was really lined up by the time they started the 10 second countdown! It was a narrow path to start; I can't imagine that if this race becomes more popular that they will be able to keep it on the paths that they did, but the paths were definitely a highlight for me.
The Course:
It was such a beautiful course though through Hyland park and around Normandale lake- so, so pretty! The course was lovely.
There were a few out-and-backs where we could see the lead runners. The course was very twisty-turny, but I never was confused about where to go. There were volunteers at all the confusing spots and cones and arrows making it very well marked.
Yes, there were some significant hills, but nothing that we couldn't handle. Even though we ran through Hyland, the course stayed on the paved trails the whole time, no dirt/trails.
Our performance!:
Mile 1 9:20<– the start was straight up a hill!
Mile 2: 8:48
Mile 3 8:46
Mile 4: 8:35
Mile 5: 8:53
Mile 6: 8:41
Mile 7: 9:07 <– took a GU here and slowed a bit while we did.
Mile 8: 8:39
Mile 9: 8:30
Mile 10: 8:47
Mile 11: 8:44
Mile 12: 8:50
Mile 13: 8:51
Final 0.1: 9:03
Final time: 1:55:30!
Crushed that 2 hour goal! She even surpassed her "A" goal of 1:58. Big PR! She seemed really happy with that time.
Overall, I thought the race was well run- logistically, it was very easy. My favorite part of the race was the course. I don't ever run in that area so it was a really nice change of scenery.
One of my coach's other athletes who I met at Grandma's this year had a huge PR of 1:37 and took first place for women! Way to go Jen!
Finish Line:
There was hot cider at the finish as well as a caramel apple for every participant.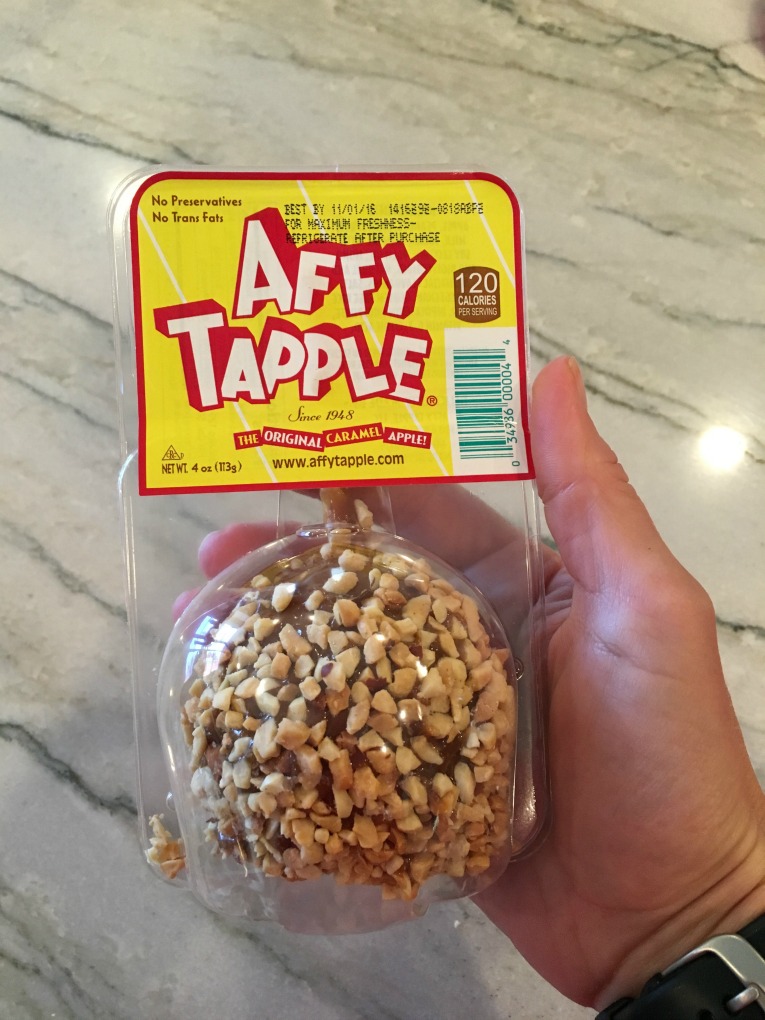 The Hot Cider Hustle Half Marathon is a great addition to our running scene. I enjoyed running it with my friend Vicki. And I really enjoyed pacing again!
The winning men's time was 1:21:25 or a 6:12 min/mile pace, which is speedy. However, 2nd place was 1:30:23, which is easily obtainable for Dustin. I told him he should run it next year so he can place (or maybe win if this year's winner doesn't come back!) As a comparison, the winning time for the City of Lakes Half Marathon, (which attracts a very competitive local running crowd), was 1:07 for men and 1:22:54 for women.
Before the race, Vicki and I were both a little concerned about running a 'themed' race, especially one that was debuting this year, but we were both pleasantly surprised. If it fits in my schedule, I will be back next year!
Congratulations Vicki on your PR!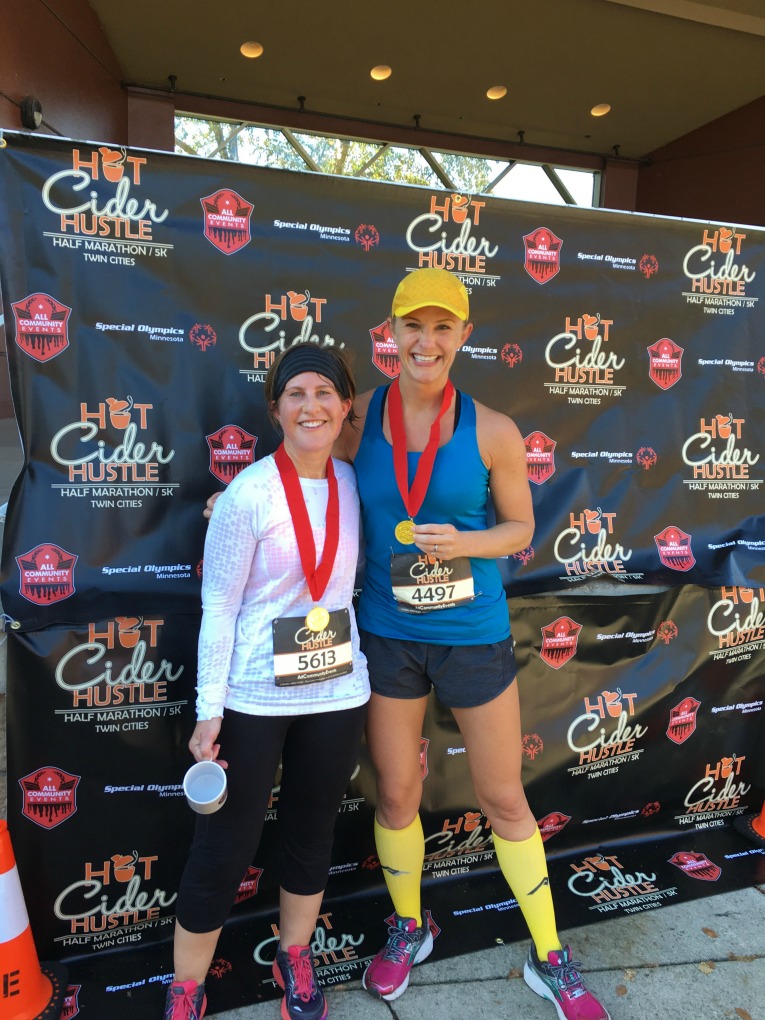 (Visited 1,282 time, 1 visit today)