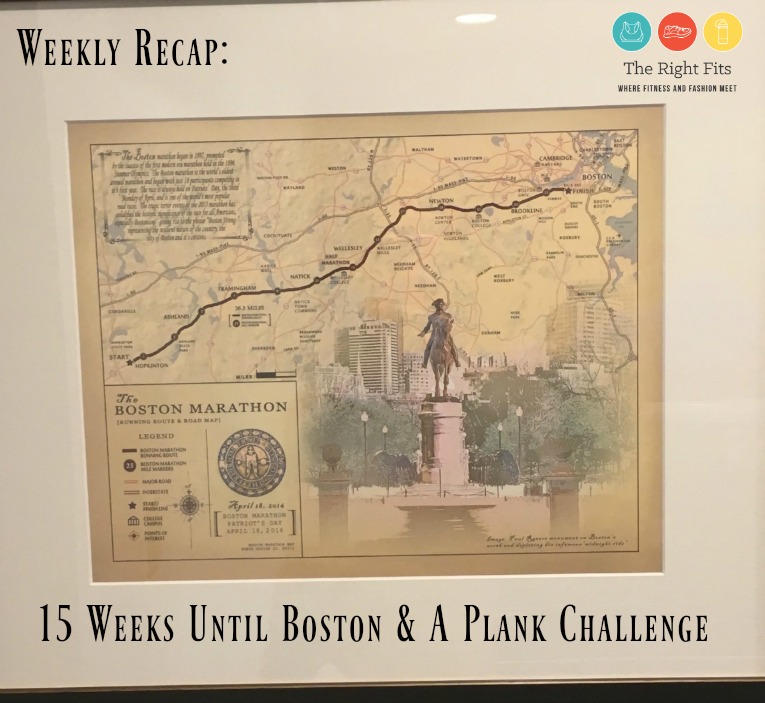 Happy New Year everyone! If you missed it, I shared this post reflecting on running through 2016.
Reflecting on the year can be valuable but now it's time to look forward and work towards new goals in 2017!
Before I share my weekly recap of training for the Boston Marathon (only 15 weeks to go!), I wanted to let you know that I am hosting a January plank challenge again. I think this is my 3rd year of the January plank challenge.
We start today with 20 seconds and work our way up to 5 full minutes! There are built-in rest days, but you can use those days to make up any missed days or to keep planking. I understand that planking isn't the 'perfect' exercise for a strong core, but I think its a good one. Historically I have noticed an increase in strength in just the month of planking every day!
Here is the schedule and you can join the Facebook event here.
Pin it, print it, save it to your phone, keep it handy to stay on track! I'll be posting updates on here as well. If you make it all the way to 5 minutes, I'll enter your name in a drawing to win $100 to be donated to the charity of your choice.
Okay, on to the weekly recap!
Monday: I had Monday off of work for the holiday, so I went to a 9 am solidcore class. It was quite cold still outside, so I followed up the class with a treadmill workout: 2 mile warm-up, 8x400m repeats at a 6:45 pace with 2 minute recovery in between, 2 mile cool-down. 6.2 miles total at an 8:33 min/mile average.
Tuesday: 8 morning miles on the treadmill, 9:15 min/mile.
That evening, my college roommate was in town for one night only! (She lives in Munich, Germany).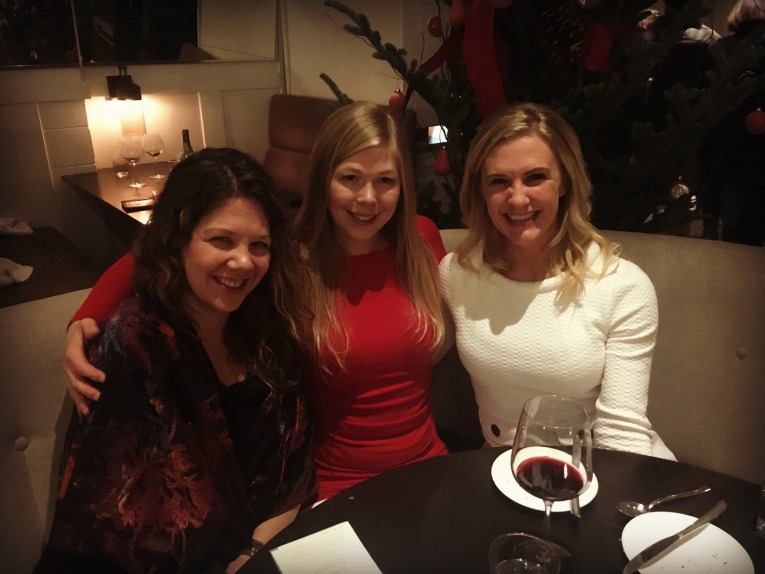 We had dinner at Spoon & Stable (amazing), met up with a few more friends at Lynlake Brewery, and ended the night at Up-Down Minneapolis, the vintage arcade/craft beer place. Quite the night for a random Tuesday!

Wednesday:  Over my lunch, I went to Orthology to have them work on a tight/strained hip flexor. I see Dr. Melissa Wong there- she's awesome. She thinks I strained it from running on the ice the Saturday before for my long run (Christmas Eve). It's not so terrible that I can't run, but I want to stay on top of any potential issues. She did some soft tissue work and give me a few helpful stretches to do before and after a run. It felt a lot better after the appointment.
I ran 6 miles that evening, and though my hip flexor was feeling good, I took a really hard fall on the Calhoun/Harriet connector. I carry a light (this one) when I run in the dark, but even so, a patch of black ice snuck up on me. No serious injury, just a nasty bruise on my side hip/butt and a sore elbow.
The fall made me really timid; I was scared to really run the rest of the route…I took it really slow.  6 miles at a 9:32 min/mile average. I think there was one mile in there that was actually clear pavement where I could run confidently, but the rest of them were quite conservative.
Boston training in Minneapolis is tough!
Thursday:  Man, my butt/hip was quite sore from the fall when I woke up. Rather than run in the morning, I gave my body a bit more time to heal and ran after work.
I did my workout on the treadmill, which was short hill sprints: 2 mile warm-up, 20×30 second hill sprints with 1 minute recovery in between, 2 mile cool down. The hill sprints were done at a 4% incline around a 7:15 min/mile pace. For the recovery minute, my coach told me to keep the incline at 4% just turn down the speed quite a bit. The recovery minute was really slow. And 20 repeats was a lot to keep track of during a run! I made marks on a piece of paper to make sure I did them all.
I ended with 7 miles around 9 min/mile average; the 2 cool-down miles were kinda quick because finally removing that 4% incline felt amazing- it seriously felt like a downhill!
Friday: 7 miles at Flapjack Friday with Mill City Running, 9:07 min/mile pace. I met my friend Christie there ahead of time to get in about 4.5 miles and then we did 2.5 with the group, followed by Flapjacks of course! The Mill City people are so welcoming and fun.

I had another appointment at Orthology; this time for that darn toe! It still hasn't healed and has started bothering me again. Dr. Wong did soft tissue work and taped it up. Man, Boston training is off to a rough start…I'm falling apart! Between the hip flexor, the toe, and the sore butt from the fall, I'm a bit of a mess.
On a brighter note, that evening we had dinner with Dustin's brother and nephews at i.e. by Lake Nokomis. Man, their pasta is SO, SO good. I highly recommend going there; make a reservation though, it's busy. They had a kid's menu too that the boys liked.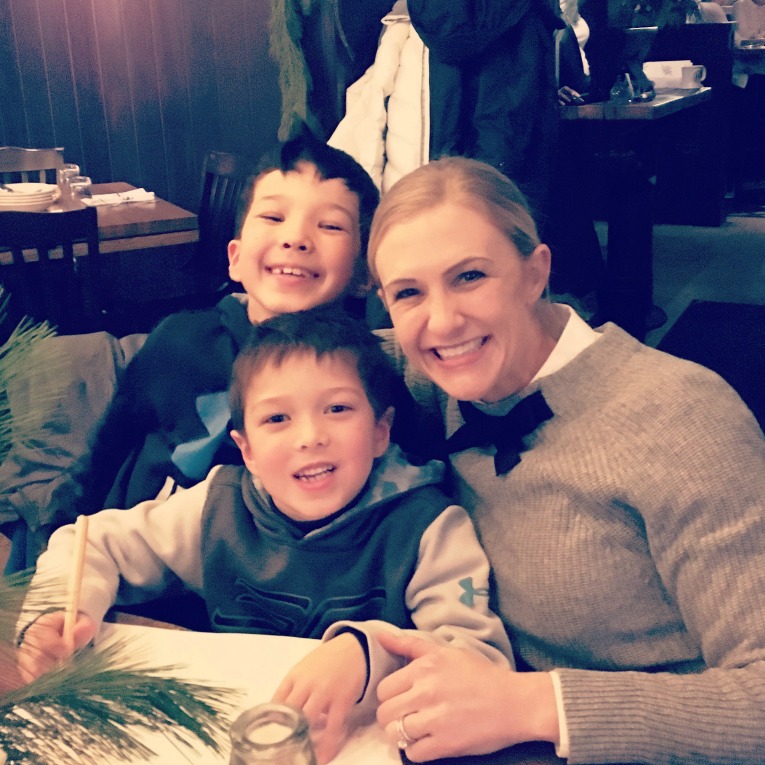 Saturday: I met my friend Nordica in St. Paul for my long run; she had told me that the river road was much more clear than the lake trails and she was right! We didn't have any ice issues and it was a really fun change of scenery for me (and fun to run with a new friend!) I was supposed to do 10 miles easy followed by 4 hard, 1 cool down, but I only managed about 1 out of 4 at the prescribed 'hard' pace. Another workout "fail"- I guess it's good that my coach gives me workouts that are tough, but it would be nice to hit the paces some times. I guess my legs were too tired, and I know that I gave up mentally. I seem to be struggling so far this training session.
My friend Nordica had SIX at her tempo pace and crushed it; she just circled back to get me for the 1 mile cool-down which worked out well. 15 miles total at an 8:45 min/mile average.
Sunday: Rest day from running. Even on New Year's Day, solidcore was open so I went to a morning class there.
I understand that New Year's Day is a busy day for gyms and fitness studios, with everyone's resolutions but I've never been really into New Year's resolutions; I like Eric's comment on this post with a quote from the "The Science of Running" by Steve Magness  "Go run 7 days a week. Sleep 8 hours a night. Eat Real food."  Seems like a good "resolution" to me! I'd rather try to make adjustments and improvements throughout the year than do them all at once. That's what these weekly recap are for- looking back on each week of a training season to determine what's working and what's not working! 🙂
Summary: 50 miles of running, 2 strength classes (both solidcore). Overall an okay week but there's a lot of work to be done before Boston!
I'm linking up with Jess at Jess Runs ATL with my weekly recap. Join us! Details below:

(Visited 645 time, 1 visit today)