I've been doing a lot of complaining so far this winter about running outside and the winter has only just begun! You've probably noticed how much more I'm opting for the treadmill (which is an easy choice when its right in the basement) And I did take a hard fall the other day on an icy winter run that left me with a nasty bruise and shaken confidence. There are reasons for all this complaining, I swear!
But in between all that complaining, there have been some really great winter runs. My 15 miler last Saturday with my friend Nordica was a blast. A mid-morning workout (in daylight!) on January 2nd left me motivated and excited about Boston.
Winter running isn't all bad. However, there are some crazy things that will probably happen to you if you decide to run outside this winter.
Here are a few:
You will experience frozen eyelashes. Or a frozen beard.
You will wear more layers than you thought possible.
You will experience "frosty thong." This is when your butt is sweaty on a cold winter run, so the sweaty areas freeze, resulting in what my friends have come to know as the "frosty thong."
You will wear a face mask.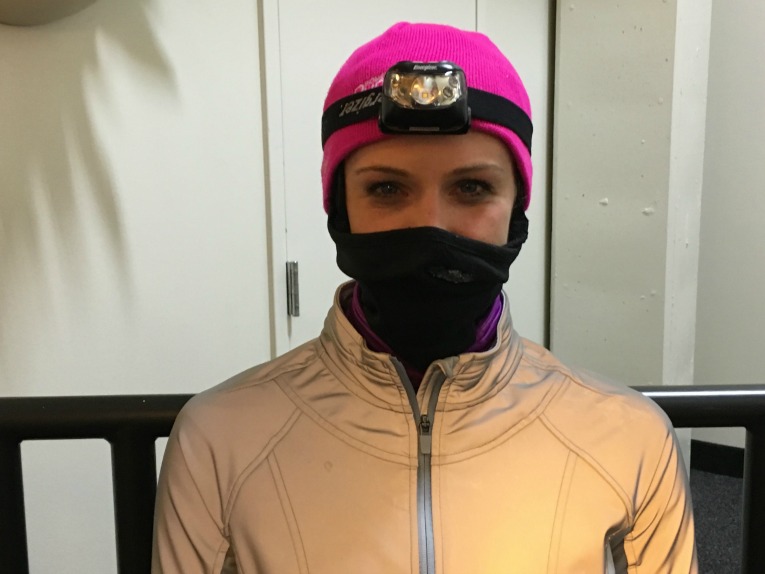 You will make friends with a treadmill. It will happen. Mine is my best friend. Sometimes it's just too icy or too cold to go outside….
You may experience Raynaud's. This is generally not a big deal if this happens to you (and its way more likely to happen to you if you're female). It happens to me ALL the time. It definitely looks freaky!
The fluids in your hydration belt will freeze on a run.
You'll call 30 degrees "downright balmy!"
You'll slip. Hopefully you will not break anything. (May I recommend YakTrax Run!)
You'll post pictures on social media of just how cold it is and how #hardcore you are for running outside.
These things all sound kinda crazy…But let me tell you about the really AWESOME things that will happen if you decide to run through the winter!
You'll be tougher.
The winter never feels as horrible when you're still running outside. With the right gear, you can safely run through winters as tough as those in Minnesota! Knowing that you are hardy enough to be outside for extended periods of time will make the whole winter more bearable.
You'll come to appreciate the beauty of winter.
It really can be beautiful out there…much more beautiful than the inside of the gym on a treadmill.
You'll stay in awesome shape.
Running in the winter is tough. Running on uneven terrain from the snow is challenging on the legs, but the minute you're running on dry pavement in the spring, you will discover how strong you have become! There won't be a long base buliding period after the winter because you're already going to be in shape. You're going to be in shape the whole time!
Running in the winter is totally doable, totally worth it, and can actually be a lot of fun.
You have to experience cold to appreciate the warmth.  
There is nothing better than coming in after a cold run to a warm house, maybe a fire in the fireplace, a hot shower, a cup of coffee, and a great feeling of accomplishment for completing a winter run!
(Visited 544 time, 1 visit today)