The Boston Marathon is almost here!
Marathon Monday. Patriot's Day. April 17, 2017.
Boston will be my 26th marathon and 17th U.S. state on my quest to run a marathon in every state.
It will also be my second-to-last marathon of the six World Majors (Chicago, Berlin, Tokyo, London, Boston, and New York City.)
It is also a victory lap of sorts after finally qualifying (and qualifying by enough to actually register.)
There's so much history with the Boston Marathon and I think it will be really cool to just be there this year, no matter how I perform personally. Kathrine Switzer (who I met last year!) is running it to celebrate the 50th anniversary of her monumental run. Galen Rupp is running, Jared Ward, Meb Keflezighi, and of course Desi Linden (my favorite!)
This article from Competitor Magazine does a great job explaining what is so special about the Boston Marathon:
"There are bigger marathons in the world; faster ones, too. But there remains something seminal about Boston. Perhaps it is the long, hard winter that precedes it, and the promise of the coming rebirth that it heralds…
When the Boston Athletic Association instituted time qualifying standards in 1970 to control the size of the field after the race grew to more than 1,000 entrants, it unwittingly created a special "people's Olympics" quality to the old race, a standard for runners to achieve. Today, runners from around the world dream of posting a Boston qualifier, knowing that only a special few will have earned the honor of pinning on a Boston number. And the people of Boston and the surrounding area feel just the same about the runners."
I've been sharing recaps of my Boston training since I was 19 weeks out from race day.
(Oh my gosh you guys…are you tired of hearing about Boston yet? Ha!)
19 weeks out <– not a great start to training, I had the most terrible cold!
18 weeks out <– holiday party time!
17 weeks out <– thank goodness for the treadmill.
16 weeks out <– running on the ice…
15 weeks out <– Happy New Year!
14 weeks out <– with a weekend trip to Chicago for Hamilton
13 weeks out <– more treadmill time..
12 weeks out <– testing out my ICE Peregrine shoes
11 weeks out <– a quick trip to NYC for work
10 weeks out <– a trip to Big Sky, Montana
9 weeks out <– highest mileage week. Almost 80 miles!
8 weeks out <–running in shorts in February??
7 weeks out <– my marathon medals.
6 weeks out <– Can Can Wonderland!
5 weeks out <– off to Detroit/Canada.
4 weeks out <– Hot Dash 10 miler.
3 weeks out <– An 8k and a 22 miler.
2 weeks out <– A visit from my sister!
1 week out <– And here we are, just a few days from the race!
Over those 19 weeks, I ran nearly 1,100 miles with my highest mileage week at 78.5.
I've done all the training. I've put in all the miles- some on the treadmill, in the snow, in the rain, and occasionally even in the sun! Ha!
I've managed to stay mostly healthy and injury-free. It's true that I've been training to PR at Boston and my coach seems to think that I can, but I won't be too heartbroken if I don't.  My real goal for the Boston Marathon is to enjoy the experience. In the midst of my 50-state goal (and 7 continent quest), I have a feeling Boston will be a one-and-done marathon for me so I want to ensure that it's an enjoyable experience. I want to appreciate the crowds and embrace the historical course. I want to take it all in and cherish it, which is a little harder to do when you have a very focused time-goal.  Last year, Phoenix (BQ but just barely), Grandma's (a bust due to the heat) and Cottonwood were all marathons that I went into with a very specific goal. I knew the paces that I needed to run and was very focused on them. Those were great marathons, but different than London, where I didn't have any pressure to perform and 100% enjoyed every mile.
Though it would feel fantastic to PR at Boston (of course it would!), I think it would also feel awesome to smile and really enjoy every step of the marathon the same way that I did at London last year.
So that's the plan! No stress, trust the training and see where it gets me on 4/17/17!
If you are interested in tracking me, I'm bib #18705 and Dustin is #5403. You can sign up to track us here. I won't be starting until 11 am EST (wave 3), so watch me online over your lunch at the office.  Unless the broadcasters decide to show some of us middle-of-the-packers, I doubt you'll see me on TV, but there will be live footage of the finish line on the BAA site, so follow along there if you'd like.
Time to break out this jacket I purchased awhile ago and pack it in my suitcase for this weekend!
It's  also time to pull out my mantras.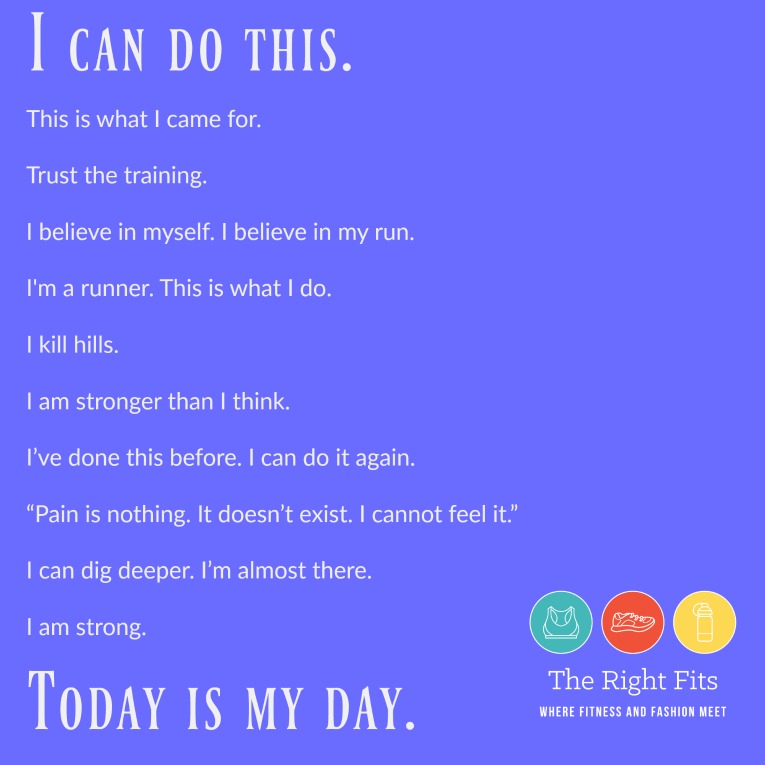 I'm excited to add another medal to my collection. There's a spot for you, Boston Marathon 2017!
What's next?
After Boston, I will take 1-2 weeks off of running before getting back to it as I plan to pace my sister Erin again, this time at Grandma's Marathon in June. She has a goal of 4:15, or a 9:40 pace. I plan to train as normal to ensure I can comfortably and confidently pace her. We had such a great time at the Twin Cities Marathon, I'm hoping Grandma's is just as magical!
Good luck to everyone racing this weekend. I hope to see you out there!
(Visited 651 time, 1 visit today)