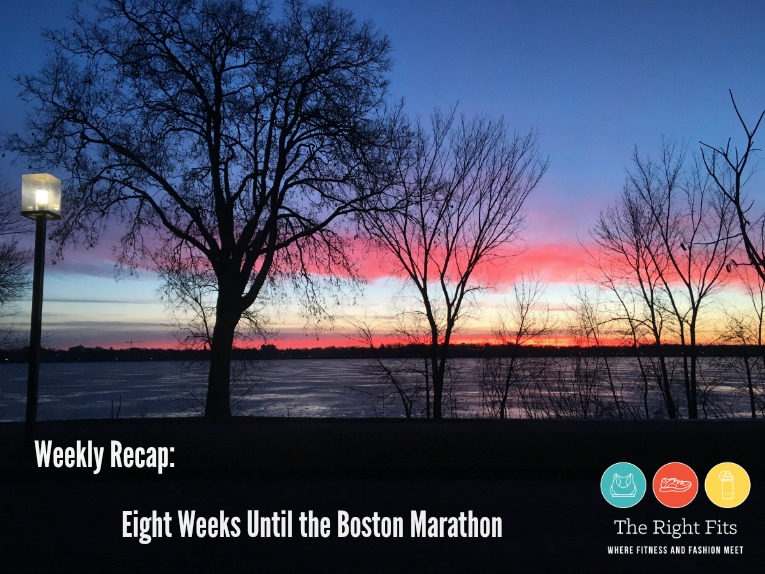 The above picture is from a morning run this week…The sun is starting to come out earlier! Spring is on its way 🙂  With spring comes the Boston Marathon. Only 8 weeks to go!
When I look forward on my Final Surge schedule, it's a little intimidating.
So. Much. Running.
I just have to take it one day/one workout at a time. In terms of tune-up races, I am doing the Hot Dash 10 miler on March 18th and the O'Gara's Irish Run 8k on March 25th. I haven't raced a 10 mile in years; I'm excited! The 8k is the first race of my run club's USATF race circuit.
So, of course, I'm here as usual with my weekly recap and I'm linking up with Jess from Jess Runs ATL. Join us! Details at the bottom of this post.
Monday: 8 easy miles in the morning with my friends Christie and Julie, 9:10 average. 1 hour barre class at the barre after work.
Tuesday: Valentine's Day! I had a 7 am meeting at work, so no time to squeeze in the longer workout I had ahead of time. (I showed my holiday spirit with pink pants!)
Instead, I had to do my run in the evening. Dustin offered to run with me for Valentine's day :), which was great as I had 8 miles at a 7:40 pace (with 1 mile to warm-up and 1 mile to cool-down.) 7:40 is around his easy/recovery pace, so it worked well.
He kept me on track for most of the miles though I was really working for it. It seems that I panic a bit in the beginning of a longer workout like that because it seems so daunting and I get in my head that there's no way I can keep it up for EIGHT miles, but then I eventually settle into the pace and then there's only a few miles left and I can talk myself into it sticking with it. 
10 miles total at an 8:03 min/mile average. After the run, we made a Hello Fresh meal together. It was a lovely Valentine's Day celebrating the way we know best. Running and eating 🙂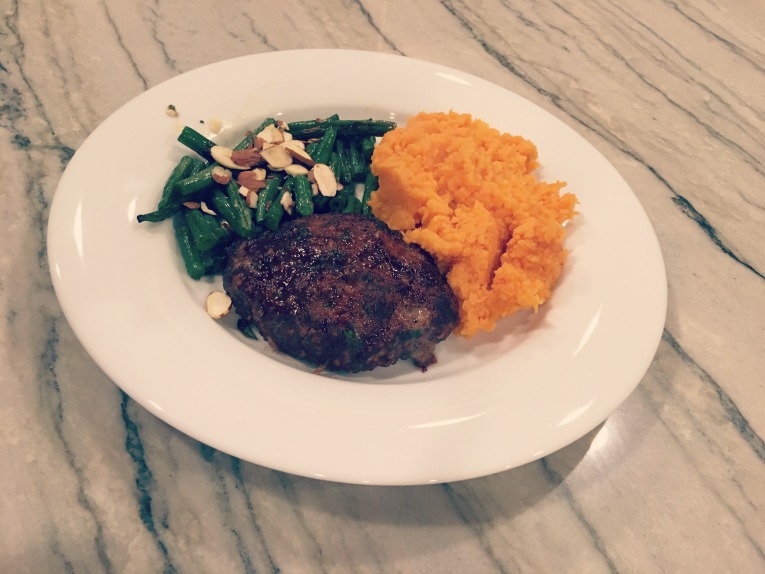 Wednesday: 8.5 recovery miles before work with Christie and Julie again. I could tell I was pretty sore/tired from the longer tempo. 9:05 min/mile average. Another 5 miles after work- it was warm, but I wasn't feeling a dark run on my own, so I decided to just hop on the treadmill and zone out to "Crazy Ex-Girlfriend" on Netflix. 9:13 min/mile average. 13.5 miles on the day.
Thursday: I had another double on my schedule, but I was tired and slept in instead, which of course meant no time for a double. Instead I did the short hill repeats on the schedule after work: 2 mile warm-up, 8x300m sprints (at 80% max) with recovery the length of the hill, 2 mile cool-down. 7.25 miles at a 9 min/mile average.
I had my regular call with my coach that day and he said it was up to me if I made up the 4 additional recovery miles on Friday or used Friday as my scheduled rest day.
Friday: Great news! Tilda's foot has recovered and she was pretty energetic and rearing to go, so I decided to do the 4 recovery miles I missed the day before with her. It was so great to have my furry running companion back! 4 miles at a 9 min/mile average.
Saturday: My second 20 mile long run of the Boston training schedule. The plan called for 16 miles easy and the last 4 at a harder effort. They ended up being around 8 min/miles which wasn't quite as fast as I had hoped. But overall still a great run- it was sunny and in the 50's!
So amazing. When we started the run, it was upper 30's; I had a vest and a long sleeve. By the time we ran to the Calhoun Beach Club (Dustin and I both had a run scheduled that was a bit longer than the run club's planned route, so we ran from home) I had to shed the vest. Midway through the run, I even shed the long sleeve.
I couldn't believe I was running in shorts and a tank in February in Minnesota! Granted, I run "hot" so to speak, but it felt so amazing. 20 miles at an 8:50 min/mile average.
That afternoon I got a sports massage with Gregg Sivesind at Fit Studios in St. Louis Park. Only $65 for an hour; my coach recommended this guy, as he works closely with the University of Minnesota track team (where my coach used to run). I felt great afterwards and plan to see him again in a few weeks.
Sunday: Another gorgeous day in Minneapolis! I think we actually reached 60 degrees today. Unbelievable. I had a double run on the schedule- the first 8 I ran with Dustin and Matilda at an 8:45 min/mile average and the second 4 I did with Dustin again (yay!)
Summary: 1 barre class and 75 miles of running. I didn't do as great as I had hoped with fitting in cross training, but I did get a sports massage, so that's something, right? There's just not enough time in the day, especially when working 50 or so hours a week…I tried my best!
(Visited 415 time, 1 visit today)