A lot of marathon training programs are 18 weeks long, so I figured now is the time to start my training and countdown to Boston!  I'm back to working with my coach Antonio and I'm finally over that horrible virus of the past two weeks. Now it's time to work!
I'm still hosting my weekly link-up with Jess at Jess Runs ATL. Be sure to join us to share your weekly recap! Details at the bottom of this post.
Monday: 7.6 miles (outside) with Matilda at a 9:05 min/mile pace. I still was fighting the cold but felt okay running.
Tuesday: I got out of work late and it was very cold outside, so my treadmill was my best option. It's so easy to just throw on shorts and a sports bra and head downstairs vs. bundling up for a frigid solo run! My workout was 2 mile warm-up, 6×1200 at a 7:23 pace, 1 minute recovery in between, and 2 miles to cool-down. I did the warm-up and cool-down around 9-9:15. I hit the 7:23 pace for the 1200's (which was an 8.1 on my treadmill) but I actually stopped for the 1 minute recovery; technically, this was supposed to be a jog or a walk, but I needed the 1 minute totally off to catch my breath/recovery. Still coming back to marathon shape! 9 miles total.
Wednesday: Rest from running! I took a 1-hour barre class at the Barre.
Thursday: Another long day at work where the treadmill in the basement was more appealing than a solo workout outside late in the evening. My scheduled workout consisted of short hill sprints; my coach helped me covert the workout for a treadmill: 2 mile warm-up, 20x 30 seconds at a 4% incline with 1 minute recovery. The recovery was still at the 4% incline, just a slower pace. By the end of the 20 rounds, I was using some of that recovery minute at a walking pace, which definitely brought down my overall average (7 miles at a 9:25 min/mile). The 30 seconds on/ 1 minute off did make the miles go by quickly!
Friday: 7 miles outside! I met up with 3 friends for a morning run. It was about 6 degrees but not windy so it didn't feel too awful.
Saturday: 13 miles at an 8:45 min/mile average. Another very cold run- I think the high for the day was probably 11 degrees. (I wore these tights and this Brooks half zip, with this Athleta top as my base layer) The temps were in the single digits for the entire run.
I was worried that no one my pace would be at running club as most of the girls I run with had opted for the treadmill, but there was one girl there for me to run with (thank you Julia!!!) and we held a good pace. I think we were motivated by the cold to go faster than normal!
After the long run, Dustin and I grabbed brunch at the Kenwood– so good! I can't believe I didn't have it on my Top 5 Post-Long Run Brunch places. I had the egg en cocette.

We went to the Kenwood as it was close to Patina, where we went to pick up a host gift for a holiday party we had that evening. (I love Patina for host/hostess gifts).
Yes, it's that time of year for holiday parties! I was excited to have a reason to wear this dress I bought months ago during a Bloomingdale's sale (find it here– it's now further reduced!)

Our friends Richard and Craig (who were in London with us for the marathon!) host an awesome holiday party every year. Such a blast!

Good times.

Sunday: We slept in a bit- even Matilda did not want to get out of bed! I recently purchased a silk pillowcase (this one!) because I read that its good for your hair and skin. I'm gullible; apparently Tilda is too, ha!

Part of the reason it was easy to want to stay in our cozy bed is because we awoke to about 6 inches of snow overnight (Snow emergency, btw!)
Eventually, Dustin, Matilda, and I headed out for a run around 10:30 am and the trails around the lakes were pretty terrible. I was really struggling just to keep up a 9:30 pace, which I'm sure felt really slow to Dustin, but he didn't complain. He was enjoying the winter wonderland- it was very pretty, that's for sure! We covered 6 miles; as we made out way back to our house, the plow was coming through, so of course NOW the trails are better!
Summary: About 50 miles of running and 1 barre class. Much better than last week!
I thought I'd share a picture of some of the reindeer decorations around the house. Who wore it best?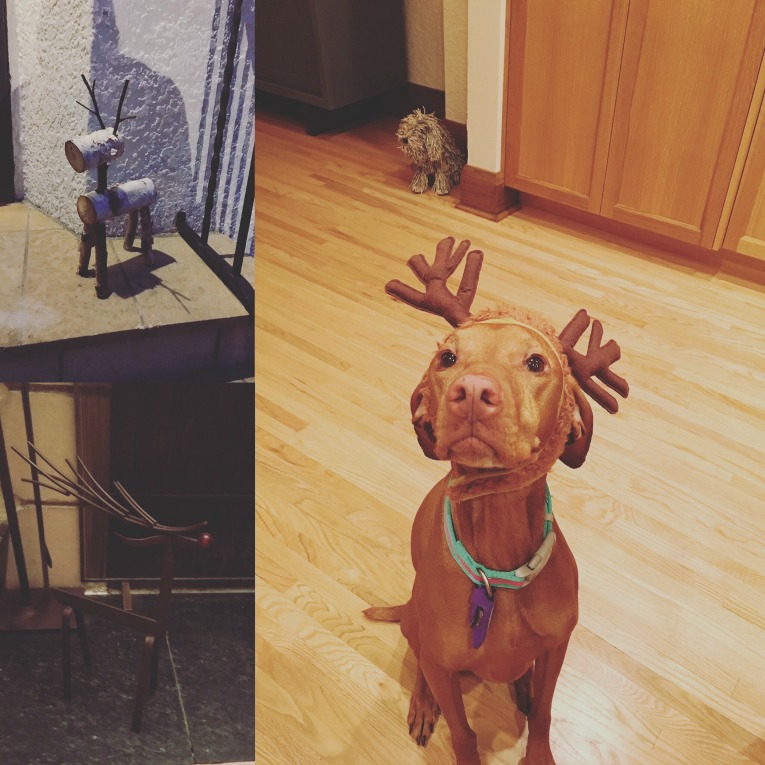 And one more thing! The Boston 2017 jacket was revealed. Now, I did already have an early clue since the London jackets were released awhile ago and they almost always are the same, but now that has been confirmed! What do you think?

(Visited 522 time, 1 visit today)