Training through the winter in a city like Minneapolis is definitely not for the faint of heart. Our winters are cold, dark, and icy. Running outside can be dangerous; I know firsthand the perils of running outside in Minneapolis in the winter. In 2008, I slipped on the ice during a solo morning run. I hobbled back to my house and took a cab to the emergency room only to find out I had broken my tibia and fibula. I was unable to run for about 10 weeks. It was rough.
After that scary experience, I am much more cautious about running on the ice. One tool that has helped me quite a bit is a pair of YakTrax Run.
Have you heard of Yaktrax? Yaktrax are a winter traction device that fit over your shoe and allow you to run on snow and ice. The combination of removable spikes and steel coils provide 360 degrees of traction and allow you to keep training in the treacherous winter months with the same stability you're accustomed to the rest of the year.
YakTrax are available in four different styles engineered around different types of movement, but I am (obvi) the biggest fan of the YakTrax Run.
Details of the YakTrax Run:
1.4mm steel coils
Carbide steel spikes
Reflective heel tab and performance strap offers safety
Anatomic right/left design
Come in sizes small through extra large
In my opinion, Yaktrax Run work best on packed snow over ice. They even give a satisfying crunch when they dig into the snow; they really help me feel more confident when running on the ice.
The Yaktrax Run can be worn in temperatures as low as ‑41° Fahrenheit <– it gets cold here in Minneapolis, but not THAT cold! I don't plan to test that feature out any time soon, ha!
In the past I've used YakTrax Pro, which are the standard YakTrax with the metal coils underfoot. I sometimes had bad luck with these, as the rubber bands inside the coils are prone to breaking. My YakTrax Run have lasted much longer. I think I have had my current pair for four winters of running! They are showing signs of wear, but have held up quite nicely.
Old pair on the left, new pair on the right!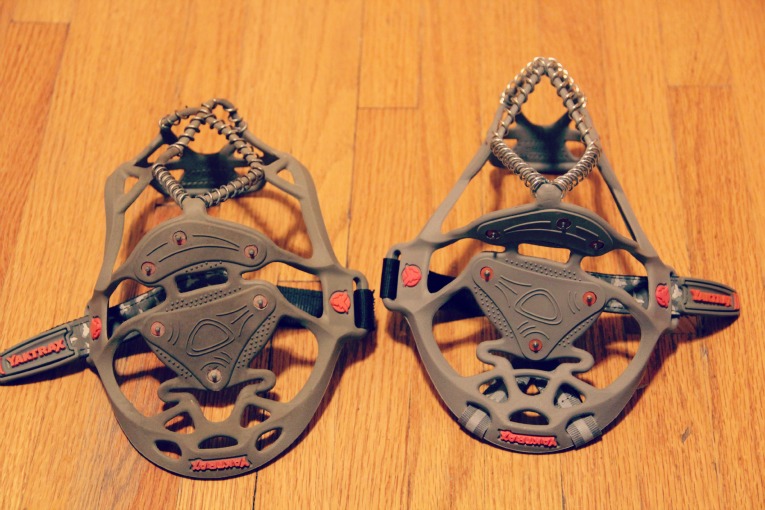 The biggest enhancement on the YakTrax Run is that on the run version the coils under the forefoot are replaced by two studded rubber and plastic plates. The studs are made of carbide steel and the plates are removable. The studs are short enough that they don't feel uncomfortable when you hit a patch of bare asphalt. This rubber on the forefoot is much more durable.
**I've read that if you do come upon a stretch of bare asphalt, you should focus on a forefoot landing to avoid direct contact on the coils. This will help your YakTrax Run last longer!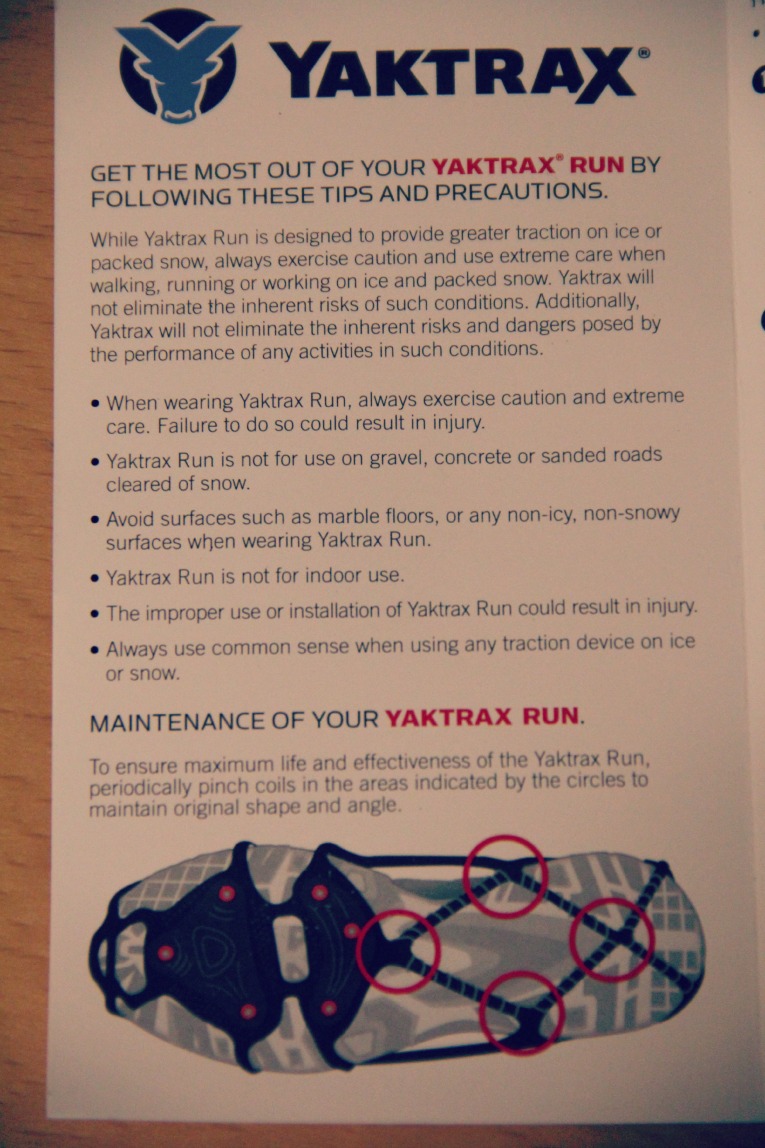 Disclosure: YakTrax sent me a free pair of YakTrax Run to review (even though my current pair its still doing okay!)
GREAT NEWS- they have also offered another pair of free YakTrax Run for one of you!
In order to enter the YakTrax Run giveaway, just comment here with an "extreme weather" running story. It doesn't have to be snow or ice; it can be heat or rain or whatever conditions you experienced that were "extreme!"
If you also share a picture if you have one of those conditions on instagram or twitter, using the hashtag #trfyaktrax (trf= The Right Fits!), I'll enter your name into the giveaway a second time. Increase your chances by 50%!
Examples?
Here's a picture of extreme weather in Singapore- temperatures would frequently reach 90 degrees and it was incredibly humid there. Very tough running conditions-definitely extreme for me!


Dustin is really tough when it comes to winter running in Minneapolis. He rarely, if ever, moves to the treadmill. Here's a picture from last winter after a run in zero degrees, complete with a frozen beard (and a foggy camera lens too, ha!)


I'm excited to hear about or see pictures of your "extreme" runs. I'll keep the giveaway open until next Friday and then I'll randomly draw a winner.
A pair of YakTrax Run are a $40 value and we'll be sure you get the right size (YakTrax are available from size small to size extra large.)
Good luck!
(Visited 633 time, 1 visit today)