Wow, only 9 weeks until my next marathon… What was I thinking, signing up for another marathon so quickly after Richmond? Well, I know what I was thinking- I was thinking I want to qualify for Boston! Fingers crossed that my legs hold up for another race.
Here's how my training went last week:
Monday: Last run in Phoenix. 8 x 1200m at a 7:40 pace. Once again, this was a hard workout because Fountain Hills is so hilly and my legs were tired from a full week of tough running. Only 4 out of the 8 were at the right pace. Not my strongest workout. 8 miles total.

Other than our two nights in Sedona, most of our time in Phoenix was spent with family. We also did some shopping, plenty of eating, and of course running. However, one afternoon, we decided to take a tour of Frank Lloyd Wright's Taliesin West. Taliesin West was Frank Lloyd Wright's winter home and architecture school in the desert from 1937 until his death in 1959. It is still a master's degree program for about 35 architecture students every year. They spend the winters at Taliesin West and the summers at Taliesin in Wisconsin. I didn't know that much about this school of architecture prior to the tour, but I found it really interesting. I really enjoy historical tours like this one.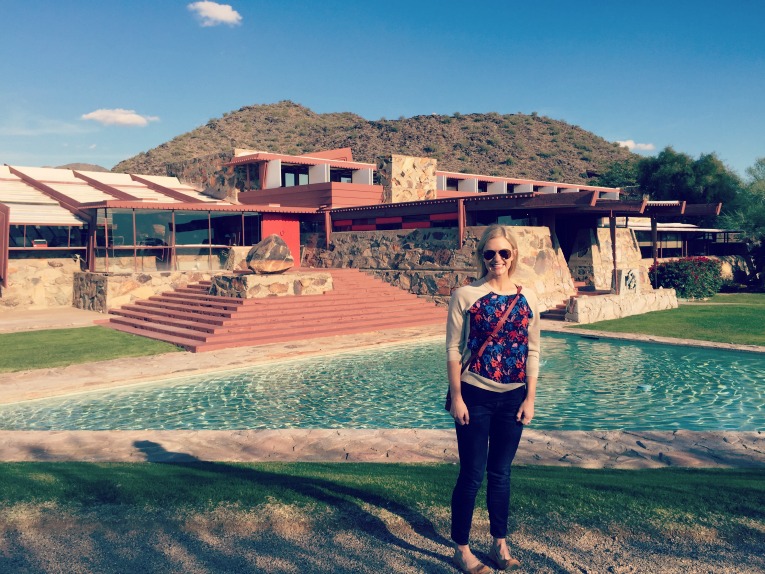 Before heading back to Minneapolis, we celebrated "Christmas" with Dustin's family Monday night with an amazing meal of pork tenderloin, plenty of good side dishes (and plenty of good wine.) We settled in to watch Inside Out with the kids and I was fast asleep. Too much celebrating!

Tuesday: Rest. Our flight landed in Minneapolis around 3 pm. I did put on my running shoes and ran one measly mile in order to keep my running streak alive (at least one mile every day from Thanksgiving to New Year's Day- almost done!)
Wednesday: My first double run of this training session and it was on the TREADMILL. Ugh. But the trails were really slick; I didn't want to risk it in the dark early morning, so I did 6 miles in the morning on the treadmill. I had hoped that the trails wouldn't be as slippery by the time I got out of work, but they still were. It was back to the treadmill for another 5 miles. 11 miles on the day.
YakTrax are a great help on packed snow and ice, but they can't prevent slips entirely, especially on black ice. I would be more willing to run outside during the daylight, but it seemed too risky in the dark.
Running on the treadmill was a disappointment (especially after such great running in Arizona!) but the second disappointment was that my Garmin 225 didn't work on the treadmill after all; the accelerometer was way off, giving me paces around 12 min/miles when the treadmill said I was running 9 min/miles. I need to do some research to figure out why its not working….
Thursday: A treadmill run on Christmas Eve morning. I had 400m repeats at a 6:50 pace and even while I was running the 400m at what the treadmill said was a 6:50 pace, my Garmin read 11 min/miles. Annoying! My coach was really hoping that the Garmin 225 would work when I am in Manila next month so that he can get the data directly from my Garmin rather than having me write it all in manually on Final Surge, but it doesn't seem like that's going to be a valid option. 6 miles total.
Friday: Christmas! As I mentioned in this post, I ran about 8 miles with Dustin, Matilda, and two run club friends.
It was great to be outside and not on the treadmill. The run was a great way to start the day before settling in with some warm cinnamon rolls and gift-opening.
Santa was generous this year- I was really excited to get a Kindle. To be honest, I am very much a late-adopter of the e-readers as I enjoy physical books and all that a book entails: bookmarks, seeing the progress as you read a book, a room full of books, I love looking at the books on someone's shelves and discussing those books…You can't do that with a Kindle. I felt like I would be missing out on all that reading joy by switching to an e-reader. However, the last time I travelled to Asia for work, I filled way too much suitcase space with books. I need a Kindle for the 20 hours of flight time to Manila in January. I still plan to read physical books at home, but the Kindle will save me a lot of space when traveling!
A few of my other gifts had a bit of a "North" theme- the Askov Finlayson Uber-delivered North stocking cap and a Nordic cookbook that I can't wait to use in my new kitchen!
(Don't mind all the blankets on our couch, I just had it professionally cleaned and am hoping to keep it clean until we can sell it on Craig's list. Any interest? I'll give you a good price!)
Speaking of the kitchen, we have floors and windows! It's starting to look more like a home…so exciting!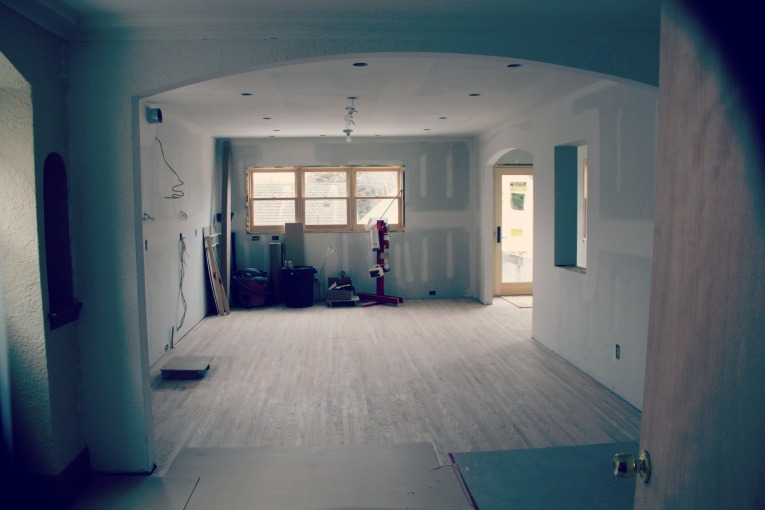 Saturday: 18 mile long run. The conditions were not ideal; we had about 4 inches of fresh snow and most of the trails had not been plowed. I wore my YakTrax Run and they definitely helped, but running in snow is tiring! Our pace was definitely slower than normal and the 18 miles took a lot out of me. After brunch, I crashed on the couch for a few hours- I was beat! I usually recover from long runs pretty well, but this one was tough on me.
Eventually we made it out to see the movie "The Big Short" followed by dinner at Red Wagon pizza. Have you seen the Big Short? I really enjoyed it.
Sunday: Arms & Abs class at [solidcore] and then 5 miles easy with Matilda.
Total: 56 miles, 1 strength class
That's about it! I hope you had a great long weekend with friends and family.
Are you ready for 2016?? Any big running (or non-running goals) for 2016?
I think you all know my goal… 🙂
(Visited 343 time, 1 visit today)