After last week's little health scare (if you missed it, I fainted in the shower and took quite a fall), I had to take it easy for a few days- doctor's orders.  I'm also dealing with some new (unrelated to the fall) aches and pains in my left leg; I'll definitely be going to Orthology this week for some soft tissue work.
With that said, I still was able to run & workout a bit this week, but it was definitely dialed back.
Monday: I had a follow-up appointment with my primary care doctor. She said I should wait until the end of the week to run. She said to be careful when I start again, keeping my mileage at about half of what I would normally be doing.
I took Monday as a total rest day. I used the free time to turn this pile of bic bands/Sweaty Bands…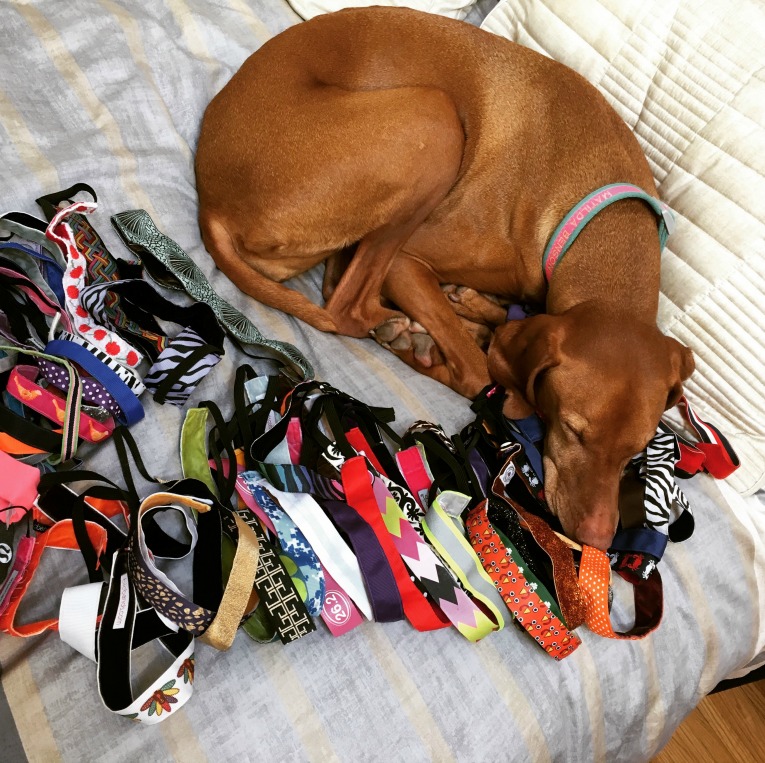 …into a more organized display in my closet:

I totally agree that I have too many of these; I plan to give a bunch to my nieces when they move here!
Tuesday: Barre class at the barre. The schedule actually said "Barre HIIT" class which includes cardio. I didn't notice that until I was in the parking lot for the class, and I wasn't sure I would be ready to take that class quite yet post-concussion, but fortunately the schedule was wrong and it was a regular barre class- whew!
It felt good to do something active after 3 days of nothing. Barre was the perfect type of exercise-no jumping around to hurt my head.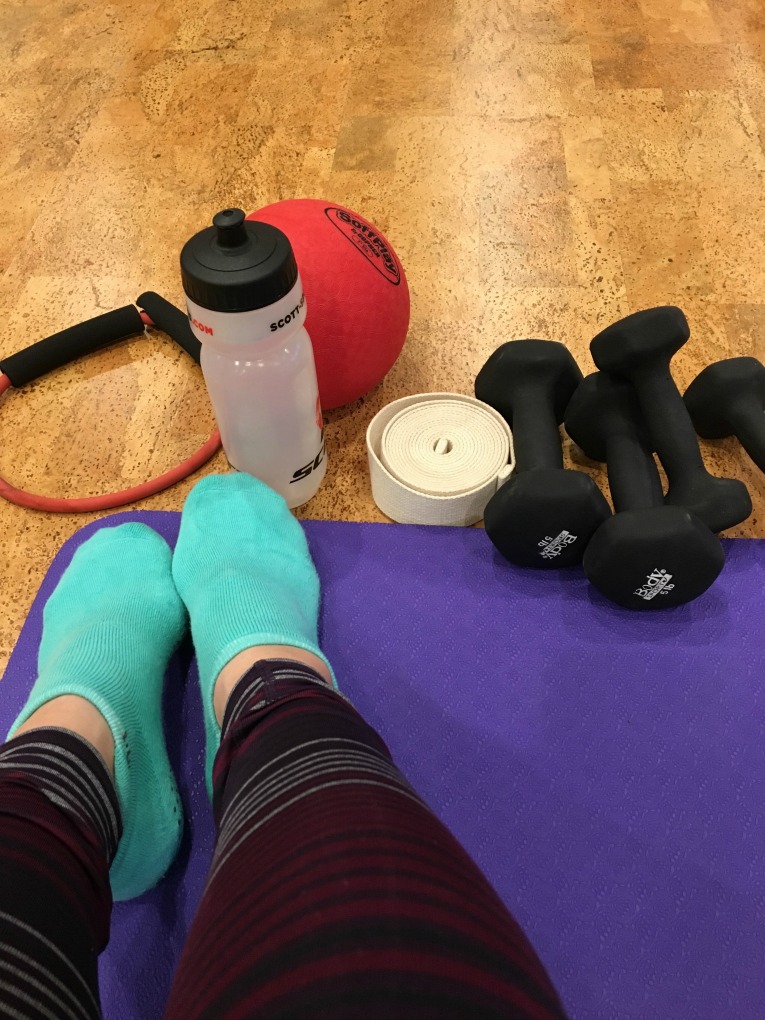 Wednesday: [solidcore] class. Awesome as always. I felt okay- no light headed-ness, etc. Again, all strength based and no 'sudden' movements so okay to do post-fall.
Thursday: First run back! 4 miles with Matilda before work. Though I was cleared to run easy, the doctor didn't want me to do the TC 1 Mile, which I had been registered to do on Thursday night. I was sad to miss this race- I've run in almost every year since I knew about it: 2011, 2012, 2013, 2014 it was cancelled due to weather, 2015, 2016…but unfortunately no TC 1 mile for me in 2017. Hopefully next year!
Friday: Another 4 mile morning run, this time with Dustin. I tested out a new pair of shorts from RuninRabbit- loved them! I bought mine at Gear Running Store in a size small.

We both took the day off of work to drive to Wisconsin, as Dustin was running the Ice Age Trail 50 mile race on Saturday. Since I was tagging along to support him, I had decided to do the half marathon the same day.
13.1 miles was more than enough for me after not running much this week (and per the doctor, I should be taking it easy.) Even if I had been healthy, all I would have done was the half; I don't think I'll ever venture past 26.2 miles into the realm of ultra-marathons, but I'm happy to support Dustin when he does!
Anyways, we stayed with my sister in Brookfield, WI Friday and Saturday night. It was the last time we will stay there, as they are moving to Minneapolis on June 23!  So excited to have her, my brother-in-law, and three of my nieces so close.
This niece is my little mini-me…she'll be running Boston someday!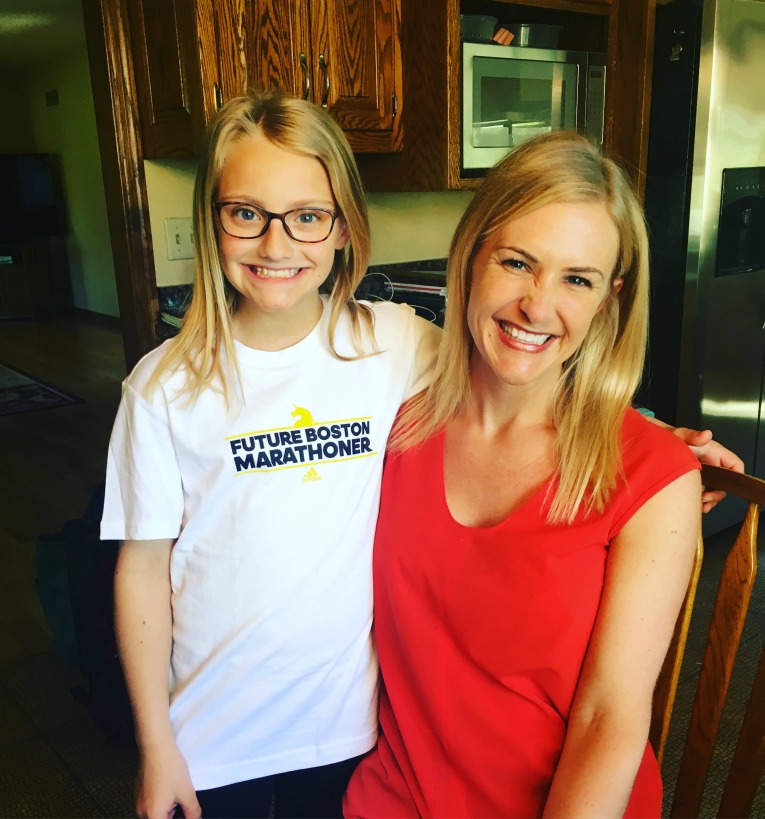 Saturday: The 50 miler started at 6 am, so we were up at 4 am to get ready and then drive from my sister's house in Brookfield to the start line in Eagle, WI.
The half marathon didn't start until 9 am so after Dustin took off, I actually went back to my car to take a little nap 😴. My sister Cresta did the 50k, so I was back at the starting line around 7:45 to wish her luck on her race. Shortly thereafter, I started mine.
The half marathon was pretty small- I think less than 200 people ran it.  I purposefully just took it easy and focused on enjoying the beautiful trails. I walked all the hills and took my time at the aid stations. The half marathon course was two 6.5 miles loops on very runnable trails (albeit plenty of hills). From what Dustin and my sister said, it sounds like the 50k and 50 miler were much tougher courses. Congrats to Dustin and Cresta for finishing!
(Yes, I did get a little sunburned while spectating…I must have sweat off all my sunblock.)

I was done around 11:30, changed into some dry clothes, and settled into my camp chair with a book. There was a free BBQ lunch for the runners (and free beer!) so I enjoyed that for lunch. It was a great day for spectators, but HOT for runners. Dustin thought he'd finish the 50 miles somewhere between 8 and 9 hours, but with temps near 80 and bright sun, he cramped up a bit and went a bit slower, finishing just under 10 hours.
Though it was a tough day weather wise, he really enjoyed it his first 50; I have a feeling there will be more ultras in his future!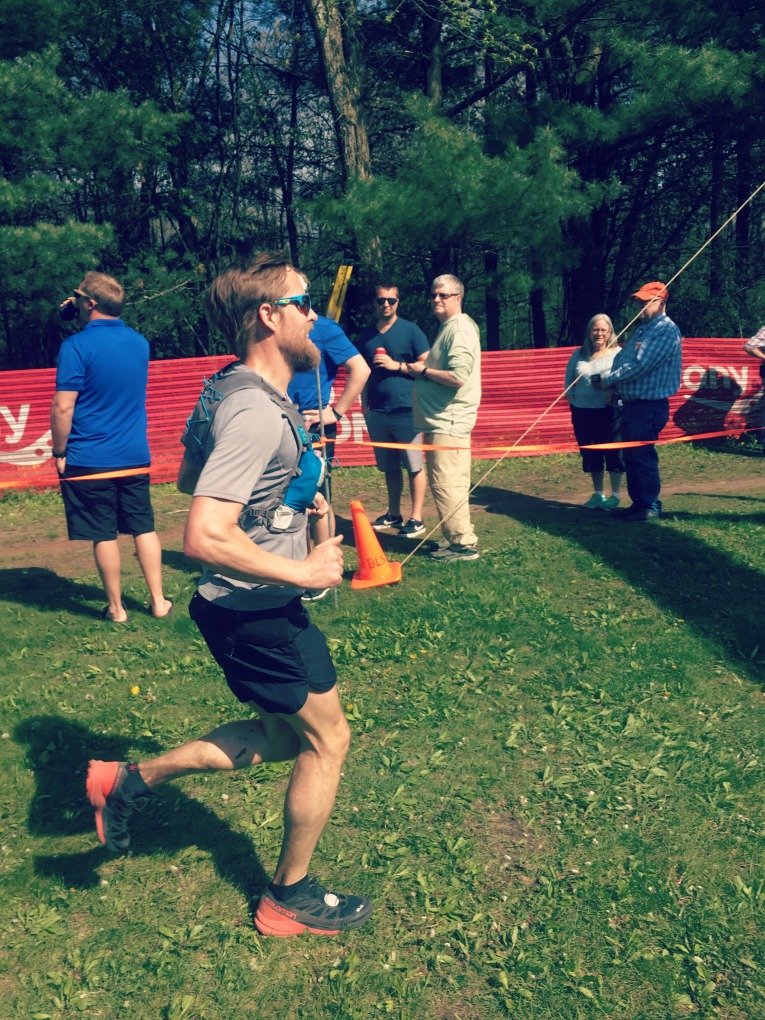 Saturday night back at my sister's house, everyone was pretty tired. I only ran the half but after getting up so early and then being out in the sun all day, I was struggling to keep my eyes open by 9 pm! We did start watching the Handmaid's Tale on Hulu- pretty good so far, especially since I just read the book and its so fresh in my memory.
Sunday: I did a slow 5 miler before a wonderful Mother's Day brunch with my sister's family and her husband's extended family. Then it was back on the road to Minneapolis.
Summary: 1 barre, 1 solidcore, 26-ish miles of running.
5 weeks until Grandma's! I hope I'm ready; my sister is counting on me 🙂
Be sure to join Jess and me with our weekly recap of training recaps! Details as follows:
(Visited 408 time, 1 visit today)