So you are thinking about training for a marathon but you're feeling a little overwhelmed about what you will need to get started. There's so much information out there, it's hard to know what do you really need to train for a marathon?
Here is my list of 5 things you'll definitely need to start training for a marathon:
A Plan.
Running Shoes
Weather Specific Gear
Time
A Marathon!
Let's break it down.
A Plan:
I recently shared this post about the five basic parts to any marathon plan. No matter where you find your plan (online, a coach, a book, you made it up) you will need some sort of a plan, at least an idea of how you're going to get to the point where you're ready to (healthily) run 26.2 miles.
Running Shoes:
Running shoes are hands-down the most important piece of gear that you will need. I always recommend that you go to your local running store to get fitted; here is my list of 5 favorite Twin Cities running stores. If you don't live anywhere near a running store, you may have to resort to online shopping. Sites like RoadRunnerSports have online advice to help you pick a pair. Definitely not as good as an in-person fitting though so try that first if possible!
I wear the Brooks Ravennas and have for years. They are an accessible moderate support shoe. For short races, I often switch to the Brooks Launch and in the winter, I rotate in my Saucony Ice Peregrine shoes when its snowy.
Weather Specific Gear:
This is a little bit broad, but if you live in a cold climate and are running a spring marathon, you're going to need some cold weather running attire. This post gives you some solid ideas for the basics of winter running gear. You may also need access to a treadmill or indoor track, depending on how extreme your weather gets.

Warm weather running gear is a bit simpler, but you will definitely need moisture-wicking tops, shorts, and socks. Don't forget sunblock and a visor/hat.
Time:
I'm not going to lie to you- marathon training takes time, especially the long run (plus recovery!) You're going to need to make time in your busy schedule to train sufficiently.
You will also need time in terms of 10-16 weeks to train for the race (depending on your current base.) This allows for build-up and taper for the marathon.
I would never recommend running a marathon without training, so if you don't have time to train, you probably shouldn't do a marathon (at this time in your life.) Of course, there are some time-saving hacks for squeezing in the training- run over lunch, run commute, etc. I am drafting a post with some of my best ways to fit it in, stay tuned. If you really want to make it work, even with a busy schedule, you CAN!
A Marathon:
Well, of course- this one seems obvious. A vitally important part of your marathon will be selecting your marathon. And don't forget to REGISTER for that marathon. 🙂
I wrote this post about how to pick a marathon. Check it out, as the concepts still apply for deciding what marathon works for you. There is also this post of my five favorite marathons of all time. These are my favorites, but there are ton of options. You need to select a race that fits into your schedule and your goals.
Let me know if you need any help, I'd love to share my thoughts on the races that I have done!
Okay, so those five seem pretty straight-forward, right? If I had to choose five more things, here is what I would pick:
A Hydration System
A Garmin
A Running Club/Support Network
A Hydration System:
Not everyone is fortunate enough to run routes that include a plethora of water fountains Remember this post about my favorite water fountains in the Twin Cities? Even with all the water fountains that we have here, I still occasionally bring a hydration or fuel belt for Gatorade. It doubles as a place to carry my GUs/gels and phone. This belt and this belt are my favorites. There are also handhelds and vests that work.
Fuel:
I keep things pretty simple with GU's and have used them for years. I have tried Huma gels and dabbled with Gen-U-Can, but I keep coming back to GU's out of convenience and experience. As a new marathoner, you will need to experiment a bit with different types of fuels to determine what works for your body, but all marathoners need fuel. Your long runs will feel a whole lot better if you fuel along the way. For GU's, I take one every 45-60 minutes.
A Garmin
Okay, you don't need a Garmin, but it will really help!
You'll at least need a stop watch, but I highly recommend a Garmin. You can purchase the basic Garmin 10 for less than $100 and it will get the job done with pace and mileage. You don't necessarily need a Garmin 235 that receives texts like an Apple Watch (though I do love my Garmin 235..it's fantastic!)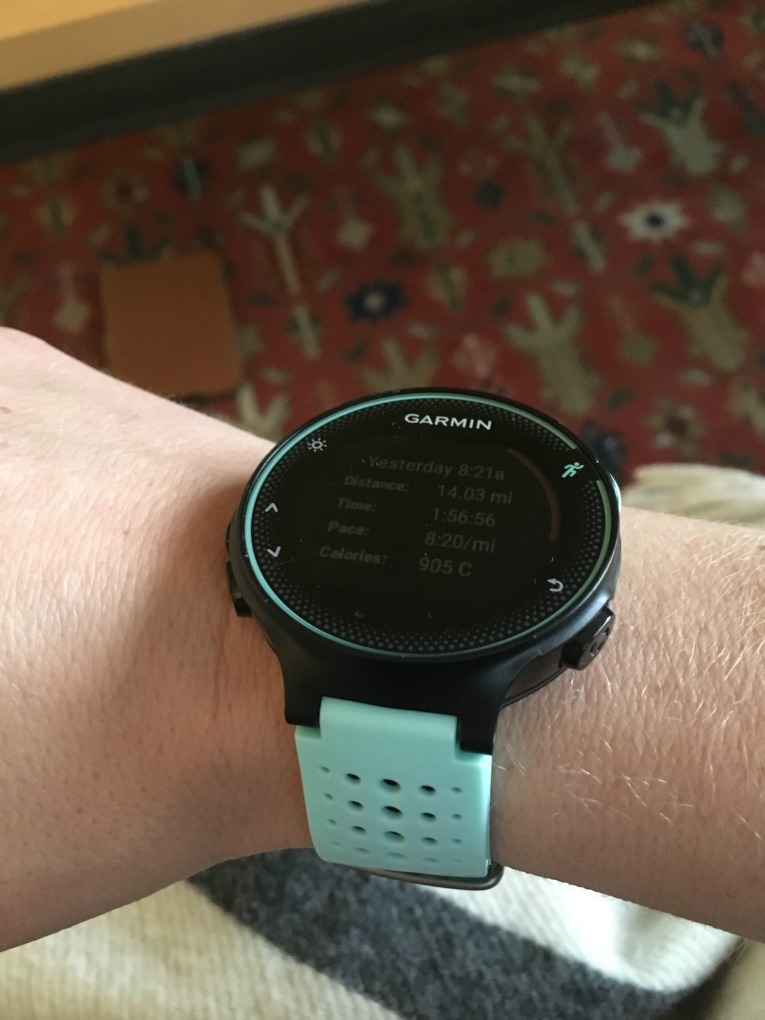 Anti-chafe products
You might be incredibly lucky and never chafe when training for your marathon. But you might not be that lucky (which is a bit more likely). And god forbid you do chafe, you will not want it to happen again. You will need a product like this one on hand. I wrote this whole post about how to prevent chafing- check it out.
I personally love this product from New Zealand. It's all natural and works so well. It's all Dustin and I use now. We prefer it to BodyGlide, but BodyGlide is fine too, just not quite as great as GoodSport.

A Running Club/Support Network
The final item that you will need to train for a marathon is a support network.
Staying motivated throughout an entire marathon training season is tough work. It's a whole lot easier with running friends!

I recommend joining a running club. I run with the Calhoun Beach Running Club, but there are so many others in the Twin Cities- Lifetime Run, Club Run, Running Room, Mill City Running, and so many others. If you don't live in an area that has a run club, there are online communities that would also help keep motivation high. You can also connect with other runners through blogs like this one!
Successfully completing a marathon also requires support from friends and family. If you have kids, you probably will have to work with your partner to determine a schedule that allows for you to have time (a must-have from my first five items) to complete your training. You'll need the support of those around you. Even your coworkers may need to be onboard with this plan. depending on your job.
In addition to your personal network, its important to have a network of resources to call on when you need some professional help, i.e. a sports masseuse, a physical therapist, or a running coach; these are just examples of some of the people you may need to support you along the journey. As inherently "individual" as running a marathon may be, you'll be set up for success with a quality "team" to help you get there.
As for what you don't you need to train for a marathon?
A spray tan or a matching manicure. Ha!

Let me know if you have any questions about what you need to train for a marathon. You can email me at therightfits@gmail.com with any questions or comments, or comment right here!
(Visited 538 time, 1 visit today)