Sixteen weeks post-broken leg: I think it's about time to start counting down to something fun and exciting, right? Hopefully soon!
If you're new to this blog, you can read my story in Runner's World HERE.  This post, this post, and this post are also a great place to catch up. I was an avid marathoner and was well into training for the Antarctica Marathon when I broke my tibia and fibula on a wintry Minneapolis run. My trip was cancelled, I had surgery on my leg/ankle, and now have a plate and 10 screws in my leg. I've been documenting my recovery here in my weekly recaps on the road to (hopefully) get back to running marathons again.
Also- if you just stop in for the weekly recap, be sure to also check out the link-up I'm hosting all summer for Favorite Running Gear. And I have another fun post from this past week- a race recap by my dog Matilda from the Fast & Furry 8k– I think you'll enjoy it!
On to the weekly recap…
Monday: Physical therapy appointment at Mayo; I worked my way up to running at 100% on the Alter-G for about 3 miles.
Running at 100% on the Alter-G isn't quite like running normal; there's still a bubble of air helping you out. But pretty close! I had to alternate 2 minutes running, 1 minute walking, but I managed to cover 3 miles, which was exciting. Longest run so far on my new Garmin Fenix!
After work, I had big plans to do my first ever open water swim at Cedar Lake. I arrived around 6:30 pm and realized I didn't know what to do with my car key. (What do people do with their car key when doing an open water swim?) Additionally, there was a group of men on the shore that made a few comments that made me really uncomfortable. So in general, before even starting the swim, I was feeling a lot of anxiety, which didn't help. Then, when I got into the water and started to swim, it was a shock just how much harder open water swimming is vs. the pool!
I feel like I have improved quite a bit at pool swimming, with my swim lessons and general frequency of swimming during the past four months. But in the open water, you're dealing with wind, waves, and low visibility; it was really hard. I just couldn't get into a rhythm. I made it about halfway across the lake before I decided it just wasn't my night and turned around.
Since then, I've talked to a few triathlete friends who have reassured me that the transition from pool to open water can be really challenging the first few times. They recommended a wetsuit, which I am looking into. I also think I need to stay closer to shore until I get more confident in open water (and probably shouldn't swim alone.)
Lessons learned.
After the failed open water swim, I picked up Dustin from the airport, as he had returned from his attempt to run 100 miles at the Bryce Canyon Ultramarathon in Utah (he dropped out at 60 miles.) During his trip, he toured the Best Friends Animal Sanctuary, which was really cool! Read more about it here. What a cool place. He brought home a few souvenirs.
Tuesday: [solidcore] before work, swam 2100 yards after work.
We're started dog-sitting Breck the golden retriever Tuesday night (through Sunday). He is the sweetest big guy. We love having him! Tilda and he love to wrestle and play tug of war. They get along great. (Now I just need to convince Dustin we need a second dog!)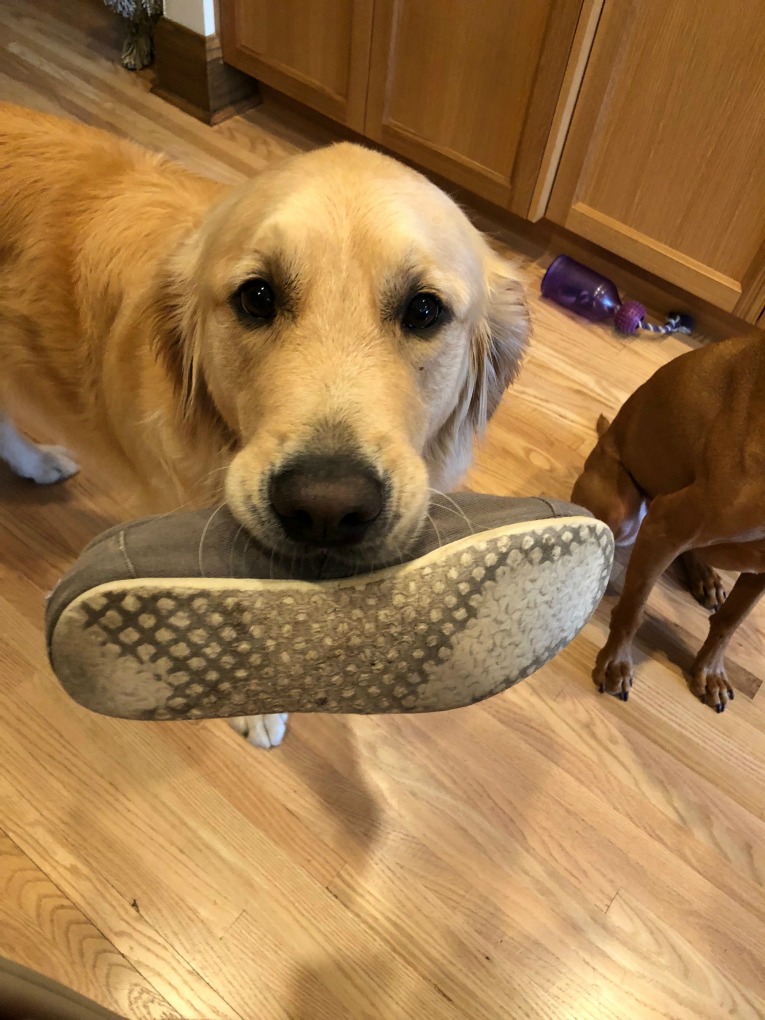 Wednesday: [solidcore] before work, elliptical 45 minutes and PT exercises for about 45 minutes after work.
Thursday: 45 minutes on the elliptical, 10 minutes on the stair stepper, and all the PT exercises.
At the end of the day, I had my 4 month follow up with my surgeon at TRIA. He told me that all is healing very well and I am cleared to start to run again (per the 'return to running' program from my PT.) It was great news!
However, it was odd as my x-rays actually look worse in my opinion from just 1.5 months ago (left picture is in April, right picture is June).
Yet the surgeon explained that when the new bone growth comes in, it often looks like the gap of the break is widening, even though it is actually healing. And the little bubble on the side of the break is new bone growth and is a really good sign.
It's still pretty crazy to see just how bad the break was (well, there were three breaks, but the one you can see clearly above was the most traumatic.)
I don't know how I thought it just a sprain, how I went to Urgent Care instead of the Emergency Room, and then how I waited in the waiting room for over an hour (in incredible pain).  I'd like to think that is an indicator that I have a really high tolerance for pain…or maybe I was in shock.
It's great to think how far I've come, even though I have a long way to go to get back to where I was.
Friday: 1 hour barre class at Barre3 in Edina before work. Physical therapy at the end of the day.
Guess what? I ran on the treadmill, a regular treadmill- yup!
I ran 1 minute on/1 minute walking for 10 minutes. That's it.
(I explain more on my return to running program at the end of this post.)
Friday night, Dustin and I joined my sister and her husband at the Paul Simon concert in St. Paul, grabbing dinner at Parlour beforehand:
(P.S. my jumper is from Primp!)

I grew up listening to Simon and Garfunkel, as my parents were huge fans. For his final encore on Friday (there were three, ha!) he came out with just an acoustic guitar and sang the old stuff, like the Boxer and Homeward Bound. It was lovely.
Saturday: The JB double- 45 spin class at Surge Cycle following by 50 minute [solidcore] class.
We had a busy Saturday, with a gymnastic meet for my niece Harriet,
…a quick stop by Insight Brewing for their "Goat to Your Happy Place" event: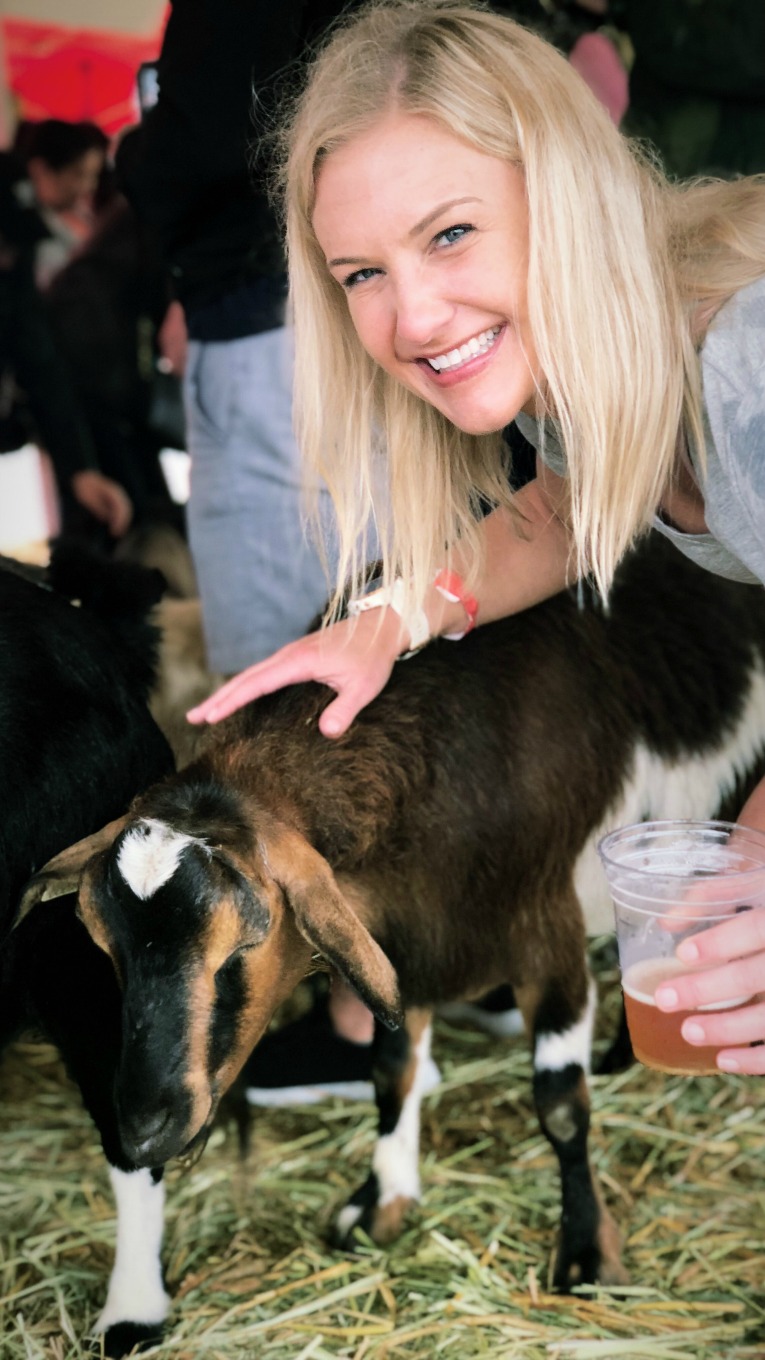 ….and then a friend's daughter's 1 year old birthday party and then dinner at Grand Cafe, which was delicious!
(Wore this new dress , also from Primp!)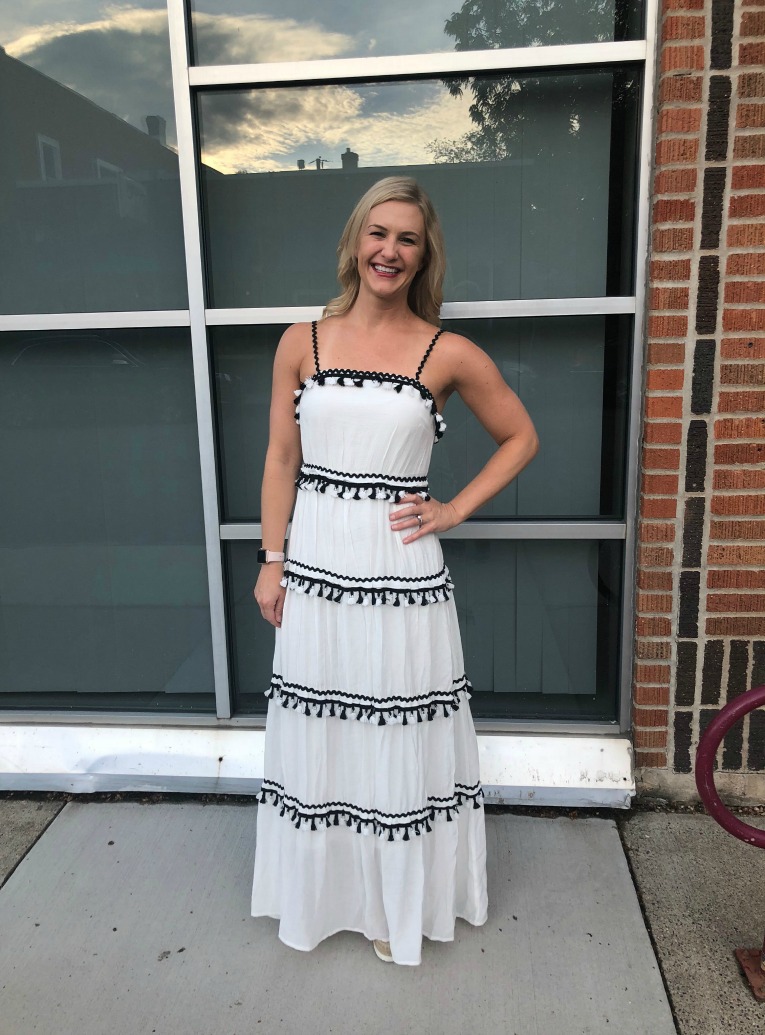 A full but fun Saturday!
Sunday: 1,900m (about 2100 yards) swim at the outdoor pool at Highland Park Aquatic Center.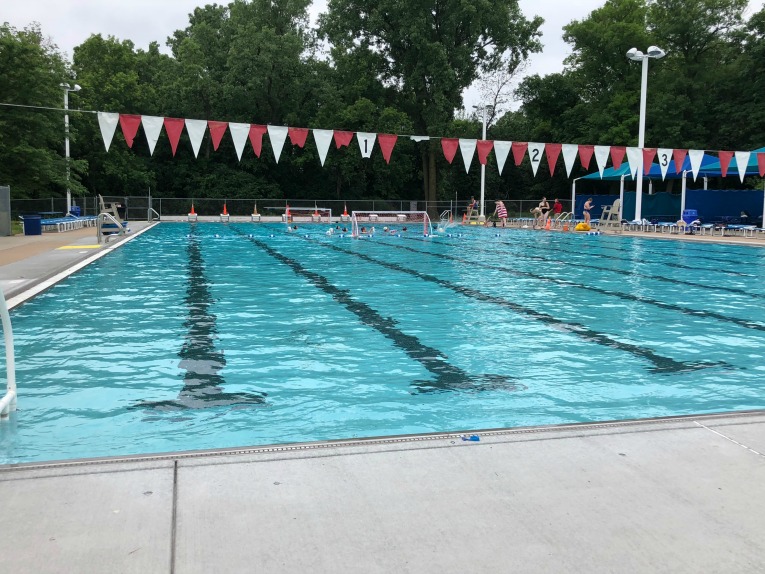 It was so great to swim outside and in a 50m pool!
I will be back. It's $7 for a pass and lap swim is only for an hour, but worth it.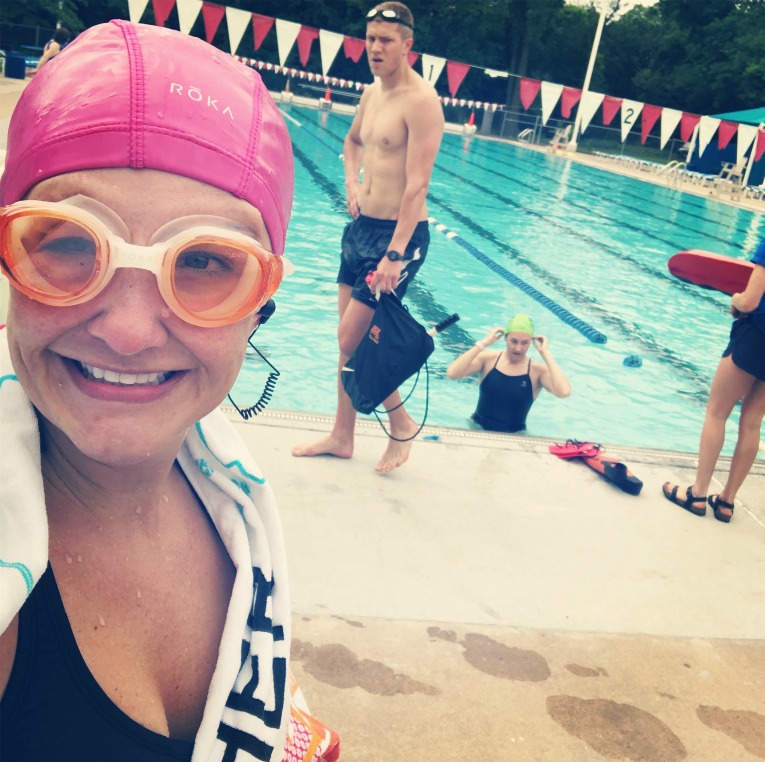 On the drive home, I had to stop for these turkeys to cross the road; we have a lot of wild turkeys in the Twin Cities, but I still get a kick out of seeing them!
Then I did my 10 minutes of treadmill running (1 min on, 1 min off) and all the PT exercises.
Summary: 2 PT appointments with some running (on the Alter-G and then the treadmill), 2 swim sessions, 3 solidcore classes, 1 spin class, 2 elliptical sessions. A full repertoire.
Being cleared to return to running is fantastic news! But I'm reminding myself to be patient (like always) that it could be a very slow return with lots of frustrating fits and bumps.
The impact of running is no longer about damaging the bone- the bone is healed (even though the x-rays are misleading!) This conservative return to running is because my right leg still isn't strong enough or mobile enough to not cause other issues. On Friday's appointment,  my PT took some video of me on the treadmill and then pointed out all the ways I'm compensating for the right leg's weaknesses. So I have to continue working on all of that by continuing to be diligent with my strength exercises and building back slowly.
The program also states that I can only run every other day and I'm starting at 10 minutes total (1 min run/1 min walk). I have to reassess after every 'run' to ensure no pain 24 hours later. A little bit of pain is okay, but if it still hurts the next time I'm scheduled to run, I have to back off.
This is going to take a lot of patience, but after making it through these past four months, I don't want to have a new injury that sets me back again, so I will follow my PT's advice and take it slow.
Well, that's it for me for my weekly recap. I'm linking up as always with HoHo Runs and Taking the Long Way Home for their weekly wrap. Check it out!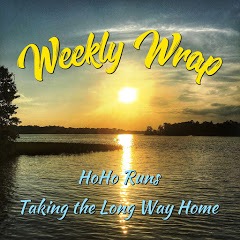 (Visited 928 time, 1 visit today)