Yes, you read that right; 16 weeks until the Patagonia International Marathon in Chile! This trip and marathon have technically been on my calendar for quite awhile; it's a place I'm dying to visit and a marathon there will get Dustin and me one continent closer to our "seven continents" goal.
2020 was supposed to be such a great year of travel, with Bhutan in May (cancelled) and then Patagonia in September. But 2020 hasn't quite gone as expected, has it? Even though there's only a slim chance this trip will happen in 2020, I'm going to be optimistic and assume (pretend?) that it is happening. Instead of counting weeks of quarantine, I'm going to act as though I have a trip and marathon to look forward to in September. I don't mean to be tone-deaf as to the tragedy that we're living through; I'm just holding onto a bit of hope for a return to normalcy still this year.
We are supposed to be going to Patagonia with Marathon Tours and they are still telling us that the trip and marathon will occur. The marathon itself has less than 200 runners and is in a very remote location, so if global travel is allowed by September, Marathon Tours has reason to believe that this trip can happen safely.
So until I hear otherwise, I plan to count down to that race and train for it!
With that said, here's how my marathon training went this past week!
Monday: 7 easy miles before work, 9:15 min/mile average. Virtual 1:1 Discover Strength training session after work. By the way, Discover Strength is offering free virtual sessions for you and for me, if you say I referred you from May 25 to May 31st! You can try a virtual session with one of their trainers, no matter where you live. Just go to this LINK and sign up!
Tuesday: Double dose of Bde Maka Ska (formerly known as Lake Calhoun). the first four were with Ruth- she did great (9:08, 8:39, 8:29, 8:50) and then I did another four alone (8:55, 8:38, 8:33, 8:34). Essentially the same time, with or without the pup! 8 miles, 8:44 min/mile average.
Wednesday: Wednesday was my workout day, so I decided to do it between meetings over my lunch.
It was 75 and sunny; felt amazing! My workout was 3 miles easy, 8×3 minutes at half marathon pace down to 10k pace with 1 minute recovery in between, then 2 miles easy for 8.75 miles.

3 minutes intervals: 7:30, 7:44, 7:50, 8:20 (not sure what happened on that one!), 7:28, 7:39, 7:57, 7:47. Not exactly on pace, but overall a good workout and I was happy to get it done over lunch. I ran into a running friend multiple times on this run; in fact, she snapped a pic of me when I was running across this little lagoon on the way back to my house!
The tree in our front yard was so beautiful this week! The flowers only ever last a few days, but it's gorgeous!
Yes, it does need a trimming! Our neighbor has actually asked that we trim it back away from his house, so we have someone coming to do that at the end of the summer. Apparently you don't want to trim a tree during peak season.
Anyways, after work, I did another 1:1 virtual training session with Discover Strength.
Thursday: I had to be ready for an 8 am zoom work meeting but had a mid-week long run, so I had to start my run at 5:30 am. I've been so spoiled during the quarantine as I don't usually have to start quite as early as I used to, so this took some mental effort!
9.2 miles at a 9:10 min/mile average. I changed things up a bit and ran Cedar Lake this time.
Friday: 4 miles with Ruth before work! 4 miles is currently her longest distance, but she doesn't seem fazed by it. She still has boundless energy all day!
I also did my 3rd virtual strength session of the week with Discover Strength.
Saturday: We are allowed to gather in groups of less then 10 (more on that below), so Christie and I decided we were comfortable running together since we've both been isolating, which was great because we had the same workout for our long run. 5.5 miles easy, 15 minutes at 8:00 min/mile, 5 minutes easy, 10 minutes at 7:45, 5 minutes easy, 5 minutes at 7:30, 1.6 miles easy to cool-down. I ended with 12.3 miles at an 8:45 min/mile average.
It had been raining all morning before we met, but let up for most of the long run. But the humidity remained around 60%! It was a sweaty one.
Minneapolis won't be turning on any of their public water fountains this summer, so I carried one bottle of water and one bottle of Nuun in this Nathan Fuel Belt (currently on sale!) I also took one Spring energy gel around mile 8.
In addition to handheld and waist fuel options, I also recently purchased a Camel Pak for the long runs this summer. I'm used to having community centers and public water fountains, but without those as an option, I figure I need to start carrying more. (I once wrote a whole post about my favorite water fountains in Minneapolis, ha!)
Camel pak pictured with a few new Oiselle items that arrived the same day.
After the long run, we took the dogs to the dog park, but after about 20 minutes, it started to pour on us, so we cut the visit a little short. Ruth still got plenty of her zoomies in!
Sunday: Dustin and I ran 5.2 miles together, 8:30 min/mile average, and then picked up Ruth and Matilda for another 1.2 miles. 6.4 miles total.
Summary: About 56 miles of running, 3 virtual strength training sessions.
Before I end this recap, here's a quick update on where things are in Minneapolis with regards to Covid-19:

Our numbers are not good. "As infection rates fall in other urban areas, the Twin Cities' rate of coronavirus infections is standing out nationally. In a briefing Friday, White House coronavirus task force coordinator Dr. Deborah Birx identified Minneapolis, along with Washington, D.C., Baltimore and Chicago as the four metro areas in the nation where infection rates are persistent or rising."
I'm still working from home and will be probably until September. The mayor of Minneapolis (where I live) is requiring masks in all public buildings at all times. On June 1, restaurants will be able to open for outdoor dining only, and masks are required when not eating/drinking. Salons are opening with restrictions, but gyms are still closed until mid-July.
The saddest, though not at all unexpected, news of the week, is that the Minnesota State Fair has been cancelled. The last time it was cancelled was in 1946 during the polio pandemic. If you've been reading here for awhile, you know I'm a huge fan of the Minnesota State Fair; I've been writing about it on this blog for years!
2012 2013 2014 2015 2016, 2017 2018 2019…but there will be no 2020.
I completely understand why it was cancelled. There's just no way they could put it on safely this year. What a crazy time we're living in, right?
On a brighter note, I'll end this post with a picture of Ruth and Matilda in their "pita pockets" this week. They sure love their cozy coves.
I really hope all of you are staying healthy and safe during this stressful time. It's great to have the ability to stay connected virtually and support each other; this link-up hosted by Running on the Fly and Confessions of a Mother Runner 's is a great way to do so! Check it out below: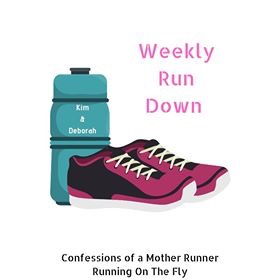 (Visited 320 time, 1 visit today)