Hello from Minneapolis, the land where winter will never end!
Seriously. This time last year, I was running in shorts and overheating at the Boston Marathon!
Instead this year we had the blizzard from hell in APRIL! Dustin was supposed to run the Zumbro 50 miler and he couldn't even get to the start line. The roads were so bad that he was diverted to Rochester and never even got to the start. The 50 milers were supposed to start at midnight on Friday; a few started, but very few finished. The 100 miler started earlier on Friday and there were 20 total finishers in that one. I don't know how anyone ran in those conditions!
Anyways, let's move on to my weekly recap.
I am now 8 weeks post-broken leg. At some point, I'm going to start counting down towards my first run, maybe soon! 8 weeks doesn't sound as long as 2 months. It's been TWO MONTHS since I went for a run. By far the longest break I have ever taken from running.
I miss it.
Of course, there was no running in this week's weekly recap. It wasn't a great week in general for fitness as I was in NYC for work Monday night through Friday morning. I was there for an annual event and as part of the logistics team, it was a lot of work and not a lot of 'play.'
Here's a recap of the fitness I did 'fit in:'
Monday: I took a [solidcore] class at 5:30 am. I had to modify some of the lunges on the right side and a few other moves, but overall, I could do about 75% of the class! It was awesome- I had missed [solidcore]! It's such a fantastic strength class.
That evening, I caught a flight to NYC.
Tuesday: As a kickoff to the week of events, one of my coworkers organized a group of us to take a SoulCycle class.
It was a fun class- great music, motivational instructor, but about 75% of the class was 'out of the saddle' or standing on the bike, which I really can't do yet without pain. So I probably didn't get as much out of it as the others did, but I still broke a sweat and had fun. It was a fun team-building event.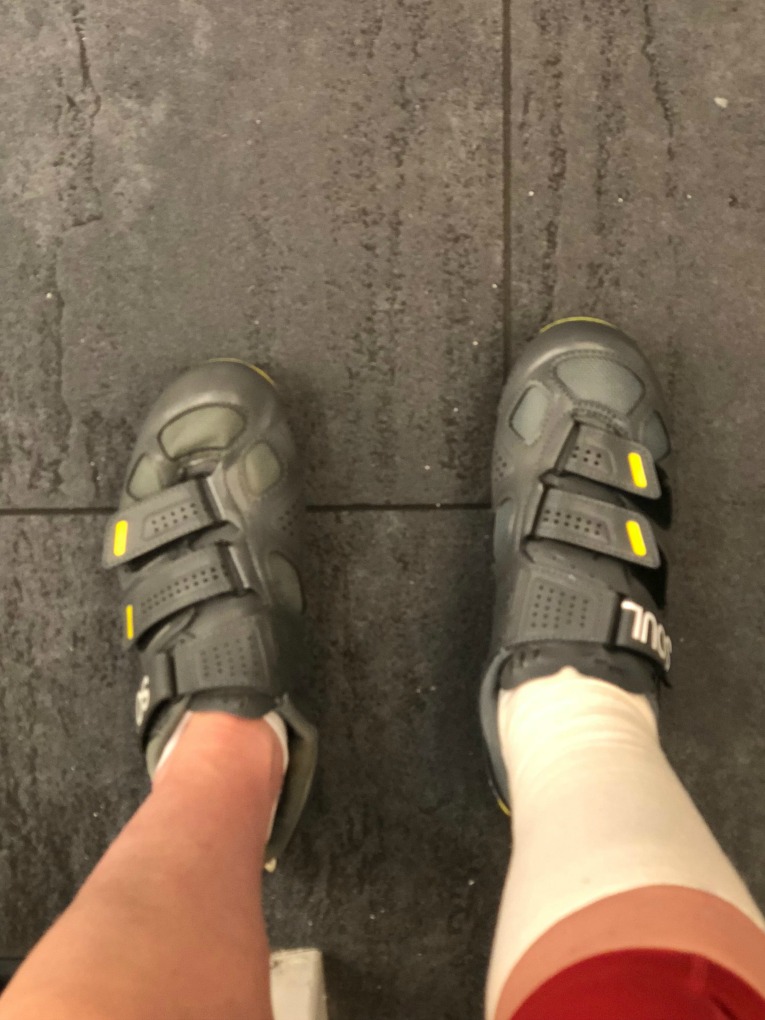 Wednesday: No workout. We had to be ready to set up for the events at 7 am and we were working until about 10 pm. Long day.
At least there was Blue Bottle coffee to keep me going!
Thursday: No workout again. Same as Wednesday. Early start, late, late end.
Beautiful sunrise though.
Since Thursday was the final event, we all went out to celebrate after it was over. We were at a karaoke bar quite late (3 am! I can't remember the last time I stayed out that late. Live a little, I guess!)
However, the boot is not made for dancing and my ankle was way more swollen by the next day and super sore overall. I'm sure that I set myself back a bit with all the standing/walking and by not icing regularly while in New York. I tried to ice during breaks but it was tough to find time.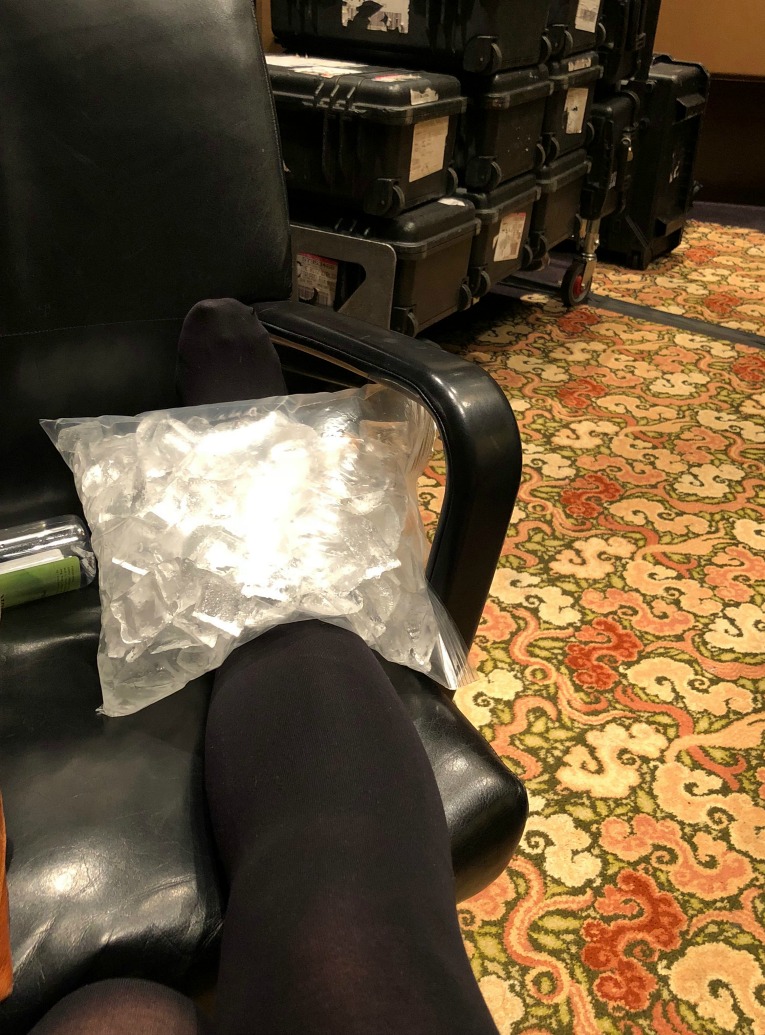 Friday: My flight home from NYC to Minneapolis landed around 2 pm; I had scheduled a personal training session with Ericka of EDK Training later that evening. It was great! She always puts together an awesome workout for me.
Saturday: I had an 8 am PT appointment and then walked through the skyway downtown to the Y to swim for 60 minutes.
P.S. I'm loving my new Garmin for swimming!
We are seriously in the midst of a terrible APRIL blizzard, no joke. I'm lucky I returned from NYC on Friday because most flights were cancelled from MSP on Saturday and Sunday. We were supposed to go to the Fitzgerald Theater in St. Paul for a live podcast of "Terrible, Thanks for Asking" but we found out around 3 pm that it was cancelled due to the weather. Instead, we did meet our friends at 44th and France for a beer  before hunkering down "hygge" style for the rest of the evening.
Sunday: I was signed up for an early [solidcore] class, but unfortunately it was cancelled due to the weather. I was able to go to a 60 minute Corepower class instead once the roads were cleared. I just cannot believe this weather! When is spring coming?
Summary: 1 [solidcore] class, 1 yoga class, 1 personal training session, 1 Soul Cycle class, 1 swim session, two full rest days.
I'm happy I am able to be active in a variety of ways, though I still miss running so much. Even during this April blizzard, I wish I could head to the basement and zone out on the treadmill. I love running and my life feels incomplete without my favorite hobby.
The rest of these activities are great and are a vast improvement from where I was 7 weeks ago. I know that I've made a ton of progress but running is my favorite and I look forward to the day that it's back in my life.
I'll get there. I'll keep trucking along with PT and the activities that I can do.
Here's a picture of Matilda just for fun- she is ready for me to get back to running too! This will be the first year in many years that I won't be running the Fast & Furry 8k with her. Sad!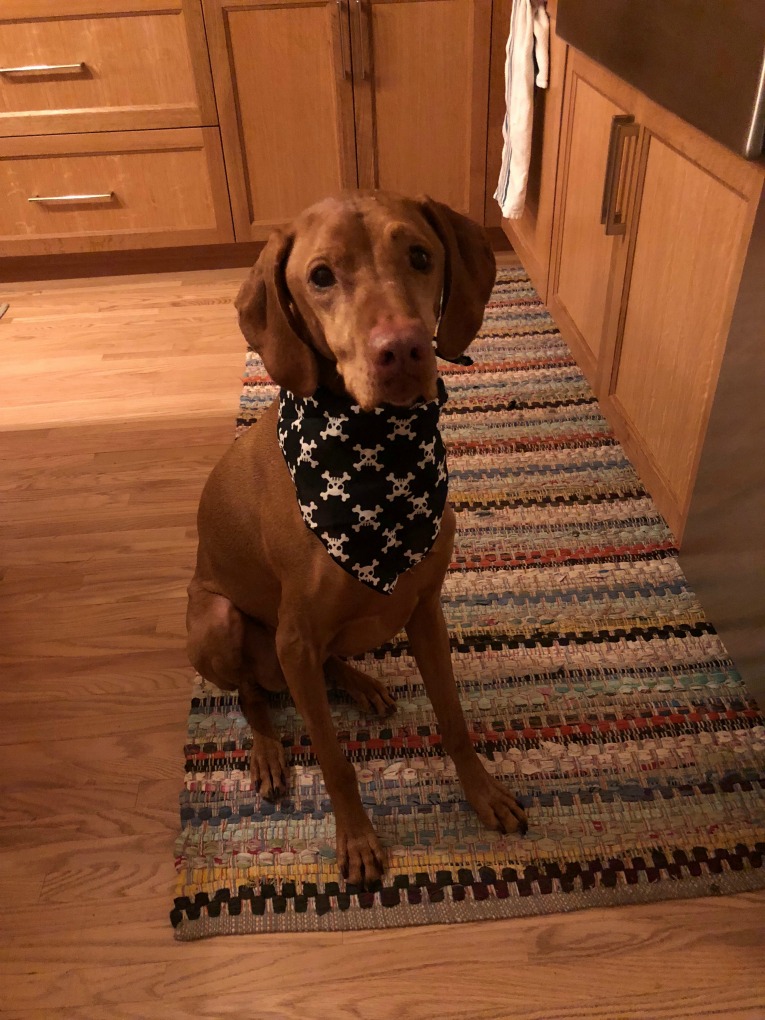 I hope you're having better weather whenever you are. And good luck to everyone running Boston tomorrow. It looks like it will be rainy but that's definitely better than hot like it was last year!
I'm linking up with HoHo Runs and Taking the Long Way Home for their weekly wrap. Check it out!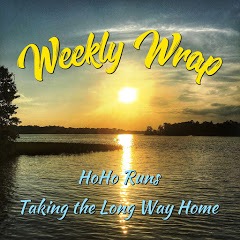 (Visited 534 time, 1 visit today)