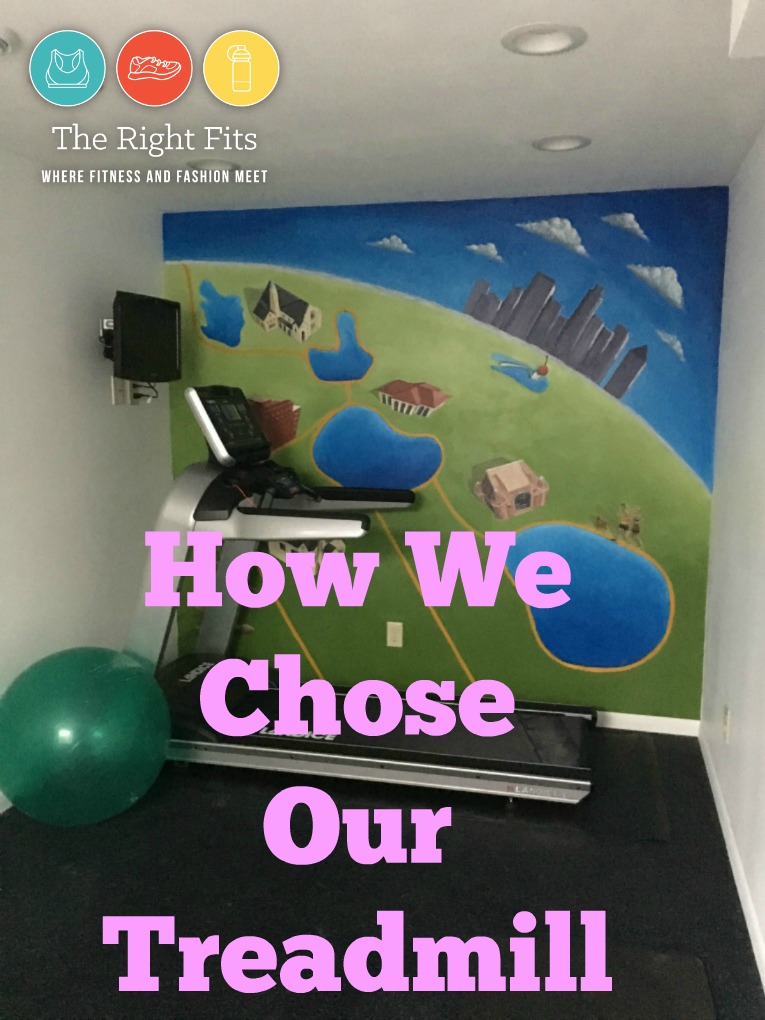 After many years of wishing for one, we finally purchased a treadmill! Hallelujah! .
It's my new best friend (after Matilda, of course.) We are going to be spending a lot of time together, this treadmill and me.
And so far, so good! No one to hover over my shoulder waiting for their turn, no reset at 60 minutes. No need to pack a bag and drive to the gym. Nope! Just walk down a few stairs into my own little version of a 'mancave.' A runner cave.
We still have some decorating to do- my dad is a woodworker and made me these really neat medal displays. I think that we will move those into that room if it looks right. Dustin's marathon medals on the left, mine on the right. He needs a fourth display already as he's missing four and I'm missing two up there!

I am also in the process of getting the Boston marathon map that my sisters bought me framed.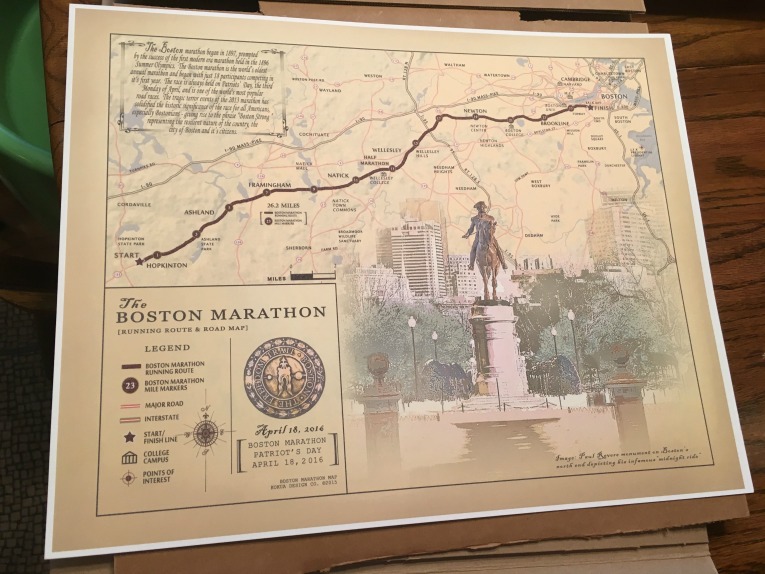 Dustin rigged up these RUN lights to be motion activated when you enter the room. LOVE.

Now, some of you may be thinking, I can't believe you didn't have a treadmill already! I know, right? My running coach said the same thing when he first heard that we didn't have one. With all the running that Dustin and I do, through all seasons and weather, why didn't we have a treadmill?
Well, the #1 reason that we didn't have a treadmill is because we didn't have the headroom. Our 1920's house has a basement with a very low ceiling. It wasn't until we redid our kitchen (read about that project here) that we added on a little room under the addition that is sunk down about 6 inches- just enough extra headroom for a treadmill!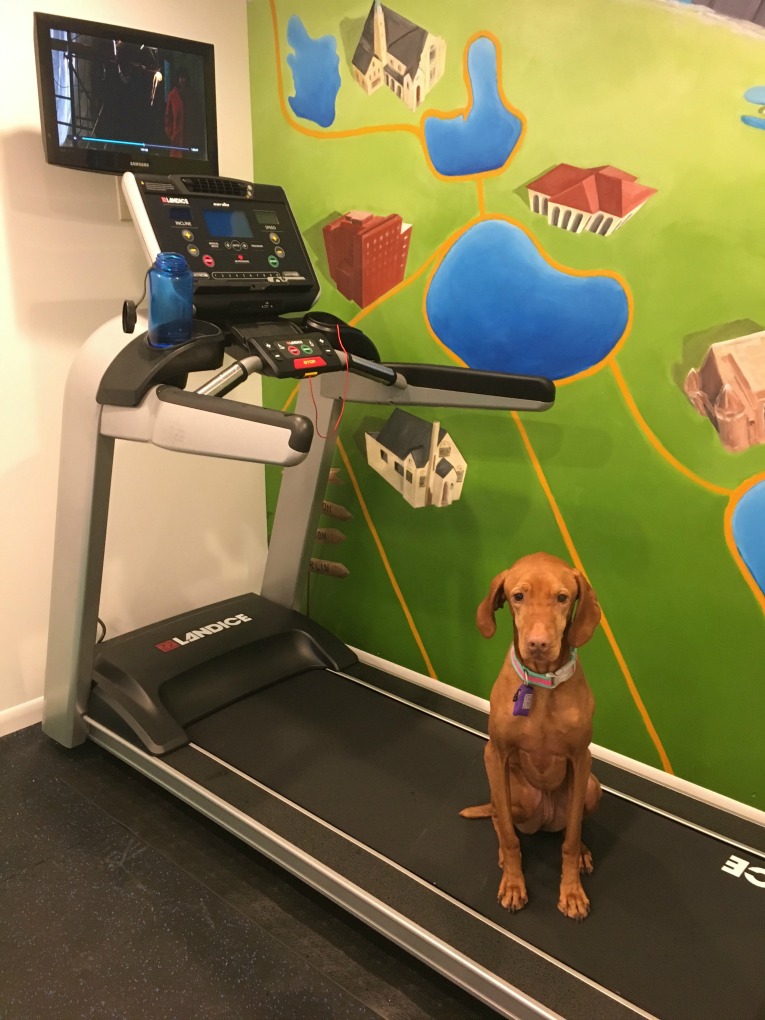 We did a lot of research over the last year or so on what treadmill would be the right fit for us, so that when we finally finished the remodel, we could purchase one!
We started out at 2nd Wind Exercise, where we learned about Matrix treadmills; however, the price tag on those was about $12,000!!! (I think that must have been a commercial one, as that was much too high. At least for us.)
Speaking of commercial treadmills, the first thing you need to know is that you don't need a commercial treadmill, only a residential one.  There's no way you'll be running on it as much as one in a gym. Home fitness or 'residential' is the way to go. That will save you a lot of money AND a lot of hassle since many commercial treadmills run on 220v instead of usual household 110v so you could need a dedicated outlet for a commercial version.
Of course, there are treadmills out there for less than $1,000 and like I mentioned, there are some that cost much, much more. There are so many options to choose from- there is a treadmill out there for everyone!
I had high hopes of sharing a really great post with you about ALL the different brands of treadmills and pros and cons. But I'm not the expert, and there are better articles out there than anything I could write. This article and this article are really helpful. This article from Runner's World is about all the latest and greatest in the treadmill market from low to high price.
Instead of trying to summarize everything, what I am going to share with you are the reasons we picked the treadmill we did, which is the Landice L7 Cardio. This post is about what was important to us in our decision making and hopefully that's helpful to some of you if you have similar needs. For example, the Landice we bought is big and doesn't fold-up. If you live in a small condo/apartment, this one won't work for you. Right off the bat, you'd be looking at different options than we were
After we did quite a bit of research, we made a decision….Okay, by "we" I mean mostly Dustin. He can't buy anything without doing tons of research! Let's just say "research was completed in the Benson household" before we finally decided on the Landice L7 Cardio.
Why did we chose this one? What criteria were important to us?
Step-up Height:
Well, the 'step-up' height was a HUGE reason. As I mentioned, headroom is why we didn't have one before and even though we had more space now, it wasn't a ton of space. We needed the treadmill to be "low-riding", so to speak, so that head room, even in our lower space, wouldn't be an issue.  The Landice was a very workable 5.5″.
Motor Size:
We wanted a treadmill that would last so we wanted it have at least a 4hp motor.  While a small motor can produce the same speed, the bigger motor doesn't have to work as hard to maintain the same speed, so it will last longer.  Given we're distance runners, we knew we wanted to something that could handle our long runs just in case we need to do 20+ miles on the treadmill (hopefully not!)
Lifetime Warranty:
This one was huge. I expect this treadmill to get a lot of use and I want it to last. A lifetime warranty is pretty phenomenal.
Reputation:
Landice treadmills have a great reputation for quality and durability which is reflected by the lifetime warranty.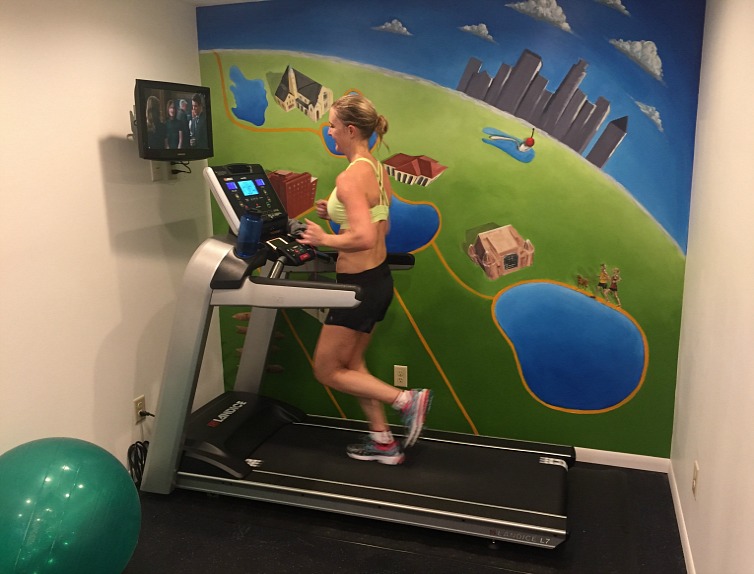 Which Landice L7:
The Landice L7 comes in four variations; a pro trainer, pro sports, cardio, and executive. The differences are on the screen- the executive is the fanciest, with a touch screen but frankly I'd rather watch Netflix on a separate TV than a digital version of a beach scene. The pro trainer and the pro sports are more basic, they didn't have as many programmable workout options. It was a tough call between the Cardio and Pro Sports panel but for the price, having the option of doing heart rate training seemed like a decent thing to have (again, thinking longer term as we're planning on it being around for a while.)

Cost:
The Landice treadmill isn't cheap. We got ours on sale for $3,900. The mat to go with it was $60. Tax was about $300 for a total charge of about $4,200. Regular price for the L7 Cardio is $4,550- it's a bit of an investment and probably not the choice for casual runners.  But for Dustin and me, this was something on which we were willing to splurge.
But keep in mind: according to Dustin, "there are considerable margins built into treadmill prices, never pay the sticker price, there's always room for a deal."

Where to Buy:
Landice treadmills are actually kind of hard to find. Locally, we bought ours at
Now Bikes Fitness
in Arden Hills (they also have a location in St. Paul.) I believe that is the only store that carries them around here.
What other brands did we consider?
We considered the True PS800. It was very similar to the Landice in terms of consumer reviews. To be honest, you can probably get a better price on the True.  In the Twin Cities area, like Landice, there is only one company selling those treadmills as well.  For us, the build quality on the Landice, the lifetime warranty and the fact that they've been making very good treadmills (and mostly just treadmills) for a long time made up our minds.
Our treadmill won't be a laundry drying rack, it's going to get some use;  five years from now I don't want to toss it and get another.
I hope this information was helpful to anyone in a similar situation looking for the right fit in home treadmills! I've already run a 9 miler on it; I have a feeling I might actually become a little wimpier with regards to the elements now that I have a treadmill so easily accessible. But don't worry, I'm sure I will still do plenty of running outside. I won't lose my Minnesota toughness, I promise!
"When I run, I always prefer to run outside. But when I run inside, it's on a Landice." <– me. 🙂
Helpful  review of the Landice (source)
"Landice has engineered and manufactured top-notch treadmills in the USA since 1967. The Landice brand is a consistent leader in the global fitness industry, regularly getting accolades from Consumer Guide, Consumer Report and Runners World contributors. The company primarily serves light commercial and commercial fitness centers, but they also make treadmills especially for home use. Landice stands out for its high quality basics, plenty of customization options and long warranties. Their home treadmills are sold with lifetime guarantees!
Landice treadmills are categorized as residential, light commercial and commercial. All the models are similar in terms of appearance and functionality. Their main differences are in track size, roller size and user weight capacity. Each Landice treadmill model is personalized with the shopper's choice of four workout consoles and optional extras. Some options are a 19″ TV, a tablet computer bracket and medical handrails.
Track size is a primary difference among Landice treadmills. Those with "L7″ in the name have running areas measuring 58″ long and 20" wide. These treadmills can accommodate most trainees.
As for workout support, Landice offers four diverse consoles. These range from the simple Pro Trainer with five workout programs to the Executive Control Panel with 21. Heart rate monitoring options differ with each console choice.
Warranties for Landice provide excellent consumer protection. As mentioned above, the residential Landice L7 and Landice L8 are under lifetime warranty and include a year of free labor.
What We Like:
Capacity: Landice treadmills are hefty. Whereas many treadmills can only support users up to 250 or 300 pounds, a Landice can support up to 500 pounds. The lightest maximum capacity from this brand is 400 pounds.
Consoles: Landice consoles stand out from the competition. The variety ensures that every shopper has an appealing choice, whether they seek simplicity or advanced functionality. Highlights from the collection include a 9″ full-color display, fitness tests, wireless heart rate feedback, and programs that simulate exercising at famous landmarks. Each console can save at least two user-designed programs, and the Executive Control Panel can save 10.
Customer service: Landice is a member of the Online Better Business Bureau and consistently shows excellent commitment to customer service.
Distribution: Landice is a leading fitness brand and maintains a presence in brick-and-mortar retail establishments. The wide distribution helps ensure that repairs are accessible. Free in-home labor is provided to new owners who live within 60 miles of a Landice dealer.
Motor: Landice treadmills have strong yet quiet 4.0 HP continuous duty motors. These are made in the USA just like other Landice components.
Tracks: Tracks on these machines are roomy and well cushioned. The default cushioning is called VTX Shock Absorption and it's been tested as five times more impact-absorbing than grass. Some Landice treadmills are available with additional cushioning for orthopedic needs.
Warranty: Landice home treadmills are sold with lifetime warranties. With most other treadmill brands, only the frame is protected lifelong. Landice's light commercial and commercial treadmills also lead the industry by providing five years of parts protection. Finally, Landice also puts its top electronics (the Executive Control Panel) under warranty for three or five years depending on the treadmill model.

What We Don't Like:

Footprint: Landice treadmills are extremely stable and some have extra-large tracks. In exchange for these benefits, users accept a larger-than-average treadmill base. The L9 Club, for instance, has a 33″ x 85″ footprint.
Price: Top-class treadmills come at a high price. Expect to pay about $3,000-$6,000 for a new Landice treadmill.

Our Verdict:
Landice treadmills are premium quality. They are durable, attractive, easy to use, and have lots of great features even before extras are added. Unlike many treadmills, they are suitable for users who are tall and heavy.
Landice treadmills require a lot of space, so they aren't ideal for people in smaller homes. They're also rather expensive investments. We recommend this brand to shoppers with larger budgets who seek fitness equipment for the long term."
(Visited 2,509 time, 1 visit today)