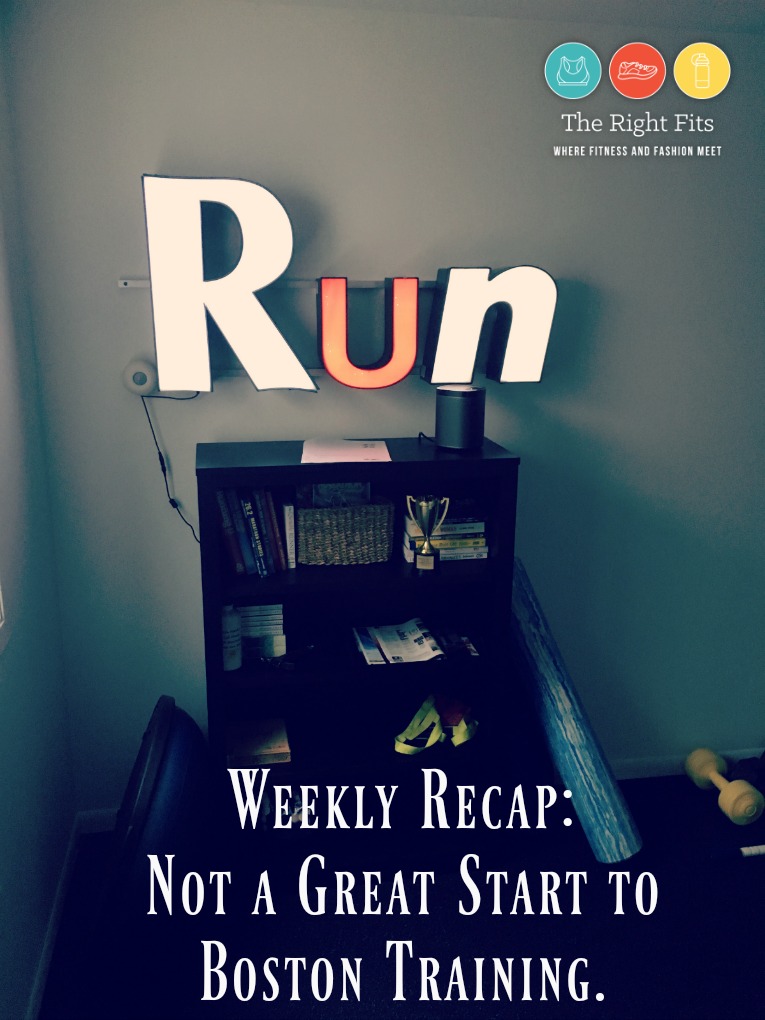 Well, not a very exciting week to recap. It was a bit of a bust.
I know that this post is going to sound a little dramatic; I apologize in advance. There are people with real problems in the world; mine are trivial.
But alas. It was supposed to be my first official week of Boston training. I'm back with my coach Antonio; I thought I was ready and psyched to do the work!
But unfortunately, it didn't work out that way.
In last week's recap, I mentioned that on Sunday I started to feel sick. I figured I had caught a simple cold from one of my nieces over Thanksgiving. But what I thought was just a cold ended up knocking me out for the whole week. Brutal.
I rarely get sick- generally I swear by Sound Probiotics to keep me healthy! But unfortunately some viruses are just too strong. This particular one was terrible!
Monday: I went to bed really early on Sunday, hopeful that I would wake up feeling a lot better. I was optimistic enough that I had plans to meet a friend for an early morning run. Silly Jessie.
Throughout the night, I got worse and worse. I cancelled on my friend for the morning run (I hate doing that) and instead went straight to Urgent Care when it opened Monday morning. They did a strep culture (since I had been exposed to strep over Thanksgiving and my throat was terribly swollen) but that was negative. They gave me some "Magic Mouthwash" to numb my throat and I went in to work for a few hours, hoping a bunch of over-the-counter remedies would make me feel better…I managed to survive at work until about 3:30 and I just had to leave. I got home, crawled into bed, and slept for the next 4 hours. Dustin made us some soup and I had hopes that I would feel better the next day. I was doing all the right things- lots of tea, tons of water, zinc, Airborne, VaporRub, you name it, I was trying it.
Tuesday: I didn't feel better. But there was a lot going on at work, so fortunately I was able to work from home. By the end of the day, the virus/cold had moved from my throat and full body aches straight to my head. I was very congested, but I have read enough to know that it's okay to run when its just in your head. I was hopeful that I was on the mend!
Wednesday: I decided to go for it and run. I did 8 easy miles in the morning. Other than needing to carry a ton of Kleenex, I felt okay.  I went into the office and tried to keep my germs to myself. I hope no one else gets sick because of me! On top of being sick, it was a really busy time for me at work for various reasons, so I was at work late each night. I'm sure that didn't help with recovery 🙁
That particular night, I got home around 8 pm and Dustin told me to come to the 'gym' downstairs to help him figure out where to put the TV for the treadmill. See, I was supposed to meet the delivery guys at the house earlier that day, but I had told Dustin it just wasn't going to happen; work was too crazy.
So as I walked downstairs, I was asking him when we might be able to reschedule and then I went into the room and THERE IT WAS! Tricky trickster. He was able to get out of work and meet the delivery guys. This was for sure the highlight of my day! I was tempted to run on it, but instead just walked a bit to test it out. In a dress and tights of course.
Thursday: Still congested, I ran 6 miles easy in the morning (outside, not on the exciting new treadmill). Another crazy day at work, but I snuck out around 6:45 pm to pick up my sister Cresta from the airport. She was in town just for the night and we had a fun dinner at Pizzeria Lola. Though I was still totally congested, I felt somewhat okay and had a great time catching up with her before dropping her off at her hotel. She was here to give a presentation at a conference on Friday.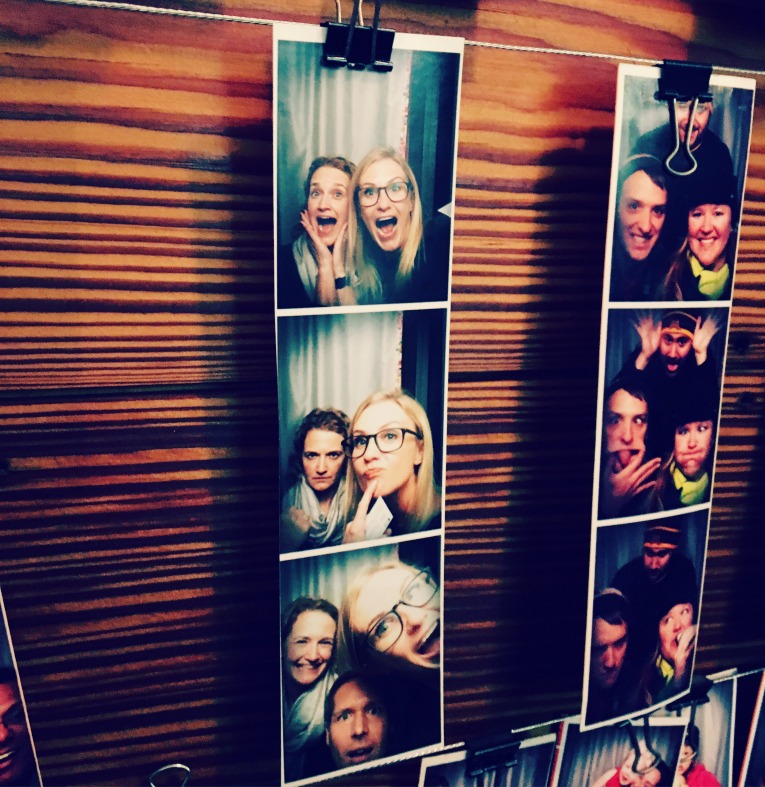 Friday: And, just like that, it moved to my chest. I still went to work, leaving for a few hours to go listen to my sister's presentation about the Zika virus at the conference. I was so grateful to have the opportunity to attend! She's an ob/gyn at the Medical College of Wisconsin and their Zika expert. The presentation was really fascinating and I was so impressed by my sister; there was a Q&A at the end and she rocked it. Such a smarty-pants! I learned a TON about the virus too.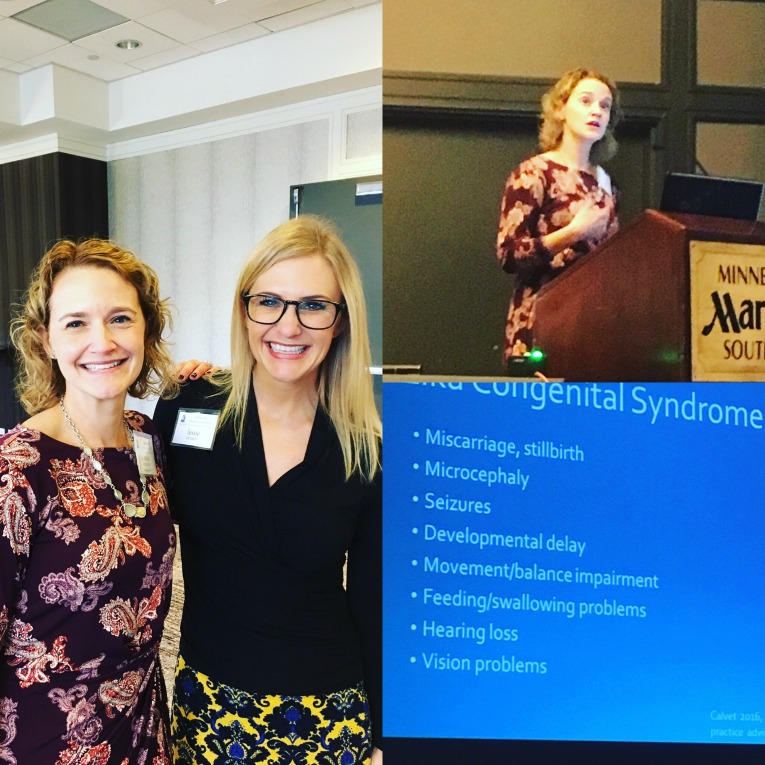 After the presentation, it was back to work for another long day. By the time I got home around 8 pm, I had virtually lost my voice but was coughing like crazy. I took plenty of cough syrup and other medicine and hoped for the best. I was supposed to do my first hill workout this day for Boston training. That definitely didn't happen. Straight to bed instead. My coach will have to understand.
Saturday: I decided to give the long run a shot. I ran with a group of girls who were happy to take it really easy for us (close to 9:30 min/miles). Of course, in addition to being sick, my Garmin didn't want to find a satellite, but since I was running with a group, I know we did 12 miles.
After the run, I spent the rest of the day sleeping/lounging, trying to feel better from this terrible cold. Saturday night, Dustin picked us up some pho from Pho79. The hot, delicious soup helped, but Saturday night was probably the WORST I had felt. So now I had been sick for over a week! What the heck.
I did manage to make it out of the house in the early evening to go pick up a Christmas tree. Tilda helped.
Sunday: After yet another fitful night of coughing, I decided to go to a minute clinic at a nearby CVS as soon as it opened. I ended up getting some prescription strength cough medicine, an inhaler for my lung congestion, and a nasal spray. The combination of these three meds actually does seem to making me feel better. Fingers crossed.
By the late afternoon, with all my meds, I felt good enough to try to run. I decided to break in my new treadmill with 7 easy miles. The weather actually would have been fine to run outside, but I figured it was better for my lungs to stay in the heated house. Then I could take breaks as necessary for water or a coughing fit.
Tilda started barking at me when I really started running on the 'mill; she did not trust that thing! After she calmed down, she sat on a yoga mat and watched me run. It must not have made a lot of sense to her, ha!
This picture is from after I finished. She hopped up to check it out from my point of view 🙂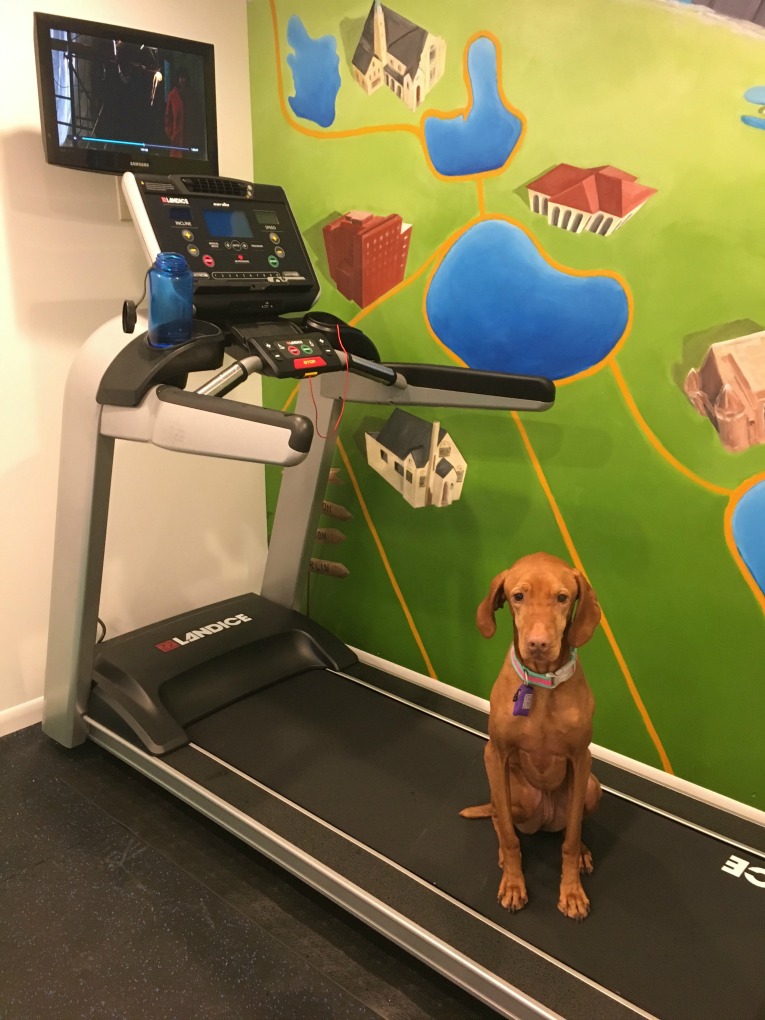 Summary: Not the best week. I ran about 33 miles and didn't do any strength training or cross training. Hopefully this week is not a sign of how Boston training will go in general.
When I went to minute clinic, the doctor said that viruses like this can take 6 weeks to pass. Six weeks! Yikes! Let's hope that's not true and that next week's recap is much better.
Well, even though my recap isn't all that exciting, I'm still linking up as usual with Jess from Jess Runs ATL. Join us, details below!
Also, I am working on a post about how we chose the treadmill that we did. Stay tuned, I hope to have it completed in the next day or two!

(Visited 404 time, 1 visit today)