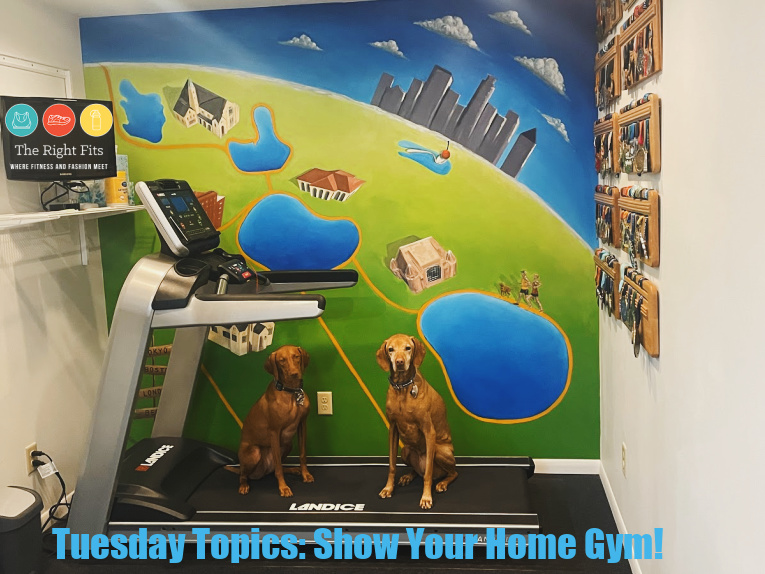 Happy Tuesday friends! I'm linking up with Kim from Kooky Runner and Zenaida for their Tuesday Topics, Show Off Your Home Gym!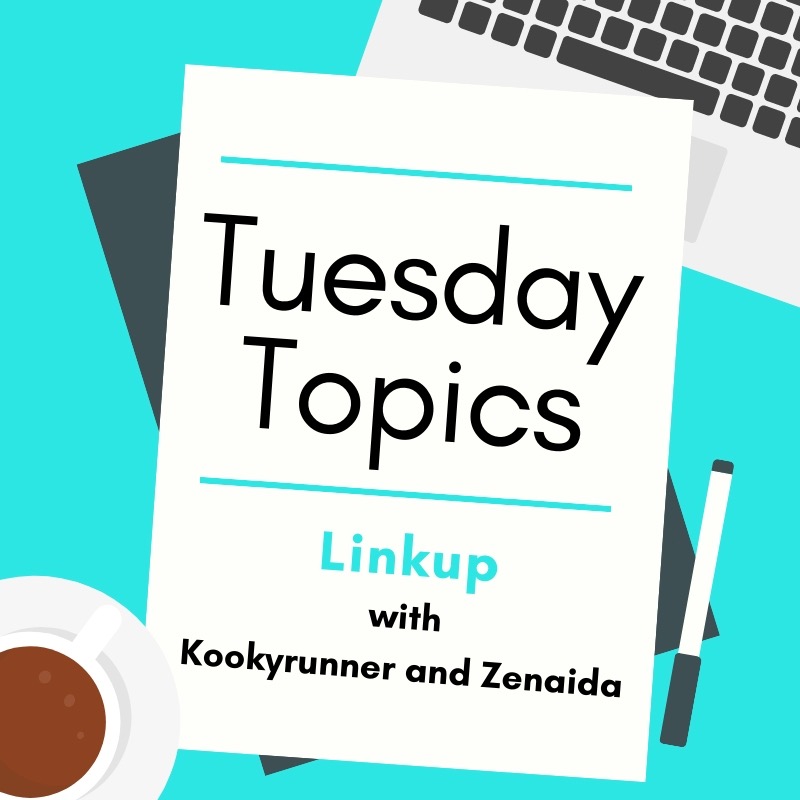 Let's talk about home gyms!
My 'home gym' is quite small; some may call it more of a fitness "area", vs. an actual GYM, ha!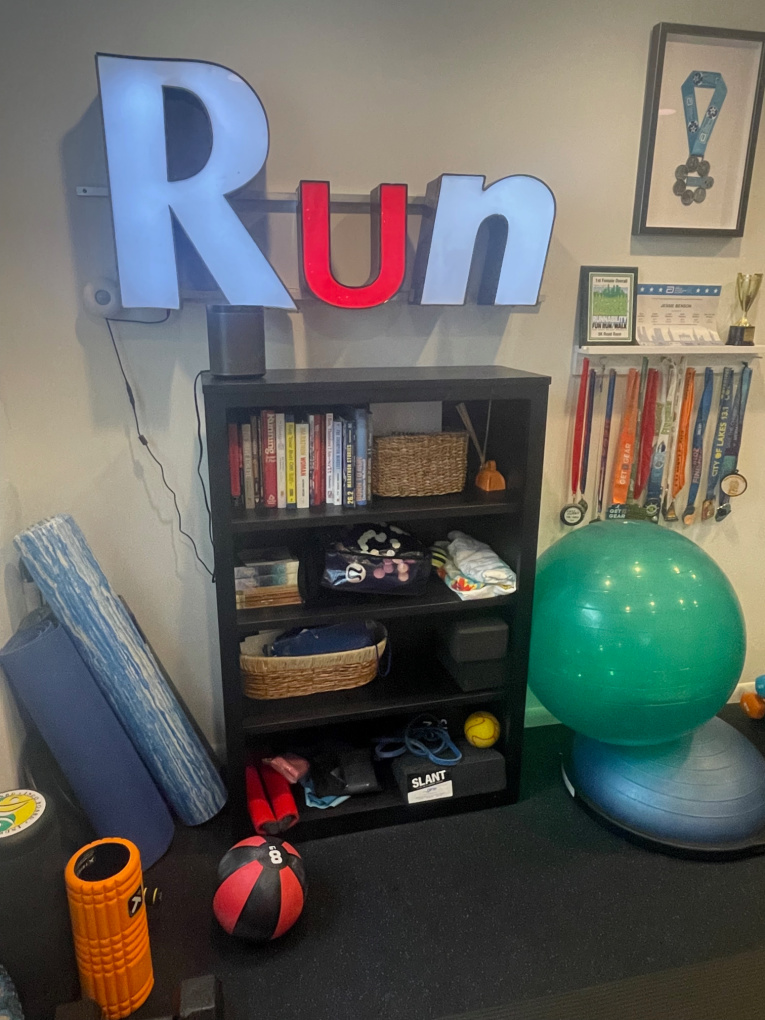 I live in Minneapolis in a 1920's Tudor style house; I love our house, but living an older home definitely has some limitations, particularly when it comes to size!
We've lived here for over 10 years and have put a lot of work into updating some things. When we redid our kitchen in 2016 (pictures HERE), we had the option to add a little "gym" under the expanded kitchen.
One of the top priorities for this gym was ensuring there would be enough headroom for a treadmill.
Low-profile (for headroom) was a factor in our treadmill decision (we have a Landice, read more about our choice HERE) but we had a little more space to work with the 'new' part of the basement.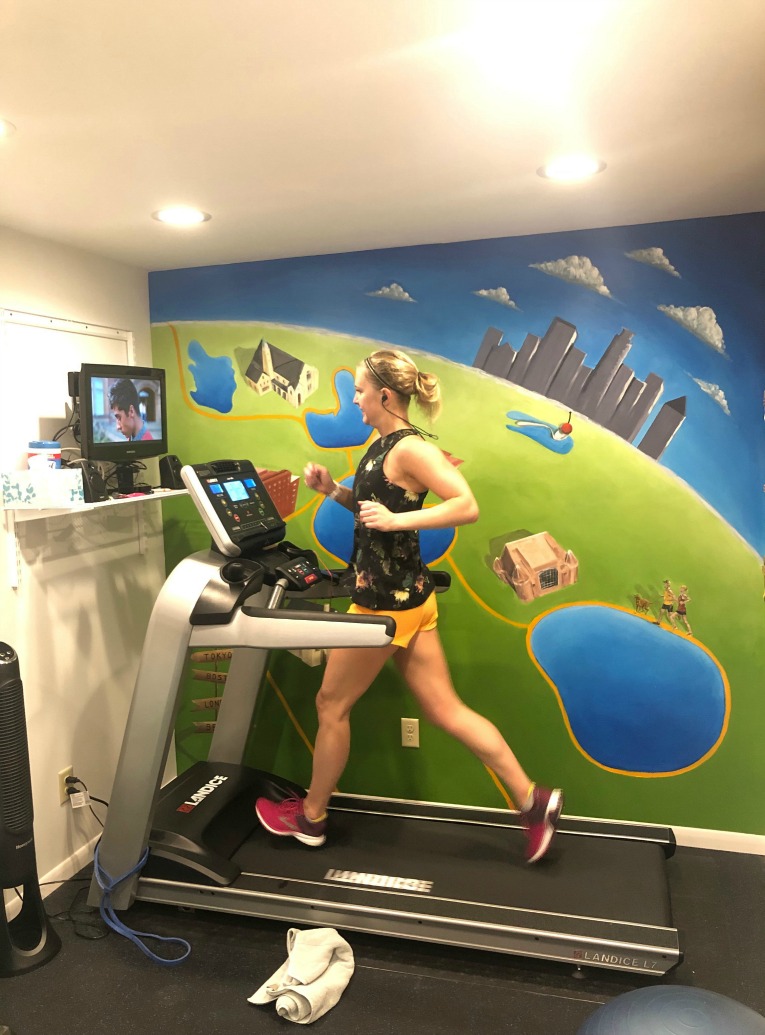 We installed rubber flooring from Home Depot- nothing fancy, but its functional.
Over time, we have accumulated more and more equipment, from bands to weights, to a plyobox, etc.
I've gone back and forth about squeezing in a Peloton bike; I took measurements and I could technically fit one, but haven't taken that plunge yet. Maybe soon!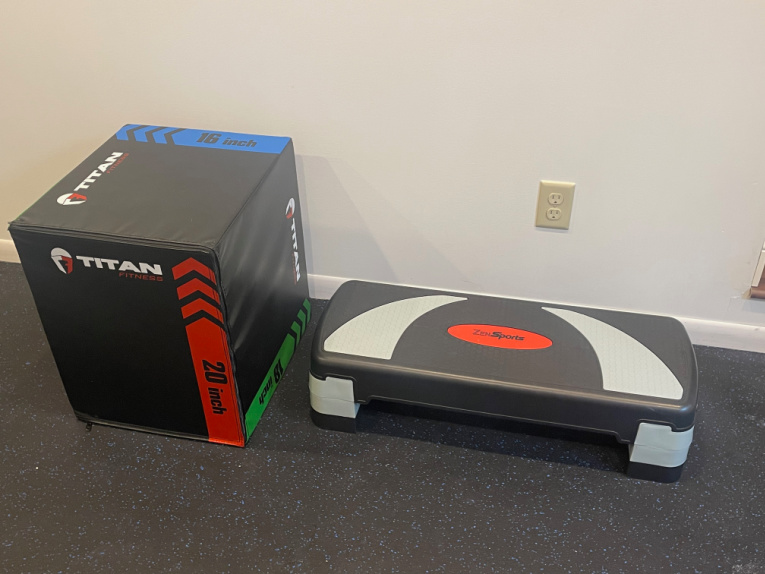 Honestly, some of the best parts of my home gym are in the ARTWORK!
First and foremost, one of my most favorite parts of the basement is the mural that my friend Angela (a talented artist) painted. (See more about her process HERE.) It's a little 'map' of the lakes that I run nearly every day- Bde Maka Ska, Lake of the Isles, and Lake Harriet, with downtown Minneapolis and the Sculpture Garden as well.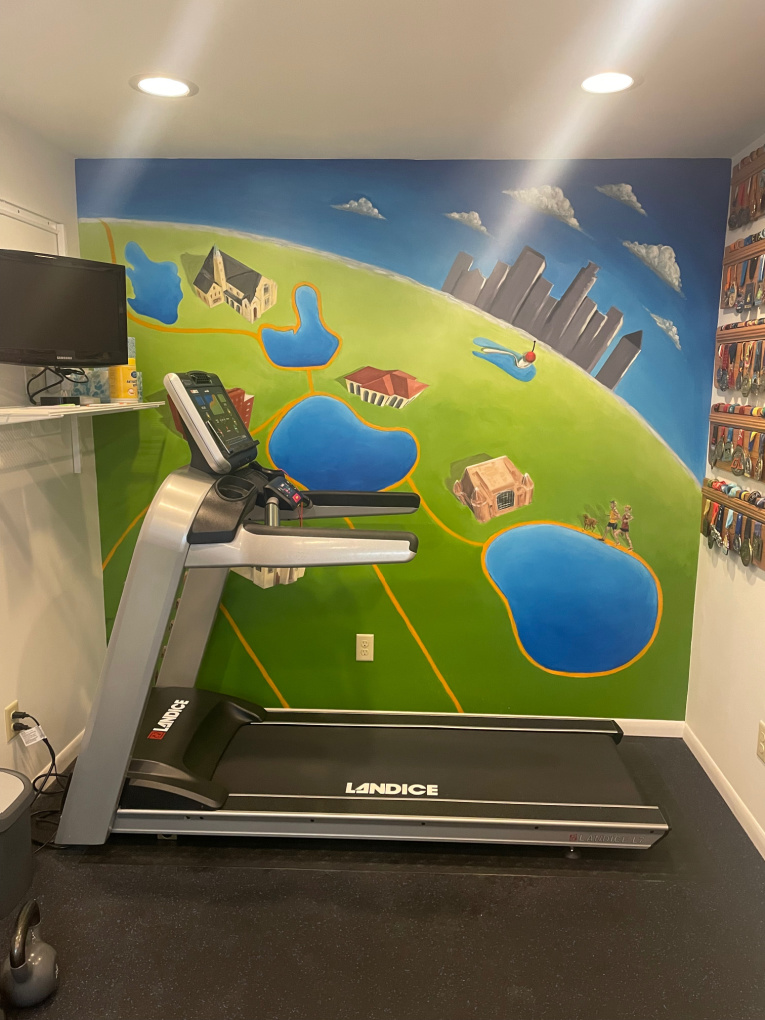 It even has a little mini-Dustin, Jessie, and Matilda running on Lake Harriet!
The mural makes me smile every time I'm in that room.
I also love this motion activated "RUN" sign made from lights from the vintage store Hunt & Gather, a Minneapolis gem. Dustin had to do some electrical work to get them to work again, but they're so fun!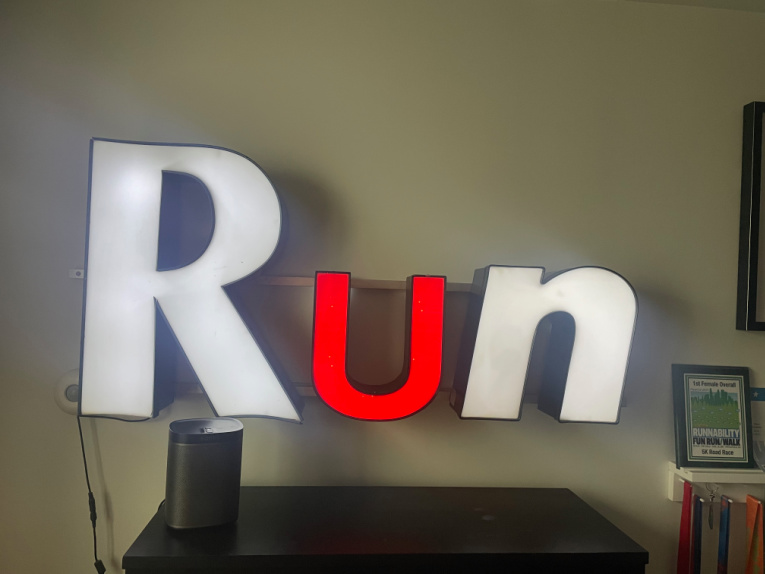 I also love the wooden marathon medal racks that my dad made for us. The left side is Dustin's collection from marathons, the right side is mine (35 full marathons!)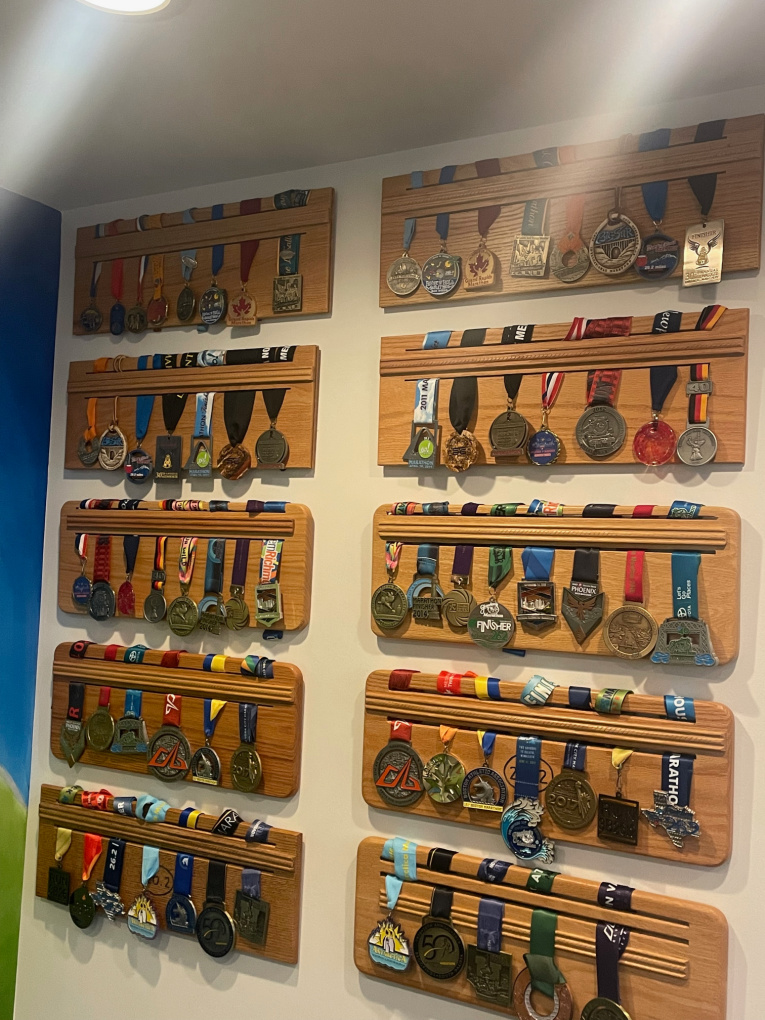 I also had our World Majors 6-star medals framed. So proud of those!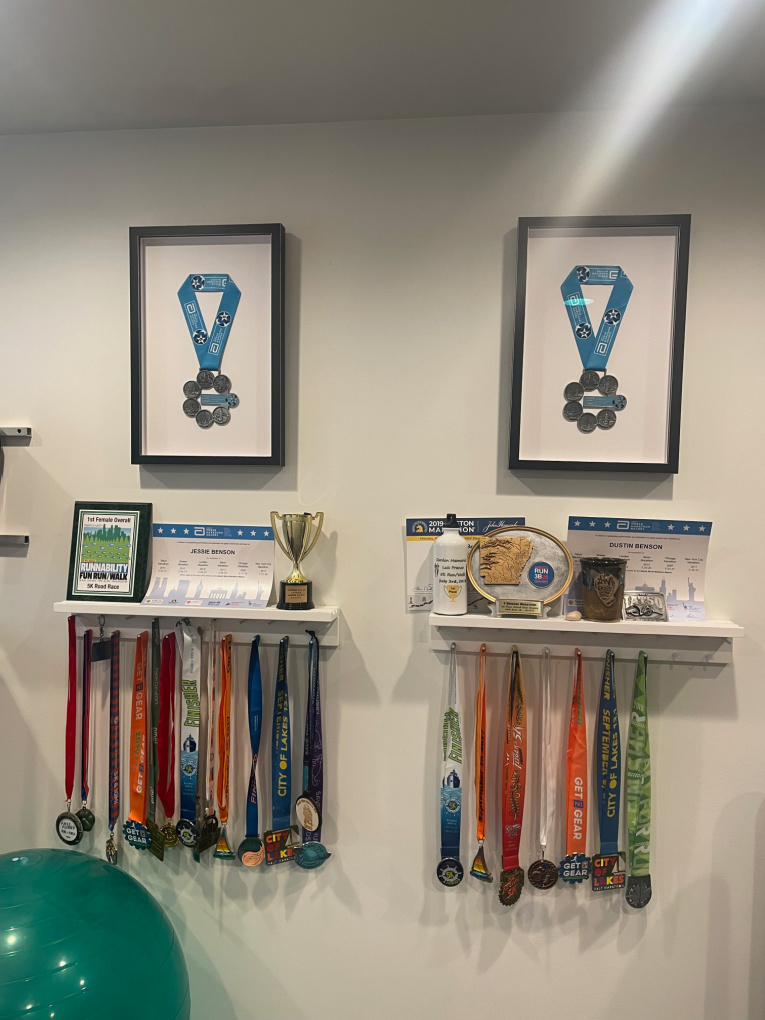 Beneath those medals are a random array of other medals and awards, though I haven't been as great about organizing the non-marathon medals (and medals aren't as common it seems for races under 26.2 miles!)
Last Christmas, my friend Christie gave me this little 'cartoon' drawing of me by a fellow Oiselle volee member. So cute!
My sisters bought me this beautiful map of the Boston Marathon course the year I ran it.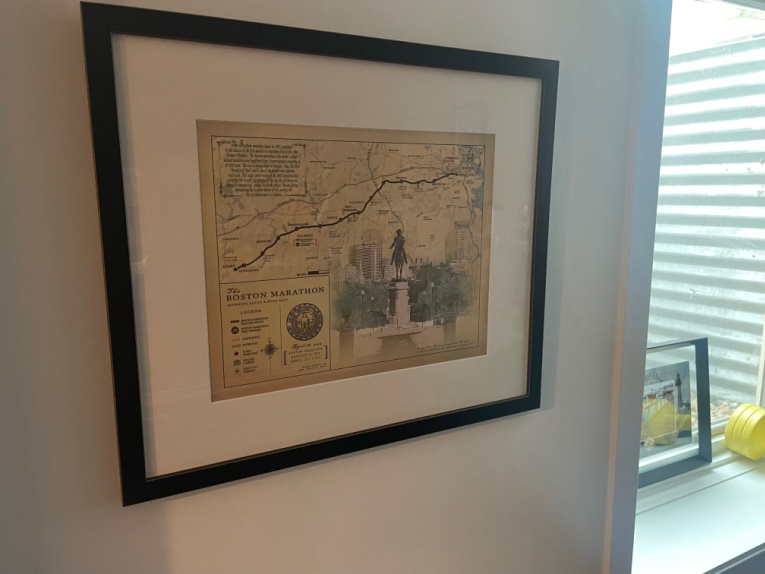 Of course the star of my home gym is definitely the treadmill. The set up with a mounted TV at eye level really makes those treadmill miles more bearable. There's a lovely fan nearby for when things get really sweaty.
The wall-mounted TV has an Apple TV, which means I can watch Netflix, HBO, Hulu, and more. It also has the Peloton app for my strength training.
My home gym may be humble, but it's special to me, and it definitely motivates me to exercise!
Be sure to check out other home gyms for inspiration through Kooky Runner and Zenaida's link-up!
(Visited 430 time, 1 visit today)