Welcome to my weekly recap, where I share the details of my training for the upcoming Fargo Marathon on September 25th, which will be my 36th full marathon and 25th state in my 50-state quest. After North Dakota, I will officially be halfway done with marathons in all 50 states, woo-hoo!
On to the recap….
Monday: My sister Erin and her kids were still staying with us, so she and I ran 6 miles together at her pace, 10:40 min/mile average.
Tuesday: With visiting nieces and nephews comes visiting cold germs. I ended up with their cold. I mentioned last week that everyone took Covid tests, which were all negative, so we knew it was just a cold. But colds are no fun!
The cold did not help my workout go well, neither did the excessive heat warning in Minneapolis. But I tried…3 mile warm-up, 5x(3 minutes moderate, 90 second recovery), 3 minute jog between sets, another 5x(3 minutes moderate, 90 second recovery.) I had to walk a lot of the recovery jogs and I did not hit my planned paces at all, but I cut myself some slack as at least I was out there trying. 10 miles total, 9:30 min/mile average (lots of walking on the recoveries!)
Since I had a cold, I was running (solo) but otherwise staying home, which meant no group fitness. Even though it wasn't Covid, I refuse to go back to the old norm of going places when sick. No way, never! Therefore, the only strength I did was in my basement, a handful of Peloton upper body classes and a few core classes.
Wednesday: I had 9 miles on my schedule but a storm blew in when I was about 4 miles in. The lightning was really intense; I considered calling Dustin to come get me, but I decided it might be just as fast to run home.
Only 7 miles instead of the 9 on the plan, but I didn't get struck by lightning!
Thursday: Another solo morning run, VERY sweaty and very smoky in Minneapolis from the Canadian wildfires. I managed 7.25 miles, 9:15 min/mile average.
I was supposed to have a work dinner that evening, but my cold was not 100% gone (close, but not there) so I cancelled.
Friday: Finally healthy again, thank goodness!
Christie and Julie and I all took the day off of work to do a long run before our friend Isabelle's wedding that evening.
I ran 3 solo, met the girls for 8 with them, then 6 more solo for 17.5 miles total on the day, 9:10 min/mile average.
Bonus picture with Matilda post-run!
Shower, nap, some work, and then a beautiful night celebrating Isabelle (and her husband Nick, not pictured.)
Such a fun night. Felt strange to be dressed up again and celebrating at events like weddings!
Saturday: Rest from running! I took the pups for multiple walks and did a few strength/core classes on the Peloton app, but otherwise had a low-key Saturday. It always feels strange not to have a long run on a Saturday!
Sunday: 7 miles; the first 4 with Dustin and Ruth, and then Dustin dropped us to do his own thing. With the slightly cooler temps and a rest day the day before, I was feeling good! 7 miles, 8:30 min/mile average.
I realized once we were out running that I was actually wearing a Run Rabbit tank of Dustin's. It seemed a little big, ha!
Summary: 55 miles of running, a few core & strength classes on Peloton
Just 8 weeks to go until another 26.2, woo-hoo!
I'm linking up with Running on the Fly and Confessions of a Mother Runner as part of their Weekly Rundown. Check it out!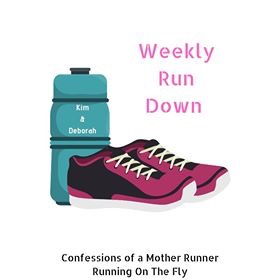 (Visited 235 time, 1 visit today)