Slow down, summer- you're going too fast! I wish I could pause time during this last summer of working from home. I know I'll look back on this and miss it. But I'm spending it like any other, with lots of running. Here's how this week went in training for the Fargo, North Dakota marathon!
Monday: 6 miles with Christie and Julie, 9:14 min/mile average. Barre class at the Bar Method after work.
Tuesday: Workout Tuesday! 2 miles easy, then 8 sets of 5 minutes on, 1 minute recovery jog, with the 5 minute sets getting progressively faster from 8:35 to 8:00 even. It wasn't perfect, but overall was in line with the goal. 9 miles total, 8:55 min/mile average. 10-minute Peloton strength class afterwards.
That evening, Julie, Christie, and I went to Rosalia for pizza and wine to celebrate Christie's birthday. Locals readers, if you haven't been there, definitely check it out!
Wednesday: 6 miles with my friend Vicki followed by 3 miles solo listening to a work call, 9 miles total, 9:10 min/mile average.
We kicked off our second season of bocce ball Wednesday night; our team is Dustin and me and one other couple, and we often rotate if Dustin and I play together at the same end or Julie and I do. Julie and I were together this week and we got a quad! Essentially that means all four of our throws got points; this doesn't happen very often, and has never happened for our team! Pretty exciting stuff!
Thursday: Complete rest (other than some dog walks, of course.)
Friday: 6 miles before work with Julie, Christie, and a new joiner, Annie! Good times.
Saturday: My sister Erin and her kids (and her vizsla Ollie!) came to visit for my other niece's graduation party. It was so fun to have another vizsla in the house.
Ollie (the visitor) is in the middle in the below picture.
We had planned to run together Saturday morning, but her kids woke up with a bit of a sore throat. To be cautious, she skipped the run, and her kids and her took covid tests (which were negative).
I ran 5 solo, came back to see how things were going, then Dustin joined me for 6, and then I did 2 more solo, 13 miles, 9;15 min/mile average.
Minnesota (and quite a bit of the rest of the county) is suffering some pretty bad air quality due to the wildfires, particularly those in my cherished Boundary Waters Canoe Area. I wonder if some of the sore throat was from the air quality- or maybe just a cold. Fortunately, it was not Covid (my sister and one of her kids is vaccinated, but the other is too young still.)
The rest of the day was spent at my sister's house celebrating my niece Maggie's high school graduation!
Sisters!
Sunday: Erin was feeling better, so we ran 8 miles together.
We ran the first 4 with Ruth and Ollie, dropped them off back at home, and ran another 4 just the two of us, 10:30 min/mile average.
We followed up the run with a 10 minute upper body workout via Peloton. The dogs participated too!
Summary: 52 miles of running, 1 barre class, a few Peloton strength classes.
Here's a bonus "triple the vizsla" picture for fun!
That's a wrap!
I'm linking up with Running on the Fly and Confessions of a Mother Runner as part of their Weekly Rundown. Check it out!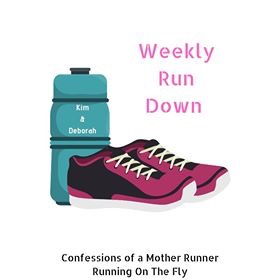 (Visited 244 time, 1 visit today)