Usually this blog is all about fitness but occasionally I like to share a little about fashion too, especially when it comes to Stitch Fix! I think its helpful to see what other people get in their "fixes" so I figured I should share mine.
If you're unfamiliar with Stitch Fix, you can read all about it on this post. I generally have enjoyed my Stitch Fixes. I like ordering one every couple of months to freshen up my wardrobe.
If you're interested in checking it out, I would love for you to use my referral link so I can get some credits! Thanks 🙂
So, I received my sixth Stitch Fix box the other day and I kept it all- WIN!
Item #1: Dita Sleeveless Ponte Dress:
First was the Dita Sleeveless Ponte Dress. I liked the color and the fit. It was a simple enough style that I can dress up for work with a blazer and heels, or dress down for a dinner date with sandals and a funky necklace.
Item #2: Ava Floral Print Silk Henley Blouse:
My second item was the Ava Floral Print Silk Henley Blouse. I usually don't go for flowing, loose tops like this, as they generally don't work for my body type. But I liked the colors on this one and it seemed like it would be a good layering piece, so I kept it. Similar to the dress, I think I can get away with it at work with a blazer or cardigan, as well as with jeans and sandals for something casual.
Item #3: Patrick Denim Trouser:
My third item was the Patrick Denim Trouser. I liked the crop style of these pants (now that we're finally into spring!) They work well with a flat or my ever-loved Tom's. They are technically denim but they don't look like it so I can wear them to work (i.e…I wore this outfit to work the other day). The pants are good quality and I know I'll wear them quite a bit.
Item #4: Kaylie French Terry Blazer:
The fourth item in my fix was my favorite- a blazer. One can never have enough blazers! This Kaylie French Terry Blazer is comfy and a bit more on the casual side, but since its a blazer, I can still wear it to work if I dress it up. (My work dress code is business casual). Here is a picture of how I wore it for a more casual event- I paired it with this MINNESOTA tee from Primp the other weekend for a get-together with some girlfriends for a book club at Bauhaus Brew Labs in NE Minneapolis. (Side note- have you been to Bauhaus? I loved it there!)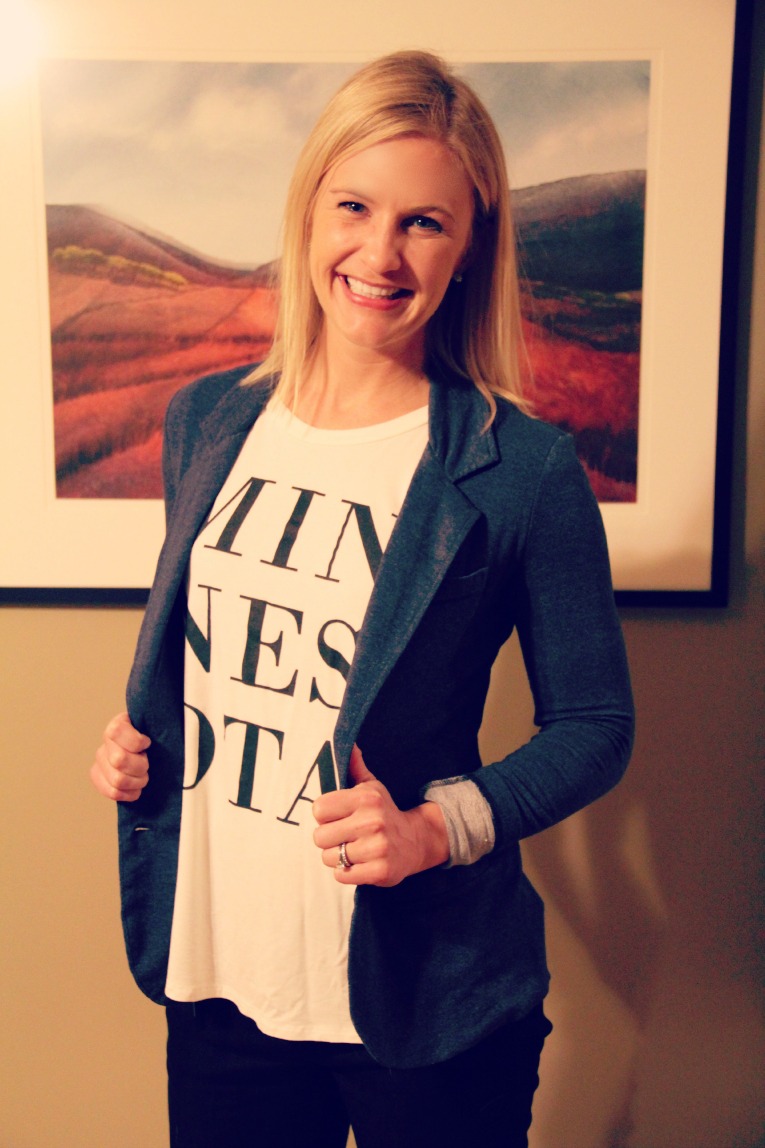 Item #5: A scarf
The fifth item in my fix was a blue and white patterned scarf; I forgot to get a picture of it, but honestly, it wasn't that exciting. I gave my stylist the feedback that I don't want any more scarves in my fixes as I just don't wear them that much. But I bought it anyways, so I could get the 25% off for purchasing the whole fix. Financially it made more sense to buy it and get 25% off of everything, so that was an easy decision.
Well,  there you have it- my 5th Stitch Fix. It was a success and I look forward to my next one!
Let me know if you have tried it and what you thought!
Here are reviews of my past fixes:
Stitch Fix #1
Stitch Fix #2
Stitch Fix #3
Stitch Fix #4
Stitch Fix #5
(Visited 2,108 time, 1 visit today)