By Jess in Minneapolis

I had read about Stitch Fix on a couple different blogs, and had been thinking about trying it out for awhile. However, after my experience with Ellie (or pv body or whatever you want to call it), I was hesitant to try another monthly apparel program. (You can read about my experience with Ellie here.) 
Basically, Ellie was a bit of a bait and switch, where I signed up for a three month contract to receive fitness apparel from a variety of different brands. After my first shipment, the company changed to only deliver their own brand, Ellie. The main reason I had originally signed up for pv body was to try out different brands of fitness apparel….not just to receive a monthly shipment of a so-so brand that I wasn't that excited about. I cancelled that membership quickly. My experience there was a little disappointing.
I have also tried Kona Kase and NatureBox snacks, both of which I enjoyed, but I decided not to continue with either one for various reasons. I'm usually willing to try these types of services out, just to see.
Eventually my curiosity got the better of me with  Stitch Fix  and I signed up about a month ago for my first delivery to arrive at the end of October.
This is how Stitch Fix works:
1) Sign up
2) Fill out a style profile
3) Personal stylist sends you a box full of clothing and/or accessories
4) You try them on, in the comfort of your own home, where you can pair each item with other items in your closet to see how they would look
5) Anything you don't like, you send back in a postage-paid envelope within three days
6) Keep all five items and receive 25% off!
7) Look great in your new clothes, without the hassle of fighting crowds at the malls
To sign up, you pay a $20 styling fee. You can sign up for just one "fix" and then quit. There is no commitment to continue buying "fixes" or to buy anything at all!
However, if you decide to buy something from your fix, the $20 styling fee will be deducted from the price of your clothes. If you don't buy anything, your out-of-pocket expense will be a mere $20.
During the online styling process, there were a lot of questions about my style preferences, size, color preferences, and more. It seems like there is real personalized thought that goes into the selection process by the stylist when putting together each fix for a  client. It was actually fun to pick out different online ensembles that appealed to me, and to answer questions about how I like my clothes to fit (Fitted? Loose and flowing? Straight?) I also answered questions about what you like to draw attention too, or draw attention away from (Legs? Sure, I'll show some leg. Torso? Hell no. No belly shirts on this girl!)
After going through the styling process, I had patiently been waiting for my first fix to arrive, and yesterday was the big day.
It felt like Christmas! Seriously, it was so fun to open up a box of new clothes that had been hand-selected for me.  Even Dustin was a little anxious for me to open it up, and he seemed pretty interested to see what I had received.
So, without further delay, here are the contents of my first "fix."
1. Black Swan Hascall Faux Leather Jacket
Price for the jacket $98
FYI, each item comes with a little card with ideas of how to style it, which I loved!
I thought this jacket was cute, and the faux leather was really soft. It was outside of my normal style, but still something that I liked. However, I just didn't think the color was right with my skin tone (Dustin agreed), and it was just a tad too snug, especially when I zipped it up. I have broad shoulders, and it was pulling a bit too much across them. I wish this jacket would have fit a little better, as I really liked it and don't have anything like it in my wardrobe.
Status? Returned…sadly.
2. Alicia Crafty Yarn Thick Wrap Scarf
Price: $42
I thought this scarf was cute, but it was a little too bulky for me. I like the warm colors, but decided to pass on this one. I have plenty of scarves, and I don't actually wear them all that often.
Status? Returned.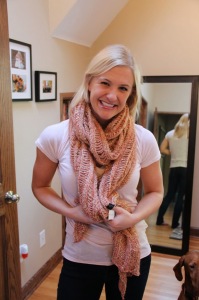 3. Tart Alec Solid Side Gathered Tank
Price: $78
This tank was super soft, and I loved the color.
Unfortunately, I just didn't think the drapey fit was very flattering on me. It was too loose in the wrong places.
Status? Returned.
4. Hawtorn Ivana Colorblock Belted Dress
Price: $68
I liked the gray and purple color combination of this dress, and I was a fan of the color blocking.
Unfortunately though, it was too tight across the chest
(Don't you just love my patient little puppy waiting there? She follows me around everywhere)
Status? Returned.
5. Velvet Heart Sylvia Flocked Polka Dot Skinny Jean
Price: $78
Finally, something that I loved and it actually fit!
These black skinny jeans had a subtle polka dot pattern on them that was really cute. I think I can wear them to work, or out on the town, depending on how I style them.
Status? KEEP!

After making my decisions, I went online and rejected or accepted each item. I described what I did and did not like about each item, so my stylist can use that feedback for my next "fix."
My $20 styling fee was deducted from the $78 jeans, so my card was charged $58 for the one item that I kept. I put the rest of the goods into the pre-paid USPS package, and dropped it off at the post office. So easy!
Are you interested in trying it out? Please use my referral link:

https://www.stitchfix.com/referral/3227931
There may be a waiting list, so you should sign up now. My next fix arrives December 7th!
(Visited 922 time, 1 visit today)