Fashion Friday: Today I have a review of my most recent Stitch Fix! These reviews aren't totally in line with "Fitness and Fitness Fashion" but I think they are very helpful if you are trying out this service. I know I am always looking to see what others have received in their fixes so I can request the same if I like it!
If you haven't heard of Stitch Fix, you can get all the details HERE and if you want to try it out, feel free to use my referral code HERE. Basically, you take a style survey. Then you pay $25 to have a stylist pick out a customized "fix" of 5 items to try on. If you like any of the items, the $25 goes towards purchasing them. You don't have to fight crowds at the mall and ideally, you are receiving items that (hopefully) look great on you.
I have tried Stitch Fix eight times now with mixed results. Once, I kept everything; more frequently, I kept nothing. This time? I kept two out of the five things- not too bad.
Here's what I received:
Konya Woven Plaid Blazer: $64
Normally I am huge sucker for blazers; one of my coworkers says I'm like Lesley Knope from Parks & Rec that way. However, I struggled to find anything to go with this blazer because I just don't wear that much black. A few years ago, I did a wardrobe consultation with A La Mode and she told me navy blue is a much better color for me (and generally a better color than black for blonds) as black can be kind of harsh. Since then, I have eliminated a lot of black from my wardrobe. Therefore, I struggled to think about how I would make this blazer work well with most of my wardrobe.
I would have still kept it except that it wasn't a great fit. It was a little loose and the seam was crooked down the back. It wasn't worth it to clog up my closet with a blazer that I didn't LOVE; I have too many blazers already!
Status? Returned.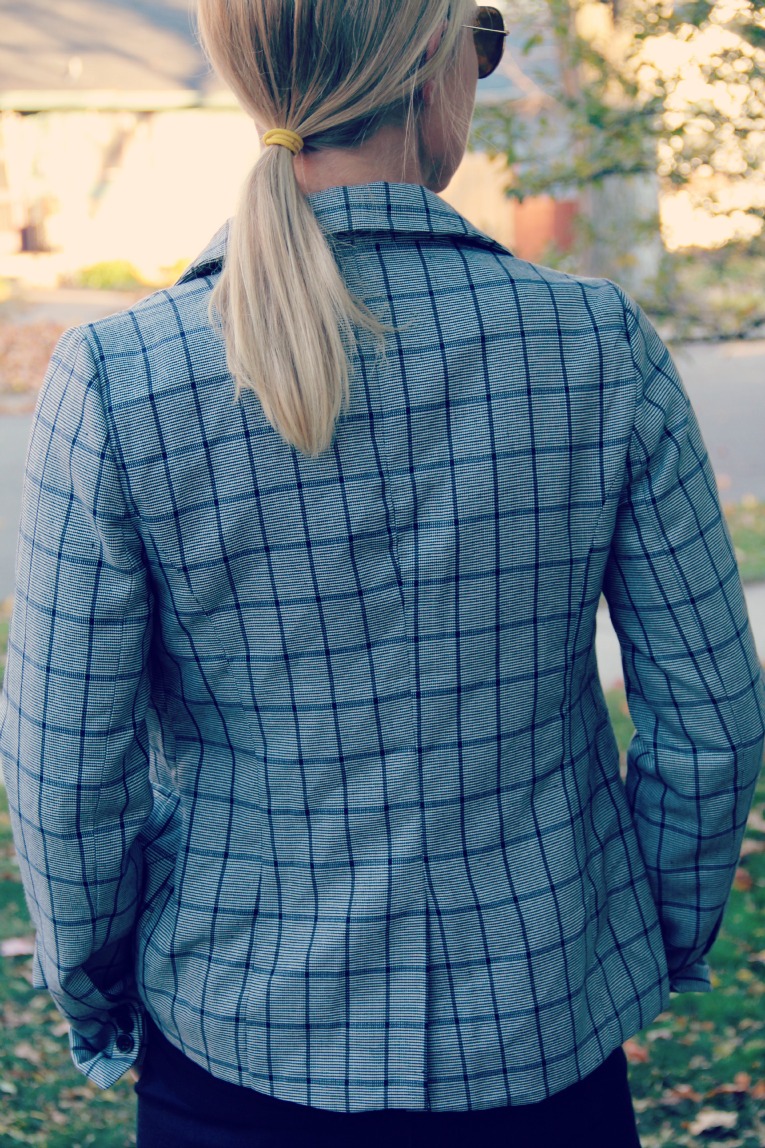 The next item in my Stitch Fix was the Denise Bootcut Jeans for $78.
OMG. These were TERRIBLE! So unflattering.
I know that flare and bootcut jeans are making a comeback, but I don't think I'm going to hop on that train yet…especially not with this pair. They were too short, too tight, and too ugly to keep.
Status? Hard pass.
I shouldn't even be posting this picture on the internet! Not for me.
I was hopeful about the Branwen Dress for $108. The description said it was navy, but it looked black to me. I love a sheath dress and at first I thought this was okay, and it does look okay when I keep my hands on my hips…
…but when I let go, you can see how it flares out and makes me super wide in the hips. I swear I am not that wide!
Status? Returned!
And finally, the two items I kept: the Alameda V-Neck Blouse in navy ($58) and the Leighton Metal Bauble Necklace in gold ($34). I didn't totally 'love' either one of these, but I 'liked' them both well enough. I ended up wearing them together already on Saturday to a housewarming party. I don't have a lot of gold jewelry, so I figured the necklace was a good one to keep and the sheer navy blouse was cute enough for either a layering piece or on its own as I wore it below.
Even though I only kept 2 out of 5 items in this fix, I do actually think that the fix was in line with my personal style (other than the bootcut jeans). Unfortunately the two items I would normally love (the blazer and the sheath dress) weren't quite right this time around.
I still enjoy Stitch Fix and will continue to sporadically get fixes. I requested the same stylist next time around as she seemed to listen to my feedback and requests.
Again, if you're interested in trying Stitch Fix, please use my referral link HERE and let me know what you think!
(Visited 1,290 time, 1 visit today)