Eighteen weeks ago, I told you that I had registered for my 20th marathon, the Anthem Richmond Marathon. That marathon is now less than a week away! I'm excited to toe that starting line again and get a 26.2 mile tour of Richmond, Virginia!
Here is how the past week of tapering went:
Monday: 8x1000m repeats at a "cruise" pace of 7:40. 2 miles to warm-up with my friend Christie and about 3 miles to cool down for 10 miles total. 10 miles in the morning is a lot but with daylight savings, I actually got to run in the SUN! (See above cover photo)
Tuesday: 5 mile recovery run with a  few run club friends.
That day at work, we hosted a baby shower for one of my coworkers. Isn't this balloon absolutely adorable? It's from the Corner Balloon Shoppe on Hennepin. (Side note- I wore this pink sheath dress from Le Tote to go with the pink theme. I'm loving Le Tote! If you want to try it, please use my referral code HERE!)
Wednesday: Complete rest.
Thursday:  Short speed workout: 1 mile warm-up, 15 x 200m sprints with 45 second recovery in between each set, about 1.5 mile cool-down (just ended up being that way) 5.8 miles total.
Thanks to my friend Christie for joining me. We were both pretty excited to still be wearing shorts in November. This fall has been amazing for running in Minneapolis. (Yes, I am wearing a head lamp– even with DST, it's still dark in the morning when we start!)

Friday: About 4 miles downtown with my friend Monica. We met to run before Flapjack Friday at Mill City Running because we heard Wilson Kipsang was going to be there. I just assumed he'd be there right at 6:30 am when the Flapjack Friday run usually starts, but he didn't arrive until almost 8 am! However, meeting him was the reason we were there, so we stuck it out. We grabbed coffee at Caribou, hung out at the store and shopped until he finally arrived. It was worth the wait!
Who is Wilson Kipping? Wilson set the World Record in the marathon in 2013 in Berlin (the same year I ran it!) He was in town for a running clinic held on Saturday and was making the rounds promoting the clinic leading up to the event. He did a short Q & A and then took pictures with us. I had no shame and took a quick selfie with him while we were getting set up for the group photo. I'm hoping that just a tiny bit of his speed rubbed off on me for Richmond!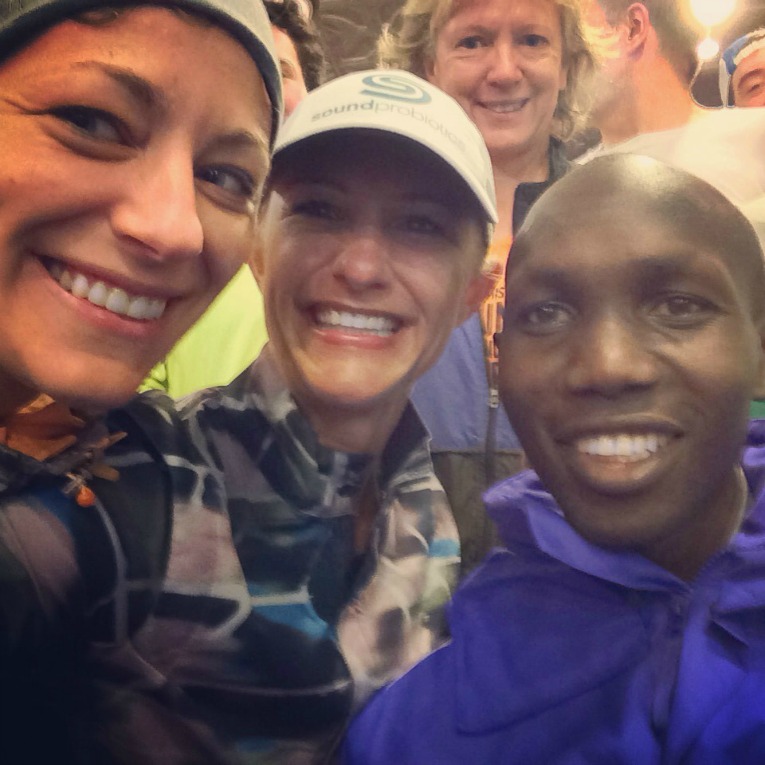 Saturday: 14 mile long run. Last long run before Richmond on a beautiful, sunny, fall day. Afterwards, we had brunch at French Meadow- I thought my Grumpy Cat sign was perfect for the taper madness! If you're looking for tips for the marathon taper, I wrote THIS POST last year with lots of advice.
(FYI, my vest is from Lole! Love that brand.)
Sunday: 5.5 mile recovery run on the trails at Theodore Wirth. My friend hosted a "run/brunch"  at her new home in Bryn Mawr (close to Theodore Wirth park.) Another gorgeous fall morning for a run!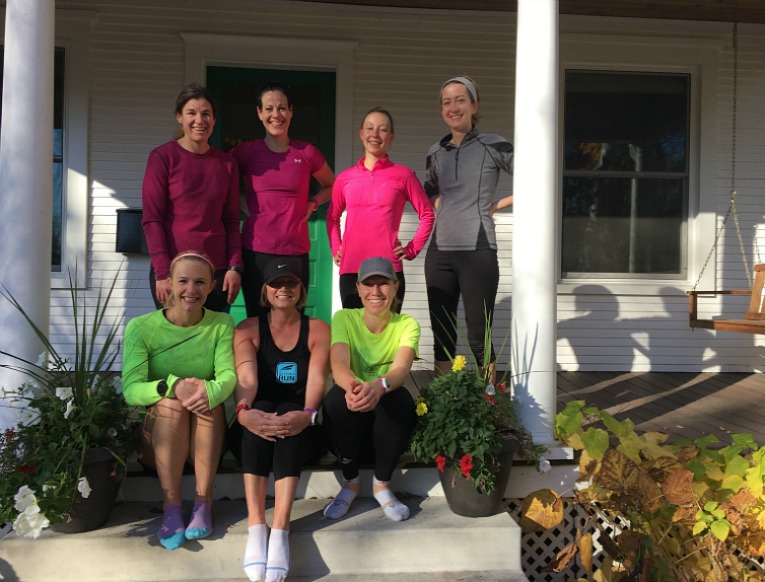 We had SO much great food: an egg bake, fruit, french toast muffins, potatoes, cinnamon rolls, oatmeal bake….ah! It was all amazing. Runners love to run and we also love to eat!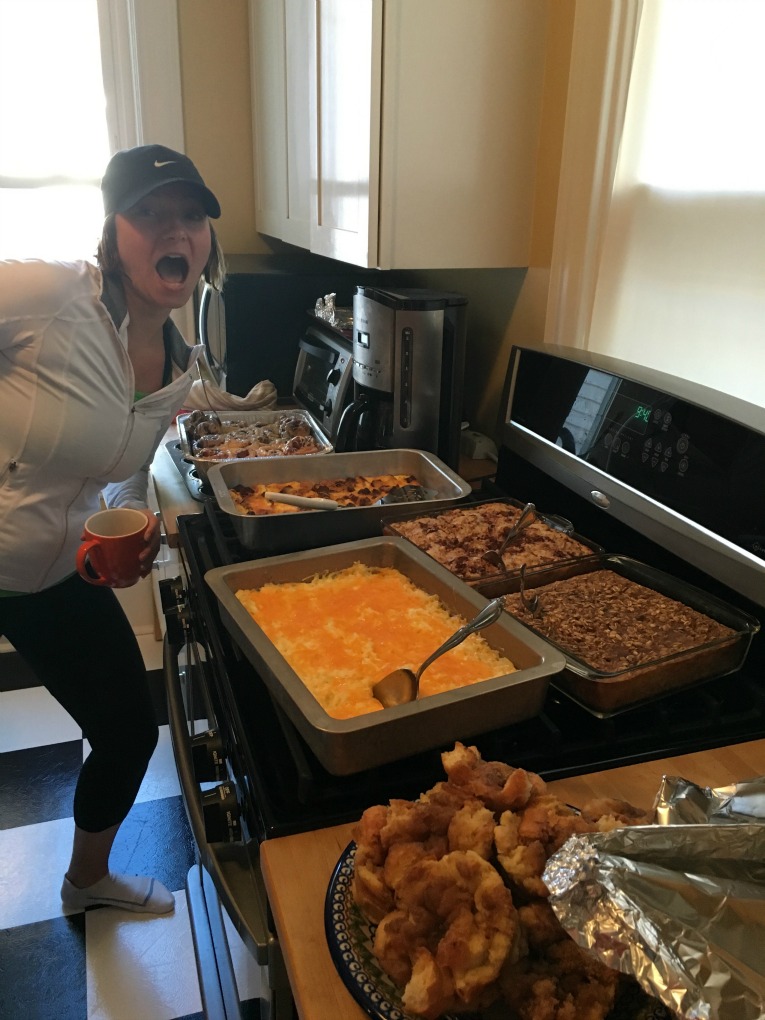 Summary: About 44 miles.
This taper has been a bit more "unsettled" than normal as we are in the heart of a house project. We do have a temporary kitchen in the basement, but I have to admit cooking down there isn't really as appealing! I am trying to make use of the crockpot to get my "carbs" in. Today I made a crockpot turkey lasagna. Hopefully that feeds us for most of the week.
Just to give you an idea of the state of our house, this picture was Friday…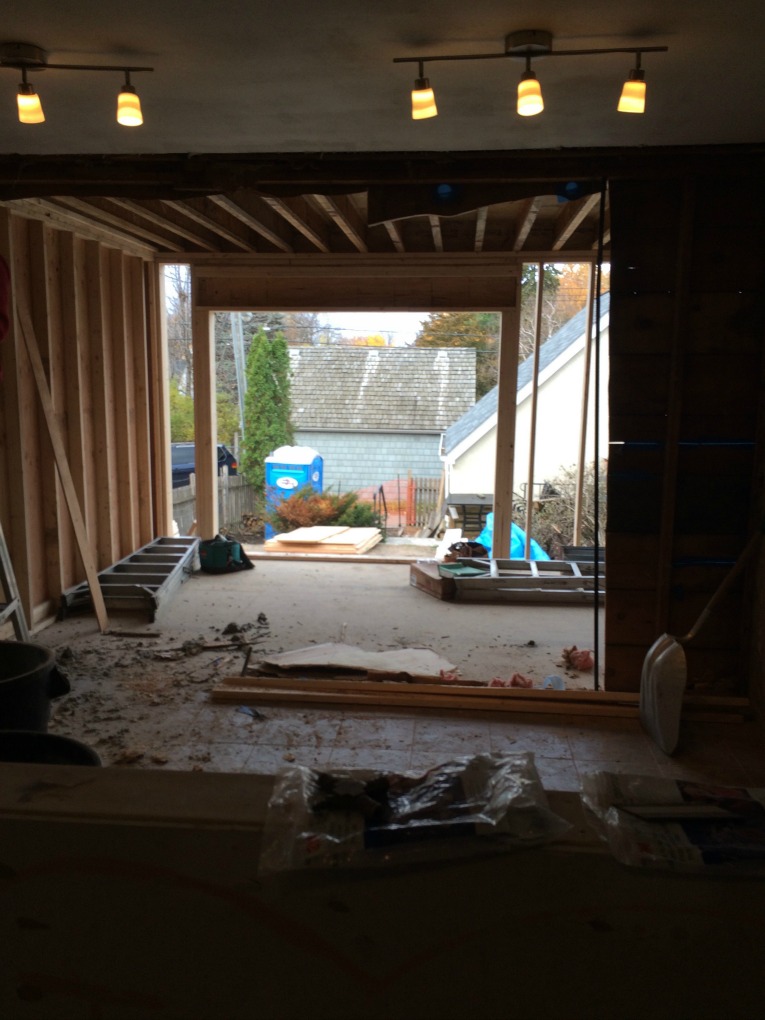 It will all be worth it though in a few months and it hasn't disrupted my training, just my eating.
Time to eat some lasagna and drink lots of water….6 days until 26.2 miles!
Thanks for reading and supporting me on this journey to Richmond!
(Visited 325 time, 1 visit today)