Last Sunday morning, as I relaxed in front of the TV with my morning coffee, watching the live coverage of the New York City marathon, I couldn't help but notice that Meb Keflezighi was wearing compression socks; not very many of the other men in the leader pack were. But guess what? Meb finished seventh at age 40 in his 10th NYC Marathon. His time of 2:13:32 was a national masters record. Keflezighi plans to run at the U.S. trials Feb. 13 to try to make his fourth Olympic team. Impressive! Was it the compression socks?
Well, it probably was not just the compression socks that got Meb to where he is now, but the fact that he believes in their benefit definitely gives me reason to believe in their benefit as well.
Is there something to this whole compression sock thing?
According to Runner's World, compression socks are used by runners in attempt to recover from hard workouts and races as quickly as possible. The snug-fitting, knee-high socks are meant to increase circulation and reduce lactic acid build-up. Some runners wear compression socks while training and racing, others use them after a run. The primary rationale behind wearing compression socks in a race is that they may enhance venous return to the heart through a more efficient calf muscle pump, leading to increased endurance capacity.
Again from Runner's World, a study presented at the 2007 American College of Sports Medicine annual meeting in New Orleans suggested there were no statistically significant differences in maximal oxygen consumption, heart rate or minute ventilation between treadmill runners who wore compression socks and those who did not. According to the study, conducted at Stellenbosch University in South Africa, subjects did, however, show a faster lactate recovery rate after exercise when wearing the compression socks, suggesting that compression socks might speed recovery after a strenuous workout or a race.
What does that conclude?
Basically, wear compression socks in a race if it suits you, but definitely wear them after the race.
Personally, I have gone back and forth over my 10 years as a distance runner on compression socks. Sometimes I wear them, sometimes I don't. Brand-wise, both of my sisters are big fans of the CEP compression sleeves and I have had generally good luck with Pro Compression (they have a lot of fun seasonal ones!) I like wearing compression socks in the fall with shorts as they also keep my legs a little warmer before I'm ready to transition to tights or running capris.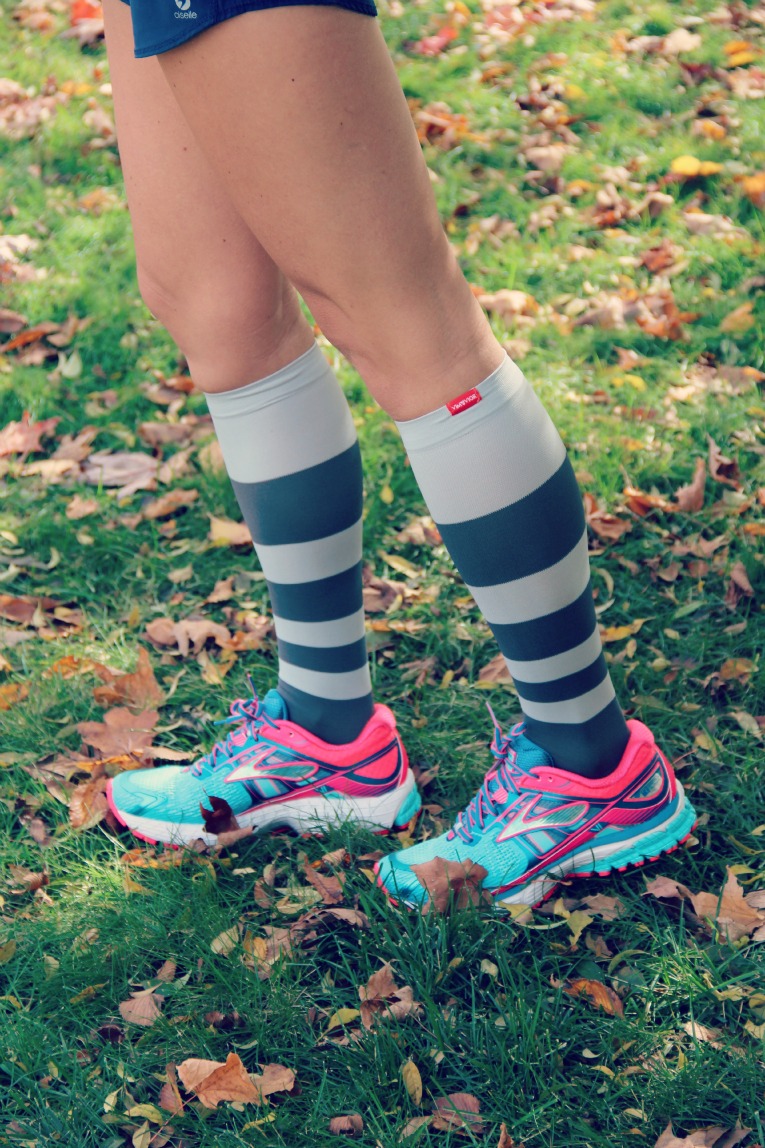 I was recently contacted by VIM & VIGR to try out their compression socks. This company makes compression socks that combine style and function. Their socks are specifically for people who are sitting for long period of time or traveling.
"Each pair utilizes advanced Gradient Pressure™ knitting technology to help support weak veins and reduce leg swelling, fatigue, and pain. They also help prevent and reduce spider and varicose veins, blood clots, inhibit swelling and alleviate leg soreness and heaviness. VIM & VIGR also just launched new compression sleeves and plans to debut new women's wool designs and compression tights this fall!"

I received a complementary pair of the moisture-wicking nylon socks to test. They are designed to draw sweat and moisture off of the skin, with a multi-dimensional weave the allows for breathability.
I wore my pair last Saturday on a 20 mile run. I did get a small blister on my big toe, but that wasn't surprising since it was a long, wet run! Even after my small blister experience (which I wasn't sure was actually from the socks- it was probably just from my shoes being so wet), I decided to wear them again the following day for 8 recovery miles. I had no issues at all on that run and I actually enjoyed the squeeze of the compression on my legs. Maybe it was mental, but my legs felt great. Added bonus? They kept my legs a little warmer.
And another added bonus? The VIM & VIGR socks are cute! I'll be packing this pair in my suitcase in two weeks to wear after I run the Richmond Marathon!
VIM & VIGR also makes fashionable compression tights and sleeves. Their compression socks come in nylon, cotton, and wool (how fun and perfect for winter running!)
I recommend checking out VIM & VIGR!
Let me know if you have tried compression socks for running and what you think of them!
(Visited 805 time, 1 visit today)