Happy Halloween everyone! I hope you had a wonderful weekend celebrating. I always love Halloween. As you can see from above, I made my costume this year. Homemade for the win! I got the idea from a young trick-or-treater at my house last year who was covered in orange pom-poms. He said he was "cheeseballs!" and I thought, what a great idea- I should do that! So I have been thinking about this costume for a year.
In case you were curious, the plastic container is sheets of square plastic that I glued together in a circle, with a second liner of the same plastic.
I used shipping tape and a hot glue gun. The "cheeseballs" are orange ping pong balls that I bought on Amazon. I found the Utz logo online and printed it at Kinko's. The "lid" is a quiche pan that I spray-painted purple. I bought orange elastic from a craft store. The hardest part was gluing some of the ping pong balls in the container to give the whole thing "structure." Otherwise all of the balls just fell to the bottom. Anyways, I just had to share because I'm pretty proud of how it all turned out!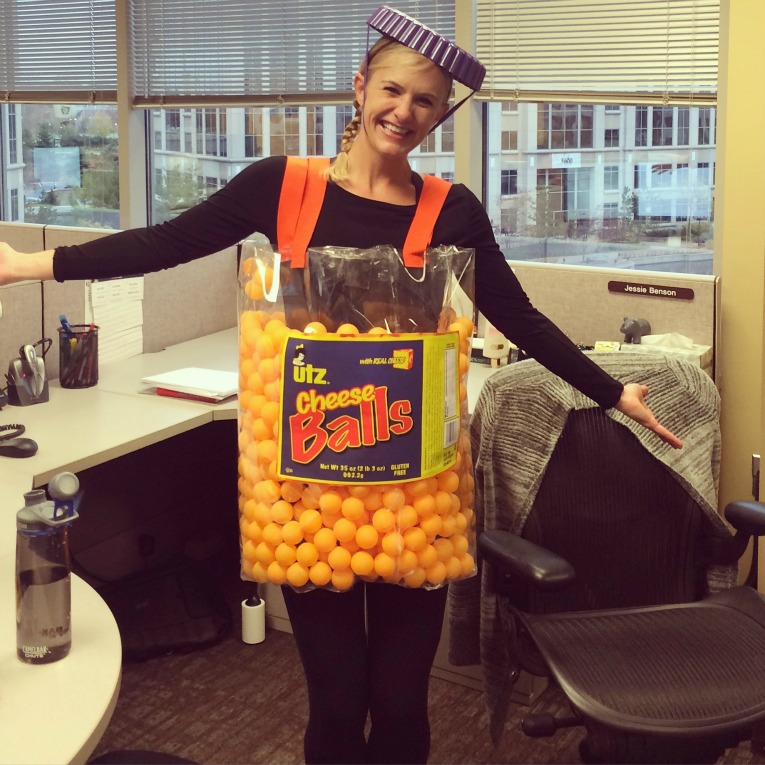 I wore the costume to work for a competition there and then I wore it again to a little neighborhood get-together and to hand out candy. Matilda was supposed to be a roll of paper towels, but that didn't turn out quite as well. The squirrel was my friend's dog that we were watching for the weekend.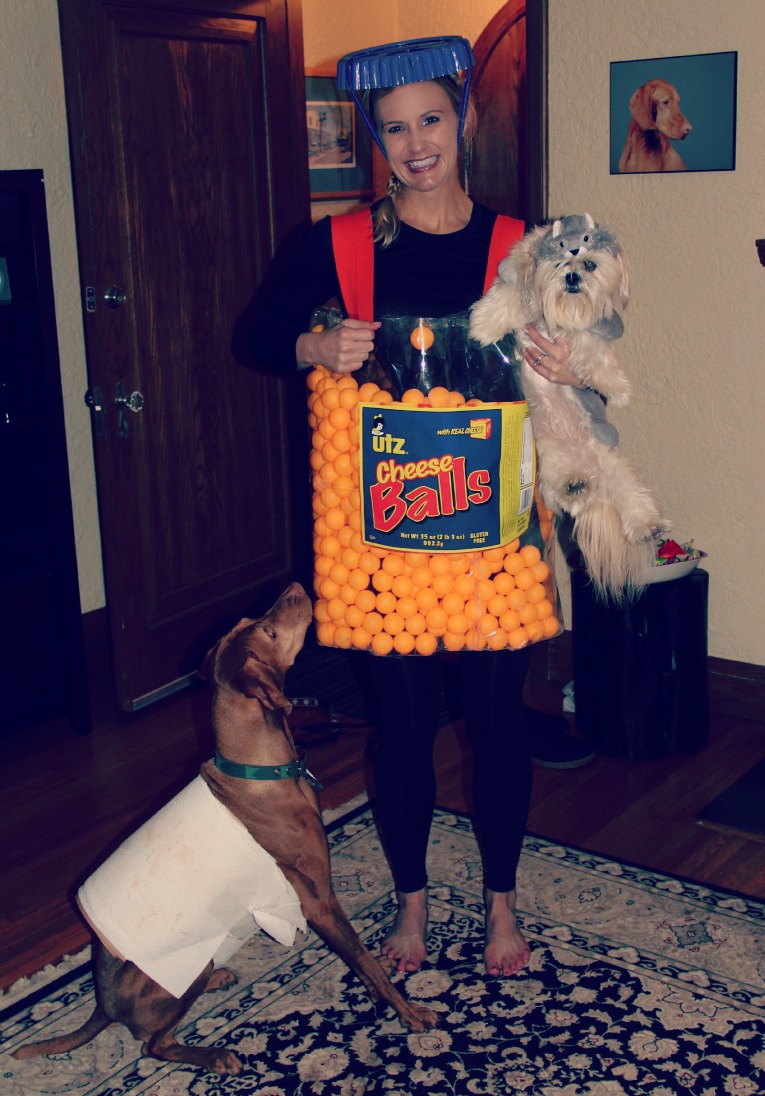 Okay, back to the running, right? That's what you're here for! It's now only TWO weeks until the Richmond Marathon. Taper time! Here's how my week went in training:
Monday: Easy 5 miles in the morning, Arms & Abs at [solidcore] in the evening.
Tuesday: My workout was supposed to be 2 miles to warm-up, 1 mile as fast-as-you-can, i.e. a 1-mile time trial. I had big plans to do this with Dustin at a local high school track, but I was stuck at work too late. I ended up not starting until 7:30 pm in the pouring rain in the dark by myself. I was just not feeling that "1-mile-as-fast-as-you-can." I went into the run thinking I wouldn't even try it, but was tempted to give it a feeble try. My coach figured I should be able to do a 6:30 mile and unfortunately I did a 6:45. I know that I could have pushed it a lot harder had my head really been in it. Unfortunately, life sometimes gets in the way- life in the form of my real job. Wouldn't it be awesome if my REAL job was just running and blogging? Spread the word about the Right Fits, will ya? Then maybe someday, ha!
This was my only workout of the week though, since I'm tapering. It would have been nice to have crushed it, but I definitely did not.  8 miles total with the rest of them at an easy pace.
Wednesday: 7 easy miles in the morning. Wine tasting with some run club friends in the evening. It was a fundraiser for the different neighborhood groups in the area. Good times!

Thursday: Easy 5 miles with a few run club friends in the morning.
Friday: 5 miles easy with my friend Sara from Sweaty Ponytail at Mill City Running's Flapjack Friday.

Though I didn't wear my costume for the run, a lot of people did. There were so many awesome costumes- one couple was dressed as a pancake and Mrs. Buttersworth! Creative.
Saturday: 20 mile long run, nice and slow. In the rain.  I am thankful that two run club friends were there to keep me company for 12 of the 20. Thank you Anne and Gina!
Sunday: 8 easy miles in the beautiful fall sun. I cannot believe this gorgeous weather we are having- on November 1st, nonetheless! Insane. I wore my new VIM & VIGR compression socks on this run. Full review coming on Fitness Fashion Friday! My legs felt surprisingly good, considering the 20 miles in the rain the day before. Was it the compression socks???


Summary: About 59 miles. Still somewhat high, but much easier runs overall. Definitely in the taper now.
I have been writing these weekly recaps for the Richmond Marathon now for almost 20 weeks and race day is finally almost here! I will be staying hydrated, sleeping a lot, and working on my mental game over the next two weeks, but physically, I would say the "hay is in the barn." Bring on marathon #20!
(Visited 835 time, 1 visit today)