I did something a little crazy yesterday- well, crazy for me.I did a two-a-day of running. Yes, I occasionally do two-a-days, but it's always one run and one other activity- yoga or strength training. I had never done two runs in a day- one in the AM and one in the PM. Two-a-days might be the norm for some of you (particularly you high mileage monsters!), but it was the first time for me.  I'm sure my friend Kelly is shaking her head at me right now, saying bad idea Jess! She advocates the Run Less, Run Faster ideal, and it clearly works for her, as she PR'd in a HUGE way at the Newport Marathon. She said having fresh legs for each run allowed her to push harder on the workouts during training.I do think she knows what she's talking about, and I plan to follow her advice in training for the
Flying Pig marathon
.  But alas, I'm not training right now, so none of that really matters at the moment, as all my runs have been pretty easy.  Yesterday's two-a-day was definitely a fluke.Here's why the two-a-day run happened: The weatherman had been going on and on about this horrible winter storm that was on its way, so I decided to get up early and do an easy four mile run with Matilda (my dog). I was worried that the storm would actually live up to all the hype, and then I wouldn't be able to workout after work. Dustin had already told me about an event that evening at
Marathon Sports
, but I was worried that it might be cancelled due to weather, so I went ahead with a morning run just in case.But the event was still on that evening, despite the crappy-esque weather, and I couldn't pass it up! This event included a 3-7 mile run, free pizza and beer, drawings for Brooks gear, and more. How could I resist?  Here are the details of the party:
"The Brooks Nightlife run kicks off at 6:30pm for a 3 to 7 mile run around the lakes. Meet at Marathon Sports Run/Walk (50th/Penn). Brooks sponsored athlete Andrew Carlson (ZoomPerformance) will lead the group! All abilities are welcome. Pizza and locally brewed beverages post run! Help us launch the "Safest Run Night" in Minnesota. Wear test the Brooks Adrenaline 14 and the latest Nightlife jackets, vests, hats and gloves! Receive awesome Brooks prizes and be a part of our "Winged Foot" team photo to light up the night!"
I thought I'd only do an easy five miler as part of the event, but my friend Theresa was looking for seven miles, so I tagged along.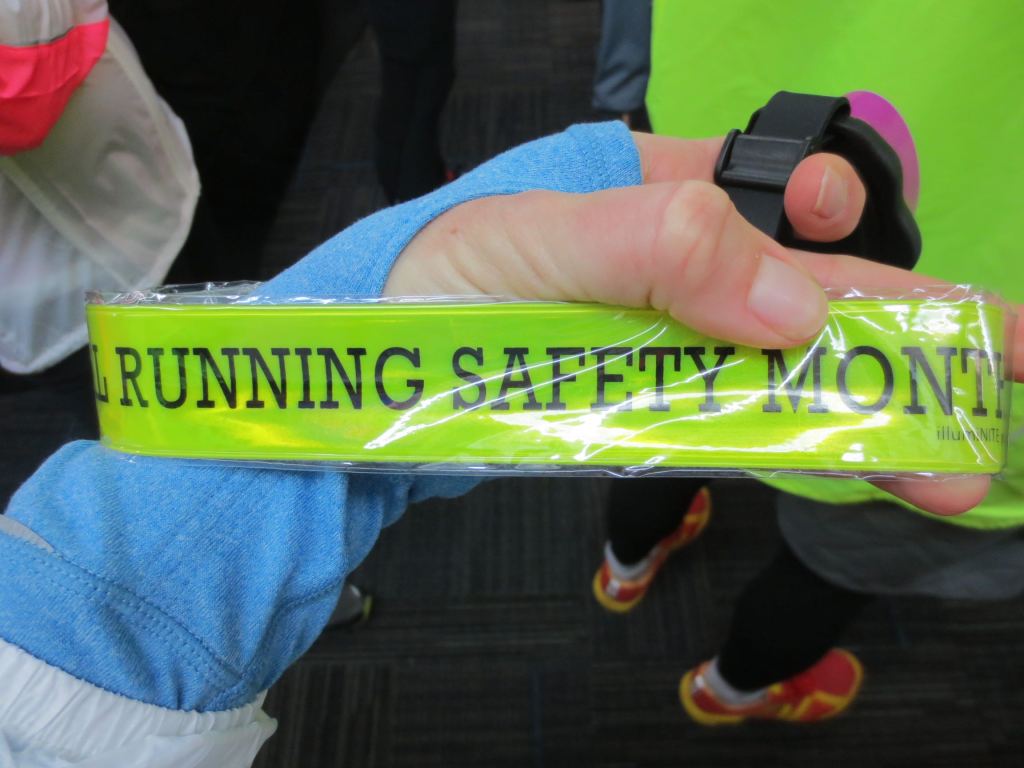 Anyways, the event was great, and well worth adding that second run. Sure, it was icy and snowing during the seven miles, but we were rewarded with some craft beer and hot pizza when we returned to the
Marathon Sports
store.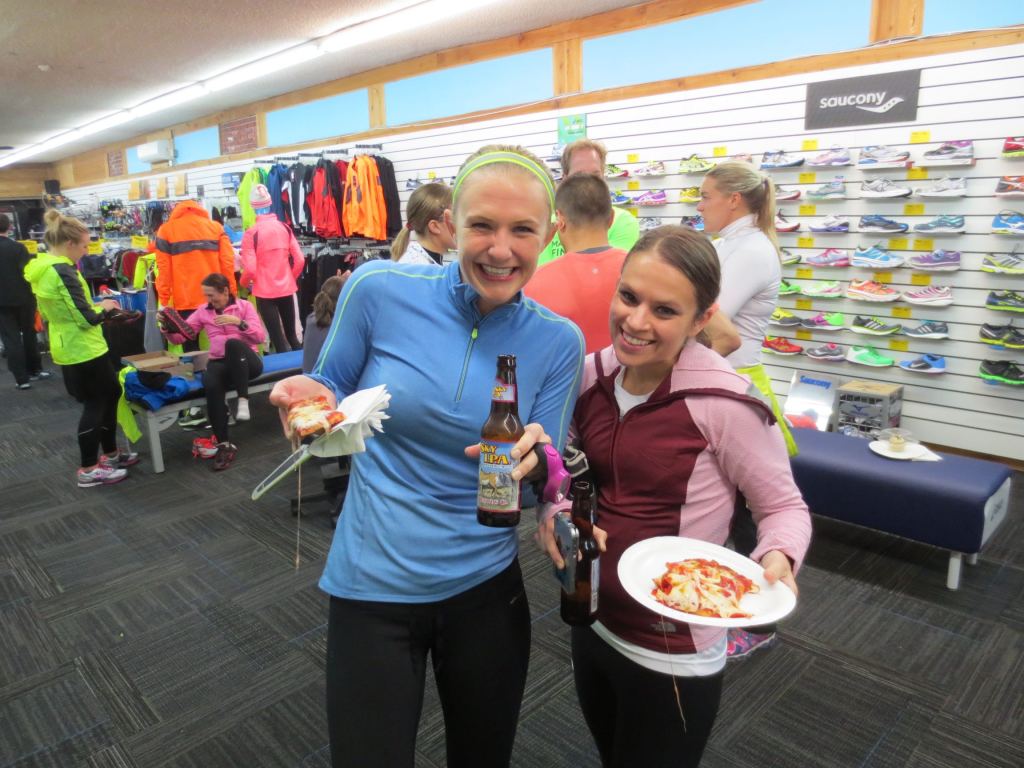 Okay, I'm skipping around to the post-run! Before the run, there was a drawing for some Brooks goods. (Neither of us won anything.) After the drawing, we got suited up with some of the Nightlife gear to test it out on a real run. We both tested the
Nightlife LSD Lite Jacket II
, which retails for $85.
The jacket is super lightweight (I think it only weighs four ounces!), and its packed full of reflective-ness in strategic locations. I loved the colors, and it actually kept the rain/snow out, and the heat in. I think it's a winner!
I also really liked the
Nightlife hat
, which had lights on the back! Its only $35, mesh, and lightweight- perfect for the dark runs.
The men all tested out the men's version of the
Nightlife LSD Lite Jacket
or vest. It was quite similar, just a different color.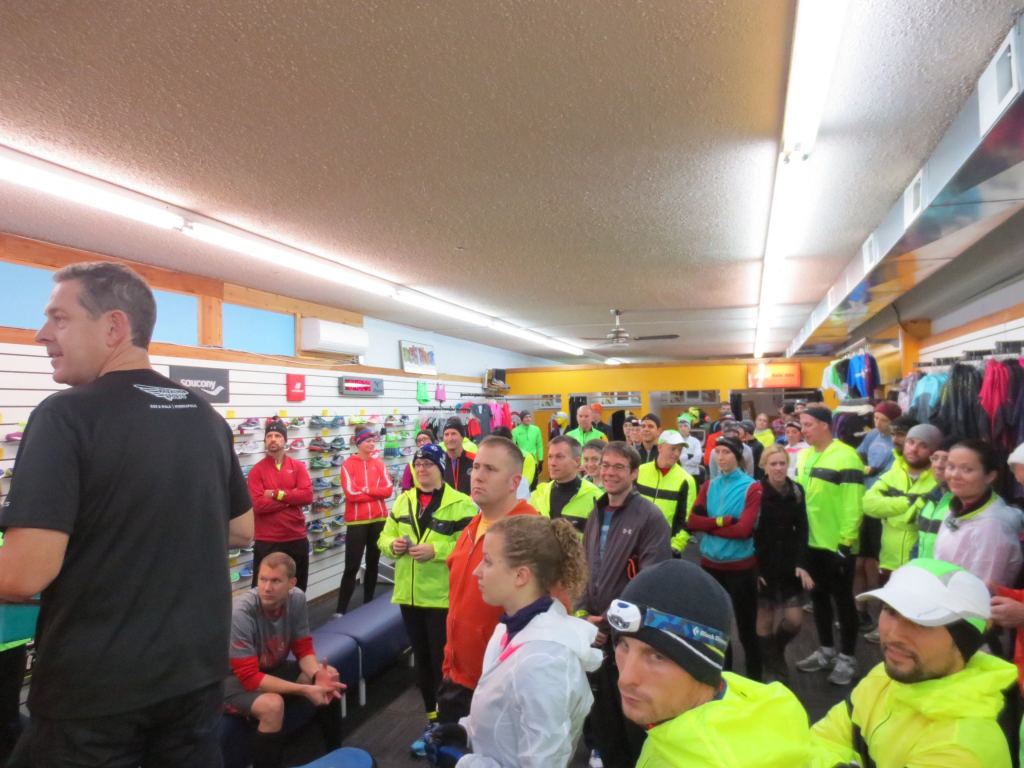 I didn't purchase any of the Nightlight gear that evening, but I definitely will be watching online for some sales. I would love to add the jacket and hat to my fitness wardrobe.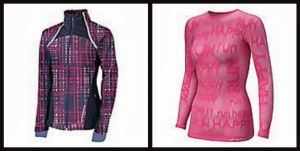 Winter running is a little more tolerable with some cute (and functional of course) Brooks gear.
All in all, a fun little event, at a price that fit the bill- free. Nice job Marathon Sports. Maybe I will be doing two-a-day runs more often if they are always this fun!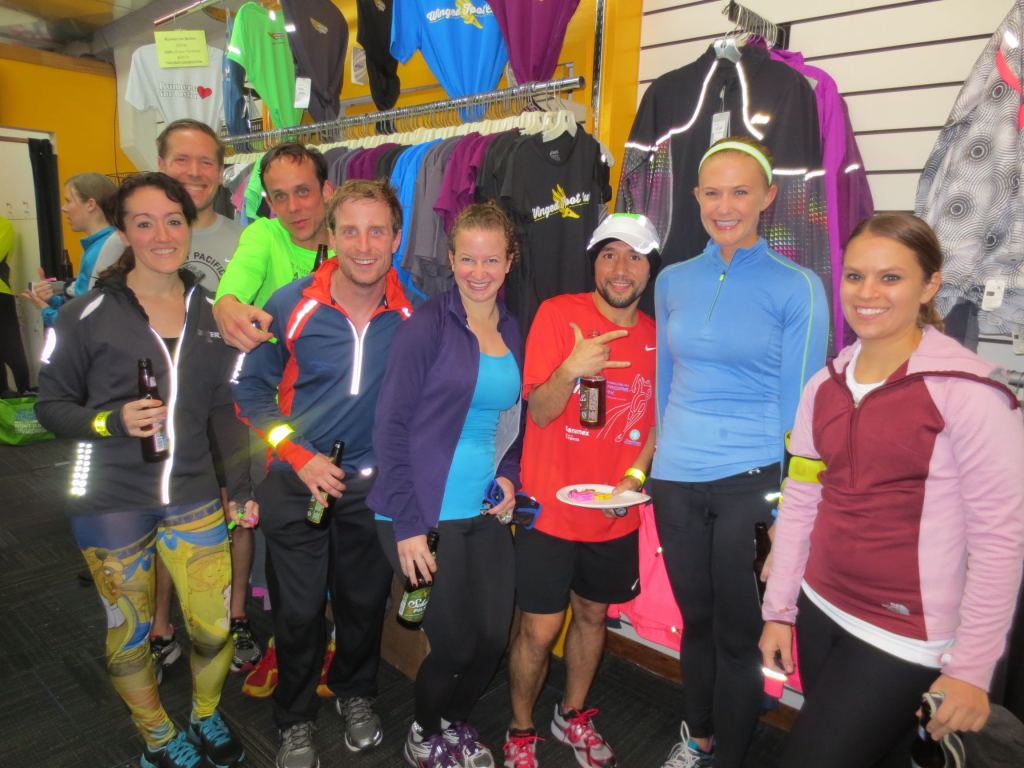 (Visited 427 time, 1 visit today)