Five weeks until my 30th full marathon! I'm really starting to get excited to take on 26.2 miles again…I just love marathons and have missed them in 2018. Darn broken leg. 2019 is going to be a much better year!
This week was a bit of a cutback week in training for Houston and I'm excited that I was able to fit in more non-running activities! Here's how things went:
Monday: 9 easy miles on the treadmill after work, 9 min/miles. I'm still watching Black Mirror while I run- it's a modern UK version of the Twilight Zone; each episode is totally different. It's great!
Tuesday: 6.2 miles at a 9:40 min/mile pace. Nice and slow outside before work. I took a vinyasa class at Corepower class after work.
Wednesday: My 'quality' workout of the week: 20 minutes easy, 30 minutes at an 8:45 min/mile (around what I think is marathon pace), 10 minutes easy, 20 minutes at 8:40, 20 minutes easy. 11 miles total at a 9:30 min/mile average. I had to turn this into a run commute since it was a long one to do before work!
Thursday: ALTR 50 minute strength class before work, then 8 miles on the treadmill after work, 9;15 min/mile average.
Friday: 6.5 miles at a 9:10 min/mile average with my friend Vicki before work. My friend Christie hosted a little holiday happy hour after work prior to going to see the British Arrow Awards, which I LOVE, at the Walker Art Museum. Unfortunately, I didn't buy my ticket fast enough and couldn't attend but still enjoyed the happy hour! And she gave me a belated birthday gift that included Kara Goucher's book Strong! I'm excited to check it out!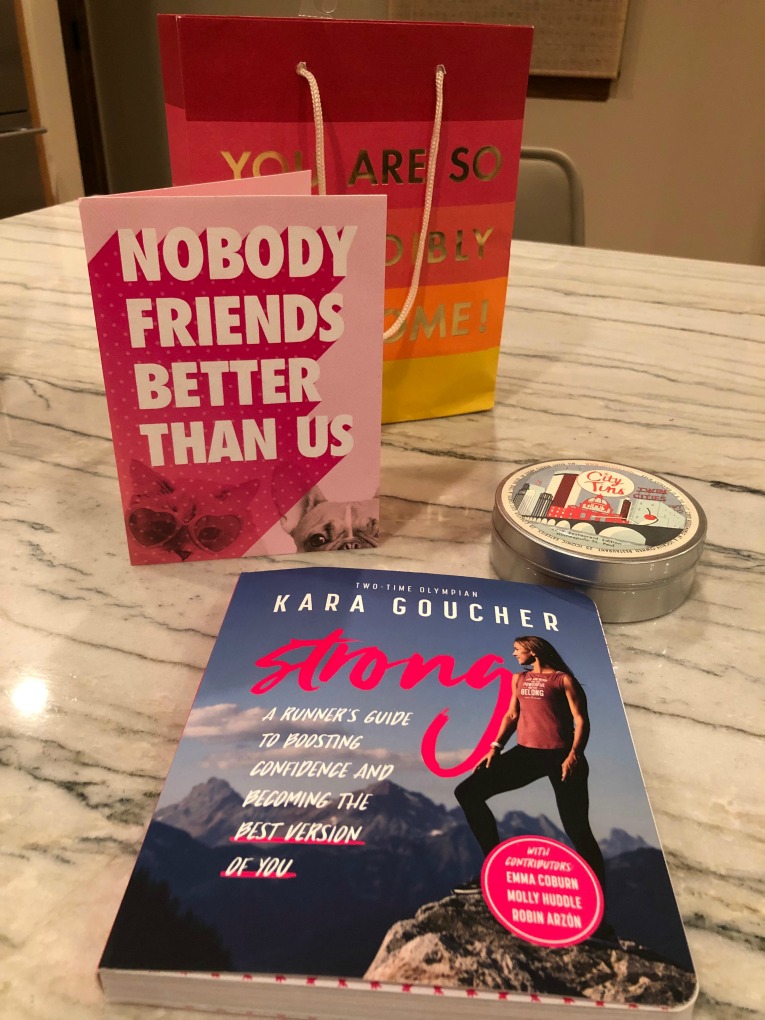 Saturday:  My schedule was for 2 hours of running: 40 minutes easy, then 12×3 minutes at an 8:30 or under followed by 2 minute recovery jog (i.e. 60 minutes total of those intervals), then 20 minutes easy. I added on another 6 minutes to get home for 14 miles total at a 9 min/mile.
It was beautiful sunny day in Minneapolis, with temperatures reaching the 40's! I love it. I don't want a white Christmas…give me a brown Christmas with clear running paths any day, ha!
No fox sightings this week, but I did see the biggest bald eagle on Lake Calhoun!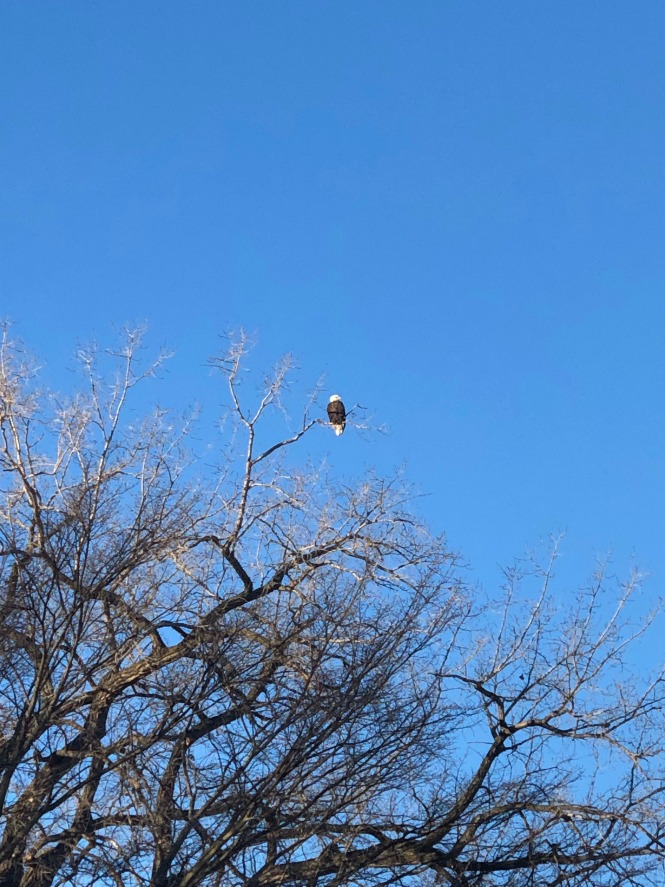 That evening, some friends hosted a little holiday party, with an Ugly Christmas Sweater theme. It's so easy to find Christmas attire these days!
Sunday: 50 minute Arms & Abs solidcore class (strength/pilates type class, read a review here), followed by 4 miles with Matilda in the SUN and 35 degree temps! No complaints here.
Summary: 59 miles, 1 yoga class, 2 strength classes (ALTR & solidcore)
Overall a pretty good week! I was very happy to fit in strength AND yoga and all my runs. This week will be a big one, so I'll be sure to focus on plenty of sleep and recovery in between- a little hard to do with so many fun holiday celebrations going on, but I'll try my best!
Are you hoping for a white Christmas? Or happy with some warmer temps? 
Anyone have any recommendations for restaurants in Houston? I'd love to have a good idea of where to go to celebrate post-race (assuming I make it to the finish line!)
Thanks so much for reading and be sure to check out all the other great weekly recaps that are a part of  HoHo Runs and Taking the Long Way Home 's weekly recap link-up!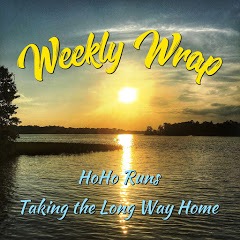 (Visited 329 time, 1 visit today)