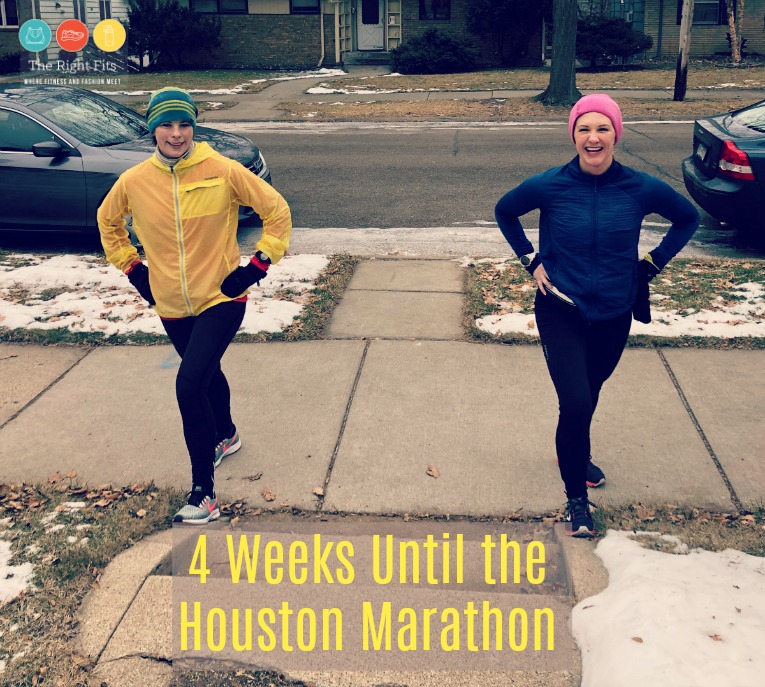 Happy Holidays! I hope you had an awesome week. I'm here with my weekly recap of training for the Houston Marathon, which is 4 weeks away! This was a big week in training, though I did take an unplanned (though much needed) rest day. Here's how things went this week:
Monday: I ran to meet my friend Christie for a morning run; we did 5 together and I did 4 alone to get to 9 miles at a 9:20 min/mile average. Great way to start the week! We hadn't run together in the morning in quite a while; it was just like old times.
Tuesday: Workout of the week: 2 mile warmup, then 6x 1/2 mile at 8:09 followed by 1/2 mile at 8:45 (around goal marathon pace), 2 mile cool-down. I liked this workout a lot- running faster than marathon pace followed by marathon pace made marathon pace feel like a 'recovery.'
10 miles total at an 8:55 min/mile average. Good workout.
I did this run this after work and brought Matilda (our vizsla) with me. 
She ran really well and seemed to be having an awesome time out there. But then when we got home, I noticed a small bloody paw print by her water dish; it turns out she had what looked like a blister or chafing on her paw that was bleeding 🙁 Poor thing!
I felt so guilty that she continued to run even in pain! I talked to the vet and they told us to put a bootie on her foot when she goes outside and no running until its healed. She seems to be healing up quickly; it might have been from the ice or salt on the trails, I'm not sure. I guess running outside in the winter is treacherous for the pups and the people!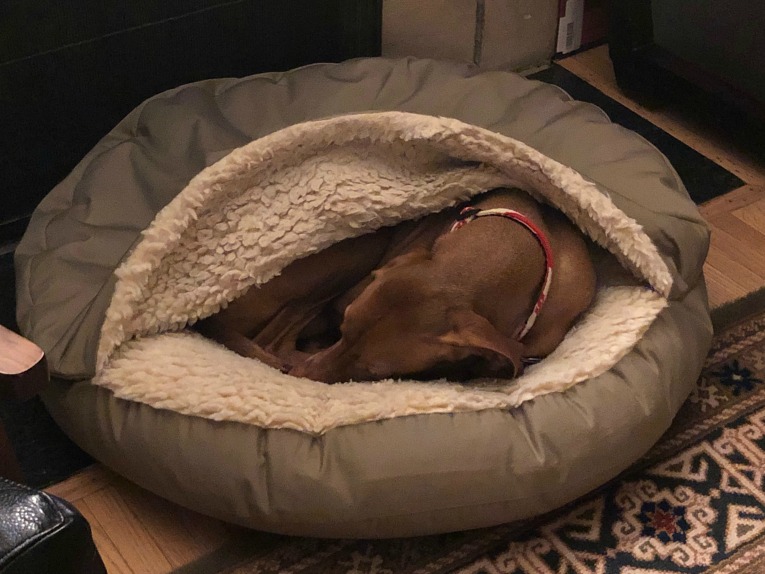 Wednesday: Unplanned rest day. I was tired from the workout the night before so I slept in a bit. Then I hosted a neighborhood holiday party after work, so didn't have time to squeeze in a run.
The party I hosted has been going on since 1972! There is a scrapbook with the invitations and attendee list from every party since then; it's a pretty cool tradition.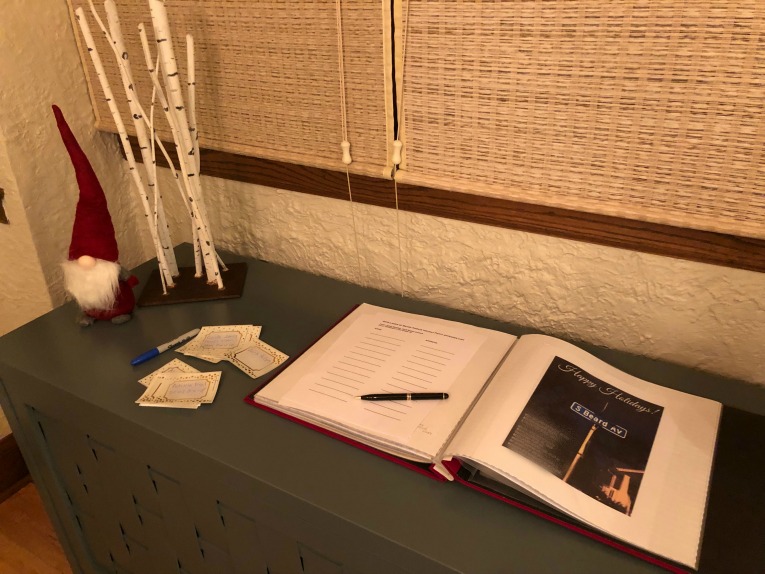 Thursday: 9 miles at a 9:30 min/mile average. I ran a few miles to where I met my friend Vicki; we ran 6 together and then parted ways to get to my 9 miles.
Friday: 6.6 miles on the treadmill (60 minutes of easy running) at a 9:10 min/mile average. My ankle (the one I broke) was a little sore after Thursday's run, so I thought running on the treadmill would help, since it's a bit of a softer surface. I also did a lot of stretching and icing, and then was able to fit in a vinyasa yoga class at Corepower after work, which also helped.
Saturday: 20 mile long run, 9:12 min/mile pace. I ran 5 on my own and then 15 with my friend Nordica. It felt a bit tougher than the previous 20 miler I did in this cycle, but I got through it and my ankle held up. It actually felt better when running then just walking. 
Dustin and I followed up our 20 milers with a delicious brunch at Tilia, one of our neighborhood favorites.
That evening, we went with my sister to "Die Hard Christmas" at the theater at Bryant Lake Bowl. This play is loosely based on the Die Hard movie; it's hilarious! Highly recommend this to locals to the Twin Cities.
Sunday:  50 minutes of easy running on the treadmill, about 5.6 miles. Minneapolis received an inch or two of snow overnight and I opted for the safety of my treadmill instead of the great outdoors.
Summary:  60 miles of running, 1 yoga class
One last big week of training next week- along with some more holiday celebrating of course!
Did anyone check out the "Top Nine" function on Instagram recently? Even with a broken leg that kept me out of running for 5 months, most of my Top Nine were running related!
I hope you all have a wonderful holiday this week!
Dustin and I are staying in town this year; it will be a quiet, low-key Christmas, but I'm looking forward to it. We will probably go for a run and then make a delicious breakfast and open gifts. Anyone else go for a Christmas morning run? 
Thanks so much for reading and be sure to check out all the other great weekly recaps that are a part of  HoHo Runs and Taking the Long Way Home 's weekly recap link-up!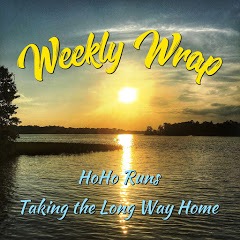 (Visited 363 time, 1 visit today)