Well, I made it through the peak week of training for the Houston Marathon. The race is now 3 weeks away. I had my highest mileage week this past week, and am hopefully ready for my 30th marathon!
Here's how training went:
Monday: 6 treadmill miles before work, a solidcore class at noon (only had to work a half day!) and then 4 more outdoor miles with my sister Cresta, who came over for Christmas Eve dinner. We hadn't run together in quite some time, so it was really fun to be able to do some miles together in the daylight!
10 miles total on the day.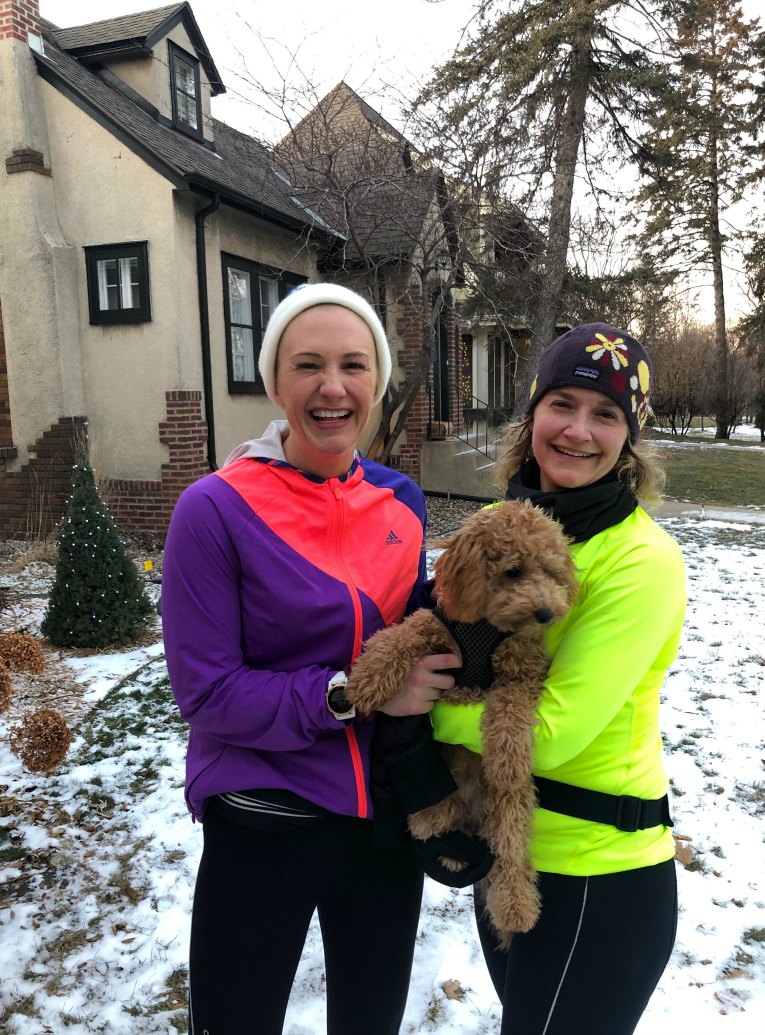 Her dog, Lola, didn't run with us. She just came over to hang out with Matilda!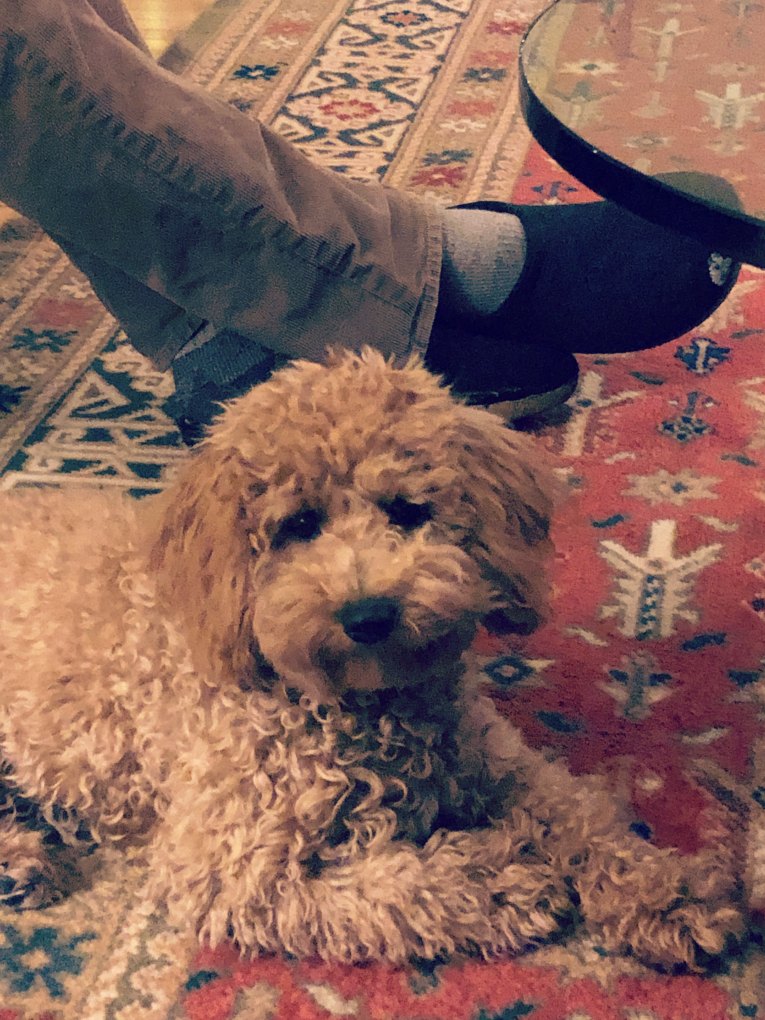 My sister tried a hand warmer in her glove on the run; didn't work out so well!
Tuesday: Christmas Day run with Dustin! 2 miles easy, 4×2 mile intervals starting around 8:20 and working down to 8, with 2 minute recovery in between each set, 2 mile cool-down for a total of 10.25 Christmas miles.
Splits: 8:19, 8:14, 8:13, 8:12, 8:01, 7:54. Nailed it! It was great to have Dustin to pace me for the workout; I always do better with him pushing me.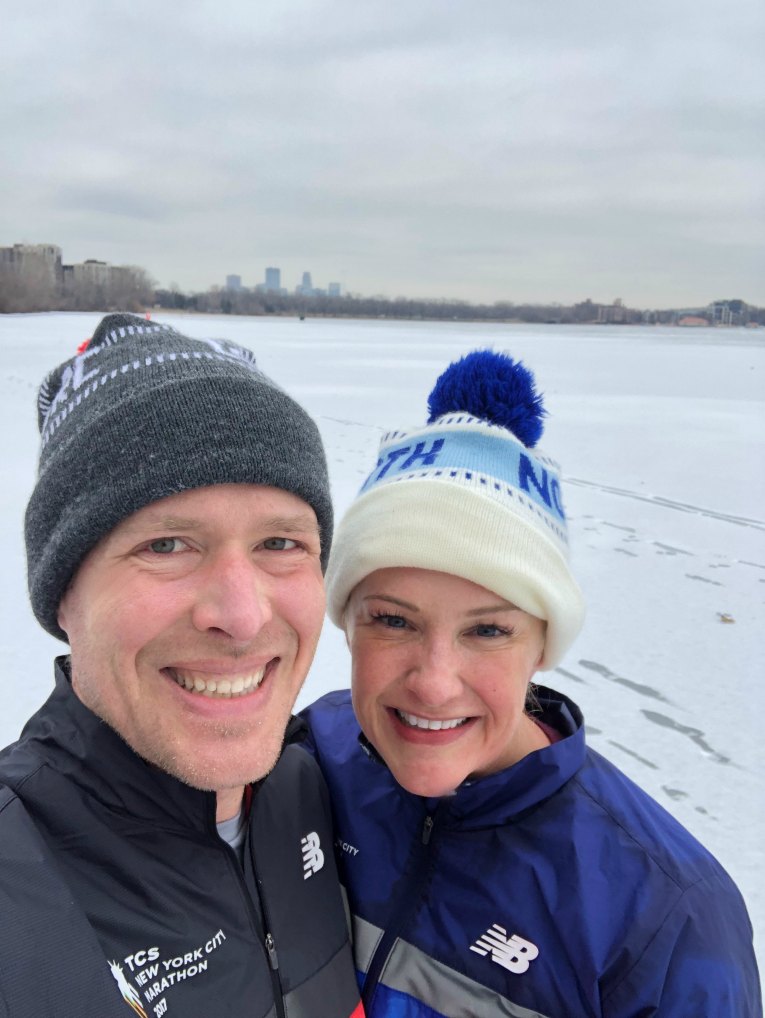 Wednesday: I worked from home and was able to sneak out for a 7 mile run during the daylight, which was amazing, as there was an incoming snow/ice storm. I knew that run might be my last run outside for awhile. I also fit in a vinyasa class at Corepower after work.
*The challenge of working from home with a vizsla!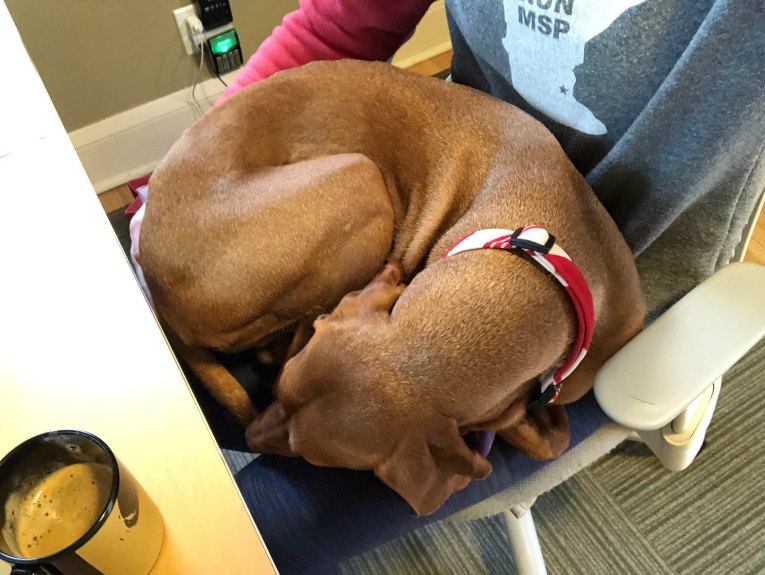 Thursday: Ice and snow overnight meant time for the treadmill.
9 miles on the treadmill, 9:10 min/mile average. I watched a few episodes of "7 Days Out" on Netflix, which is a documentary that follows events from 7 days out till the 'big day' for events like the Westminster Dog Show, the Kentucky Derby, and the Chanel Fashion Show in Paris. It was really interesting!
Friday: 5.6 miles on the treadmill (50 minutes easy) before work.
Saturday: 20 miles on the treadmill. Yep. TWENTY miles.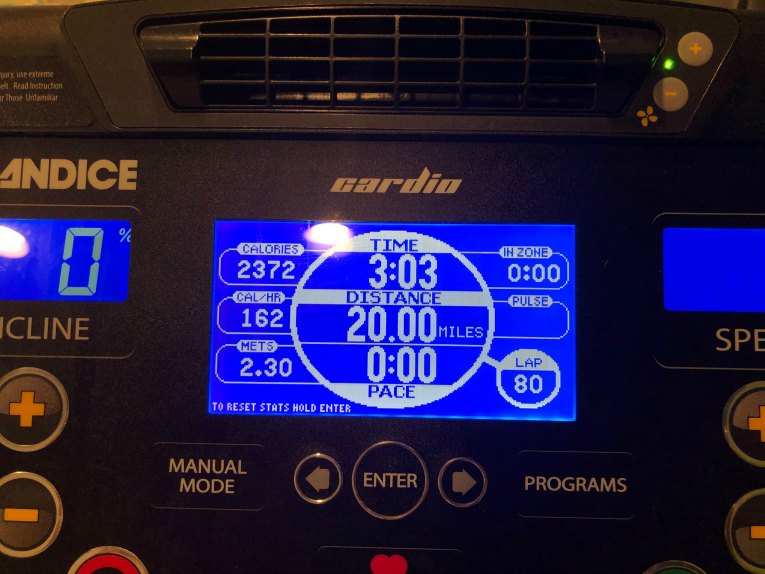 The running trails were pure ice so it wasn't an option to do this outside.  Even our run club coach, who is notorious for never cancelling the club runs, was encouraging people to run on treadmills.
I broke the 20 miles up into pieces to mentally make it easier- 4 easy, 6 at marathon pace (8:45), then a break for NUUN and an energy gel. Then 2 easy, 5 at marathon pace, then another break, then 3 more easy just to get to 20.
3 hours and 3 minutes on the treadmill. Yikes.
I do have a pretty nice setup with my treadmill, which makes it all a lot more tolerable, i.e. I have a TV right at eyesight with Netflix, Amazon, HULU, HBO GO as options. Dustin ran on a treadmill at the gym (unfortunately we don't have side-by-side treadmills and he didn't think he would do his full 20 on there, so he offered to go to the gym and let me run on ours).  At the gym, he had to look down at the screen, which kind of messed up his form and he said it was pretty annoying. I think having the TV in front keeps my posture normal!
I also have these Jaybird Torah Pro bluetooth headphones (well worth the $160 price tag!) that block out all the treadmill noise. Even though our Landice treadmill has a pretty quiet motor, it still makes noise so the headphones really help me get lost in whatever I'm watching while I run. I can understand the monotony of treadmill running if you're just staring at a wall or watching the minutes tick by, but I feel like I'm able to get into a groove while watching TV.
I'm sure some of you reading this must think I'm crazy to run 20 miles on the treadmill, but it really was not that bad. It's still running after all!
I'd much rather run 20 on the treadmill than break my leg and not run at all.
I have a fan by the treadmilll, but I still sweat a TON and spent a large portion of the rest of the day trying to rehydrate again to a normal level..though some of the 're-hydrating' involved a milkshake, haha!
I took my niece Clara to lunch at Convention Grill for her 12th birthday, which is an old-school diner; we had cheeseburgers and malted milkshakes and then we did a little shopping at Athleta; the Athleta store at 50th/France has a whole Athleta Girl section, so her gift was to pick out one thing for her birthday.
She ended up picking out a cozy top similar to the one I'm wearing! Twinsies.
It's so fun to have family in Minnesota to do things like this!
Sunday: 8.3 miles on the treadmill to get to 70 for the week.
Summary: 70 miles, 1 yoga class, 1 strength class (solidcore).
I didn't think I'd hit 70 miles again, at least not during my first training season back after breaking my leg. But overall I feel pretty good about it! Now it's taper time for Houston.  Only 3 more weeks.
This upcoming week will probably include more treadmill miles as its going to be pretty frigid in Minneapolis and I'm not risking the icy trails in the dark before work or after; I might try to go outside on New Year's Day if I can convince Dustin to pace me for my workout again. The week after that, I will be in Miami for work, so no ice there! I'll be running in shorts and a tank top. Can't wait!
*What's the longest run you've ever done on the treadmill?
*Always looking for more TV shows or documentaries to check out if you have any recommendations!
Thanks so much for reading and be sure to check out all the other great weekly recaps that are a part of  HoHo Runs and Taking the Long Way Home 's weekly recap link-up!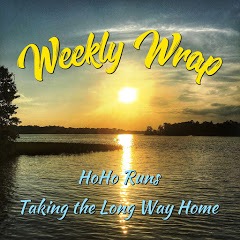 (Visited 436 time, 1 visit today)